Camino Canceled: Mac Browser Calls It Quits
Posted on by Joshua Long
Last week the maintainers of Camino, a Mac-exclusive Web browser first released more than a decade ago in February 2002, officially announced that the browser is no longer being developed.
The announcement on the Camino homepage explains that security is one of the major factors behind the discontinuation of the browser: "Camino is increasingly lagging behind the fast pace of changes on the web, and more importantly it is not receiving security updates, making it increasingly unsafe to use."
The final version of Camino was released in March 2012, just over 10 years after the browser's initial release.
In the past year there have been numerous security updates for Firefox, which is based on the same Gecko rendering engine as Camino. Thus the final version of Camino likely contains a number of unpatched vulnerabilities, a presumption which the official statement on Camino's homepage seems to support.
The statement "[encourages] all [Camino] users to upgrade to a more modern browser," suggesting Chrome, Firefox, and Safari as alternatives.
One of Camino's advantages had been that it maintained support for older versions of Mac OS X (and older Macs) than the three major Mac browsers:
Chrome 22 (released September 2012) dropped support for Mac OS X v10.5 Leopard
Chrome never supported Mac OS X v10.4 Tiger or PowerPC processors
Firefox 17 (released November 2012) dropped support for Mac OS X v10.5 Leopard
Firefox 4 (released March 2011) dropped support for Mac OS X v10.4 Tiger and PowerPC processors
Safari 5.1 for Mac OS X v10.6 Snow Leopard has had scant updates since 2012
Safari 5.0 for Mac OS X v10.5 Leopard has not been updated since July 2011
Safari 4.1 for Mac OS X v10.4 Tiger has not been updated since November 2010
Meanwhile, the final version of Camino continued to support Tiger and Leopard as well as Macs with PowerPC processors.
Now that Camino has been retired, the last remaining supported browser for G3, G4, and G5-based Macs running Tiger or Leopard is TenFourFox.
Intego recommends staying up to date with Mac operating system versions in order to take advantage of the security improvements Apple makes to each version of OS X.
Apple is currently releasing security updates for OS X v10.8 Mountain Lion, OS X v10.7 Lion, and (for now) Mac OS X v10.6 Snow Leopard.
As of May 2013, analytics firm Net Applications shows Mountain Lion's worldwide usage share around 42%, followed by Snow Leopard and then Lion at around 25% each, with Leopard around 6% and Tiger less than 2%.
Meanwhile, a March 2013 study from online ad network Chitika named Snow Leopard as the most used Mac operating system in North America at just over 35%, followed by Lion at 28% and Mountain Lion at just under 27%, with Leopard just over 8% and Tiger just under 2%: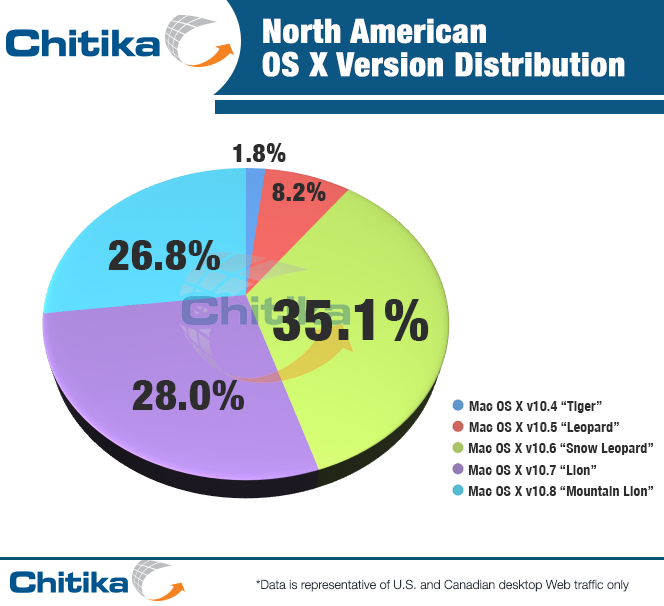 At this time it is not known whether Apple will continue to release Snow Leopard security updates after the release of OS X v10.9, which is expected to be announced at Apple's yearly Worldwide Developers Conference (WWDC) next week. Apple's support for Snow Leopard's version of Safari has been lackluster since the release of Mountain Lion last year, in spite of Snow Leopard's relatively high real-world usage.
About Joshua Long
Joshua Long (@theJoshMeister), Intego's Chief Security Analyst, is a renowned security researcher, writer, and public speaker. Josh has a master's degree in IT concentrating in Internet Security and has taken doctorate-level coursework in Information Security. Apple has publicly acknowledged Josh for discovering an Apple ID authentication vulnerability. Josh has conducted cybersecurity research for more than 20 years, which has often been featured by major news outlets worldwide. Look for more of Josh's articles at security.thejoshmeister.com and follow him on Twitter. View all posts by Joshua Long →