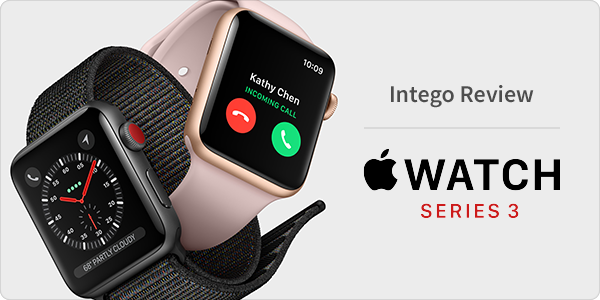 The Apple Watch has always been a three-pronged device: its main features are telling the time, tracking activity, and communicating. With the recent release of the Apple Watch 3, Apple has put the emphasis on communication, adding cellular features, so the wrist computer can be a standalone communications device.
The Apple Watch itself hasn't changed much over the years, retaining the same look and size (with 0.25 mm being added to its thickness in the latest iteration, but 0.9 mm since the first model). Gone, of course, is the ridiculous $10,000+ vanity model made for millionaires, but Apple has doubled down on its partnership with Nike, for a sporty version of the watch, and Hermès, for a faux luxury model, that features fancy leather bands and exclusive watch faces.
The product line now covers a price range from $329 (for the 38 mm sport model) to $1,399 (for the most expensive Hermès versions), with a full line-up of models at intermediate prices, such as the $799 stainless steel 42mm model with Milanese loop. So there's now a watch for almost every price point, though the barrier to entry remains fairly high (plus you need to own an iPhone to use it). I opted for the 42mm sport model with the sport loop (velcro) band, which is the lightest and most comfortable one I've tried. (I also own plastic bands and a Milanese loop, which is very comfortable, but heavy.)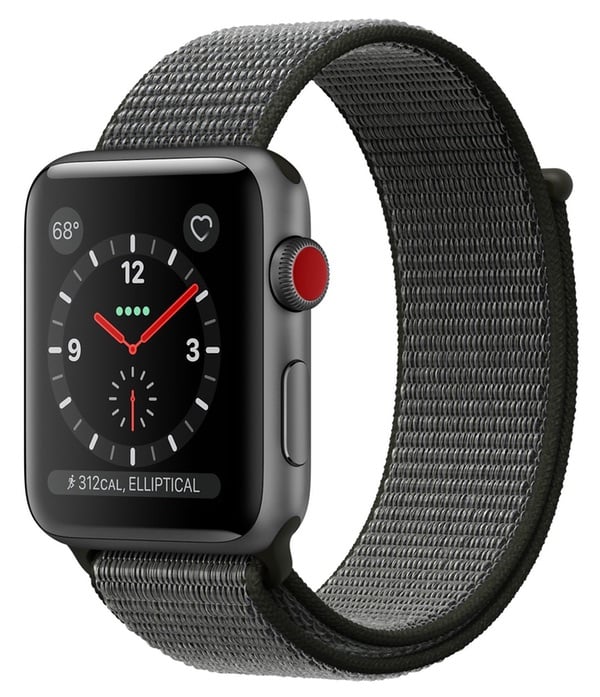 The Apple Watch is finally coming into its own. After a lot of growing pains — notably glacially slow launch of third-party apps in watchOS 2 — the device feels fast and responsive, and its capabilities have increased.
More Connection
The biggest selling point of this new model is cellular access. This allows the Apple Watch to be a standalone communication device, providing phone and messaging, but also data for its apps. (One exception is the Music app, which doesn't yet allow you to stream music from Apple Music or iCloud Music Library; this will be available soon in an update to watchOS.) If you want to use the Apple Watch with LTE/UMTS/4G, you'll need to have a phone contract with a compatible provider. The Apple Watch contract is grafted on your iPhone contract, the two devices sharing a number (this is managed server-side; the Apple Watch itself does not have a physical SIM card). If your provider doesn't support the Apple Watch, you either pass on this feature, or change providers.
In my tests, the phone and messaging features work fairly well, as long as I can get a connection. I live in a rural environment, but one which is covered (most of the time) by 4G. I can go walking and have fairly reliable phone and data access, but it's not as stable as my iPhone. At times, in a supermarket where my iPhone gets four bars, the Apple Watch couldn't connect at all.
But you won't want to turn the cellular feature on for very long; its battery life is poor. Apple rates the Series 3 Apple Watch at 4 hours of GPS and LTE usage, with about one hour of talk time. I haven't talked that long with mine, but I did notice that during a one-hour walk with LTE active, the battery life dropped by about 25%. It's great to have for a walk, a run, or a ride, but go beyond a couple of hours, and it'll just be dead weight.
The goal isn't to provide an all-day phone. The overall battery life for the Apple Watch 3 is much more than one day (even though Apple rates it at 18 hours); on a recent overnight trip, I didn't bring a charger, and there was still plenty of juice when I got home, more than 24 hours later. But having the cellular access is good as a backup phone, or, as Apple advertises, when you're working out and don't want to carry your iPhone. And it's pretty quick to top up its charge; leave it charging while take a shower and change, and you'll find that it goes up by 25% or more.
So who is the Apple Watch for? Here's my list of the most useful features:
Telling time (obviously)
Tracking activity and workouts
Getting notifications from my iPhone
Unlocking my Macs (requires two-factor authentication for your Apple ID)
Listening to music when walking (with AirPods)
Sending quick replies to text messages
Using Siri to set reminders
Other people will have different features they prefer; I don't run or cycle, but the GPS tracking is great if you want to record that type of data. And don't forget that it's waterproof, so if you want to wear it when swimming or wind-surfing, you can.
Is the Apple Watch Series 3 for You?
If you don't want or need cellular access, and already have a Series 2 Apple Watch, then you probably shouldn't upgrade. But Apple has discontinued the Series 2 models, leaving only the Series 1 as the entry-level device; this is a bit limiting, but if you're new to the concept of a smart watch, you might want to start there.
Another reason to buy the Series 3 cellular watch would be if you want to store a lot of music. This model comes with 16 GB of storage, compared to 8 GB for the others. If you listen to music often on the watch — even if you don't want to activate the cellular access — this could tip the balance. Aside from than the capacity, cellular access, and storage, the only difference between the cellular and GPS-only models is that the former has a ceramic back. As you go up to the stainless steel and ceramic models, the Series 3 watch offers a sapphire crystal, but in three years of owning Apple Watches, I've never scratched a glass crystal (of course, your activity may be very different from mine).
The Series 3 Apple Watch finally feels like a mature device. But it also feels like it won't be able to evolve very much. It needs better battery life — for cellular access; otherwise it's fine — and it could be a bit thinner, but, like the iPhone, there aren't a lot of new features that would make sense in this device. Perhaps the next big change would be to liberate it entirely from the iPhone, expanding its reach to those who use Android phones, but it's hard to see Apple making that change.
For now, with the exception of the limitations to battery life when using it without an iPhone, the Apple Watch does pretty much everything you'd expect a wrist computer to do.
About Kirk McElhearn
Kirk McElhearn writes about Apple products and more on his blog Kirkville. He is co-host of the Intego Mac Podcast, as well as several other podcasts, and is a regular contributor to The Mac Security Blog, TidBITS, and several other websites and publications. Kirk has written more than two dozen books, including Take Control books about Apple's media apps, Scrivener, and LaunchBar. Follow him on Twitter at @mcelhearn. View all posts by Kirk McElhearn →