Security & Privacy + Security News
Adobe Updates Flash; Adds Silent Updating
Posted on by Peter James
Adobe has released the latest version of its Flash Player plug-in, version 11.3.300.257 (or 11.3 for short), which offers an important new feature: silent updating. We've written here often about the security risks posed by Flash Player, and the many security updates users need to apply. But keeping up with all of these updates can be a hassle. Finally, Adobe has added silent updating to Flash Player; in other words, when an update is available, Flash Player will download it automatically. We're not sure what the process is after that; we won't know until the first silent update is released. The update may require that you quit your web browser, as the Flash Player installer does currently.
To turn on silent updates, check for this dialog after you have installed the version 11.3 of Flash Player: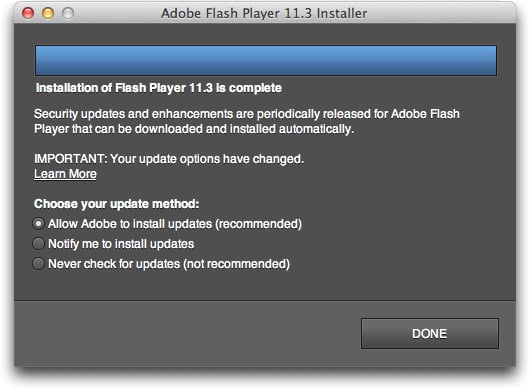 If you want to allow silent updates, check the first option, Allow Adobe to install updates (recommended).

You can also access this option at any time from System Preferences > Flash Player:




It's a good idea to turn on silent updates so you don't have to worry about keeping Flash Player up to date.