2015 National Cyber Security Awareness Month — What To Expect
Posted on October 1st, 2015 by Derek Erwin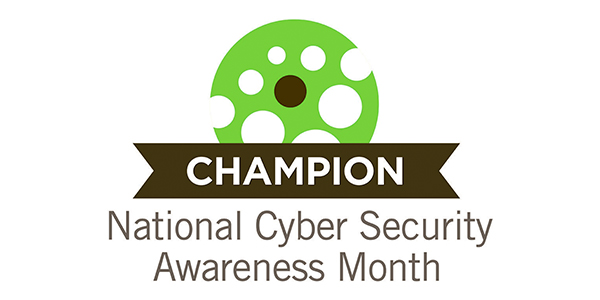 This month begins the 12th annual National Cyber Security Awareness Month (NCSAM), coordinated and led by the National Cyber Security Alliance (NCSA) and the Department of Homeland Security. NCSAM has grown exponentially since its inception, reaching consumers, small and medium-sized businesses, corporations, educational institutions and young people across the nation and internationally.
Intego is proud to announce that it has become a Champion of National Cyber Security Awareness Month 2015. Intego will be joining a growing global effort among colleges and universities, businesses, government agencies, associations, nonprofit organizations and individuals to promote online safety awareness.
As an official Champion, Intego recognizes its commitment to cybersecurity and online safety. Michael Kaiser, executive director of the National Cyber Security Alliance, said the following about the NCSAM Champion Program:
The Champion Program is a vital part of making National Cyber Security Awareness Month a success each year. We are thankful to our 2015 Champion organizations for their support and commitment to our shared responsibility of promoting cyber security and online safety awareness.
NCSAM 2015: What to Expect
Celebrated every October, National Cyber Security Awareness Month was created as a collaborative effort between government and industry to ensure everyone has the resources needed to stay safer and more secure online. 2015 also marks the 5th anniversary of the STOP. THINK. CONNECT campaign.
NCSAM 2015 will highlight the overall message of STOP. THINK. CONNECT. and the capstone concepts of the campaign: "Keep a Clean Machine," "Protect Your Personal Information," "Connect with Care," "Be Web Wise," and "Be a Good Online Citizen."
All throughout October, there will be different topics and discussions about various aspects of cyber security, and how we can all improve our awareness of security issues. As part of Intego's NCSAM efforts, we will show our support by providing resources on The Mac Security Blog as well as take part in the Twitter Chat on Thursday, October 15.
Here's a look at the different cybersecurity issues for each week in October:
Week 1 (October 1 – 2): Best Practices for All Digital Citizens. The 2015 NCSAM launches with a focus on sharing key online safety concepts to help everyone be Cyber Aware and call on the international community to join the conversation on how we can work together to create a safer, more secure and more trusted Internet for everyone.
Week 2 (October 5 – 9): Creating a Culture of Cybersecurity at Work. All businesses face cybersecurity challenges, and so proactively protecting organizational assets, employees and consumers must be a priority for every business. This week will highlight ways that business leaders can protect their organizations, employees and consumers' data and how businesses can prepare for and respond to cyber security incidents.
Week 3 (October 12 – 16): Connected Communities and Families: Staying Protected While We Are Always Connected. There are many ways parents can educate their kids on good cyber habits, whether kids are using social media, playing games or shopping online. This week is all about staying protected while we are always connected, providing tips to help kids use technology more safely and securely, along with actionable advice for parents to raise good digital citizens.
Week 4 (October 19 – 23): Cybersecurity and the Evolving Internet of Things. Have you thought about how many things in your home connect to the Internet? "Smart" devices now include everything from thermostats to scars and umbrellas, and our digital lives evolve as we connect to more apps and devices. This week will focus on how to protect ourselves and our information as we adopt emerging technologies.
Week 5 (October 26 – 30): Building the Next Generation of Cyber Professionals. Demand for cybersecurity experts is growing rapidly. At the same time, the trend is shows earlier adoption of technology by young people, including fully connected classrooms, access to mobile devices — phones, tablets and laptops — and more ways to socially connect with one another. This week will focus on providing valuable information about cybersecurity careers as well as the need for ongoing Internet safety and security education toward building cyber-literate citizens.
For more information about National Cyber Security Awareness Month, the NCSAM Champions program, and how to participate in NCSAM activities, visit: http://www.staysafeonline.org/ncsam.
You can also follow and use the hashtag #CyberAware on Twitter throughout the month. The StaySafeOnline site in particular has a lot of really useful content to help people of all ages and experience levels improve their security. Be sure to check them out and share some security tips with your friends to help keep us all safer online!
A Special Offer From Intego
This promotion has expired.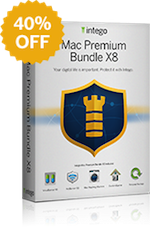 As part of our commitment to cyber security and online safety, Intego is offering a special discount for purchases of our award-winning Mac Premium Bundle X8.
Get 40% off MSRP* today by using this coupon code at checkout: NCSAM2015
*Discount only applies to households, limit 10 Macs per customer. This offer expires on October 31, at 11:59PM PST.
Take Our Cyber Security Survey
How cyber aware are you? Before you go on your merry way, we would love to hear from you! Take 5 minutes and answer some quick questions in our newest survey to help us learn what concerns you most about cyber security.

Be sure to check back with us throughout October as we share cyber security tips to help you keep pace with new ways to stay safe online!