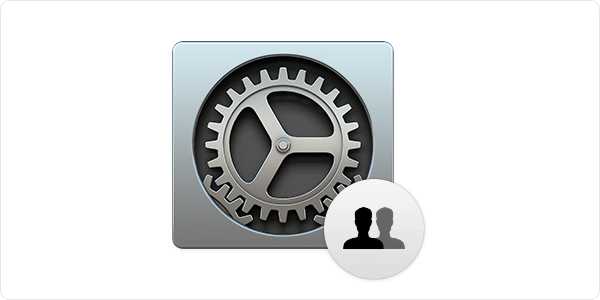 Everyone who uses a Mac has a user account. If you're the only person using your Mac, then there will only be one account. But if you share your Mac with other users — your family or coworkers, for example — your Mac will contain multiple user accounts. At least one of these is an administrator account, and that account is allowed to change any settings on the Mac. Others can be standard accounts, and their users can change settings that affect some of what they do on the computer. You can also have accounts that are managed with parental controls; these are designed so your kids can use your computer safely. Finally, there are sharing only accounts, which you can create to allow users to access some files on your Mac over a network.
In this article, I'm going to explain how to create user accounts, when and how to use each of these different types of accounts, and how to delete them when you don't need them any longer.
The First Account: The Administrator
When you set up a new Mac, you have to create a user account, and that first user account has to be an administrator account. The administrator is the person who can change any settings on the computer. If there were no administrator, then no one could, for example, set up other new user accounts as well as make other important changes to the way the Mac works. The administrator can change settings such as which startup disk the computer uses, which files can be shared, backup and security settings, and more.
In addition to creating new user accounts, the administrator can modify existing user accounts. He or she can allow any user to also be an administrator — you can have as many administrator accounts as you want — and can also reset the password of any user account. And the administrator can enable and set up parental controls on any account.
To see your existing user accounts, go to System Settings > Users & Groups. This preference pane shows a list of existing user accounts, lets you create new accounts, and it also lets you set a number of login options.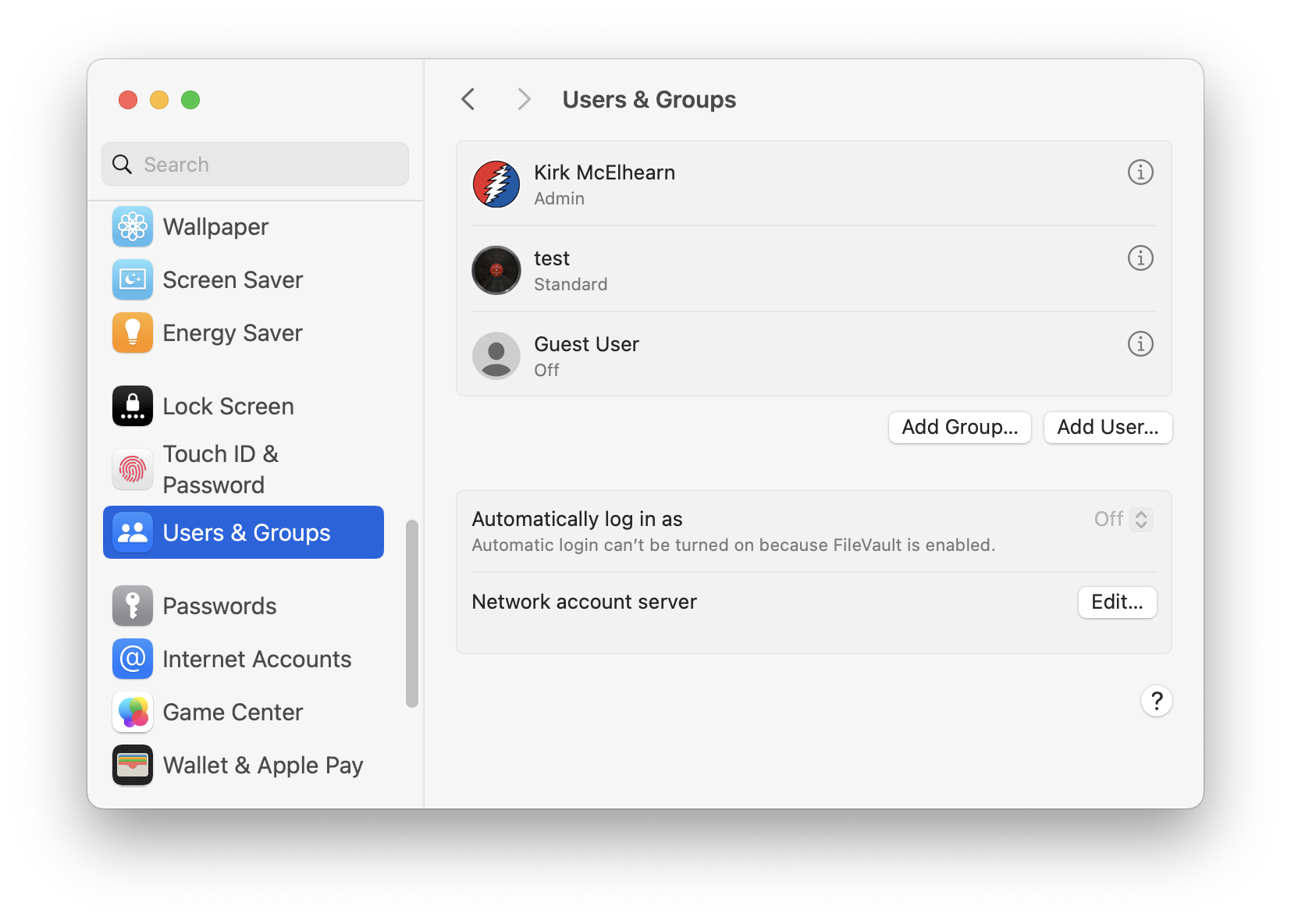 Start by looking at your own user account; it's at the top of the list. Click it and you see a number of options. You can change your password if you wish, and at the bottom of the pane, you can check Allow user to reset password using Apple ID. If you enable this option, and the user has logged in with their Apple ID, they can reset their account password, if they've forgotten it, by entering their Apple ID and the corresponding password.
Prior to macOS Ventura, there was a Login Items tab on this pane. This has moved to System Settings > General > Login Items. It shows a list of apps that launch when you log into or start up this Mac. You can add apps to this list by dragging their icons to it, or by clicking the + icon and navigating to an app. Remove any apps by selecting them in the list and clicking the – icon.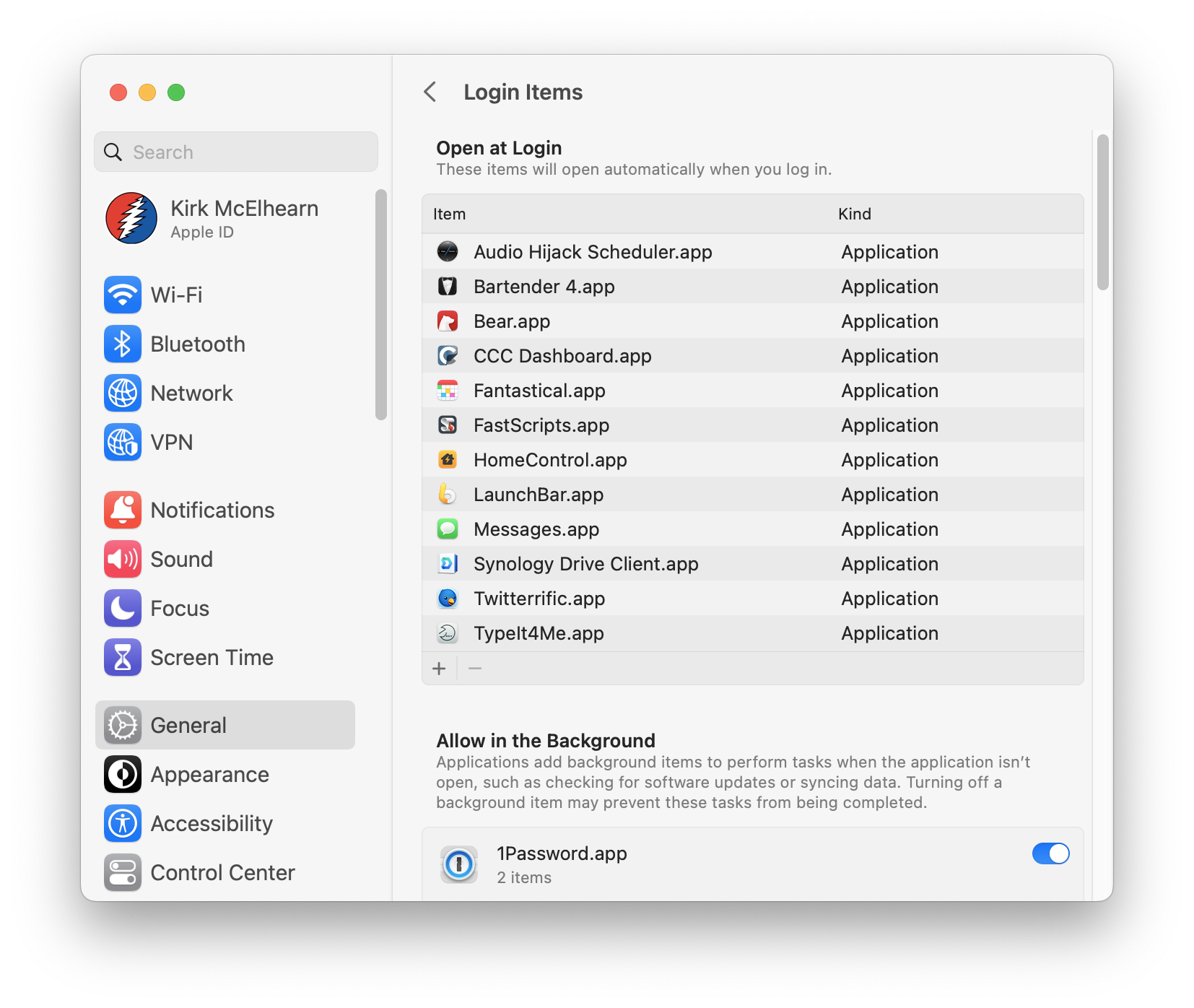 Standard User Accounts
Standard users are limited only in their ability to change certain settings and access system files. Otherwise, each standard user has full access to the files in their home folder — the one with the house icon and their username — and can change any settings in System Preferences that apply to their personal use of the Mac.
To create a new standard user account, click Add User; you'll be asked to enter your administrator's password, then a dialog displays with Standard selected as the type of account. Enter the user's full name, then an account name — it's best that this is an abbreviated name, and it can't contain spaces — then enter a password and enter it again in the Verify field. If you wish to have a password hint to remind the user of their password in case they forget it, you can enter that as well. Click Create User, and the Mac will create a new account, and a new home folder, for that user. They will be able to log in and access their files.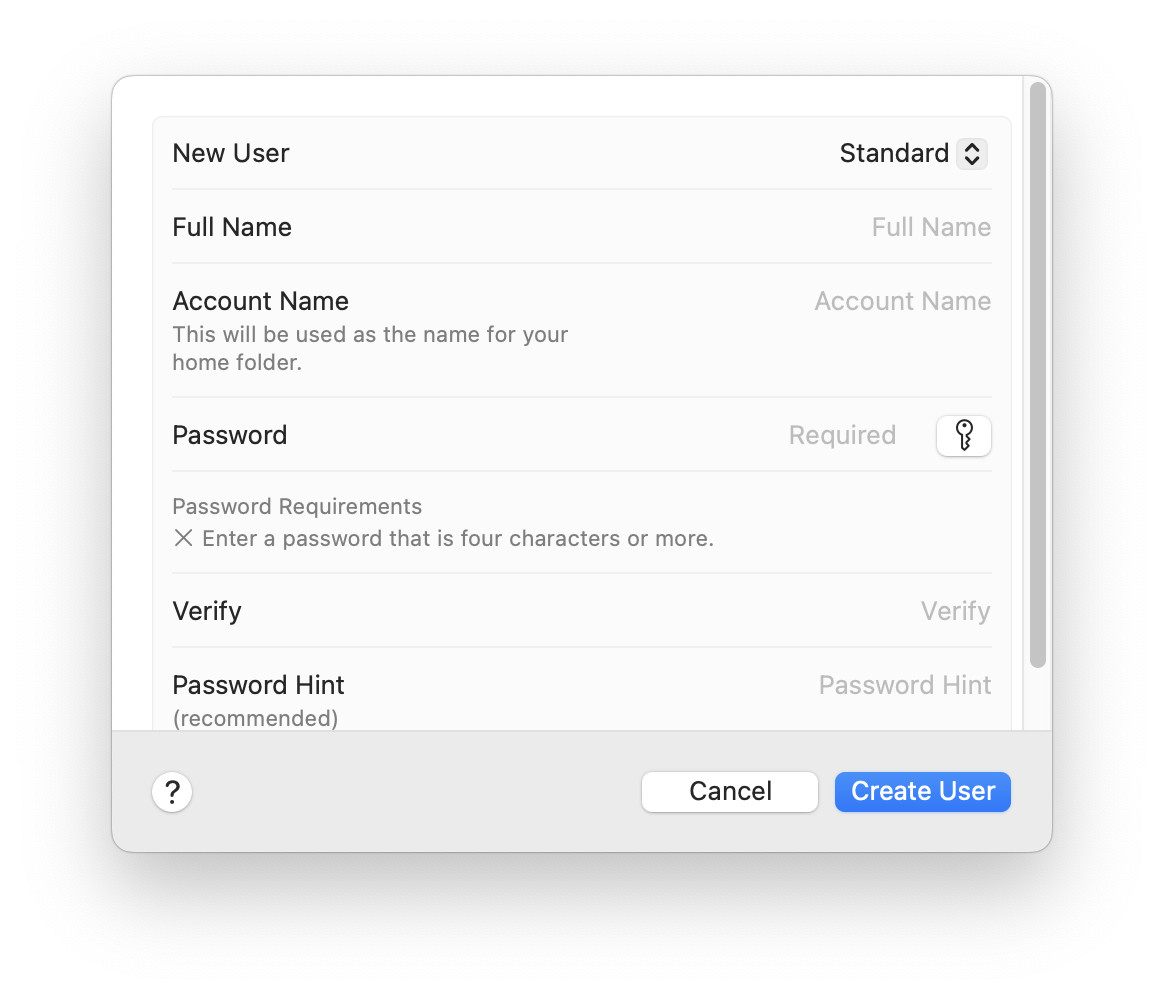 Administrator Accounts
In the same dialog above, you can choose to create an administrator account. Click the New User menu, and choose Administrator. The rest of the creation process is the same as for standard accounts.
Sharing Only Account
A sharing only user account allows a user to access specific shared folders on your Mac. If you use your Mac for file sharing at home or at work, you may want to create accounts for users so they can access files on the computer but do nothing else. To do this, select Sharing Only from the New User menu. Fill in the rest of the information as above, but to provide access to selected folders, you must then go to the Sharing preference pane in System Preferences. See this Apple support document for more information on file sharing.
Guest Account
Finally, you will notice a Guest User listed in the settings pane. Click the i icon next to this user and check Allow guests to log in to this computer. When the guest account feature is active, any guest to your home or your office can sit down at this Mac and click on Guest on the login screen to be able to use the computer. You really don't want your friends to check their email on the web while in your user account, where they could potentially access a lot of your personal information or files.
None of their files will be saved; when they log out everything will be deleted. But they can browse the web, configure Mail to use their email account temporarily, send instant messages, and more. And unless you check the option to allow them to connect to shared folders, they will have no access to any of the files on the computer.
The Guest Account settings also have an option to limit access to adult websites.
Account with Parental Controls
To create a new account with parental controls, start by making a new standard user account. When you've done that, go to the Screen Time settings, which is where you apply parental controls.
There are two ways to enable and apply parental controls with Screen Time:
If you're using Family Sharing, click the Family Sharing menu at the top left corner of the Screen Time preference pane and choose the name of one of your children. You can manage their screen time settings from any Mac, iPhone, or iPad. If you're not using Family Sharing, you'll need to log in with your child's user name and password.
In both cases, you have access to a number of settings in the Screen Time sidebar. Click App & Website Activity, and your Mac asks you if you want to enable this feature. This also changes the display of the Screen Time settings, to include a number of options.
Downtime is where you set time periods, by day of the week, when your child is not allowed to use the computer.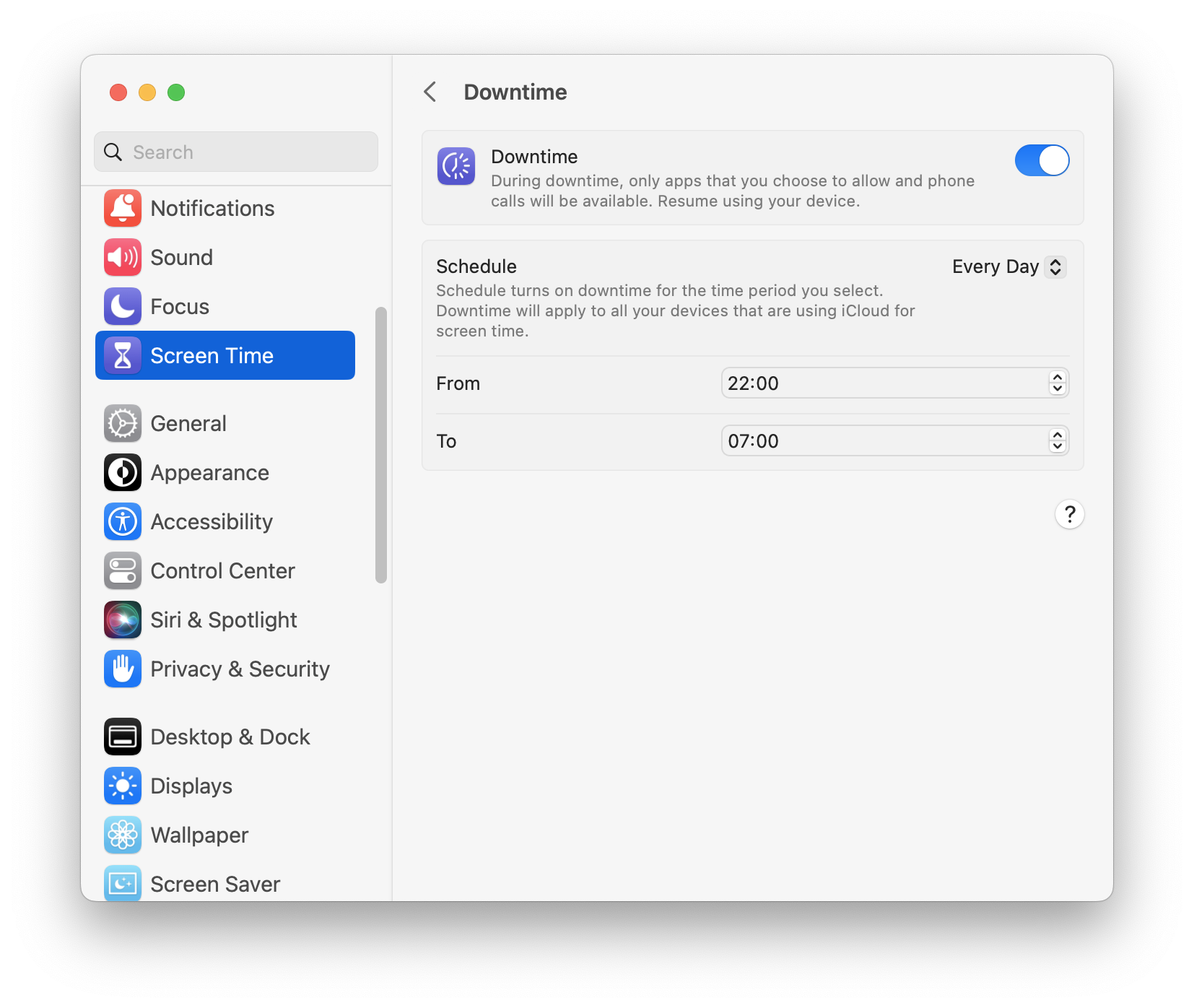 In App Limits, you can choose apps you want to limit access to. For example, if you don't want your child to be able to use the TV app for more than one hour a day, you can set a limit here. They get a notification five minutes before their time is up.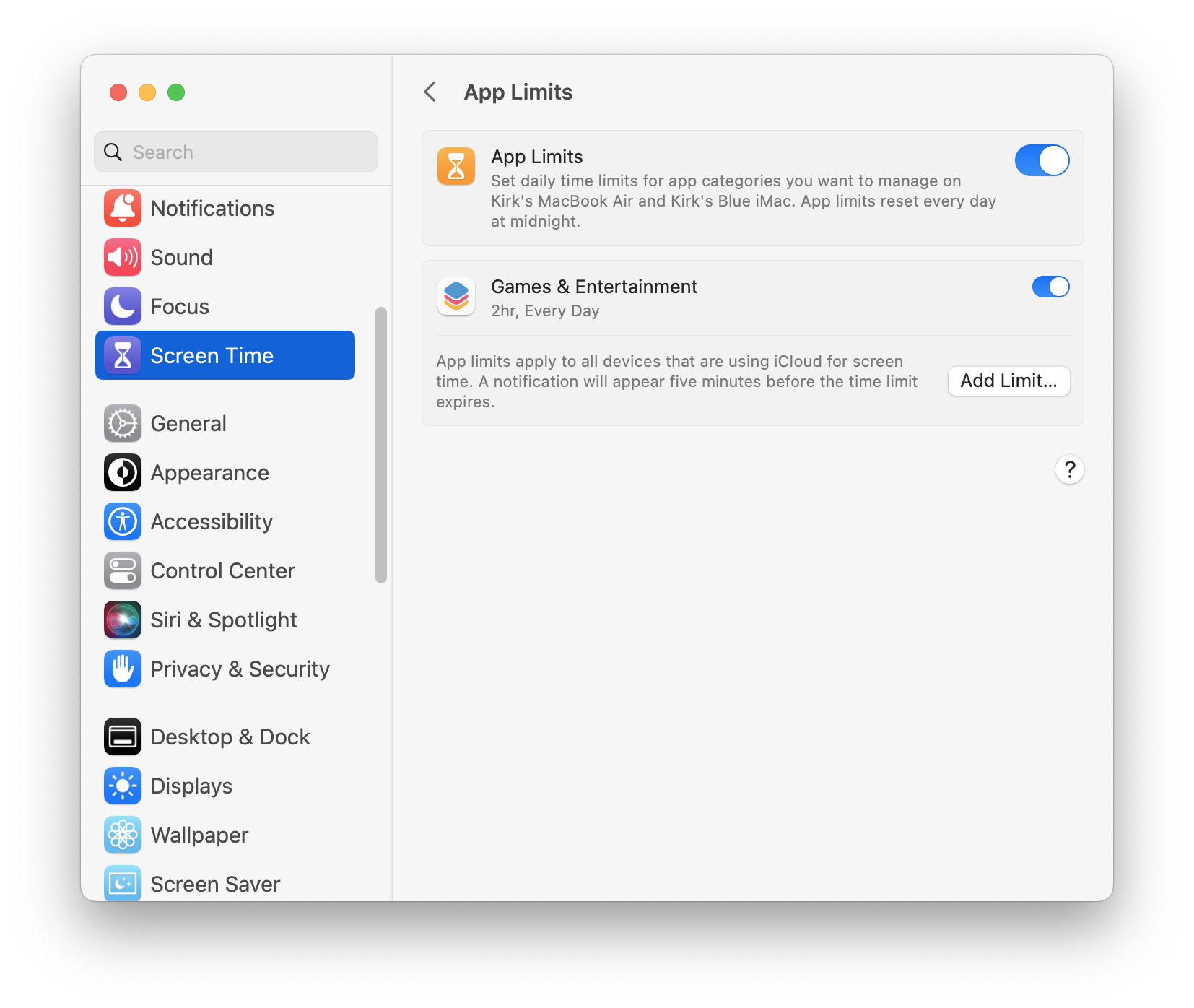 Use Communication Limits to limit who children can contact via FaceTime and Messages (and if your child has an iPhone, and is signed in with the same Apple ID, the settings you apply here also affect the Phone app on that device). And enable Communication Safety to tell the Mac to detect nude photos and videos before a child sees them.
Always Allowed lets you set contacts that your children can always communicate with, such as parents or other family members. You can also whitelist apps so they can use specific apps without limits.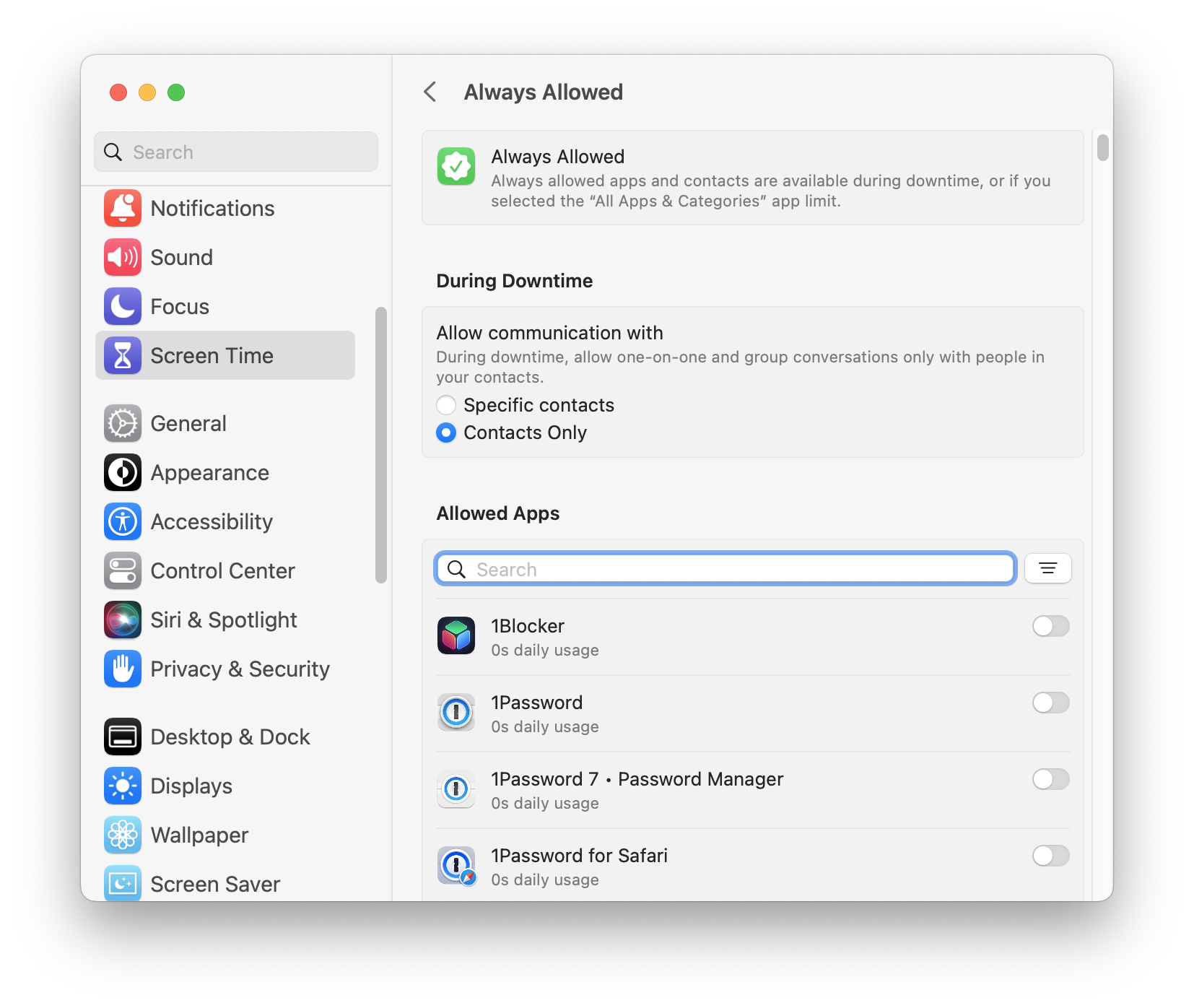 The Content & Privacy section gives you a large number of settings regarding which type of web content they can view, what they can do with Game Center games, which stores they can access, and which age ratings content for them is allowed, and many other options. Check this section carefully, and remember that these settings also apply to an iOS device that your children use.
Screen Distance is a new setting in iOS 17 and iPadOS 17 that alerts users if they're holding the screen to close to their yes. This setting doesn't affect Macs.
If you enable Share across devices, these settings will apply to all devices used by the same person. You can also set a Screen Time passcode, which allows you to override limitations easily. So if your child has to finish their homework, and needs to use Safari, but is out of time, you can enter the passcode to give them more time.
Create Groups
If you have a lot of users accessing your Mac in a business or school, it can be useful to create one or more groups. Click Add Group to create a new group, name the group, then click the i icon to the right of the group name. You can add any user accounts on your Mac. Group settings only apply to file sharing and screen sharing, not to any Screen Time options. When you go to the Sharing settings, you can then choose a group name rather than a number of user names, which changing these settings.
Deleting Accounts
While you may create accounts for users who will be accessing your Mac for a long time, you may also temporarily create an account for, say, a friend who is staying with you for a week or a temporary employee. When they no longer need access to this Mac, click the i icon next to their account in the user list, then click Delete User to delete it. You'll be given an option to save all their files in a disk image, leave their home folder in the Users folder, or delete the home folder.
Bottom Line
While most Mac users only have a single account on their computers, it can be useful to create additional accounts for friends, family, or coworkers. This is easy to do, and all of your files are secure even when another user works on your Mac.
How can I learn more?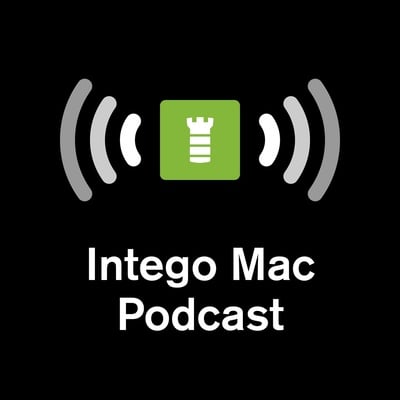 Each week on the Intego Mac Podcast, Intego's Mac security experts discuss the latest Apple news, security and privacy stories, and offer practical advice on getting the most out of your Apple devices. Be sure to follow the podcast to make sure you don't miss any episodes.
You can also subscribe to our e-mail newsletter and keep an eye here on Mac Security Blog for the latest Apple security and privacy news. And don't forget to follow Intego on your favorite social media channels: Facebook, Instagram, Twitter, and YouTube.
About Kirk McElhearn
Kirk McElhearn writes about Apple products and more on his blog Kirkville. He is co-host of the Intego Mac Podcast, as well as several other podcasts, and is a regular contributor to The Mac Security Blog, TidBITS, and several other websites and publications. Kirk has written more than two dozen books, including Take Control books about Apple's media apps, Scrivener, and LaunchBar. Follow him on Twitter at @mcelhearn. View all posts by Kirk McElhearn →