Protect Your Music Collection with Intego Personal Backup
Posted on by Peter James
If you read forums about iPods and iTunes, you'll see a lot of people looking for ways to copy music from their iPod back to their computer. The most common reason for this is they had a serious problem on their computer, lost all their files, and they want to get their digital music back. In other words, they don't have backups of their music collection, or of any of their other files.
We at Intego consider backups to be the cornerstone of any security policy, both for individuals and for companies. The files you create, and the data that is on your Mac, are, for the most part, irreplaceable. Sure, if you use Apple's iCloud, you can get back your contacts and bookmarks, and perhaps some files, but what if you need to protect your music collection? Unless you use iTunes Match, if you lose your music collection, it's lost forever.
Think of all the time you spent importing your CDs, and the money you spent buying music from various digital vendors. If you don't have a backup, and your computer's hard disk crashes, you may lose all your files, including your entire music collection. The music is still on your iPod, and there are some tools that can recover it, but if you didn't sync all of your music to your iPod, or if you find you can't copy your music files from your iPod, then you're out of luck.
With Intego Personal Backup, we make it easy to protect your music collection. You can either make a bootable backup (clone) of your entire hard disk, or you can specifically back up your Music folder: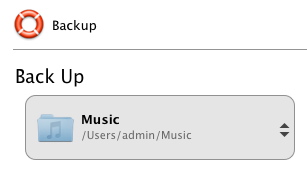 We recommend that you back up your music regularly to an external hard disk or a network volume. If you don't have an external hard disk, you might think about getting one. You can get a good external hard disk for about $100.
Intego Personal Backup is available as part of Intego Internet Security Barrier X6. Get a free 30-day demo of Internet Security Barrier X6 and try out Personal Backup, and the other great programs in the suite.