Out with the Old, In with the New: Updated Version of Intego VirusBarrier iOS Now Available in the App Store
Posted on September 25th, 2012 by Rebecca Kelley
We first debuted Intego VirusBarrier iOS in July 2011 so that users would have a way to scan email attachments with their iOS devices and prevent any malicious files from being passed onto their home computers. It was a great tool but customers had some gripes about the clunky usability and the fact that it was subscription-based. Today we're happy to announce a new version of Intego VirusBarrier iOS that boasts a brand-new clean design, new features, a more intuitive user interface, and a new one-time price of $0.99.
Your iOS device is susceptible to acting as a gateway for malware contained in file attachments to infect other computers or laptops you own, causing some major headaches as you scramble to rid your machine of it. Intego VirusBarrier iOS offers on-demand scanning for your iPad or iPhone so you can catch these malicious files and get rid of them before they screw up your computer.
When you install VirusBarrier iOS and launch it for the first time, a tool tip will pop up and provide simple instructions on how to use the app.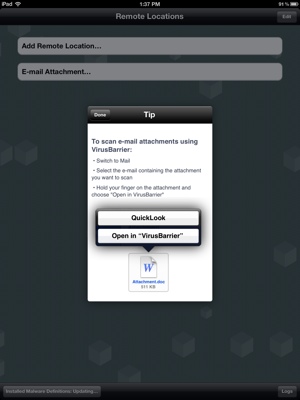 Once you receive an email attachment, you can choose to open it with Intego VirusBarrier iOS. If the scan comes up clean, our integrated file reader will open the document for quick and easy viewing, or you can send the file to a remote location such as Dropbox for storage.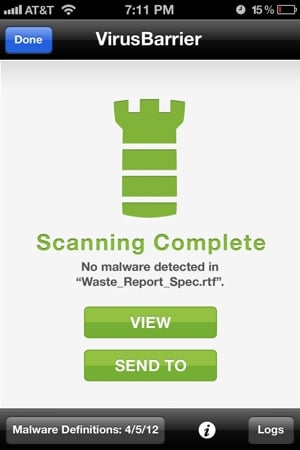 If any malware is detected, the user is prompted to view details of the discovery and report the malware to us at Intego.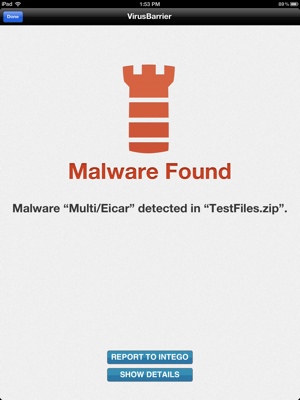 We've also made the functionality a lot simpler and more intuitive so you can quickly and easily scan your email attachments without running into any frustrating or clunky delays.
Currently you can scan the following:
Files on iOS devices
Files attached to emails
Files accessed from remote locations like Dropbox, WebDAV, and FTP shares
Intego VirusBarrier iOS has also changed from a subscription-based service to a one-time price of $0.99, which is cheaper than the cost of a cup of coffee nowadays (unless it's really bad coffee, in which case I'd urge you to save your money and buy something that won't wreak havoc on your digestive system). You only pay once and can update the app with the newest malware definitions for free to ensure that you're always protected from the latest, most current Mac and Windows threats. We feel the price is a good value to ensure your attachments are safe and won't pass any icky crap onto your home computer, your laptop, or your friends' computers.
Give Intego VirusBarrier iOS a try and let us know what you think!