Opera Updates Browser for Critical Vulnerabilities
Posted on January 27th, 2011 by Peter James
Opera has updated its web browser to version 11.01, fixing a number of bugs, and correcting five security vulnerabilities, one of which the company considers critical. The critical flaw involves "Large form inputs [that] can allow execution of arbitrary code," and is described as:
When certain large form inputs appear on a web page, they can cause Opera to crash. In some cases, the crash can lead to memory corruption, which could be used to execute code. To inject code, additional techniques will have to be employed.
In addition, the latest version of Opera enables Mac OS X file quarantine. This is the feature that sets a flag on downloaded files so the Finder can alert users when opening them that they were downloaded from a web site.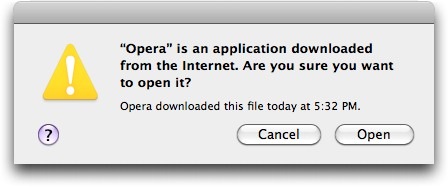 Opera is available here, and is a 13.2 MB download.