Mac OS X 10.8.3 Released with Apple's Security Update 2013-001
Posted on by Derek Erwin
Last week, Apple released a new version of its OS X Mountain Lion operating system to Mac OS X 10.8.3. This update includes multiple bug fixes and improves the security of Mac OS X. Included with Mac OS X 10.8.3 are Safari 6.0.3 and Security Update 2013-001, both of which address multiple security problems. For Mac users running OS X Lion, the 33 MB Security Update 2013-001 shipped alongside the Safari 6.0.3 software update.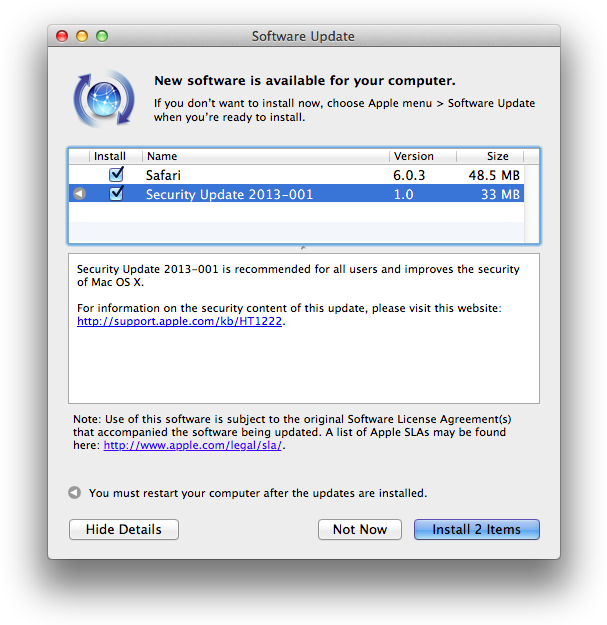 Apple silently bundled Safari 5.1.8 with the Snow Leopard version of Security Update 2013-001. Oddly, Apple has not released any details about this update on its Apple security updates page.
Altogether, the contents of these security updates include bug fixes for Mac OS X 10.6.8, Mac OS X Server 10.6.8, OS X Lion v10.7 to v10.7.5, and OS X Lion Server v10.7 to v10.7.5, in addition to OS X Mountain Lion v10.8 to v10.8.2. Overall, a total of 21 security issues are fixed, covering 17 separate CVEs, 9 of which are related to arbitrary code execution (CVE-2013-0156 and CVE-2013-0333 include flaws impacting multiple components of Apple software).
Also included in this software update is a malware removal tool that will remove some of the most common variants of Mac malware. (Naturally, here at Intego we recommend our comprehensive Mac anti-virus software since we offer award-winning protection with timelier malware definition updates.)
Following are details provided by Apple on the security issues documented as offering remote attackers the potential for arbitrary code execution:
Following are the remaining flaws fixed with Apple's Mountain Lion update and Security Update 2013-001:
Head over to Apple's support page for more information about the OS X Mountain Lion v10.8.3 update, which includes additional information about Safari 6.0.3, too. We strongly encourage all Mac users to download and install all security updates as soon as possible – it is an essential layer of security that keeps your digital life secure.
You can update through Apple's Software Update tool by choosing Apple menu > Software Update when ready to install. For OS X Mountain Lion v10.8.2 users, you can download the 540.46 MB update to v10.8.3 from the Apple support page. For those running OS X 10.8, you can upgrade by downloading the 793.69 MB Combo updater.