iOS 8 Has Arrived! 'Biggest Update' Packed with Security Fixes
Posted on by Derek Erwin
iOS 8 has arrived! Apple has just released iOS 8, the company's biggest update since the launch of the App Store. This is without question the most comprehensive, detailed upgrade Apple has ever offered to its iPhone, iPad software. 
There are so many fantastic new features in iOS 8, it will take more than one article to review them all. On the more exciting features, it comes with "hundreds of new features including new Messages and Photos features, QuickType keyboard, a new Health app, Family Sharing, iCloud Drive and more." On security, a whopping 56 vulnerabilities have been resolved, and that's just the tip of the iceberg!
RELATED: iOS 8 Tip: Read This Before You Upgrade to iCloud Drive
This update is available for iPhone 4s and later, iPod touch (5th generation) and later, iPad 2 and later.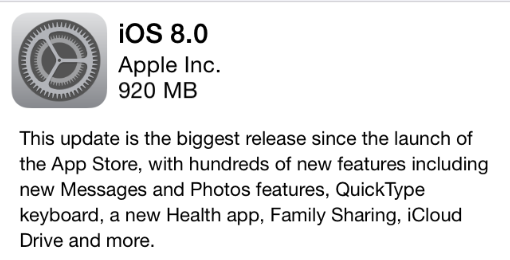 In addition to addressing vulnerabilities (CVEs), Apple also applied security updates to the iOS certificate trust policy. (The complete list of certificates can be found here.)
Moreover, an iOS information disclosure issue was discovered in an API used to determine local weather; location information was being sent unencrypted. Apple fixed this issue by changing APIs.
Apple also addressed a privacy issue after finding that an iOS device may be passively tracked by its Wi-Fi MAC address. Apple noted, "An information disclosure existed because a stable MAC address was being used to scan for Wi-Fi networks." Apple addressed the issue by randomizing the MAC address for passive Wi-Fi scans.
The vulnerabilities resolved in the iOS 8 update are described as follows:
This update is available directly on iOS devices (Settings > General > Software Update), or it can be downloaded and installed in iTunes when a device is connected to a computer with an Internet connection.