Intego Software Updated for macOS Sierra Compatibility
Posted on by Derek Erwin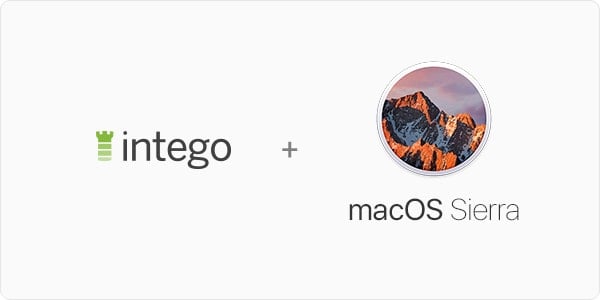 Intego products are the optimum solutions for protection, cleaning and organizing your Mac. We build our software from the ground up for Mac, and we've been doing it that way for 19 years. There's just no substitute for Mac expertise.
macOS Sierra will be released today, and we want our customers to know that we've got you covered. We have updated all our Mac antivirus and security software—X6, X9, and business products—to ensure compatibility with Apple's new Sierra operating system.
The following product versions are fully compatible with macOS Sierra:
X9 Products
VirusBarrier 10.9.4
NetBarrier 10.9.2
ContentBarrier 10.9.1
Personal Backup 10.9.2
Mac Washing Machine 10.9.2
NetUpdate 10.9.1
X6 Products
VirusBarrier 10.6.24
NetUpdate 10.5.16
Business Products
All of Intego's software are now fully optimized for macOS 10.12 and won't slow down your Mac. If you plan to upgrade to your Mac to Apple's new Sierra operating system, we recommend you take the following steps to stay protected.
Before you upgrade to macOS Sierra:
Update your Intego software. Updating is easy and free using NetUpdate. You can launch NetUpdate either from the Intego menu in your menubar or from the System Preferences application. There you'll find the necessary updates for all your Intego software. Need help updating your software? Learn how to update here.
Back up your Mac. Just as important as updating your Intego software, you should back up your Mac before upgrading to macOS Sierra. You can make a full clone of your startup disk and back up any other volumes you have using Intego Personal Backup (included with Mac Premium Bundle), which will ensure your data is safe in case anything goes wrong.
We cannot stress enough the importance of backing up your Mac before upgrading to macOS Sierra. If you do have a problem, with Intego Personal Backup you'll be able to restore your clone immediately and start again. It's just another way Intego protects your Mac and your data from potential disaster.
Intego's updated Mac antivirus and security software are available for download through NetUpdate, or through the Intego Downloads page on our website.
Have a question about our software updates? Leave us a comment below!