Intego Earns 100% Detection in AV-Comparatives 2021 Independent Testing
Posted on by Joshua Long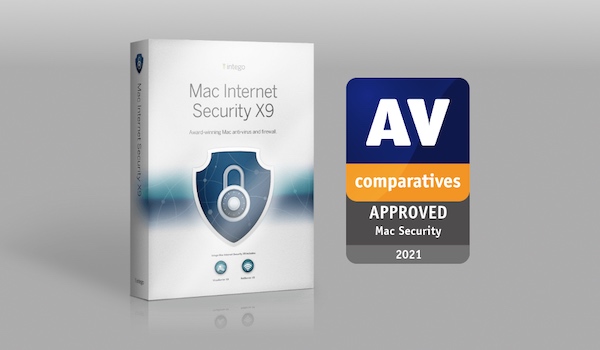 In a recent publication from independent anti-malware testing firm AV-Comparatives, Intego Mac Internet Security X9 earned the coveted Approved Security Product award for 2021.
Intego detected 100% of Mac malware and 100% of Windows malware samples used in the test, which consisted of 538 recent Mac samples and 500 prevalent Windows samples.
Why independent testing matters
It is important to use an antivirus product that is independently tested and certified to ensure that it works as expected and meets rigorous standards. Not every tested product passes certification, of course. Professional testing by a neutral, independent third party is a good way to confirm that a product works well and performs as expected.
AV-Comparatives has been a leading independent antivirus testing organization since 1999. The firm has strict criteria for certifying security programs. When AV-Comparatives grants certification to a security program, this indicates that the product "has proven itself to be effective, honest, transparent and reliable."
Review highlights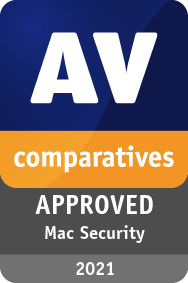 AV-Comparatives only evaluated the anti-malware functionality of Intego Mac Internet Security X9, specifically VirusBarrier X9. The firm noted that Intego Mac Internet Security X9 also includes Intego's NetBarrier X9 firewall, which was not tested.
Some highlights from the test include (emphasis added):
100% score in Mac Malware Protection (VirusBarrier X9 detected all 538 recent Mac samples)
100% score in Windows Malware Detection (VirusBarrier X9 detected all 500 prevalent Windows malware samples)
"The program's interface makes the most important functions easy to find and use."
"We found Mac Internet Security X9 to have sensitive and reliable on-access protection against malware."
"Standard user accounts cannot take any risky actions" such as disabling protection features.
"Overall, the program is straightforward and reliable in use."
"A simple but useful help feature explains the main functions using an overlay."
Intego also met AV-Comparatives' certification requirements for Mac PUA Protection. "PUA" is shorthand for "potentially unwanted application," a loosely defined category that can include non-malicious files and software that has potentially legitimate uses. None of the Mac antivirus products that AV-Comparatives tested detected all of the nearly 800 files that the testing organization defined as "potentially unwanted." Because antivirus vendors may disagree on whether some samples should be detected as PUA, AV-Comparatives' minimum PUA threshold for certification is a 75% detection rate—but Intego earned a very respectable 97% score for Mac PUA Protection based on files that AV-Comparatives defined as potentially unwanted.
How can I learn more?
The full AV-Comparatives report is available online in their Mac Security Test & Review 2021, also available as a PDF.
To stay up to date with the latest in Apple security and privacy news, keep an eye here on The Mac Security Blog, and follow the weekly Intego Mac Podcast audio program. Subscribe to our free e-mail newsletter as well.
You can also follow Intego on your favorite social media channels: Facebook, Instagram, Twitter, and YouTube (click the 🔔 to get notified about new videos).
About Joshua Long
Joshua Long (@theJoshMeister), Intego's Chief Security Analyst, is a renowned security researcher, writer, and public speaker. Josh has a master's degree in IT concentrating in Internet Security and has taken doctorate-level coursework in Information Security. Apple has publicly acknowledged Josh for discovering an Apple ID authentication vulnerability. Josh has conducted cybersecurity research for more than 20 years, which has often been featured by major news outlets worldwide. Look for more of Josh's articles at security.thejoshmeister.com and follow him on Twitter. View all posts by Joshua Long →