How to Use the Find My App to Locate Friends, Apple Devices, and AirTags
Posted on by Kirk McElhearn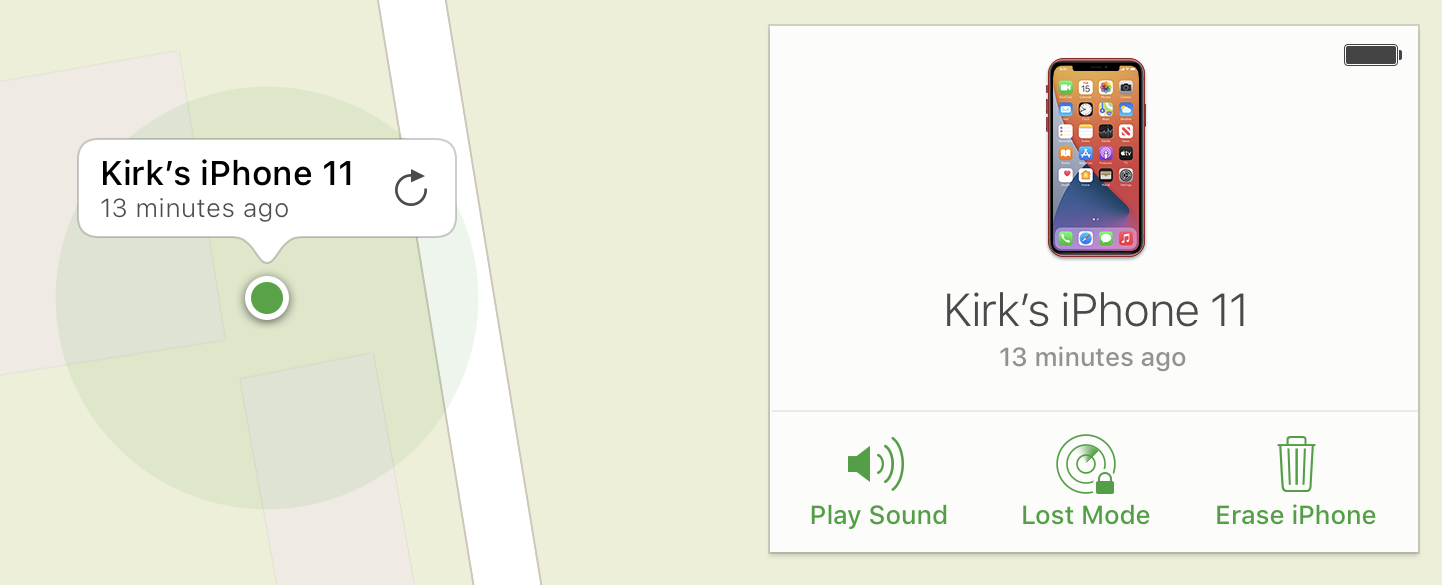 Apple's Find My app is a versatile tool for finding your friends, keeping track of your Apple devices, and locating lost items that you've protected with AirTags. You can find your lost iPhone, see where your keys are, if they've got an AirTag on them, and find that friend you're supposed to meet in a busy shopping mall.
Find My is not only for finding items, but also for protecting your Apple devices. You can mark them as lost, and even erase them remotely, protecting your data. Here's how to use the Find My app.
Find your devices
We all sometimes need to find our devices: our iPhones, iPads, Macs, Apple Watches, and even our AirPods. Your iPhone may have slipped between the cushions of your sofa, or you may have left it at work. You may have forgotten where you put your iPad last night. And one of your AirPods may have gone missing.
With the Find My app, you can find the location of a missing device, have it play a sound — great if it's at home and you can't locate it — or in a worst-case scenario, you can mark the device as lost and erase it. You must turn on the Find My setting on each of your devices, in their iCloud settings, to ensure that if you do lose a device, you can remotely wipe it to protect your data.
With the Find My app, you can even find devices that aren't connected to Wi-Fi or a cellular network. As long as these devices have power, they will emit a secure, low-energy Bluetooth signal, and other Apple devices with iOS 13, iPadOS 13, or macOS Catalina or later will be able to help crowdsource their locations. To ensure that this feature is active, on the Mac, go to System Preferences, click your Apple ID, then click iCloud > Find My, then click Options. First make sure that Find My Mac is on. Then, if Find My network is off, click Turn On.
On an iPhone or iPad, go to Settings, tap your name at the top of the screen, then tap Find My > Find My device and toggle Find My Network. You should also ensure that Send Last Location is on, so your device will continue to send its location until it runs out of power.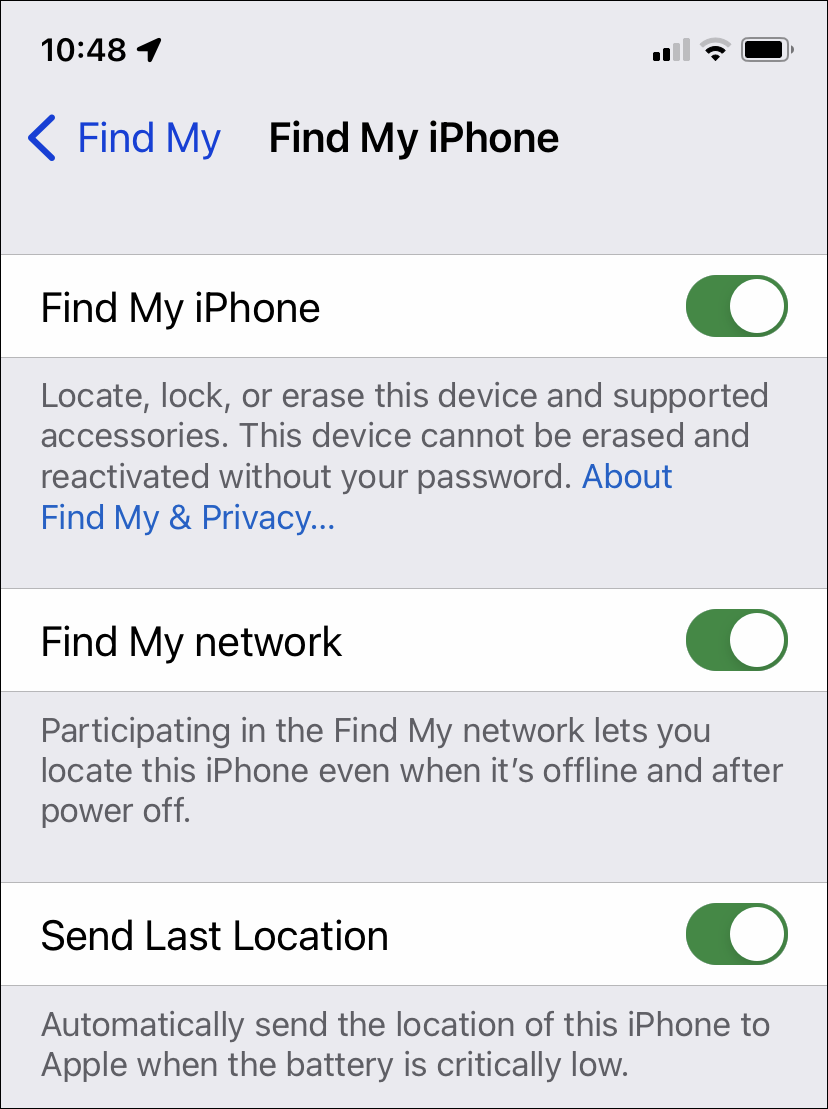 Find My works With Macs, iPhones, iPads, Apple Watches, AirPods, and AirTags. It also works with some Beats headphones, and Apple recently opened the Find My app to some third-party companies, such as Belkin, Chipolo, and VanMoof, with more coming soon.
Different devices offer different options. For a Mac, iPhone, iPad, iPod touch, or Apple Watch, you can view the device's location, play a sound, put it in lost mode, erase it, or trigger activation lock. When you put a device into lost mode, you can also add contact information, so if someone finds it they get in touch with you.
For AirPods or AirPods Pro, you can view a location and play a sound, but this only works if the individual AirPods are not in the case. For AirPods Max, they need to not be in their case for Find My to work. But even if you can't find them right now, you'll see their last location and the time they were last seen in the Find My app. However, for now, you can only find headphones if they are within Bluetooth range of one of your devices. Apple has announced that AirPods Pro and AirPods Max will benefit from the broader Find My network at some point in the fall of 2021. This feature was supposed to be part of iOS 15, but has been delayed.
Note that if you are using Family Sharing, all your family's devices will show up in your Find My app, so you can help track devices used by your children, partner, or spouse.
Finding your friends
The People tab of the app lets you locate your friends or relatives who have shared their location with you (either permanently or temporarily). This can be useful if you want to keep tabs on your kids, or if you're planning to meet a friend somewhere and want to make it easier to find them. All your friends who are sharing their location show up in the app, and you can set notifications so you are alerted when they arrive at or leave a specific spot.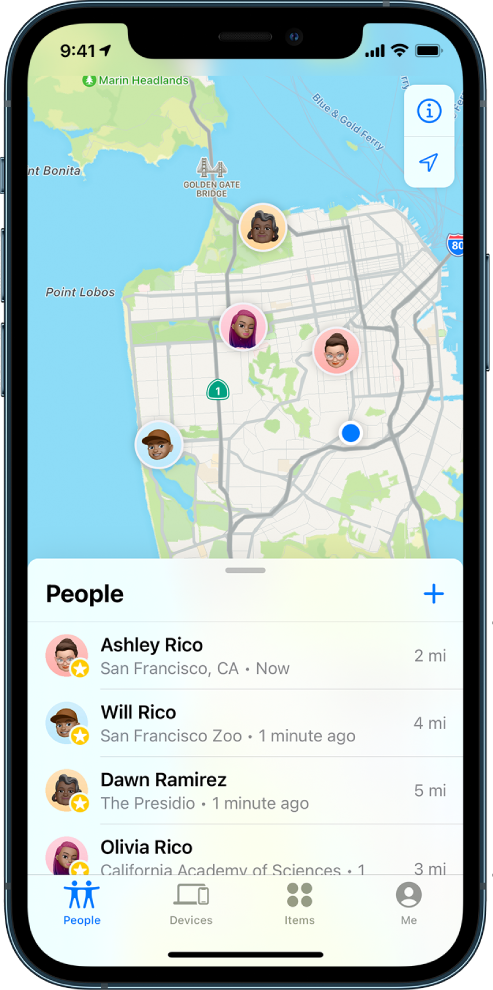 You can get directions to where your friends are, view their contact card, edit the name of the location where they are, and, if you have lots of friends, you can add your besties to a favorites list.
Sharing your location
In order to find your friends, one of you has to share their location, and the other has to accept. You can do this in two ways. The first is from the Friends tab: tap Share My Location and type in the name of the person with whom you want to share your location.
You can also do this from the Me tab of the Find My app on iOS or iPadOS, where you have more options.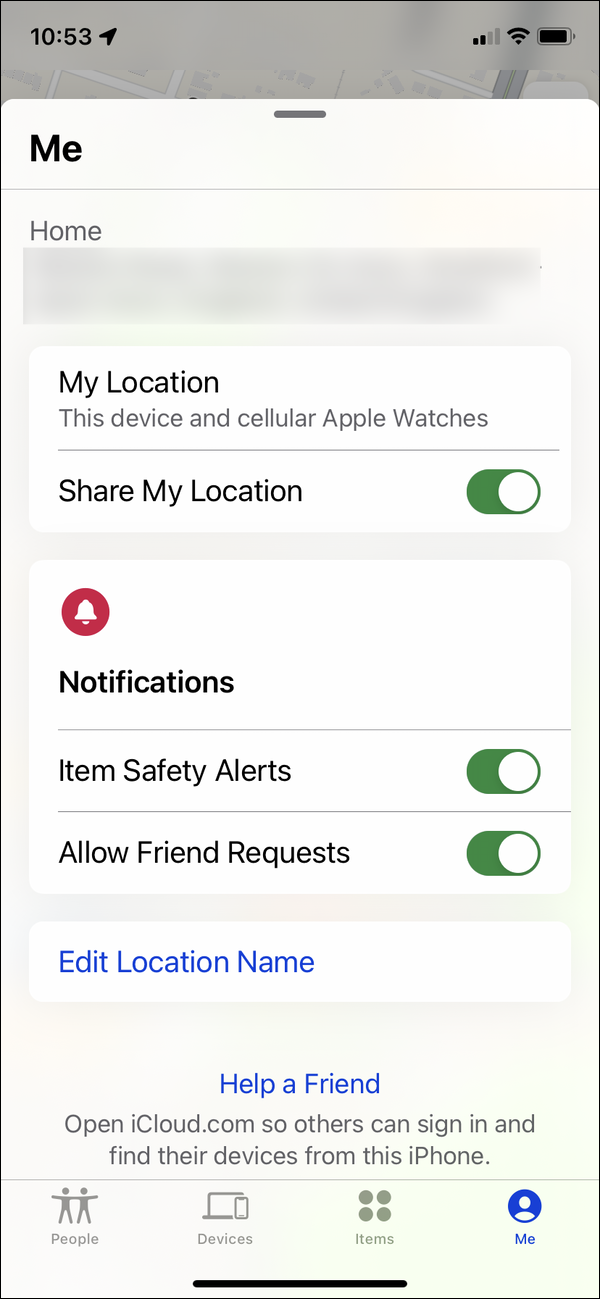 Here you can toggle your location sharing on or off, decide if you want to allow friends to ask to share your location, receive location updates, and edit your location name. For example, you might want to edit the names of your home and work locations, so friends will know precisely where you are, but also other locations such as the gym, the supermarket, the kids' school, etc.
Another option is Item Safety Alerts. If this is on, you'll get alerts if someone else's AirTag or other third-party device is with you for a certain amount of time.
You can also name your current location, by tapping Edit Location Name. You might want to set the name of your home location to Home, your office to Work, and name other locations you visit often so it's easier for your friends to find you.
The Apple Watch also offers a Find People app, that helps you locate your friends. Settings for this are in the app on the Apple Watch, but it inherits settings and friends that you've set up on other devices.
Finding items
Apple's new AirTags are integrated into the Find My app. You can keep track of your keys, wallet, baggage, and much more with AirTags.
AirTags benefit from Apple's network of nearly one billion devices. When a device with Find My comes near an AirTag, it records its location, and sends it to Apple, anonymously, so you won't know that this occurs, and no one will know that you've been near an AirTag. Since there are so many iPhones and iPads in the world, I was able to track an AirTag I sent to a friend by mail.
You track AirTags as you would any Apple device. Click on tap one in the Find My app, and you'll see its approximate location.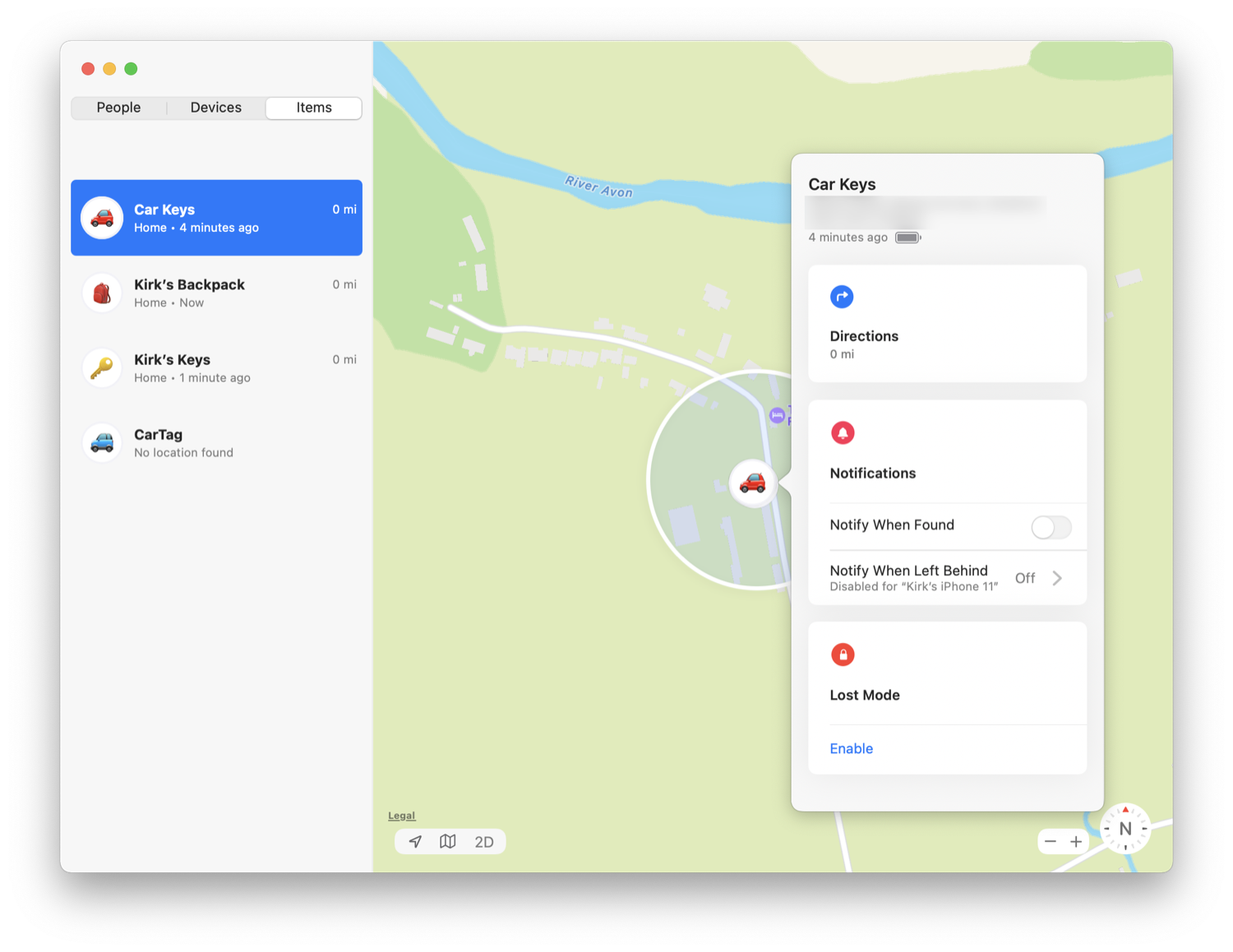 You can get directions to its location, get notifications when it's found, and put it in lost mode. If you do the latter, you can add a message that will display if someone finds the AirTag and holds it near their phone. You can include your phone number and a message, so the person who finds the AirTag can contact you.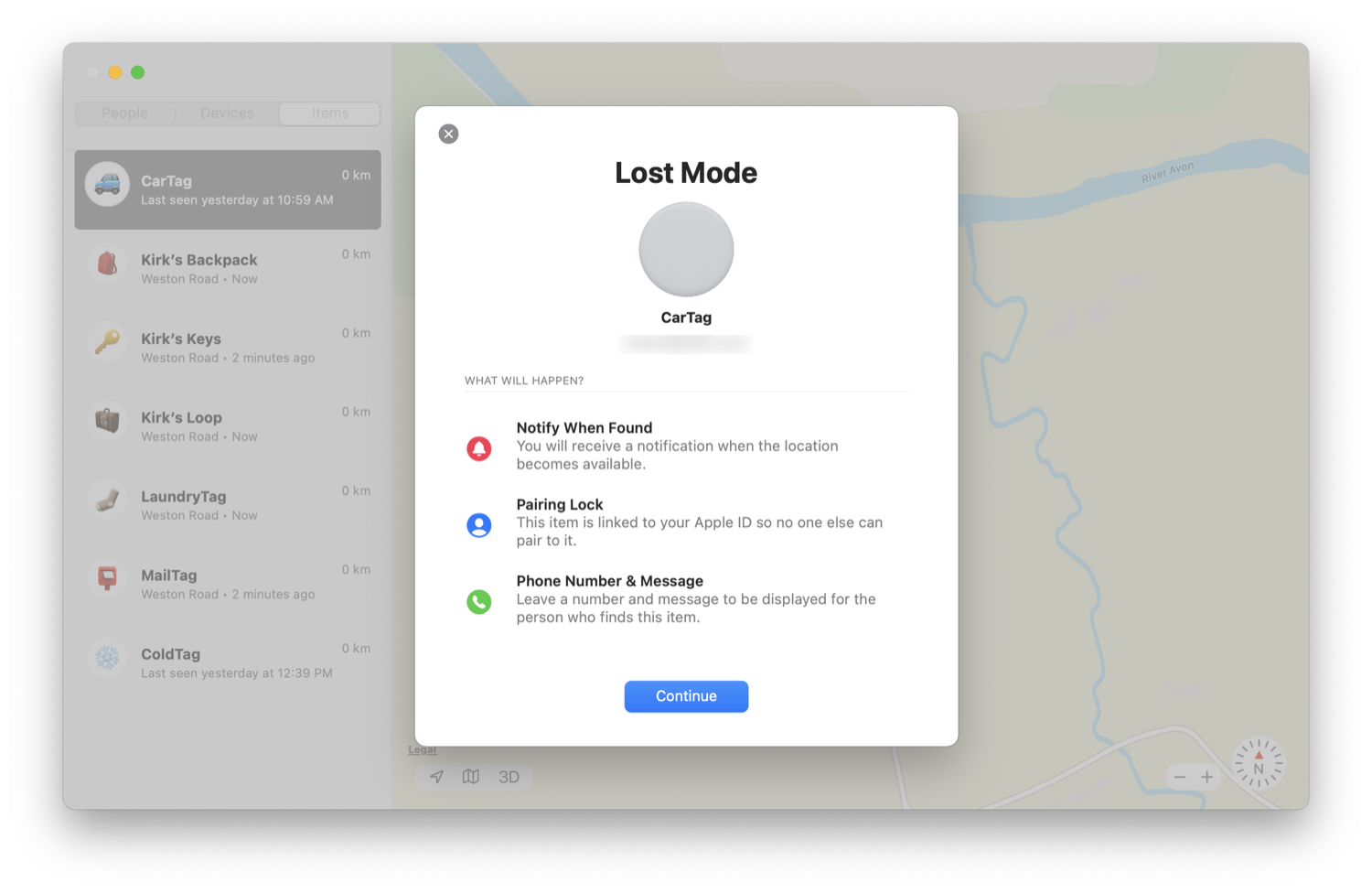 If you're near an AirTag, with an iPhone 11 or later, you can get precise directions to find an AirTag. Your iPhone will show you, with arrows, which way to go, show you how far you are from the AirTag, and tell you when you've gotten right next to it.
Another useful feature with AirTags is the ability to be notified if you've left a tagged item behind. Click the icon for an AirTag in the Find My app, then click the i icon. You see this: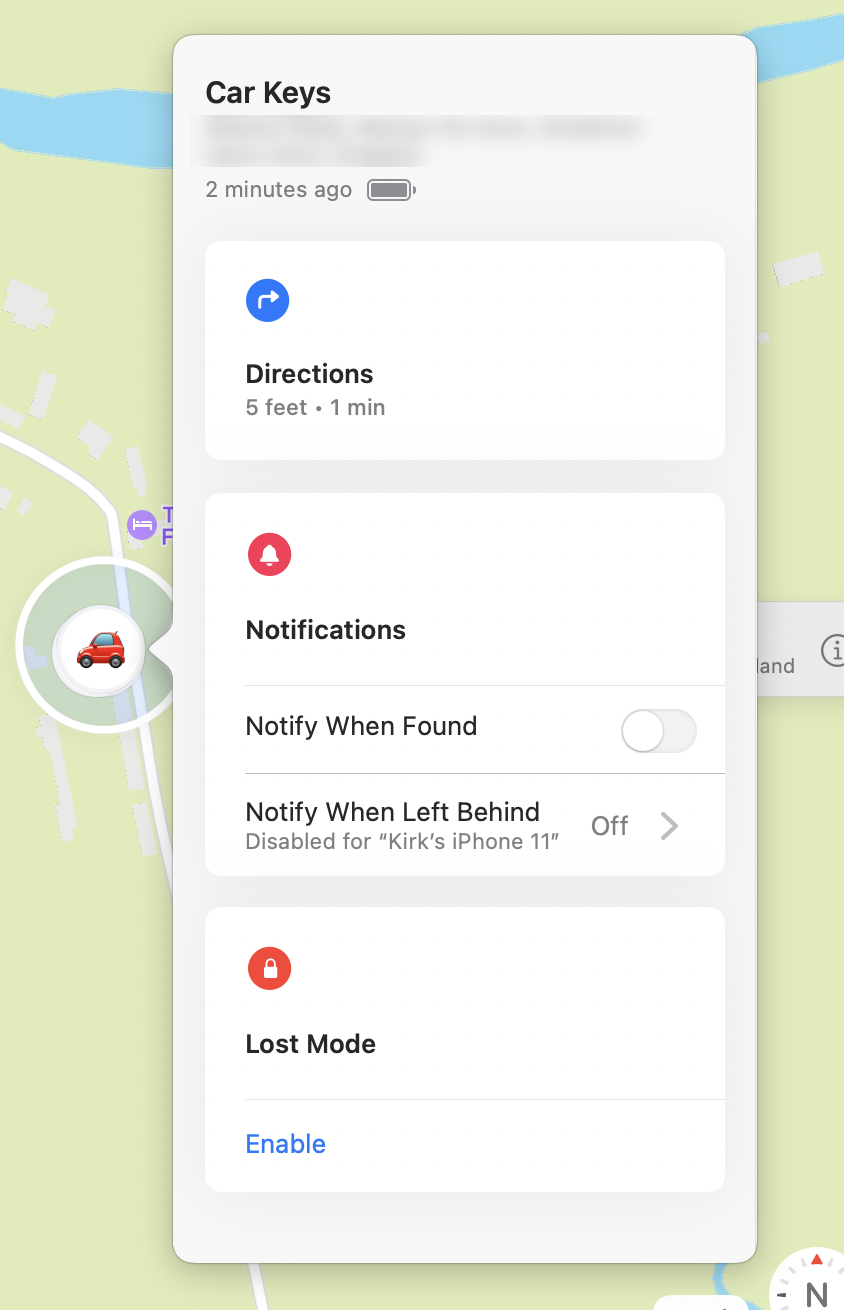 Click Notify when Left Behind, and you see this screen:
Toggle Notify When Left Behind, and you'll get alerted on your iPhone if you leave a location without the AirTag. If you don't want notifications when you leave certain locations, click the suggested location – which is your current location – or click New Location and choose where you want to not be notified.
Use Find My on iCloud.com
You can also use Find My on the web, at icloud.com/find. From the menu at the top, you can choose a specific device, and you can play a sound, put the device in lost mode, or erase it.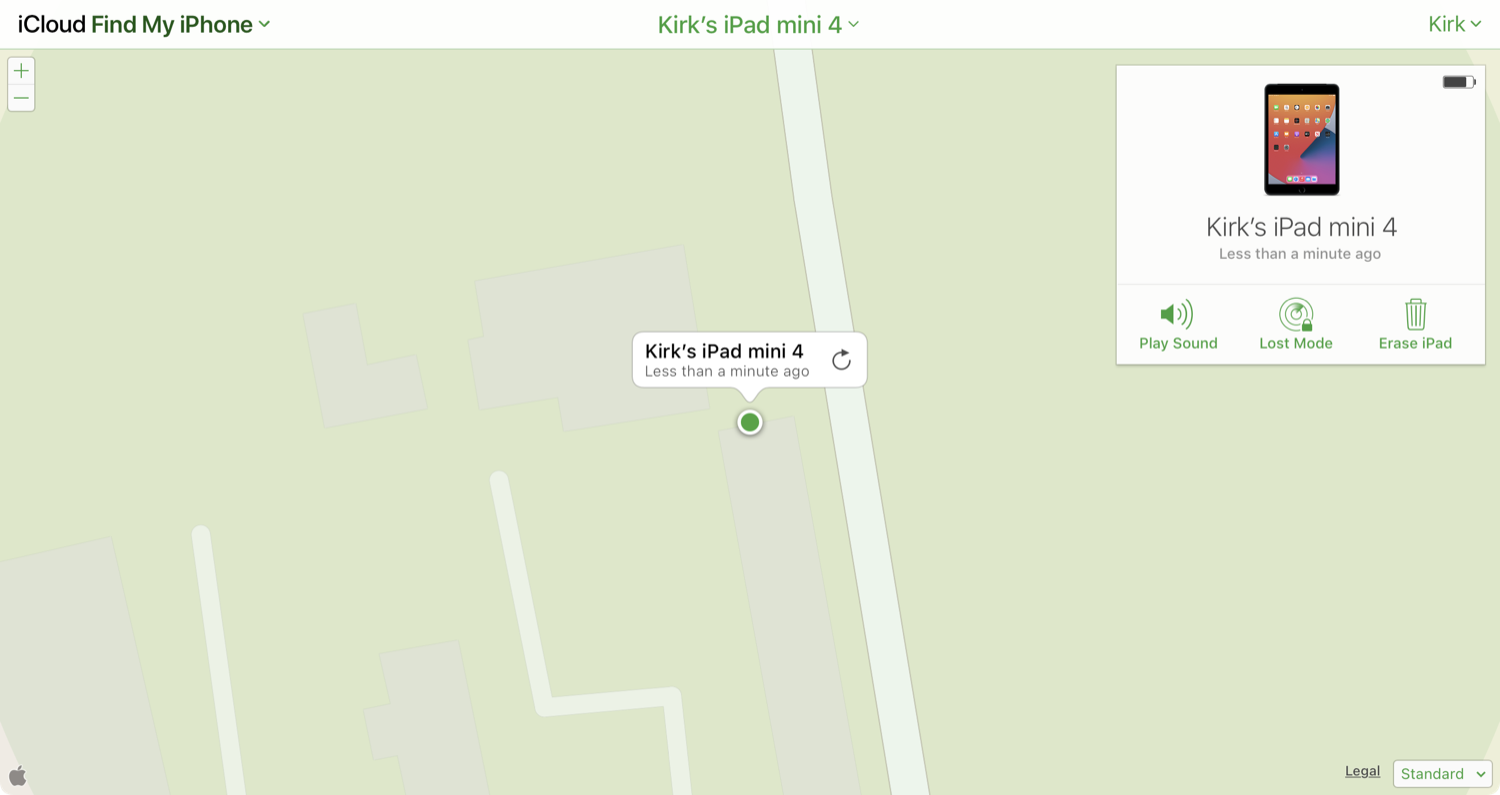 The Find My app is a great way to protect your Apple devices, find friends and let them find you, and find lost items with AirTags.
How can I learn more?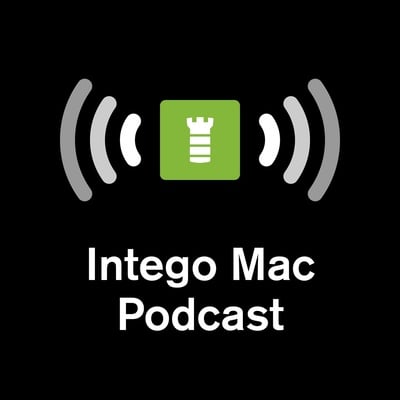 Each week on the Intego Mac Podcast, Intego's Mac security experts discuss the latest Apple news, security and privacy stories, and offer practical advice on getting the most out of your Apple devices. Be sure to follow the podcast to make sure you don't miss any episodes.
We discussed mailing AirTags and more in episode 187 of the Intego Mac Podcast.
You can also subscribe to our e-mail newsletter and keep an eye here on Mac Security Blog for the latest Apple security and privacy news. And don't forget to follow Intego on your favorite social media channels: Facebook, Instagram, Twitter, and YouTube.
About Kirk McElhearn
Kirk McElhearn writes about Apple products and more on his blog Kirkville. He is co-host of the Intego Mac Podcast, as well as several other podcasts, and is a regular contributor to The Mac Security Blog, TidBITS, and several other websites and publications. Kirk has written more than two dozen books, including Take Control books about Apple's media apps, Scrivener, and LaunchBar. Follow him on Twitter at @mcelhearn. View all posts by Kirk McElhearn →