How to use the Find My app to locate your iPhone, Mac, Apple Watch, AirPods, and friends
Posted on September 18th, 2019 by Kirk McElhearn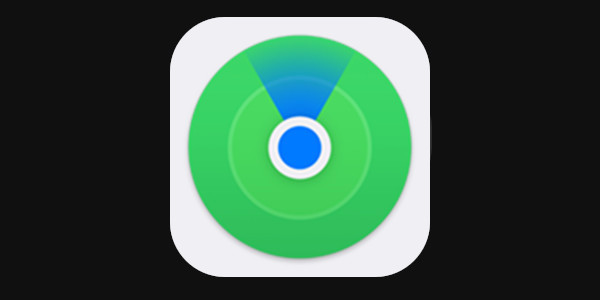 When you want to find where your friends are, or where you misplaced your iPhone, the new ungrammatically titled "Find My" app on iOS can help you. Combining the features of the previous Find My iPhone (or iPad) and Find My Friends apps, this new app lets you locate people and Apple devices. You can get notifications when people leave or arrive at specific locations, you can set up device location-aware action triggers, or you can erase your device if it's been lost or stolen. Here's how to use the new Find My app.
Finding your devices
We all sometimes need to find our devices: our iPhones, iPads, Macs, and even our AirPods. Your iPhone may have slipped between the cushions of your sofa, or you may have left it at work. You may have forgotten where you put your iPad last night. And one of your AirPods may have gone missing.
With the Find My app, you can find the locations of your devices, have them play a sound—great if it's at home and you can't locate it—or in a worst-case scenario, you can also mark the device as lost and erase it. You must turn on the Find My setting on each of your devices, in their iCloud settings, to ensure that if you do lose a device, you can remotely wipe it to protect your data.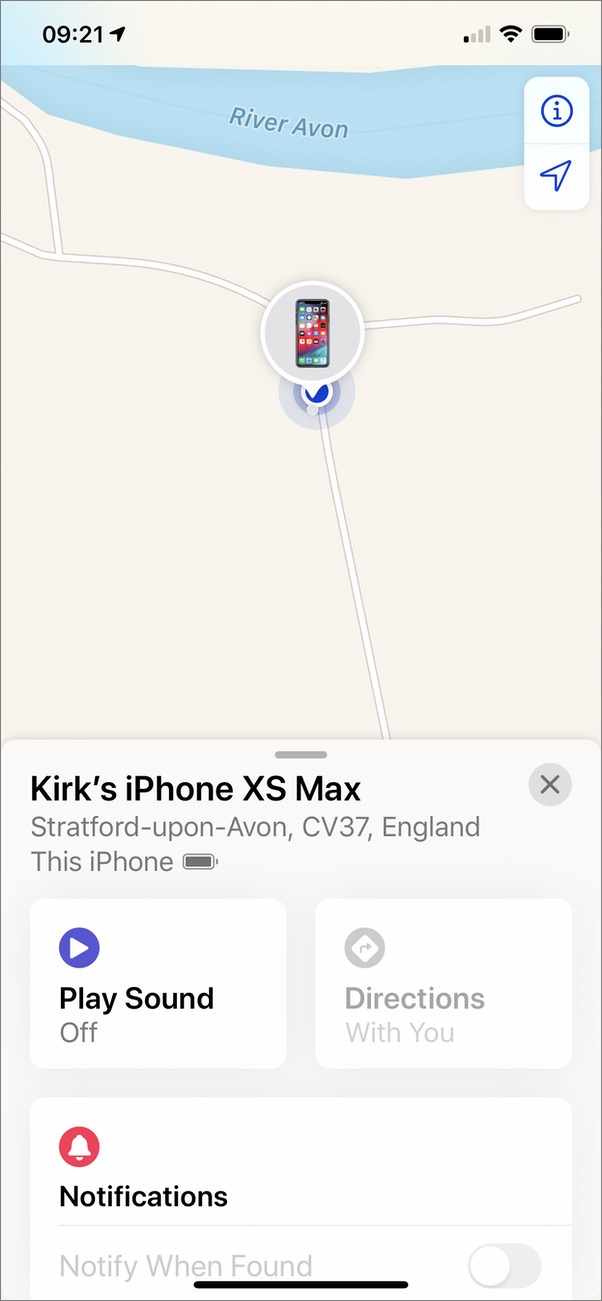 With the new Find My app, you can even find devices that aren't connected to Wi-Fi or a cellular network. As long as these devices have power, they will emit a secure, low-energy Bluetooth signal, and other Apple devices with iOS 13 will be able to help crowdsource their locations. To ensure that this feature is active, go to Settings, tap your name at the top of the screen, then tap Find My > Find My device and toggle Enable Offline Finding. You should also ensure that Send Last Location is on, so your device will continue to send its location until it runs out of power.
Different devices offer different options. For an iPhone, iPad, iPod touch, or Apple Watch, you can view the device's location, play a sound, put it in lost mode, erase it, or trigger activation lock. For Macs, you can do all of these except for putting the device in lost mode. When you put a device into lost mode, you can also add contact information, so if someone finds it they get in touch with you. And for AirPods, you can view a location and play a sound, but in my testing, this only works if the individual AirPods are not in the case.
Note that if you are using Family Sharing, all your family's devices will show up in your Find My app, so you can help track devices used by your children, partner, or spouse.
Finding your friends
The People tab of the app lets you locate your friends or relatives who have shared their location with you (either permanently or temporarily). This can be useful if you want to keep tabs on your kids, or if you're planning to meet a friend somewhere and want to make it easier to find them. All your friends who are sharing their location show up in the app, and you can set notifications so you are alerted when they arrive at or leave a specific spot.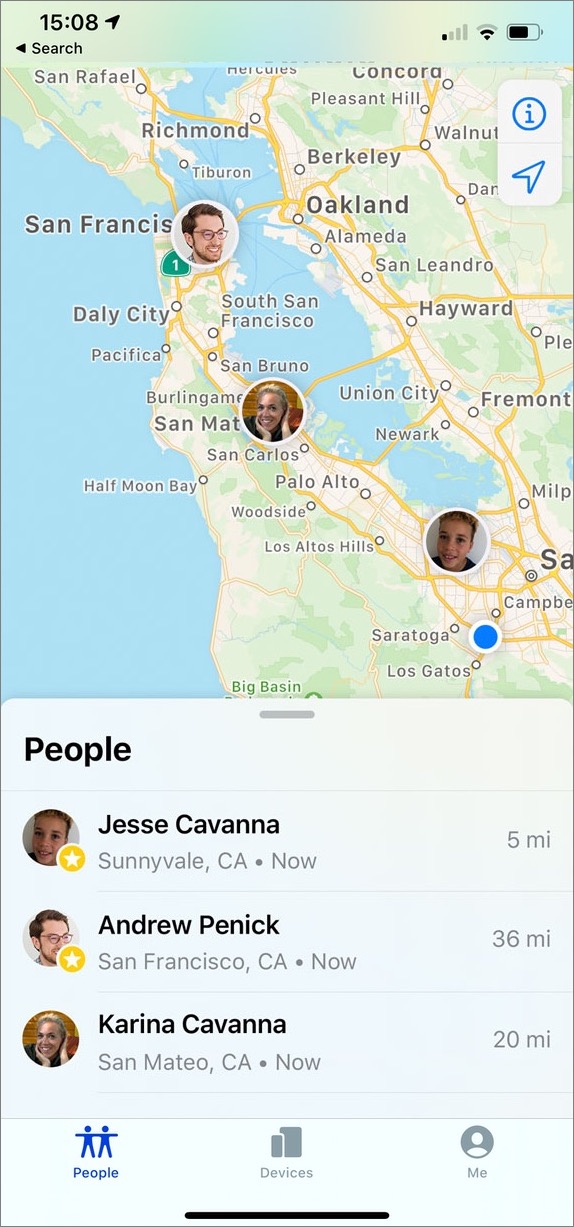 You can get directions to where your friends are, you can edit the name of the location where they are, and, if you have lots of friends, you can add your besties to a favorites list.
Sharing your location
In order to find your friends, one of you has to share their location, and the other has to accept. You can do this in two ways. The first is from the Friends tab: tap Share My Location and type in the name of the person with whom you want to share your location.
You can also do this from the Me tab, where you have more options.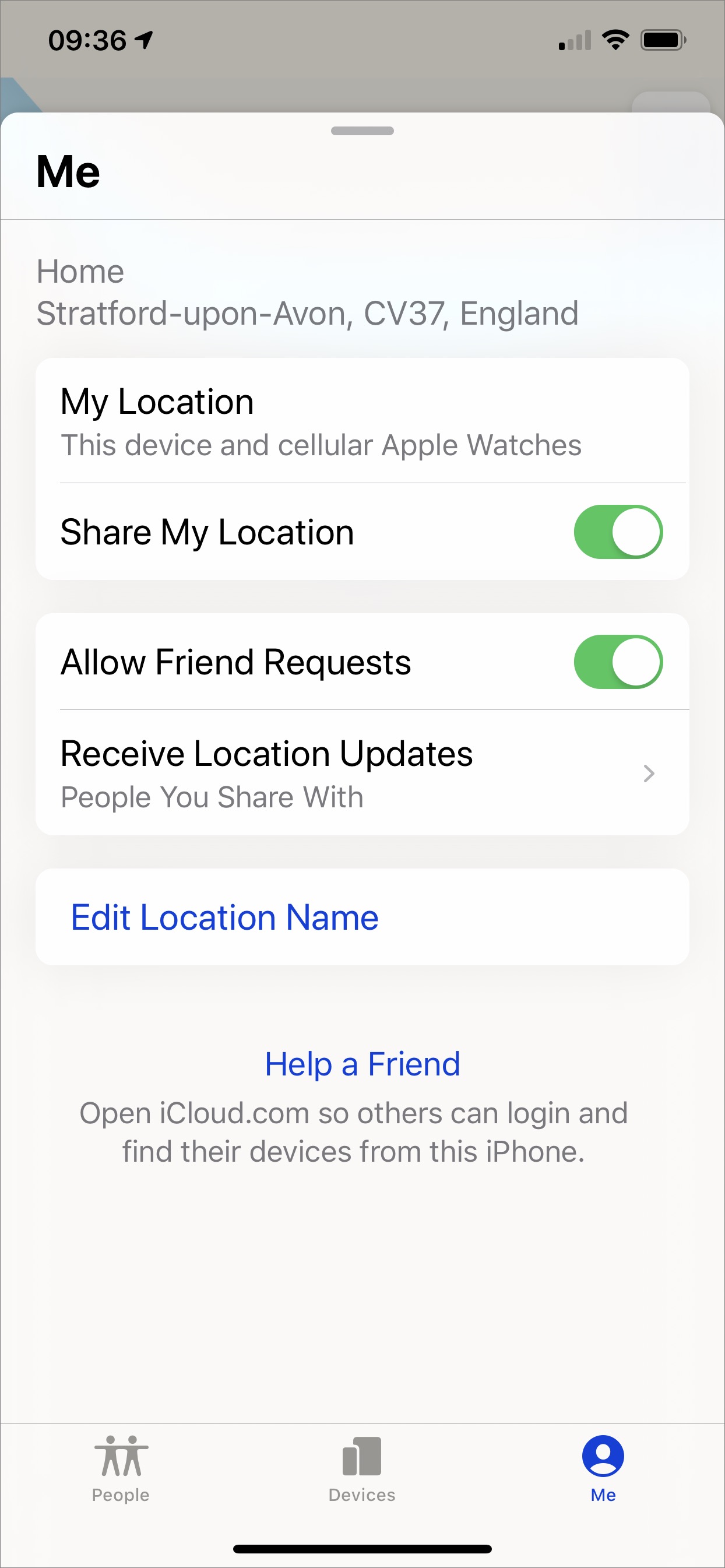 Here you can toggle your location sharing on or off, decide if you want to allow friends to ask to share your location, receive location updates, and edit your location name. For example, you might want to edit the names of your home and work locations, so friends will know precisely where you are, but also other locations such as the gym, the supermarket, the kids' school, etc.
If you tap Help a Friend, this opens a link to iCloud.com where a friend or colleague can log in to find their device.
The new Find My app is available as part of iOS 13 and iPadOS 13, and will also be available with macOS Catalina when it launches in October. The Apple Watch also offers a Find People app, replacing the Find Friends app in watchOS 6, that helps you locate your friends.
It makes sense to have consolidated these two features into a single app, and it's easy to keep track of your devices and your friends.
How can I learn more?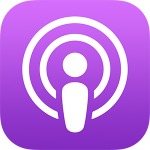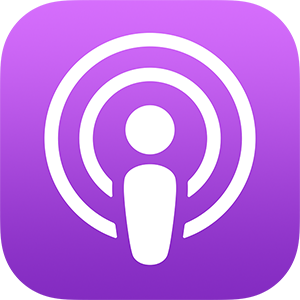 Each week on the Intego Mac Podcast, we discuss security, privacy, Apple, and related topics. Be sure to subscribe to make sure you never miss the latest episode!
Also subscribe to our e-mail newsletter and keep an eye here on The Mac Security Blog for updates.
And make sure you're following Intego on your favorite social and media channels: Facebook, Instagram, Twitter, and YouTube (click the 🔔 to get notified about new videos).
About Kirk McElhearn
Kirk McElhearn writes about Macs, iPods, iTunes, books, music and more on his blog Kirkville. He is co-host of the Intego Mac Podcast and PhotoActive, and a regular contributor to The Mac Security Blog, TidBITS, and several other websites and publications. Kirk has written more than twenty books, including Take Control books about iTunes, LaunchBar, and Scrivener. Follow him on Twitter at @mcelhearn. View all posts by Kirk McElhearn →