How to Use Desktop Widgets on macOS Sonoma
Posted on by Kirk McElhearn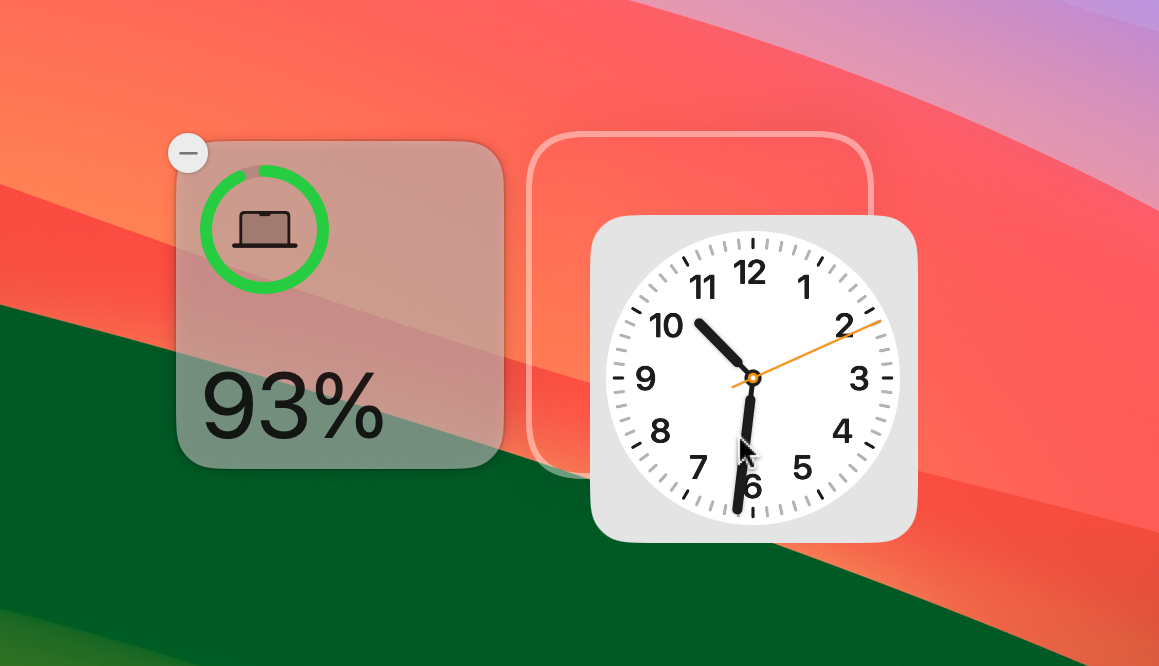 Widgets have become common as a way to display small amounts of contextual information. Widgets can display the weather, or just the temperature. They can display the time, the date, current stock prices, or the status of smart home devices. Or they can display your calendar events, emails, and news headlines.
Widgets are everywhere in Apple's operating systems. You can use them on home screens and on your lock screen on iOS and iPadOS, watchOS now has a widget view, and macOS Sonoma, which previously only displayed widgets in a sidebar, can now display them on the desktop.
Here's how to use desktop widgets in macOS Sonoma.
What are widgets?
Widgets are small squares or rectangles that can display information. This information is generally contextual, such as the current date, time, or temperature. The information a widget displays comes from a specific app, and many widgets allow you to customize their display, choosing the size or which content is displayed. For example, a weather widget generally lets you choose a location whose current conditions and temperature are displayed, and whether you only see current conditions or a multi-day forecast.
Widgets on macOS
macOS has a long history of widgets. Dashboard, a feature introduced in macOS 10.4 Tiger, displayed widgets as on overlay above the desktop when the feature was activated. All other windows would go off screen while you viewed the widgets.
You've been able to use widgets in Notification Center for several years, since macOS Big Sur. These widgets display when you activate Notification Center, then hide when Notification Center goes away.
While both Dashboard and Notification Center are practical ways to use widgets, the information these widgets display is only available on demand. With macOS Sonoma, you can put widgets on the desktop so you can view their information all the time. This can be a good thing, if you need to keep track of things like news headlines, stock prices, or the temperature, but these can also be distracting.
How to set up widgets on the desktop
To add widgets to the desktop on macOS Sonoma, right-click on the desktop and choose Edit Widgets. A sheet slides up from the bottom of the screen, which allows you to choose widgets to add to the desktop, or to Notification Center.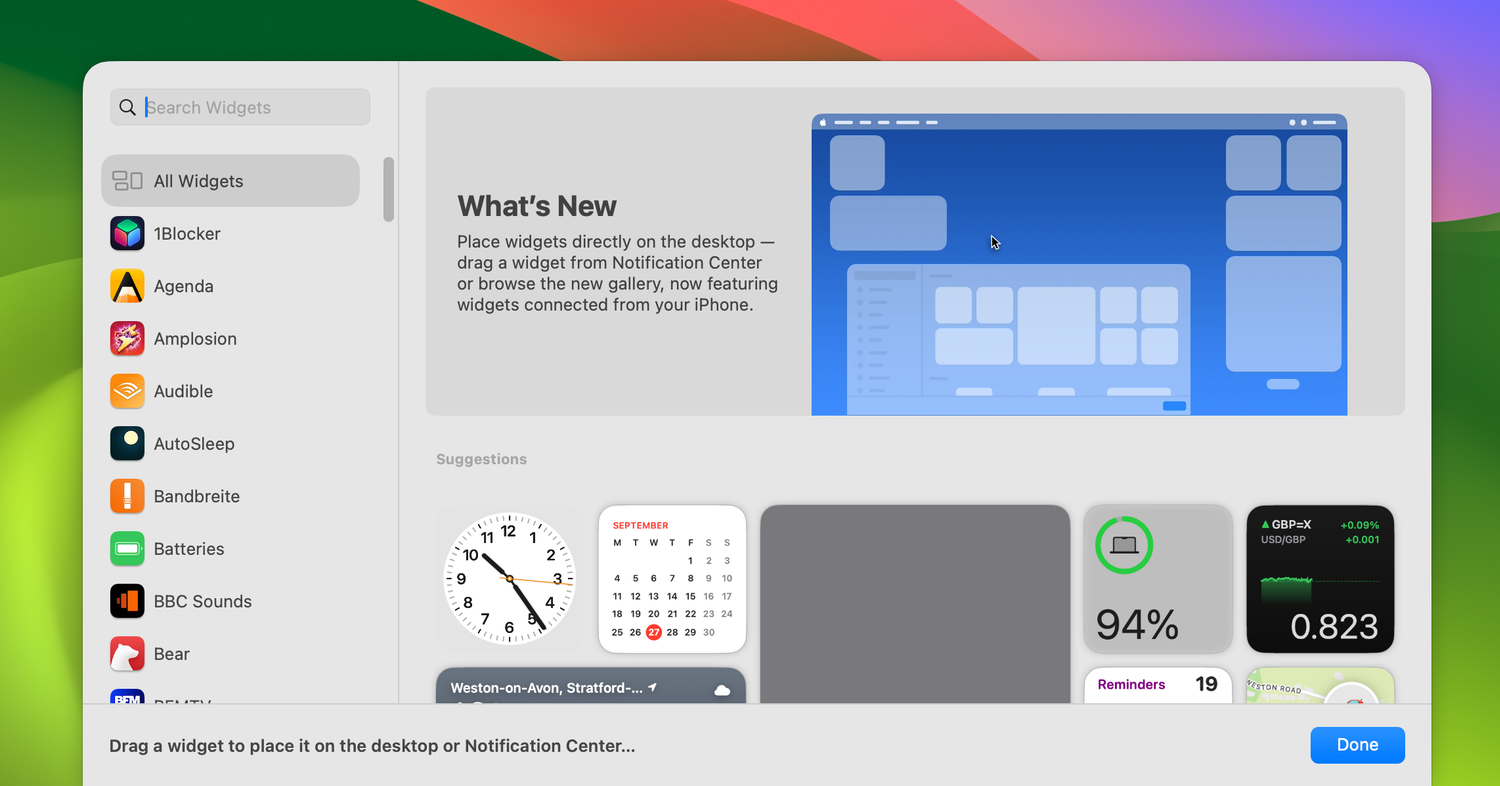 Find a widget you want to use, then drag it to the desktop. Put it anywhere you want; macOS will align it on an invisible grid. If you add a second widget, and drag it near the first one, you will see guides to align it or position it in a grid.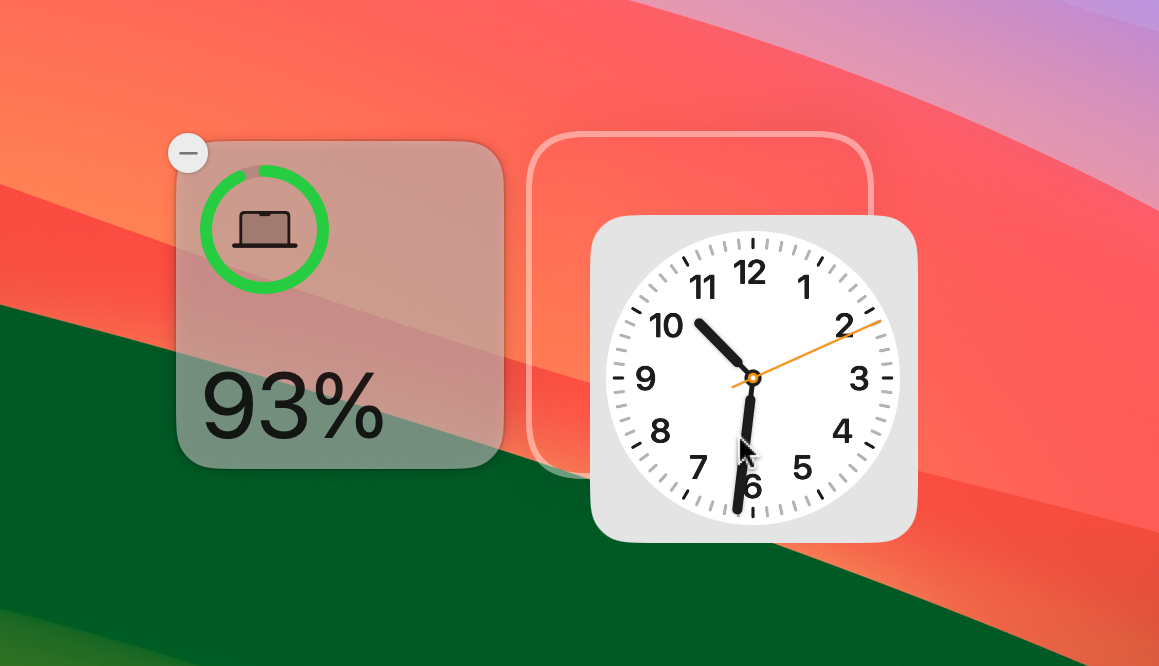 Many widgets come in multiple sizes, and you can see these by clicking a widget in the left-hand column of the widget sheet. For example, the Batteries widget has three possible sizes. In this example, the smallest widgets shows the battery level of my MacBook Air, and larger widgets also display the battery levels of Bluetooth accessories connected to my Mac.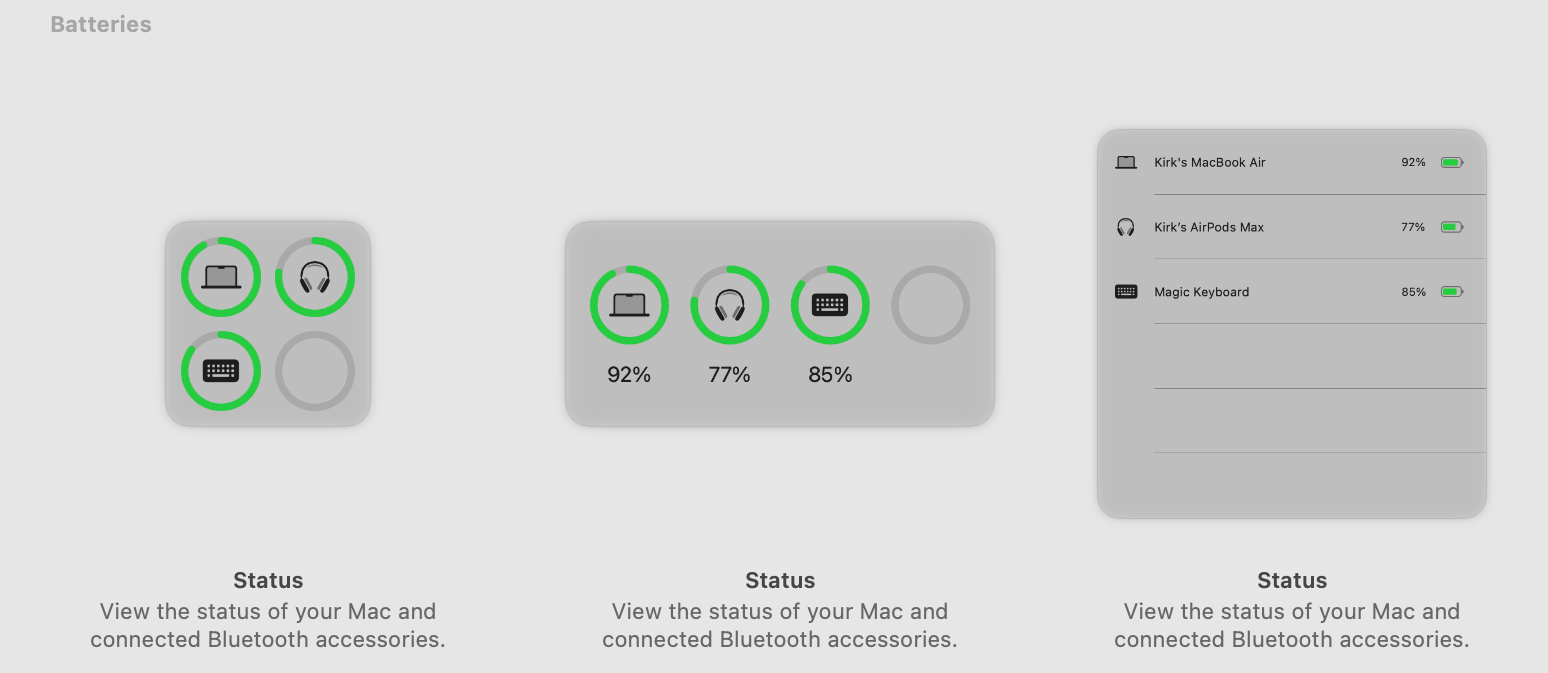 You can also change the size of some widgets by right-clicking on them and choosing a size. In this example, the Batteries widget will move if I choose a different size, since it will no longer fit in the grid next to the Clock widget.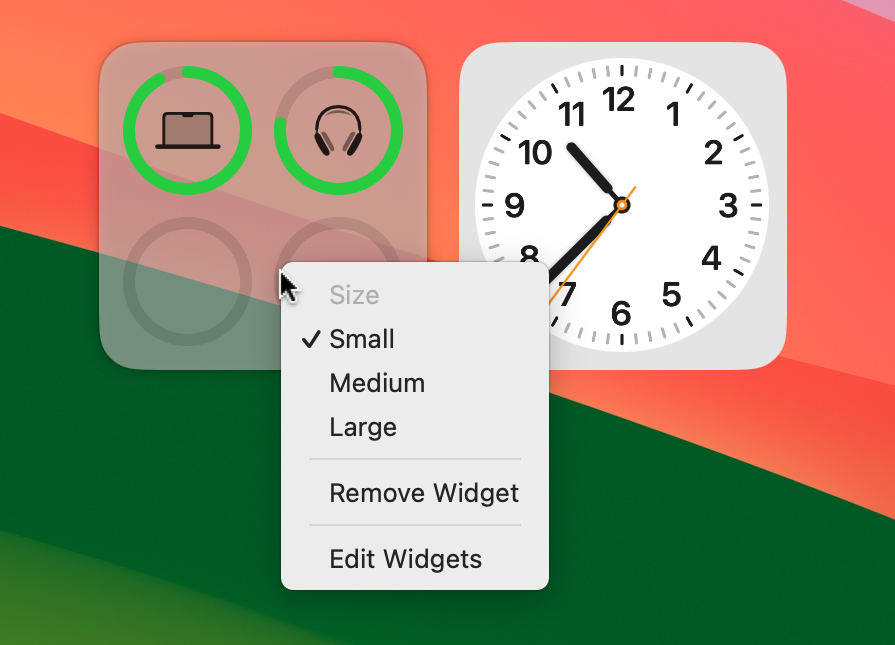 macOS Sonoma is not limited to widgets available from apps on the Mac; you can also choose to use widgets from your iPhone, as long as it is near your Mac. This setting is enabled by default, in Settings > Desktop & Dock > Widgets, but if you don't want to use iPhone widgets, you can disable it.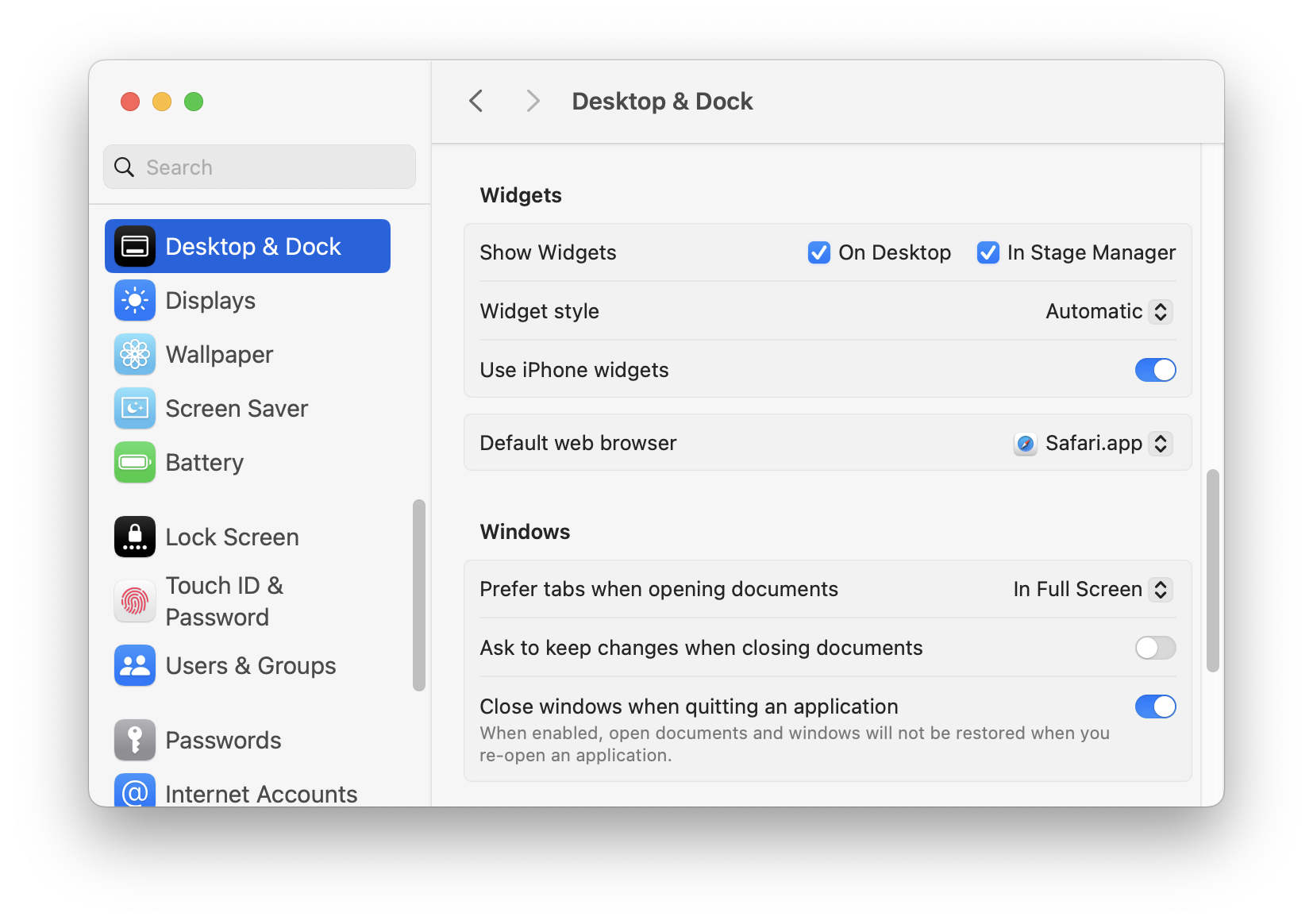 If a widget is supplied from the iPhone, the widgets sheet will say so in the top right corner. If you have the same app on both the Mac and iPhone, then both will show, and you can choose which one to use on the Mac.
These widgets may have different functionality. Here's one example: I have the app Just Press Record on both my Mac and my iPhone. The Mac widget allows me to start a new recording, but if I add the iPhone widget, then click it, it tells me to open the app on the iPhone to continue, so it's not very useful.
In general, you should choose widgets on your Mac if activating the widget is meant to perform some sort of task in an app. iPhone widgets are practical only if they display information that you don't need to act on.
Given how many widgets are available, combining those built into macOS with those you can access from your iPhone, you could cover your entire desktop with widgets, or you could only use a few. It's up to you.
Viewing widgets on the desktop in macOS Sonoma
By default, macOS Sonoma is set so you can view all your widgets by clicking the desktop. You should see a notification informing you of this when you first start editing widgets.
You can change this in the widget settings, shown in the screenshot a bit earlier in this article. The Click wallpaper to reveal desktop setting is set to Always; you can change this to Only in Stage Manager to turn it off when you are not using Stage Manager. It's worth noting that widgets work particularly well with Stage Manager. (See this article for more on using Stage Manager on macOS.) Not only because it's easy to click the desktop, since your windows may not fill the screen, but also because you can view some of the widgets while you're working on different apps. You could have widgets on the side of your display to be able to view them at any time.
When you view widgets by clicking the desktop, they display in full-color. They switch to monochrome when they are in the background, so they are not too distracting. This is the default setting. In the Widget settings, you can adjust this, to have them always display in full-color or monochrome, if you prefer.
Here's a tip if you find desktop widgets distracting, but still want to use them. Set up widgets in the center of your screen, where they will be hidden by the windows of the apps you work with. Click the desktop to view them, then switch back to your apps and continue what you're doing. You can also move widgets at any time; just right click on any widget, or on the desktop, choose Edit Widgets, and drag any widgets you may want to see to a more visible location at one side of your display.
Another option, if you have a second display connected to your Mac, is to put all your widgets on that display, and keep your main desktop cleaner.
You may find that desktop widgets are a boon, especially since you can view and access information from your iPhone, via apps that you don't have on your Mac. Widgets are highly customizable, and you can lay them out as you want, viewing them when you need to.
About Kirk McElhearn
Kirk McElhearn writes about Apple products and more on his blog Kirkville. He is co-host of the Intego Mac Podcast, as well as several other podcasts, and is a regular contributor to The Mac Security Blog, TidBITS, and several other websites and publications. Kirk has written more than two dozen books, including Take Control books about Apple's media apps, Scrivener, and LaunchBar. Follow him on Twitter at @mcelhearn. View all posts by Kirk McElhearn →