How to manage media files in Apple's Music, TV, Podcasts, and Books apps for Mac
Posted on by Kirk McElhearn

Since the release of macOS Catalina, Apple has removed some of iTunes' media management functions and created new apps. In addition to the Music app, which is more or less the replacement for iTunes, there are three other apps that manage media files:
Podcasts handles your podcasts, lets you listen to episodes, and lets you subscribe to your favorite podcasts.
TV is the app you will use for your movies and TV shows.
Books will hold your ebook and audiobook library. (Previously, Books only managed ebooks; it has inherited audiobooks from iTunes.)
One problem that users will encounter, when they first start working with these new apps, is where the files are stored. Instead of them all being in an iTunes Media folder, which can be on your Mac or on an external or network drive, some of these files will be moved. This can be problematic if you have a Mac with an SSD that has limited storage, and had previously kept all your media files on an external location, as macOS tries to move some files when you upgrade. Your music and video files will remain on the external drive, but podcasts and audiobooks will be moved. If you're just upgrading from a version of macOS prior to Catalina, then this change will affect you.
In this article, I'll tell you where macOS stores these files, and give you some tips on managing them.
Music
With the change of name from iTunes to Music, Apple has also changed the name of the folder that stores media files. Gone is the iTunes folder, renamed Music, and gone is the iTunes Media folder, renamed Media. You can still choose a location for the Media folder, to put it on an external or network drive, but there is going to be a lot of movement among the files in your iTunes Media folder when you upgrade. While your music files will stay in the same location, with the folder name changed, many of these files will go to different locations. You may want to plan ahead before upgrading if you have a large media library.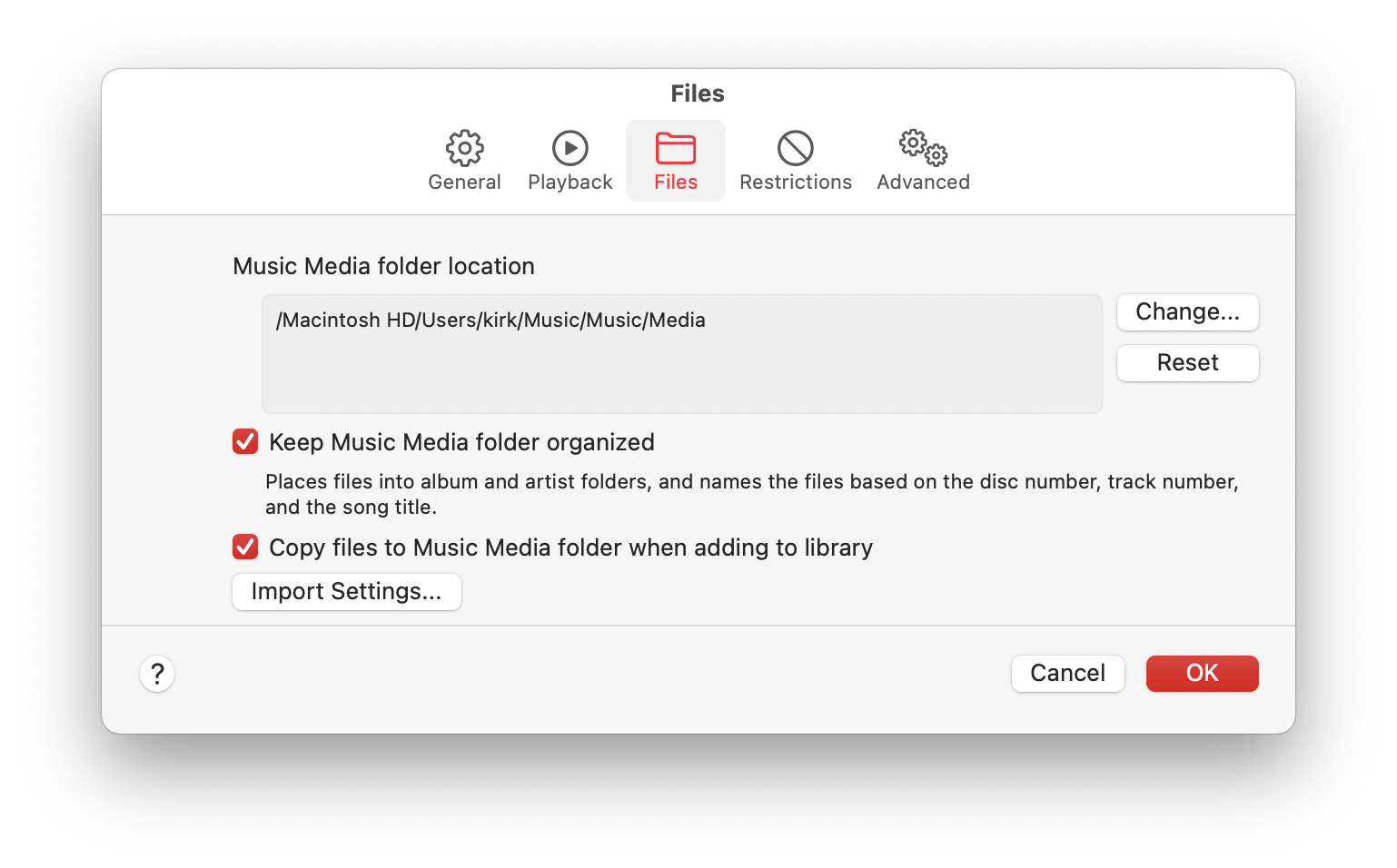 TV
The TV app replicates the app of the same name on the Apple TV and iOS. It provides access to content from the iTunes Store, but, on your Mac, also contains your personal video library.
As with iTunes, when you add a video to the TV app, by default it gets added as a "Home Video," but you can change this. Select the video, press Command-I to Get Info, then click the Options tab. You can choose Movie, TV Show, or Home Video, and the video will appear in the appropriate library in the sidebar of the TV app.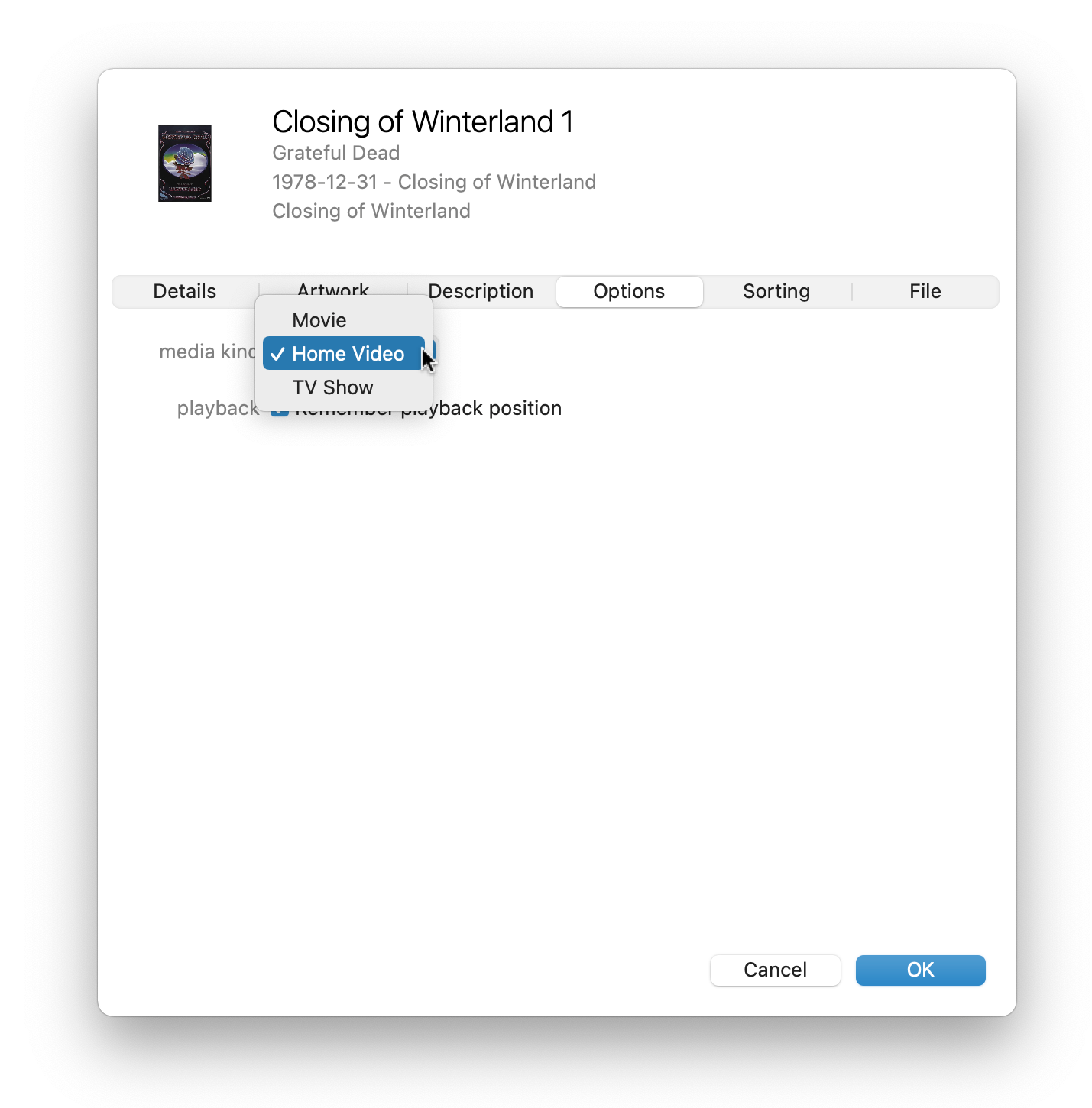 Files for the TV app are in a new location by default. You'll find them in your home folder, in /Movies/TV/Media. Since videos take up more space than music, this is the most problematic change. If you are used to storing your videos on a drive not on your Mac, you'll need to set the media folder location to that drive. As with the Music app, you can do this in Preferences > Files.
Podcasts
Apple doesn't think that people want to store a library of podcasts, and, as such, doesn't make it easy to access them any more. In iTunes, you could right-click a podcast episode and choose Show in Finder to locate its file. In the Podcasts app, this is not possible.
Podcast files are stored in a location you would not find easily. In your home folder, they are in /Library/Group Containers/XXXX.groups.com.apple.podcasts, where XXXX is a string of seemingly random characters. (To go to the Library folder, hold down the Option key and click on the Go menu in the Finder, then choose Library; this folder is hidden by default.)
Downloaded episodes are stored in a /Library/Cache folder in this folder, and they have names such as 980B42A0-3BE7-49C0-B0BF-FD5CA3319F45.mp3. You won't see their artwork, so there's no way you can tell what they are by looking at the files.
When you upgrade, any podcast files in your iTunes library will be moved to your home folder. If you have a large podcast library, bear this in mind. Note that you cannot add podcast files you already have to the Podcasts app; you can only download them from within the app itself.
If you do have a large library of podcasts, you will need to create an alias to this folder which you can put on an external drive.
Books
The Books app holds ebooks, which are generally small, but also holds audiobooks. If you have a large audiobook library, this can be several gigabytes, and you may not want to store this on your startup drive. You'll find them in your home folder, in /Library/Containers/com.apple.BKAgentService. You'll need to drill down into that folder to find the books and audiobooks: the full path is /Library/Containers/com.apple.BKAgentService/Data/Documents/iBooks/Books.
If you want to offload this content to an external drive, you should probably not alias the top-level folder, because it contains a number of aliases itself, and this could break things. It's probably best to alias that final Books folder, which will also contain your ebooks.
Note that you will no longer be able to change metadata for audiobooks.
If you do want to access individual podcast files, ebooks, or audiobooks, you can just drag them from their applications to the Finder.
It's a good idea to make a backup of your iTunes Media folder before you upgrade to Catalina. There's going to be a lot of file movement after the upgrade, and this could result in lost files. If you have a very large library, this could take a long time, as Catalina moves all the files to the appropriate folders. If you're short on space on your startup drive, it's unclear what will happen, so be prepared. For videos and audiobooks in particular, if you don't care about play counts and last played dates, you might want to move them from your iTunes Media folder before you upgrade, so you don't run into any issues with disk space.
How can I learn more?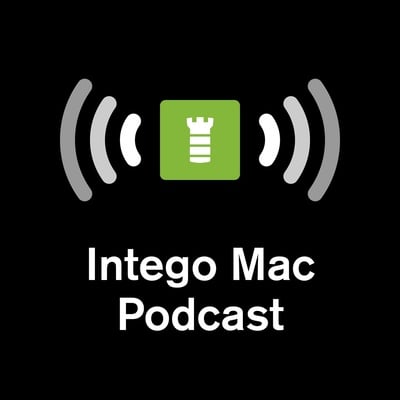 Each week on the Intego Mac Podcast, Intego's Mac security experts discuss the latest Apple news, security and privacy stories, and offer practical advice on getting the most out of your Apple devices. Be sure to follow the podcast to make sure you don't miss any episodes.
You can also subscribe to our e-mail newsletter and keep an eye here on Mac Security Blog for the latest Apple security and privacy news. And don't forget to follow Intego on your favorite social media channels: Facebook, Instagram, Twitter, and YouTube.
About Kirk McElhearn
Kirk McElhearn writes about Apple products and more on his blog Kirkville. He is co-host of the Intego Mac Podcast, as well as several other podcasts, and is a regular contributor to The Mac Security Blog, TidBITS, and several other websites and publications. Kirk has written more than two dozen books, including Take Control books about Apple's media apps, Scrivener, and LaunchBar. Follow him on Twitter at @mcelhearn. View all posts by Kirk McElhearn →