How to Manage and Remove Browser Cookies on Mac and iOS
Posted on by Kirk McElhearn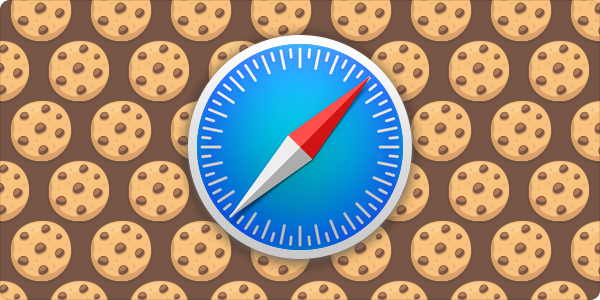 You've certainly heard the term cookie; not the kind that's crunchy and sweet, but the kind that your web browser uses. Cookies can be useful, because they save information about you. When you revisit a website, you won't have to log in again, because your Mac or iOS device has stored information about your session using cookies. Browser cookies can, however, be nefarious when used in certain ways.
In this article, you'll learn about browser cookies and how to manage them in every major browser on Mac and iOS. I'll also explain what it means to delete your cookies, and why it might be a good idea to do so.
What are browser cookies?
An HTTP cookie, or just cookie for short, is a small bit of text stored on a computer. It stores information about you, or about your activity on a website. It might record your login status, your viewing preferences, the history of what you've viewed, or the contents of a shopping cart. Cookies can make your web browsing more efficient and ensure ads you see online are more relevant to you.
Browser cookies can also have a darker side. Tracking cookies can be used to record all your web activity and send it to central server to build a profile of you and target you with ads. (For example, when you visit Amazon looking for a toilet seat and start seeing ads for toilet seats on other websites.) Some people may see these third-party cookies as helpful, because the ads you see online are more relevant to you. (If you're going to see ads online, wouldn't you rather see ones that are tailored to you?) Others may consider this an invasion of privacy, and, as such, most modern browsers allow you to prevent this type of tracking.
For example, to do this in Safari, go to Safari > Preferences > Privacy and select the checkbox next to "Prevent cross-site tracking." This prevents individual websites from tracking you across the web.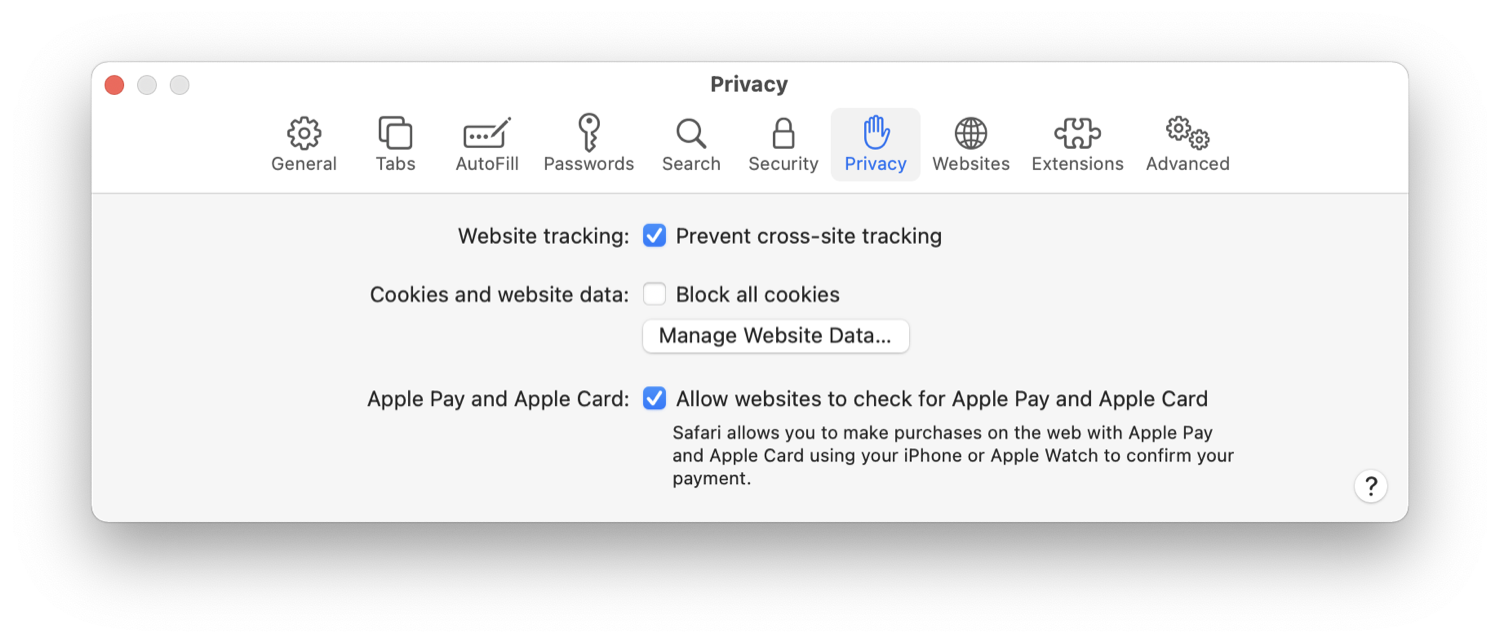 While many cookies are issued by the website you visit, others may also exist when a site uses analytics software (such as Google Analytics) or other trackers, services designed to follow you around on the web.
While you can disable cookies entirely—in Safari, check "Block all cookies" in the preferences shown in the screenshot above—this will break many websites or make them harder to use.
How to manage cookies in all major browsers
If you want to delete your browser cookies, the following guide explains how to do so in every major browser on the Mac. I'll also show you how to remove cookies from Safari on iOS devices.
Safari
To manage cookies on Safari, go to Safari > Preferences > Privacy, and then click the "Manage Website Data…" button. This displays a list of all websites that have stored cookies on your computer that can be used to track your browsing. It also shows you any other data that a website stores (such as cached files).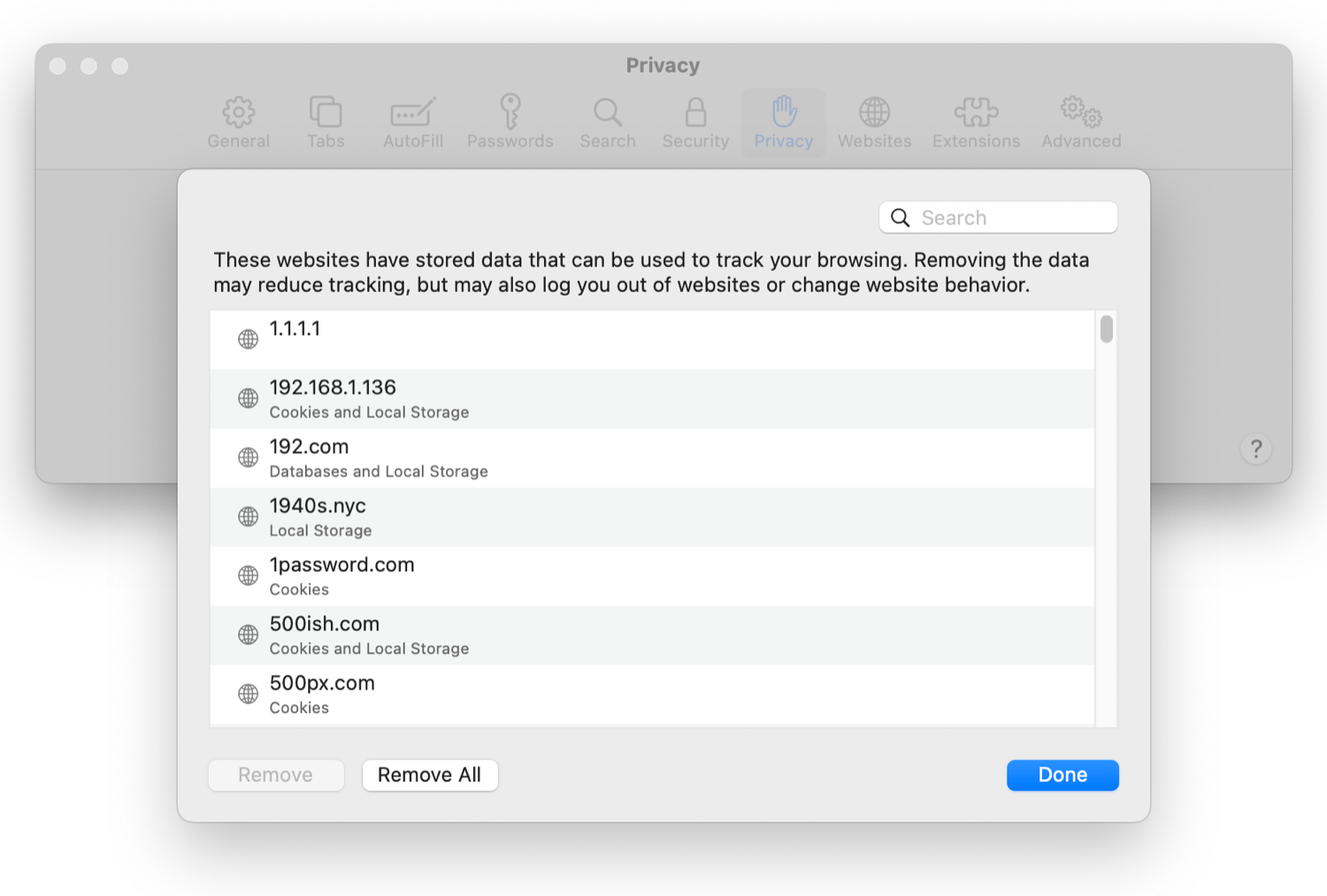 Type in part of the name of a website in the Search box, and the dialog will show you the cookies from corresponding domains. Select one or more, then click Remove to delete them. It's unlikely that you'll want to delete an individual cookie, unless you know that a site is behaving incorrectly.
However, you may want to use the nuclear option and delete all your cookies, by clicking Remove ALl. If you'll do this, you'll need to log in again on every website you use, and you may lose some display settings, such as language, currency, text size, and more. But you'll remove any identifying information about you, and when you visit websites, you'll be a new person (to them). Of course, this won't affect sites where you log in to an account; the site will store information about you that doesn't need to be in a cookie, but for other sites, your identity will be refreshed.
That said, it can be a bit of work to have to log in to websites again. If you use a password manager or iCloud Keychain, it will be much simpler to log in again, but if you use two-factor authentication on websites that remember you, you'll need to go through that process again. But this may not be a bad idea—think of it as a kind of spring cleaning for your identity on the Internet.
Firefox
To manage cookies on Firefox, go to Firefox > Preferences, and a new tab will open the Preferences page in your web browser. In the left-hand column, click Privacy & Security. You'll see three options to the right: Standard, Strict, and Custom. If you want to set cookie options, click Custom, and enable the options you want.
Scroll down to the Cookies and Site Data section. You can Clear Data to delete all cookies, or click Manage Data to view and delete individual cookies. As with Safari, start typing the name of a website to find its cookies. Select it, then click Remove Selected to delete it.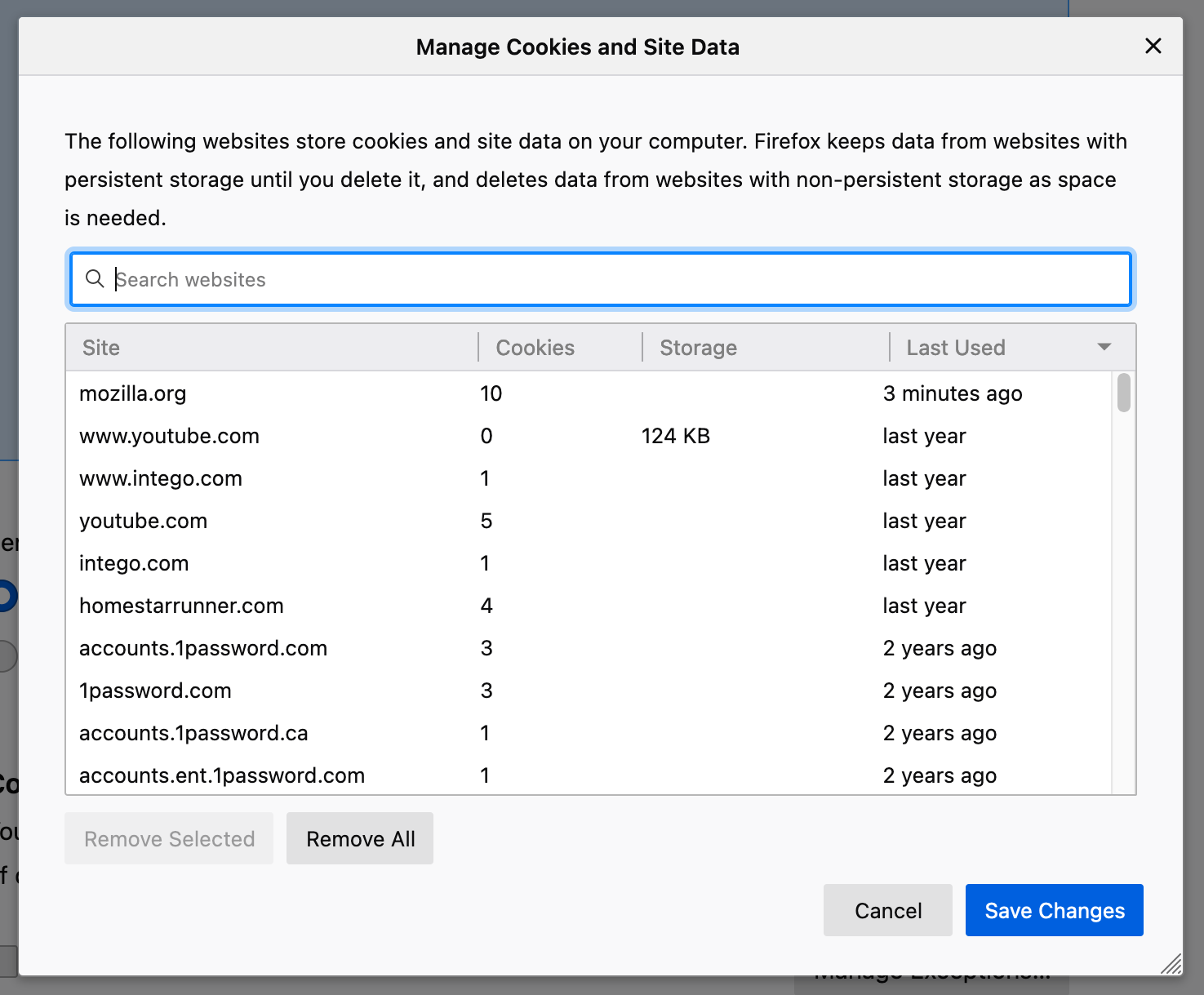 Firefox gives you the option of deleting cookies and site data when you quit the browser. And you can also click Manage Exceptions to deny or allow cookies from specific websites.
Chrome
To clear your cookies on Google Chrome, go to Chrome > Preferences > Privacy and Security, click on Cookies and other site data. If you scroll down to See all cookies and site data, then click the right-pointing arrow, you'll see a list of cookies. As above, type in the Search field to find specific cookies, then click the trash can to the right of them to delete them.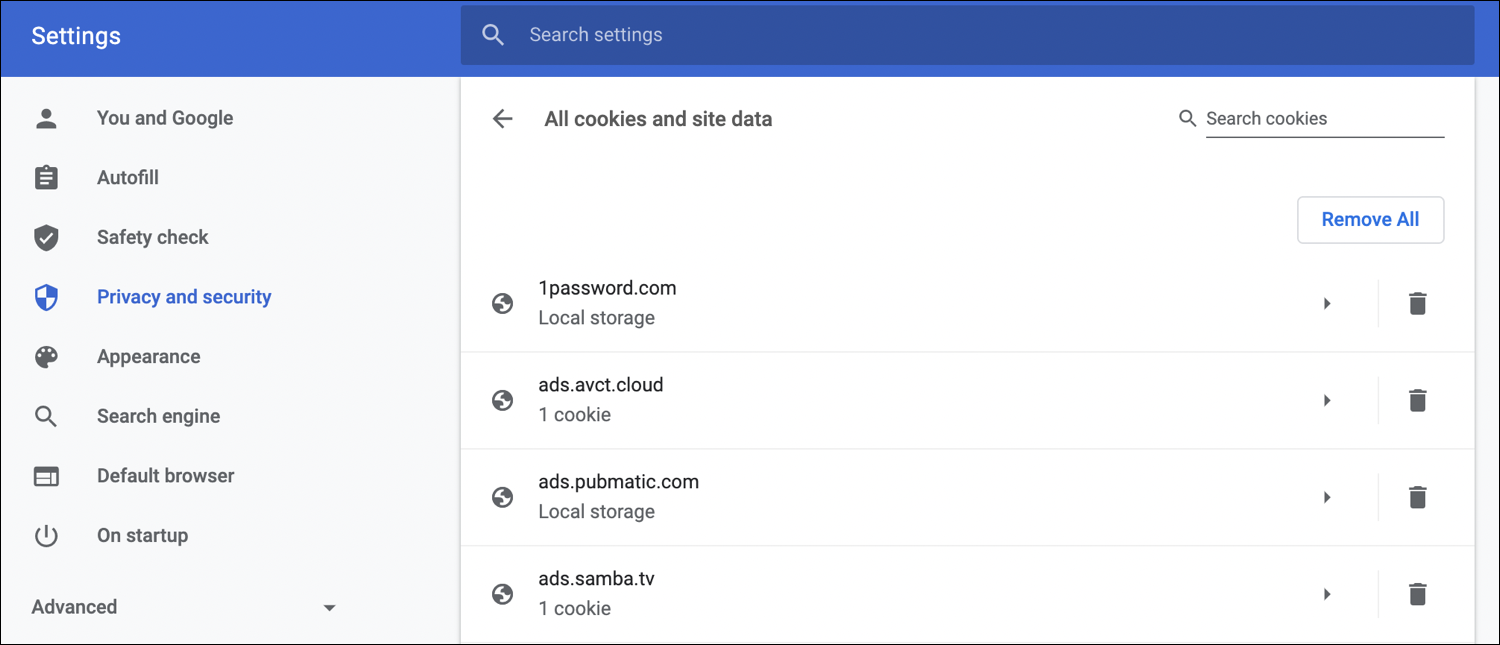 Edge
If you use Microsoft Edge, go to Microsoft Edge > Preferences, then click on Cookies and Site Permissions. At the top of the page, click on Manage and delete cookies and site data. You can enable cookie options, or search for and delete cookies by clicking on See all cookies and site data. As with the other browsers, search for cookies, then click the disclosure triangle to the right of a cookie, then the trash can to delete it.

Delete cookies on iOS
And on iOS, you can delete all your Safari browser cookies by going to Settings > Safari, and then tap the option to Clear history and website data. To delete specific cookies, scroll down and tap Advanced, then Website Data. Type in the search field, then swipe to delete an entry. Note that website data is more than just cookies: it includes caches and some other files.
On your iPhone or iPad, you can also choose to Block All Cookies under the Privacy & Security section in Safari settings. 
For other browsers, check their preferences, settings, or help.
It's not just web browsers
It's worth noting that apps other than web browsers can also store cookies. This is because many apps also have web views using the macOS or iOS WebKit framework, or use cookies in other ways to identify you at websites you use via the apps. You can delete all these cookies by going to the Library/Cookies folder in your home folder and deleting all the files it contains. (This folder also contains Safari's cookies.)
How can I learn more?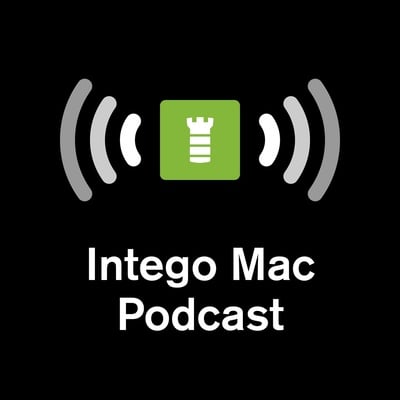 Each week on the Intego Mac Podcast, Intego's Mac security experts discuss the latest Apple news, security and privacy stories, and offer practical advice on getting the most out of your Apple devices. Be sure to follow the podcast to make sure you don't miss any episodes.
We discussed cookies and more in episode 177 of the Intego Mac Podcast.
You can also subscribe to our e-mail newsletter and keep an eye here on Mac Security Blog for the latest Apple security and privacy news. And don't forget to follow Intego on your favorite social media channels: Facebook, Instagram, Twitter, and YouTube.
About Kirk McElhearn
Kirk McElhearn writes about Apple products and more on his blog Kirkville. He is co-host of the Intego Mac Podcast, as well as several other podcasts, and is a regular contributor to The Mac Security Blog, TidBITS, and several other websites and publications. Kirk has written more than two dozen books, including Take Control books about Apple's media apps, Scrivener, and LaunchBar. Follow him on Twitter at @mcelhearn. View all posts by Kirk McElhearn →