How to Free up Storage on an iPhone or iPad
Posted on by Kirk McElhearn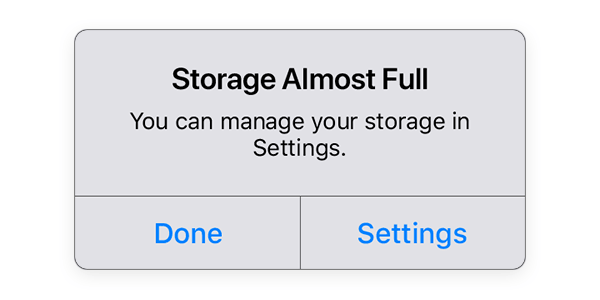 In a recent article, I told you how you can clean up your Mac, removing files you don't need and freeing up space. While this is important on any computing device, it's even more essential on an iPhone or iPad, where your storage is limited.
On your Mac, you may have an SSD with, say, 256 GB, or a hard drive with hundreds of gigabytes, or even terabytes of storage. On your mobile device, you have, at most, 256 GB, and most iOS devices have much less storage than that.
So, how do you make more storage on your iPhone or iPad? In this article, I'm going to show you some ways you can free up storage on your iOS device, so you have more room to add apps, music, and more. Let's get started!
How much space do you have on your iPhone?
To start with, how much space does your iOS device have? Apple plays some trickery with the storage numbers when they sell you, for instance, a 64 GB iPhone; the truth is you don't really have that much storage capacity. This is by design, as Apple measures storage capacity differently in its product marketing and on the device, which is why iTunes reports a different number than the storage capacity reported by your iPhone or Pad. For example, my 64 GB iPhone shows a capacity of 59.22 GB in its settings, but shows only 55.16 GB storage in iTunes.
It's good to know how much free space there is, so you can plan how much music to sync to your iPhone, or how many movies your iPad can hold. Still, there may be times when you want to squeeze one more episode of your favorite TV series on your iOS device, and you may need to make more space.
How do you free up storage space?
You can make more storage space on your iPhone or iPad in a few easy steps. The biggest space-eaters on an iOS device are videos and music; a single HD movie can take up 6-8 GB. Therefore, if you need to free up storage space, a good place to start is with those files, which are likely to be the largest on your device.
To do this, you can manage your storage in the Settings app. Go to General > Storage & iCloud Usage > Manage Storage. If you have videos on your device, they'll be listed in the TV app.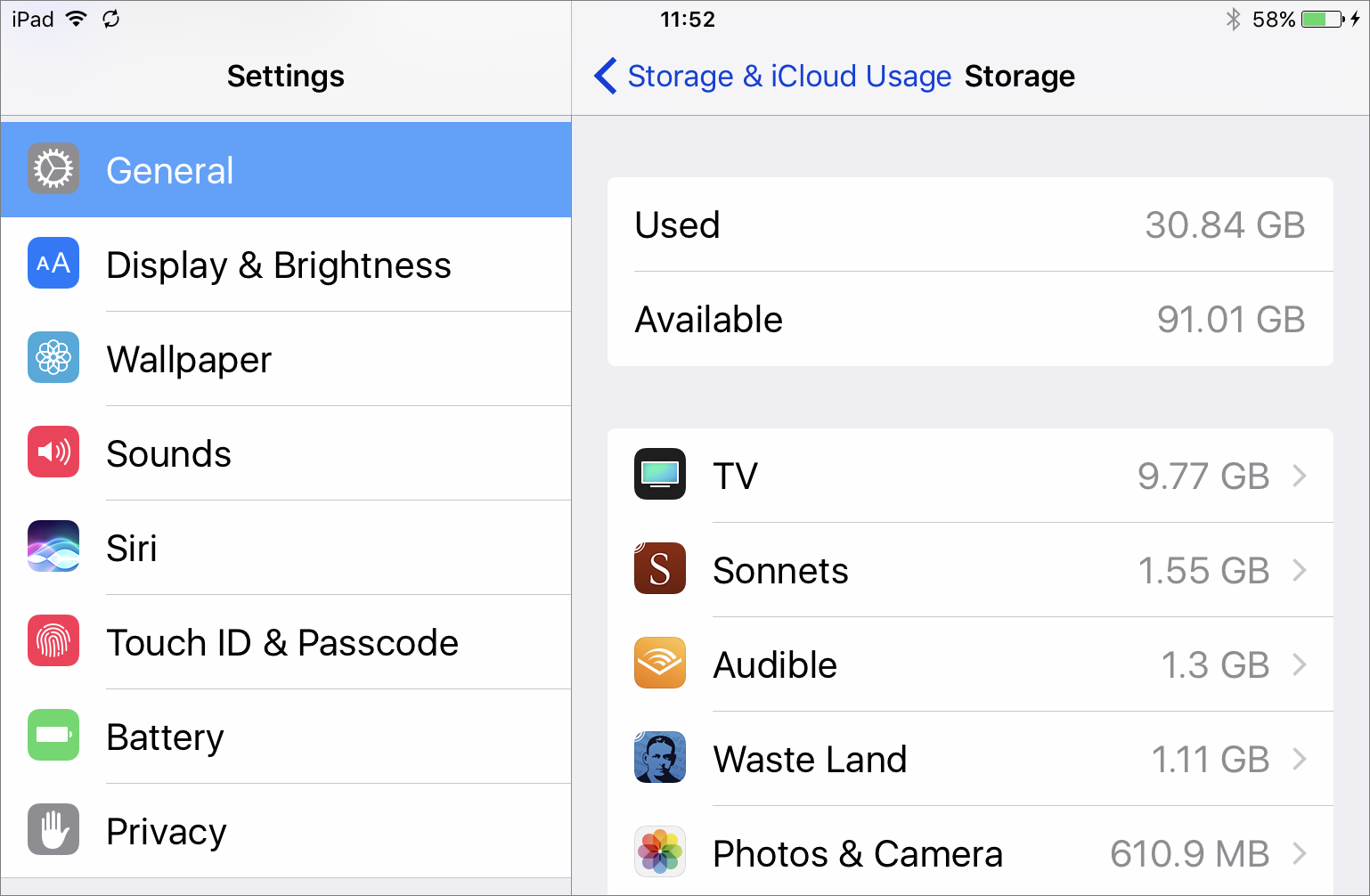 Tap TV and you'll see which videos you have. If you want to delete a movie, just swipe it to the left and tap Delete. If you have episodes of a TV series on the device, tap the name of the series, select the season, and then you can swipe to delete episodes you've already watched.
For music, the process is similar. In the same Manage Storage settings, tap Music. To delete all of an artist's music, swipe it. To delete some of their music, tap their name, and you'll see albums; you can swipe them, or you can tap them to swipe and delete individual songs.
Delete old or unused apps
Some apps can take up a lot of storage space too. Games can be hundreds of megabytes, or even several gigabytes, and productivity apps can take up a lot of space. Apple's Pages and Numbers, for example, are each more than 300 MB.
To see how much storage each of your apps uses, scroll down in the "Storage & iCloud Usage" settings. You may find an app that takes up a few hundred GB, but that you don't use any more. As long as you don't need to retain that app's settings or data, you can delete it, and then re-download it, or re-sync it, with iTunes the next time you need it.
Delete app documents & data
Sometimes it's not an app itself that takes up space; it may be what iOS calls "Documents & Data." Tap an app to see the size of the app, as well as how much more storage that app is using.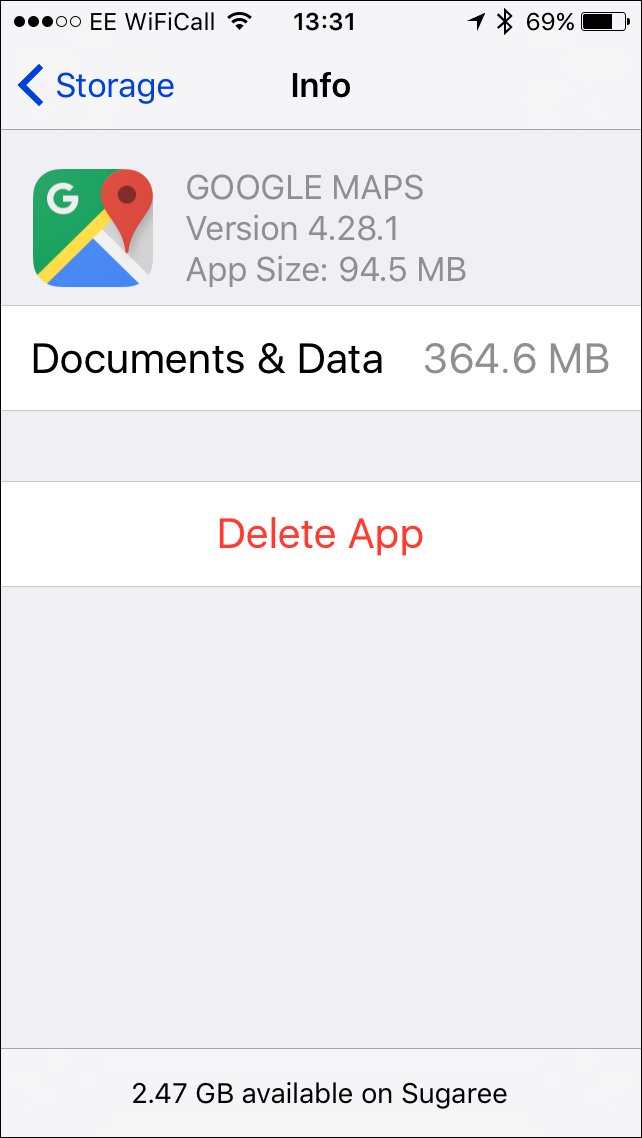 In the screenshot above, you can see that Google Maps takes up 94.5 MB, but that there's nearly 365 MB of data. This is because I have downloaded some maps, so I can access them when I don't have cellular access. In Google Maps, I can control that and delete any maps that I no longer want or need. Some other apps may offer similar options; check their settings.
Nonetheless, in some cases, the documents and data are stored on your device without you having done anything. For example, your Web browser stores cache files, as do other apps that access the Internet. Here's the stats for Flipboard, a news app that I use: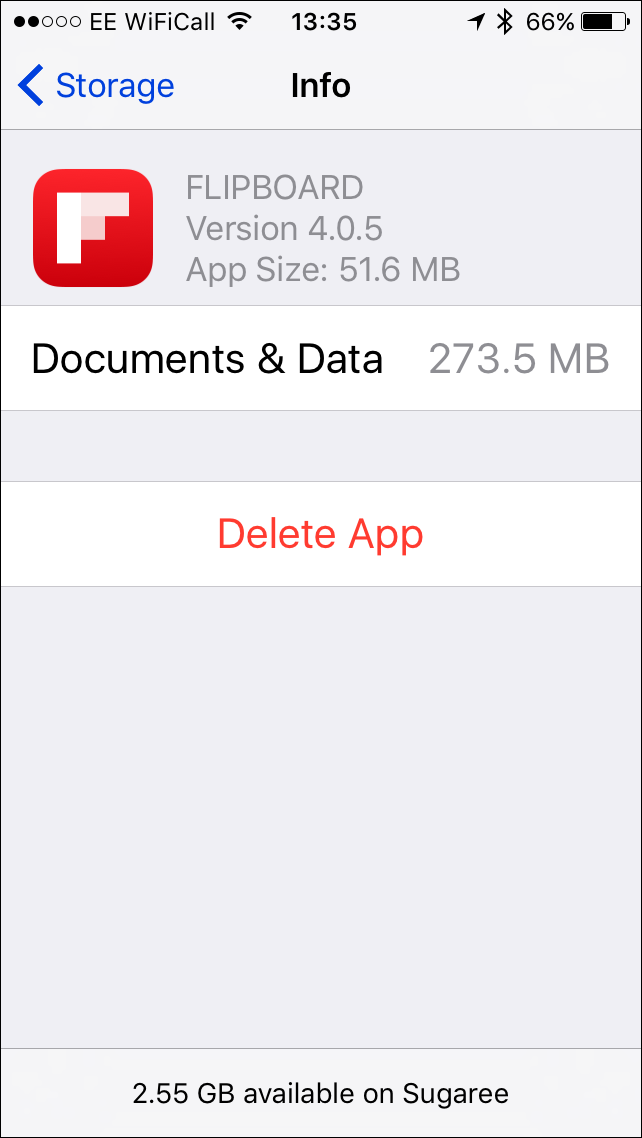 The app itself is small—only about 52 MB—but it's storing 273 MB of data. With Flipboard, you can delete its cache. To do this, go to the app's settings, then tap Advanced > Clear Content Cache.
Unfortunately, not enough apps offer this type of cache cleaning feature, and iOS is notoriously unskilled at clearing caches. Twitter's official app just added the ability to clear the cache, but many other apps need to include this feature.
Facebook is one of the worst culprits; its cache can quickly balloon, taking up several gigabytes if you use the service regularly. Furthermore, the only way to clear the Facebook cache is to delete the app. When you do this, iOS deletes the app and all the files it has stored. You can download it again from the App Store to continue using Facebook.
This is a heavy-handed solution to what should be a simple task, and you may find that you'll need to delete and reinstall a number of apps to reclaim enough space.
One last trick to free up storage…
I said above that iOS is supposed to delete caches when space gets low, but I've occasionally received warnings indicating that my iPhone storage is almost full. Clearly, this cache clearing feature doesn't work. Yet there's a trick you can try to delete some caches and free up storage.
Find a previous purchase on the iTunes Store that is larger than the amount of free space on your device. (I suggest picking a purchased movie, because HD movies are often around 6-8 GB.) Tap the cloud icon to re-download it, and then wait. You may see some of your app icons flash, dim, and possibly display the word "Cleaning" below them. This is iOS forcing those apps to delete their caches.
After a minute or so, iOS will tell you that you don't have enough storage; however, if you compare how much free space you had before and after attempting the download, you'll see that you have gained space, often as much as a couple of GB. Woohoo! 🙂
Use these tips to make more space on your iPhone or iPad, which can be very helpful when you want to download some new files or apps. Most of these cleanup tips are pretty quick and easy to use. And remember that you can always re-download or re-sync anything that you've bought from the iTunes Store or App Store, so you can even remove a big app or video temporarily and add it again later.
Have something to say about this story? Share your comments below!
About Kirk McElhearn
Kirk McElhearn writes about Apple products and more on his blog Kirkville. He is co-host of the Intego Mac Podcast, as well as several other podcasts, and is a regular contributor to The Mac Security Blog, TidBITS, and several other websites and publications. Kirk has written more than two dozen books, including Take Control books about Apple's media apps, Scrivener, and LaunchBar. Follow him on Twitter at @mcelhearn. View all posts by Kirk McElhearn →