Security & Privacy + Security News
Apple Issues Java Update and Flashback Removal Tool
Posted on by Peter James
Apple has issued new updates to Java, Java for OS X 2012-003 and Java for Mac OS X 10.6 Update 8, to detect and remove the Flashback malware. In addition, this update will deactivate the Java browser plug-in, and Java Web Start, if they are unused for 35 days. It does not immediately deactivate Java in Safari, however, so if you do use Java applets on web sites, this will not affect your browsing.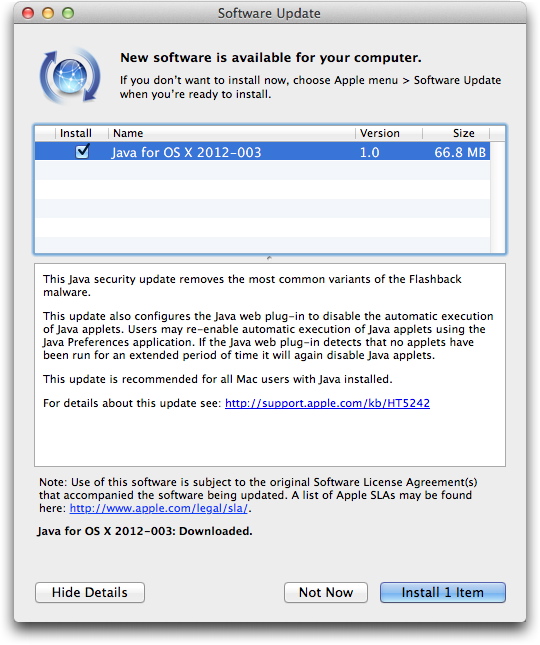 However, the Apple Flashback removal tool only removes "the most common variants of the Flashback malware." We are not sure which variants this covers; Intego currently has 18 variants, from Flashback.A to Flashback.R, and Apple's tool clearly does not detect and remove all of them. Intego's Mac antivirus, VirusBarrier X6, will remove all known variants of the Flashback malware. A free 30-day demo is available, and you can use this to check your Mac to see if it is infected.

If Apple's Flashback removal tool does find that you are infected with one of the "most common variants of Flashback," it will remove the malware, and display an alert. However, in Intego's tests, this alert displayed very quickly, and disappeared almost immediately.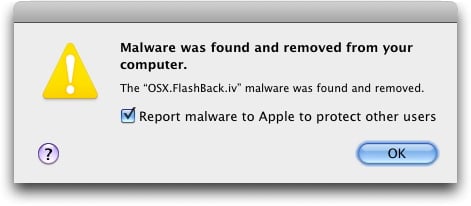 More information about Apple's Java update and Flashback removal tool is available here.