Apple Freeform Lets You Brainstorm and Collaborate on Mac, iPad, and iPhone
Posted on by Kirk McElhearn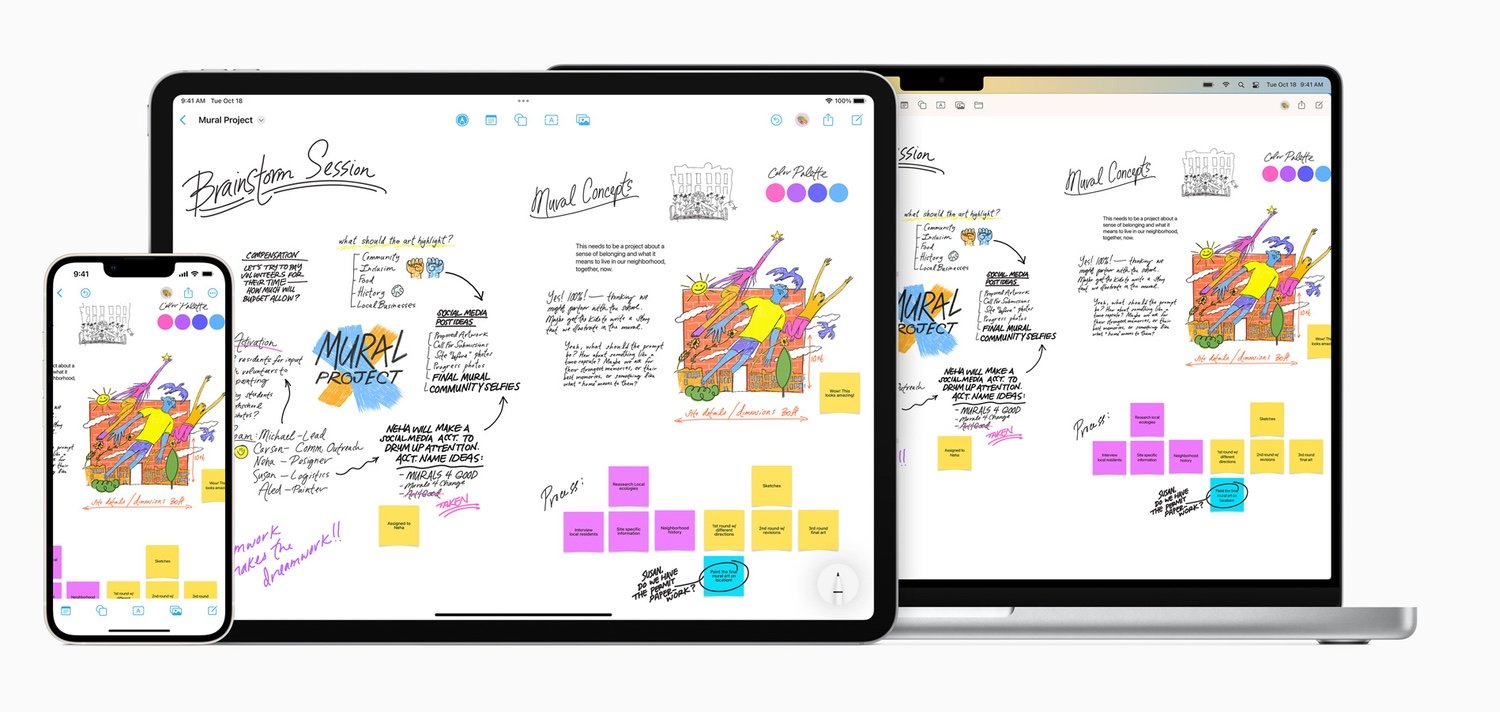 Apple hasn't launched a totally new type of app in a long time. This week's operating system updates — iOS and iPadOS 16.2, and macOS Ventura 13.1 — include Freeform, Apple's app "designed for creative brainstorming and collaboration." Here's how you can use Freeform to brainstorm, develop projects, and collaborate with others.
What is Freeform?
Freeform is an app that lets you brainstorm, without the fetters of a rigid outliner or list app. You can use text, images, shapes and lines, you can make lists and sticky notes, and you can draw: on an iPhone or iPad with your finger, and on an iPad using an Apple Pencil. One of the key features of Freeform is the ability to "organize and visually lay out content on a flexible canvas, giving them the ability to see, share, and collaborate all in one place without worrying about layouts or page sizes."
Freeform is a whiteboard app; there are many of these, such as Microsoft Whiteboard, Miro, and InVision Freehand, and Zoom includes a whiteboard within its app that user can access during video calls. Most whiteboard apps are designed for teams in businesses, who share them during meetings and video calls, or who work asynchronously on shared projects. Apple doesn't seem to be targeting this market; in a video presenting Freeform, Apple talks about how you can create "collaborative whiteboards with your friends and family."
How do you use Freeform?
The Freeform app is simple. A sidebar shows the boards you have created, used recently, shared, or deleted, along with your favorites. Double-click or tap one to open it, then start adding content. You can add text, and, as Apple says, "Freeform supports a wide range of files, including photos, video, audio, documents, PDFs, links to websites and map location links, sticky notes, shapes, diagrams, and more." There are some 700 shapes you can use, and you can change their size and color, add text, and create and save your own shapes.
Icons at the top or bottom of the Freeform window let you add sticky notes, shapes, text boxes, photos, videos, or links, and add files. On the iPad and iPhone, you can draw with your finger or use an Apple Pencil. From top to bottom, below, are the icons on Mac, iPad, and iPhone. (I find the inconsistency a bit confusing.)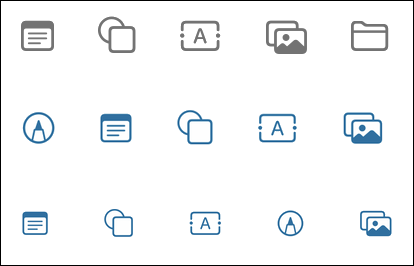 Freeform displays a grid (which you can hide) and everything you add snaps to the grid with alignment guides so, whenever you move an item, you can see when it's aligned with others. You can brainstorm, adding text and shapes, move them around, add files and links, and the canvas is infinite; you can add as much content as you want, zooming from 10% to 400%, and scrolling or dragging to see everything.
One of the key features of Freeform is collaboration. You can share a board with up to 100 people, and they can make their own additions, emendations, and comments on the board. You can even start a Face Time call with collaborators from within Freeform. However, unlike some other whiteboard apps that work in a browser, all collaborators need to use Apple devices. So your Windows- and Android-using friends and family are left out.
Whiteboard apps are also used in education, and Freeform is great for teachers, but, again, the Apple-only limitation could be problematic for many schools.
Content syncs via iCloud, so your boards are always up to date on all your devices, and on those of your collaborators. However, I'd have expected Freeform to be accessible via icloud.com, as Apple's iWork apps – Pages, Numbers, and Keynote – are, but it's not, at least not yet.
You can use Freeform to plan events – a dinner party, a wedding, or a shared vacation – or to provide real-time collaboration to discuss documents or projects. Freeform is also a good solo tool for mind mapping, a type of outlining that uses shapes and arrows; or for creating flow charts and organization charts. If you're a writer, you could outline a book with sticky notes; if you're a chef, you could plan recipes with shapes, images, and photos; and if you're a budding filmmaker, you could storyboard your film.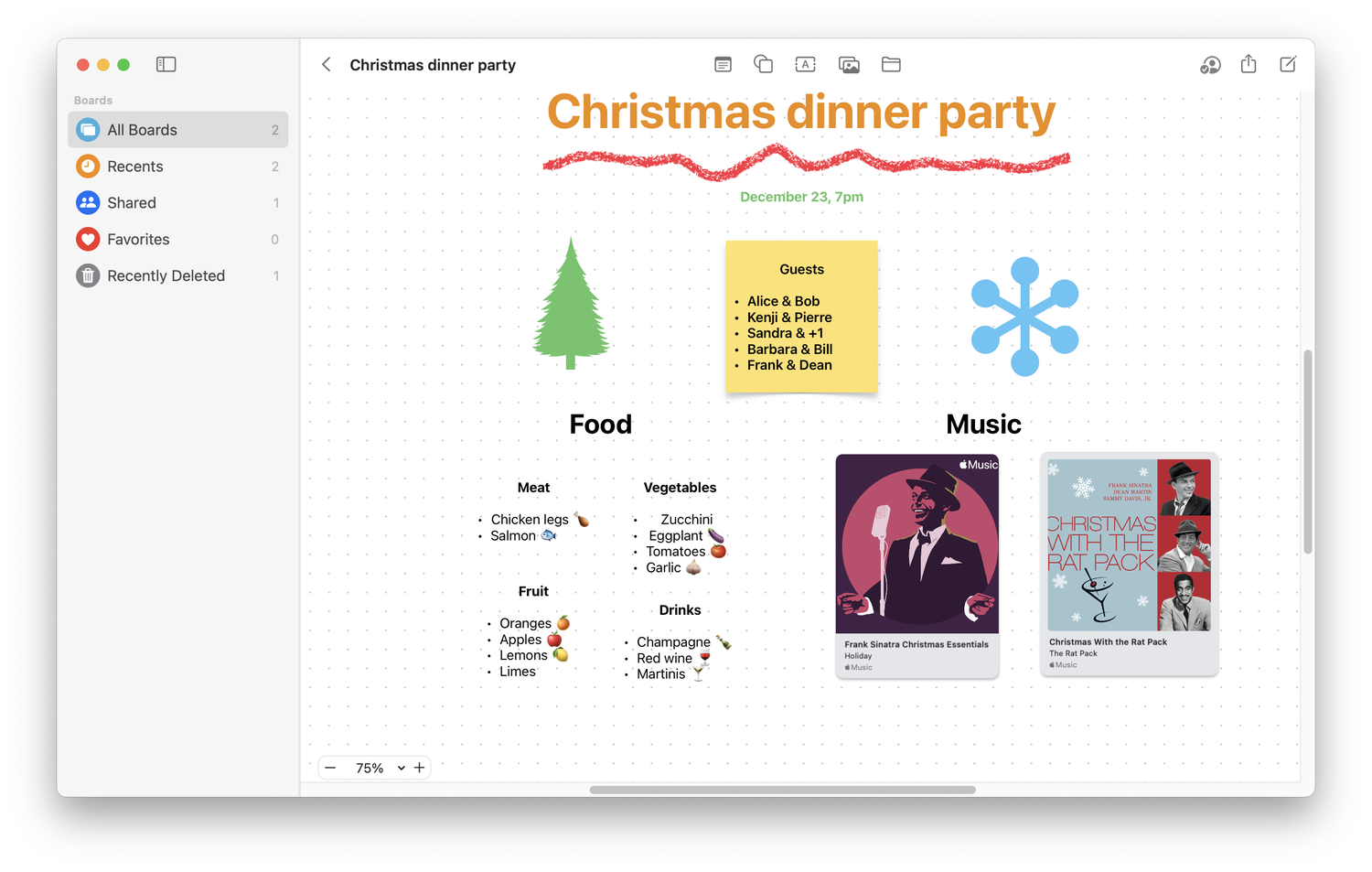 It's important to realize that Freeform does not create documents; it is designed for planning and creative discussions. You could use Freeform to prepare for a presentation, but not to create the presentation itself. Freeform is meant as a repository of information, rather than a tool that traverses the stages of document creation to lead to a final document.
One of the limitations of Freeform is that you cannot export your documents in any format other than PDF. It would be difficult to export the many types of content on a board, which include handwritten text and hand-drawn shapes, but it seems that there should be some option to export the structure of a board, perhaps in the common OPML format, which is used by outliners.
My guess is that most Apple users, who don't already use a whiteboard app at work, weren't waiting for a tool like Freeform, but it could be useful for many people who need to make lists and plan projects but don't like the rigidity of text-only tools. The ability to access your boards on the iPhone means that you can use Freeform to create shopping lists, or to visit locations where you might want to hold events, and have all sorts of information in your pocket. But Apple needs to extend the availability of Freeform to Windows and Android users, via icloud.com, to make it truly useful.
How can I learn more?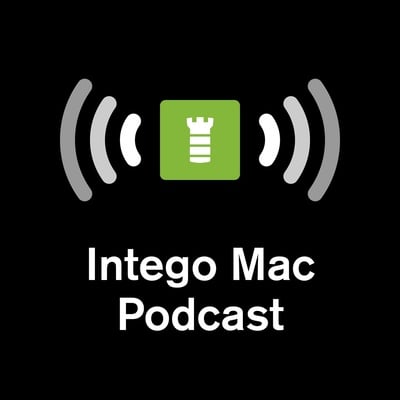 Each week on the Intego Mac Podcast, Intego's Mac security experts discuss the latest Apple news, security and privacy stories, and offer practical advice on getting the most out of your Apple devices. Be sure to follow the podcast to make sure you don't miss any episodes.
We talked about Apple's new Freeform feature on episode 270:
You can also subscribe to our e-mail newsletter and keep an eye here on The Mac Security Blog for the latest Apple security and privacy news. And don't forget to follow Intego on your favorite social media channels: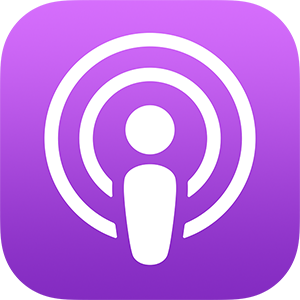 About Kirk McElhearn
Kirk McElhearn writes about Apple products and more on his blog Kirkville. He is co-host of the Intego Mac Podcast, as well as several other podcasts, and is a regular contributor to The Mac Security Blog, TidBITS, and several other websites and publications. Kirk has written more than two dozen books, including Take Control books about Apple's media apps, Scrivener, and LaunchBar. Follow him on Twitter at @mcelhearn. View all posts by Kirk McElhearn →