Can't Touch This! A Look at Guided Access in Apple iOS 6
Posted on September 28th, 2012 by Sam Lawrence
Apple has consistently improved the security that underpins iOS in every successive version they've released, but not much has changed recently with regard to actual on-device security controls. These can be particularly important for parents of young children who want to control access to spending or content, but also have wide application in Enterprise and Retail environments as well. Many restaurants, for example, are starting to use iPads as menus, drink lists, and interactive ordering stations, but in order to keep customers from navigating away from the intended information, they often have to lock up the beautiful hardware of the iPad inside bulky cases that hide all the hardware buttons.
Now, however, with Apple's new Guided Access feature, certain parts of the screen and even the hardware controls can be disabled to the user and kept securely off-limits with a passcode. This first layer of security is often overlooked, but this feature is very important because it allows businesses to distribute devices without having to worry about what a user might do once they get them in their hands.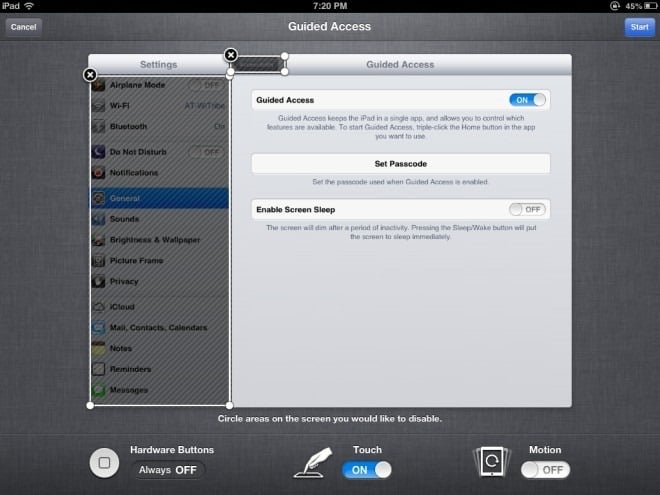 Guided Access controls are found in Settings > General > Accessibility, and can be called up in any app with a triple-tap of the Home Button. A passcode can be applied, and hardware controls or touch entirely can be disabled (or just selected sections of the screen). This has far-reaching applications from simply giving some kids a movie to watch on an iPad to training materials in education or business.
Apple continues to push iOS forward, and as more and more features are added, the iPad looks better and better every day as a replacement for traditional computers. They're low-cost, have excellent battery life, are very lightweight, and now are even more secure than ever.
Here's a great video we found that walks through the process of enabling and using Guided Access:
Let us know in the comments if you plan on using this new feature in an interesting way.