This week saw the release of macOS 10.15, Catalina, the newest version of the operating system that powers Macs. With the now-familiar annual release schedule, it can be easy to forget that, in the early days, a macOS (then called Mac OS X) release could last for as long as two years. But since 2011, the release schedule has been annual, because of the close ties between macOS and iOS, and since 2013, the release dates for both operating systems have been in the fall.
We discussed the new features of iOS 13 in this article, and we'd now like to point out some of the more interesting features in macOS Catalina. In many cases, new features in one operating system are also found in the other, and this year we see a number of such features.
No more iTunes
The biggest change to macOS this year is the splitting of iTunes into four apps. (See this article for details of the changes.) For many users, this change won't be a big deal; they'll just get used to using one or two of the apps, because they don't have extensive media libraries. The main thrust of the change for Apple is to simplify music management and playback, notably to push Apple Music, the company's streaming service, because the "Music" app is also the "Apple Music" app. While you can certainly still manage and play a local library of purchased and ripped music, everything in this app is geared toward getting you to sign up for streaming.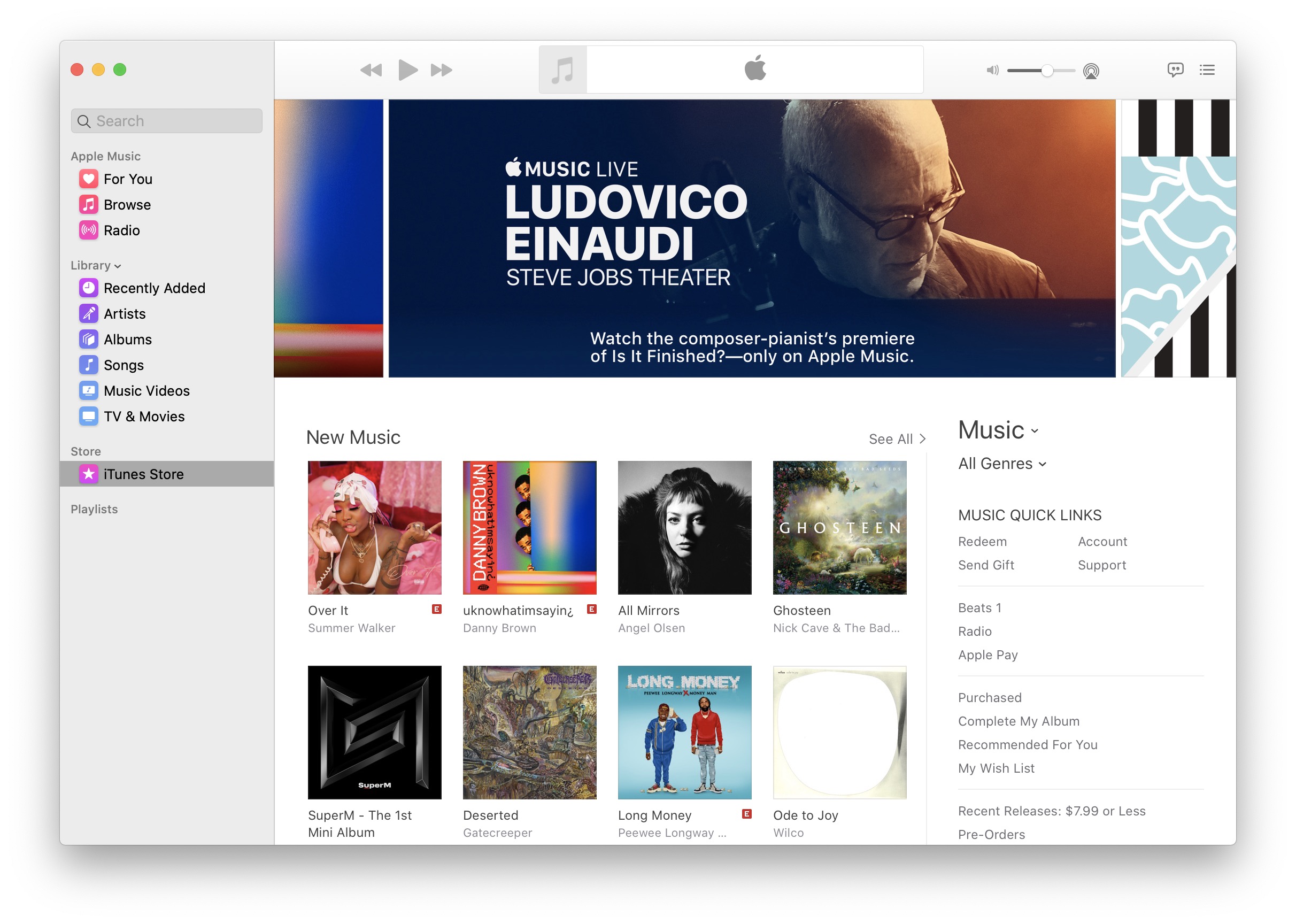 But the changes also affect videos, podcasts, and audiobooks, and those users with extensive libraries will need to change the way they work with their media. And don't forget that the TV app will be the desktop home of the Apple TV+ service, launching in November.
Syncing iOS devices has been rolled into the Finder, and, while the options are pretty much the same, this offloads one feature from the old iTunes, but adds more "bloat" to the Finder.
Catalyst apps
A new app framework called Catalyst allows developers (including Apple) to more easily make Mac apps, sometimes starting from existing iPad apps and tweaking them. You can see this on the Mac: apps such as Podcasts, Books, Notes, Home, Stocks, and News are all Catalyst apps. There are limitations to what these apps can do – they can only have one window, for example – but this opens the door to more simple apps for the Mac ported from existing iOS apps, which would have required more extensive development otherwise.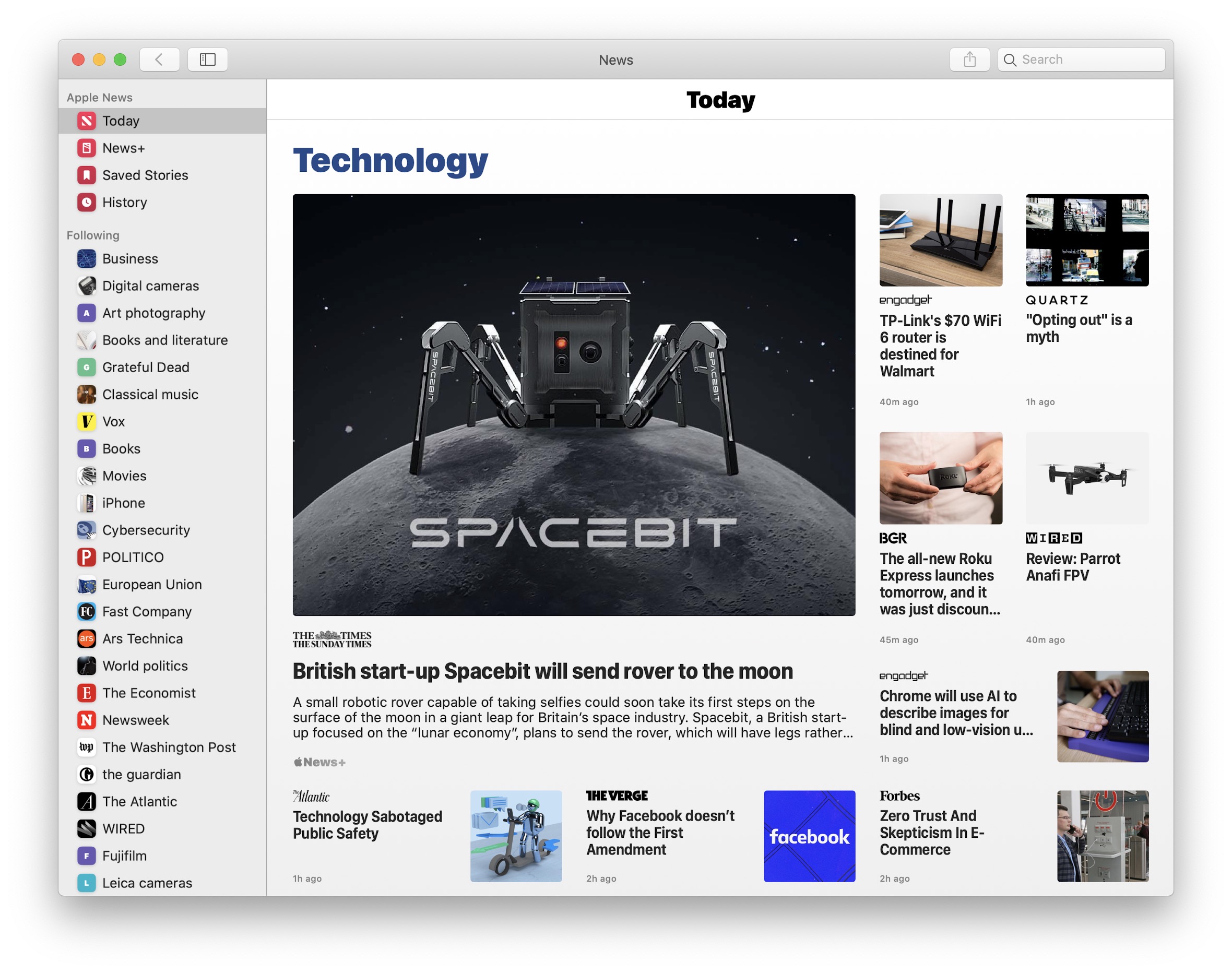 Productivity
Notes and Reminders are apps that aren't seen as very sexy, yet are quite practical. As with iOS 13, new features enhance these apps. Notes has a gallery view, to more easily view notes with graphics. You can share folders, and the notes they contain, with others. And there's a new checklist note type, which means you can use Notes as a simple to-do list manager.
Reminders has a new design, and you can add attachments to reminders, create smart lists, and the app interacts with Siri and Messages.
I somehow feel that Notes and Reminders should be integrated into a single app, because there is starting to be some feature overlap, and I hope we see this in the future.
Sidecar
One of the more interesting features in Catalina is Sidecar. This lets you use an iPad as a second display to view a single window, or to mirror what's on your Mac so you can show someone else. Sidecar allows you to use an Apple Pencil to interact with some Mac apps, via an iPad, giving it the power of a full graphics tablet. Sidecar is a new paradigm for displaying content from your Mac; so much so that Apple has published a "white paper" explaining how it works.
Screen Time
Screen Time, which debuted on iOS 12 as a way of recording how much time you spend on your device, is now available for Mac. Not only can you monitor your usage, but you can use it to set up a Mac for one of your kids, ensuring that they don't spend too much time on their computers.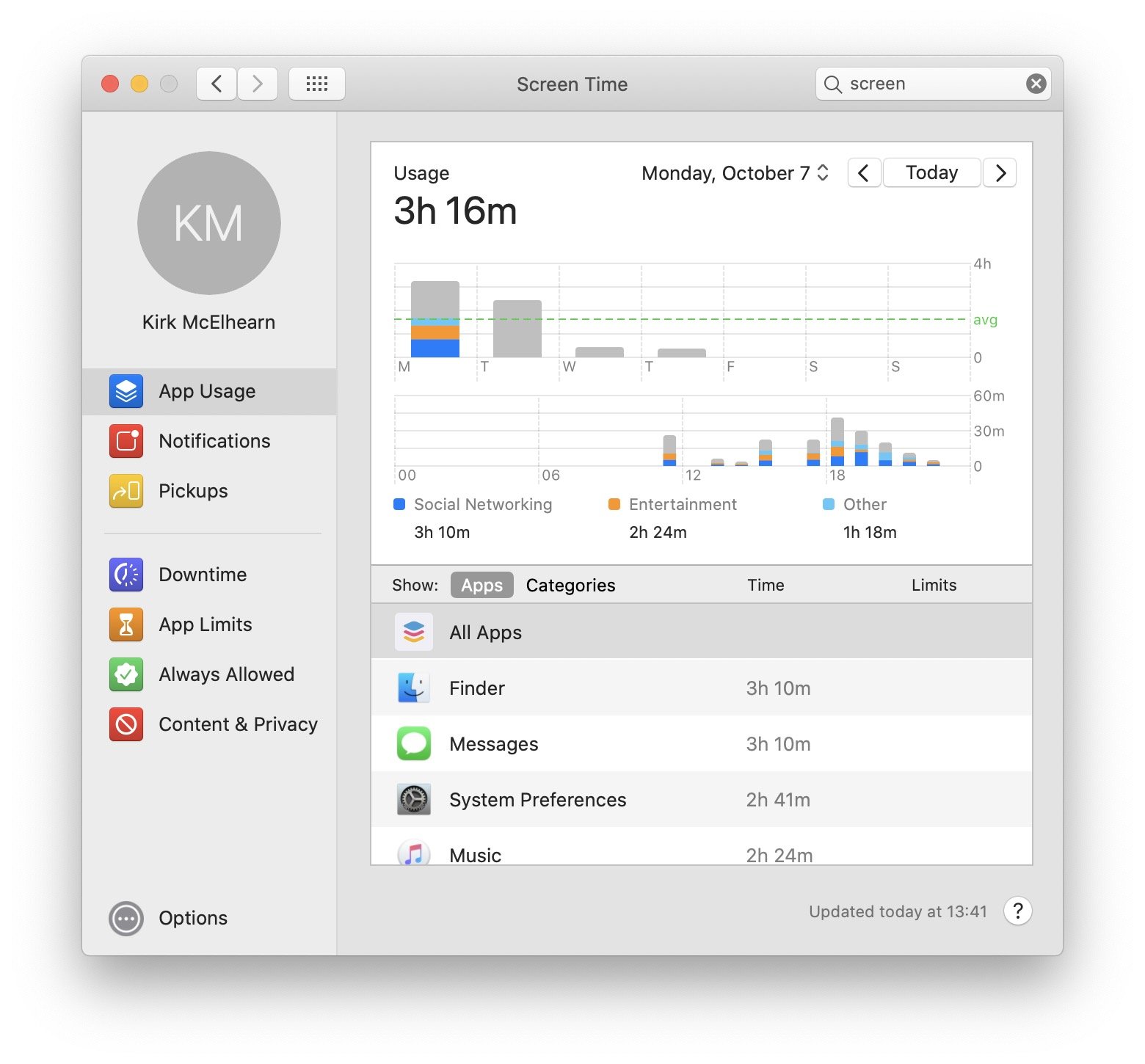 Security features
macOS Catalina has a number of new security features, some of which are big changes to the way the Mac works. When you install Catalina, it creates its own read-only volume on your drive. This means that you can't accidentally delete files, but it also means that apps and malware can't do this either. Your data is stored in a separate volume, but you won't notice the difference in your daily use of your Mac.
One feature that will be a bit annoying is that apps will now have to ask permission to be able to access files in your Documents and Desktop folders, in iCloud Drive, and on external disks. They will also have to ask permission if they want to record your keyboard activity or your screen. These dialogs will be irritating at first, but don't just say okay to each one; take your time to learn which apps are requesting access, and refuse those that don't really need it. You'll only get these dialogs the first time you launch apps, but in the early days of using Catalina, it my seem overwhelming.
The new Find My app, as on iOS 13, combines Find My Mac and Find My Friends into a single interface. It's practical and is an essentially security tool, if your Mac is lost or stolen. Catalina also features activation lock, which you can use to lock a lost or stolen Mac. See this article for a closer look at the Find My app on iOS.
Related article: Apple's macOS Catalina 10.15 addresses security bugs
Voice control
You have long been able to talk to your Mac; initially this was just for preset phrases, then it expanded to offer full-text dictation. Now, with Voice Control, you can much more completely control your Mac, issuing commands, moving cursors, and clicking buttons, just with your voice. And speech recognition is improved, so you can dictate complex texts to your Mac, with the ability to correct and edit them.
And more…
Apple Arcade, the company's new subscription game service, is available on Catalina, as it is on iOS and tvOS.
There have been a number of enhancements to the Photos app, which allow you to better view your photo library.
Safari is faster; Mail has some new features, including a link in subscription emails to easily unsubscribe; and you can use your Apple Watch to authenticate whenever you need to enter your Mac's password, when you access System Preferences, and when you want to access or delete system-level files.
Apple has also centralized your Apple ID and iCloud account information, which means that, rather than logging into Apple's website for some information, you can get most of it directly on your Mac.
One previously announced feature, iCloud Drive folder sharing, has been pushed back to the spring. While this was available in the Catalina betas, apparently it wasn't solid enough to be rolled out yet.
As always, there's a lot to discover in a new operating system. For the most part, you'll feel right at home, because so much of Catalina looks like the past few versions of macOS. But look a bit further and you'll find plenty of new features to make using your Mac more efficient, more secure, and that will hopefully save you time.
Related articles:
How can I learn more?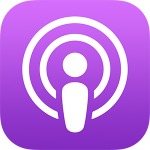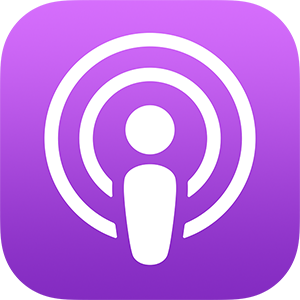 Each week on the Intego Mac Podcast, we discuss security, privacy, Apple, and related topics. Be sure to subscribe to make sure you never miss the latest episode!
Also subscribe to our e-mail newsletter and keep an eye here on The Mac Security Blog for updates.
And make sure you're following Intego on your favorite social and media channels: Facebook, Instagram, Twitter, and YouTube (click the 🔔 to get notified about new videos).
About Kirk McElhearn
Kirk McElhearn writes about Apple products and more on his blog Kirkville. He is co-host of the Intego Mac Podcast, as well as several other podcasts, and is a regular contributor to The Mac Security Blog, TidBITS, and several other websites and publications. Kirk has written more than two dozen books, including Take Control books about Apple's media apps, Scrivener, and LaunchBar. Follow him on Twitter at @mcelhearn. View all posts by Kirk McElhearn →