Washing Machine 10.8.1 Update Boosts Security, Improves Performance
Posted on by Derek Erwin
Intego is happy to announce the release of Washing Machine 10.8.1 for Mac, which comes to you as an update that boosts security and improves scan performance. The software update offers several new features, including secure cleaning and the option to scan custom locations for duplicate files. Washing Machine 10.8.1 is available in English, French, German, Japanese and Spanish.
Secure Cleaning
Intego Washing Machine's new Secure Cleaning feature allows you to customize the level of security for the deletion of reclaimed items and duplicates. Secure Cleaning offers three levels of security to choose from when deleting items. Additionally, Washing Machine 10.8.1 will warn you when confirming your cleaning that the deletion time may be longer depending on the level of secure cleaning you have chosen.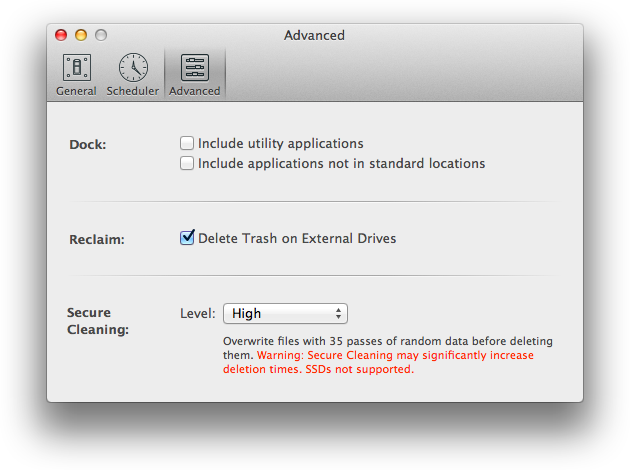 Scan Custom Locations for Duplicates
After you choose your file type categories to scan for in the Duplicates cycle, you will also be able to choose what locations to include or exclude in the scan. You can populate the list and turn your selections on or off. This feature will give you a great deal more control on what is scanned and address performance issues by allowing you to focus scans if general scans take too long.
All new features in the Washing Machine 2014 update:
Choose which locations to scan for duplicates from within Washing Machine. Excluding certain locations (like a backup folder or external drive) speeds up the scan 

Drag and drop Finders right to the Washing Machine search location in duplicates
Secure cleaning—overwrite files selected for deletion, ensuring they are truly removed from your hard drive
User interface improvements—updated instructions and interface make using Washing Machine easier than ever
User notifications—during longer scans, you can continue working in other applications; the Washing Machine icon will bounce once the scan completes
With the check of a box, Washing Machine automatically saves the latest version of a file when scanning for duplicates