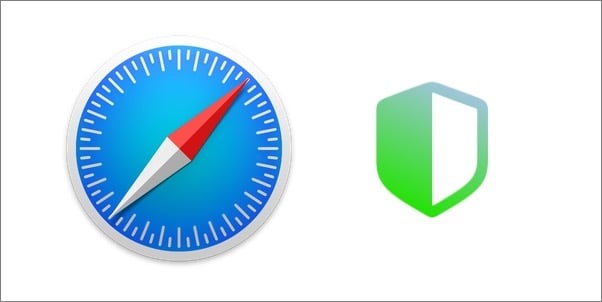 When Apple released iOS 14 and iPadOS 14 last week, the company also released a new version of the Safari web browser for Mac. Also version 14, this new version of Safari includes the new Privacy Report feature, that tells you about trackers that the browser has blocked.
In this article, I'm going to explain how Apple's Intelligent Tracking Prevention protects your privacy, and what the new Privacy Report tells you.
What is Intelligent Tracking Prevention
Over the past few years, Apple has introduced and strengthened Intelligent Tracking Prevention (ITP), a tool in Safari that "uses on-device machine learning to block cross-site tracking, while still allowing websites to function normally." On by default (you can turn Prevent Cross-Site Tracking off if you need to in Safari > Preferences > Privacy on Mac, or in Settings > Safari > Privacy & Security), this feature prevents companies from tracking your activity across the web and creating profiles for you, which they do in order to serve ads. The feature also works in third-party browsers on the Mac and on iOS devices.
ITP works in a number of ways. To begin with, Apple uses DuckDuckGo's Tracker Radar database of trackers, which is regularly updated as new trackers are found. ITP also learns which domains track you, then it isolates and purges the tracking data that these websites try to store on your device. All of this takes place on your Mac or iPhone, so Apple doesn't know anything about your browser activity.
In addition to trackers, widgets on websites, such as share buttons or comment fields, can also track you, and Safari acts on these as well. But Safari does not block trackers; this could break websites. What it does is prevent them from accessing cookies and collecting certain types of data. Safari on all of Apple's operating systems offers a setting to block all cookies – it's in the same place as the cross-site tracking setting – but if you turn this on, you'll find that many websites won't work at all.
ITP also contains other tools that "prevent advertisers and websites from using the unique combination of characteristics of a device to create a 'fingerprint' to track the user online." Apple gives more details about these tools in this Safari white paper from November, 2019, and developer Simo Ahava has a very detailed look at how ITP works.
Privacy Report
In Safari 14, you can see a privacy report. On the Mac, click the shield icon in the toolbar to see what's being blocked on the current website, then click the (i) to see the full report, which shows data for the past 30 days. The new version has been out for just over a week, and here's what I see today: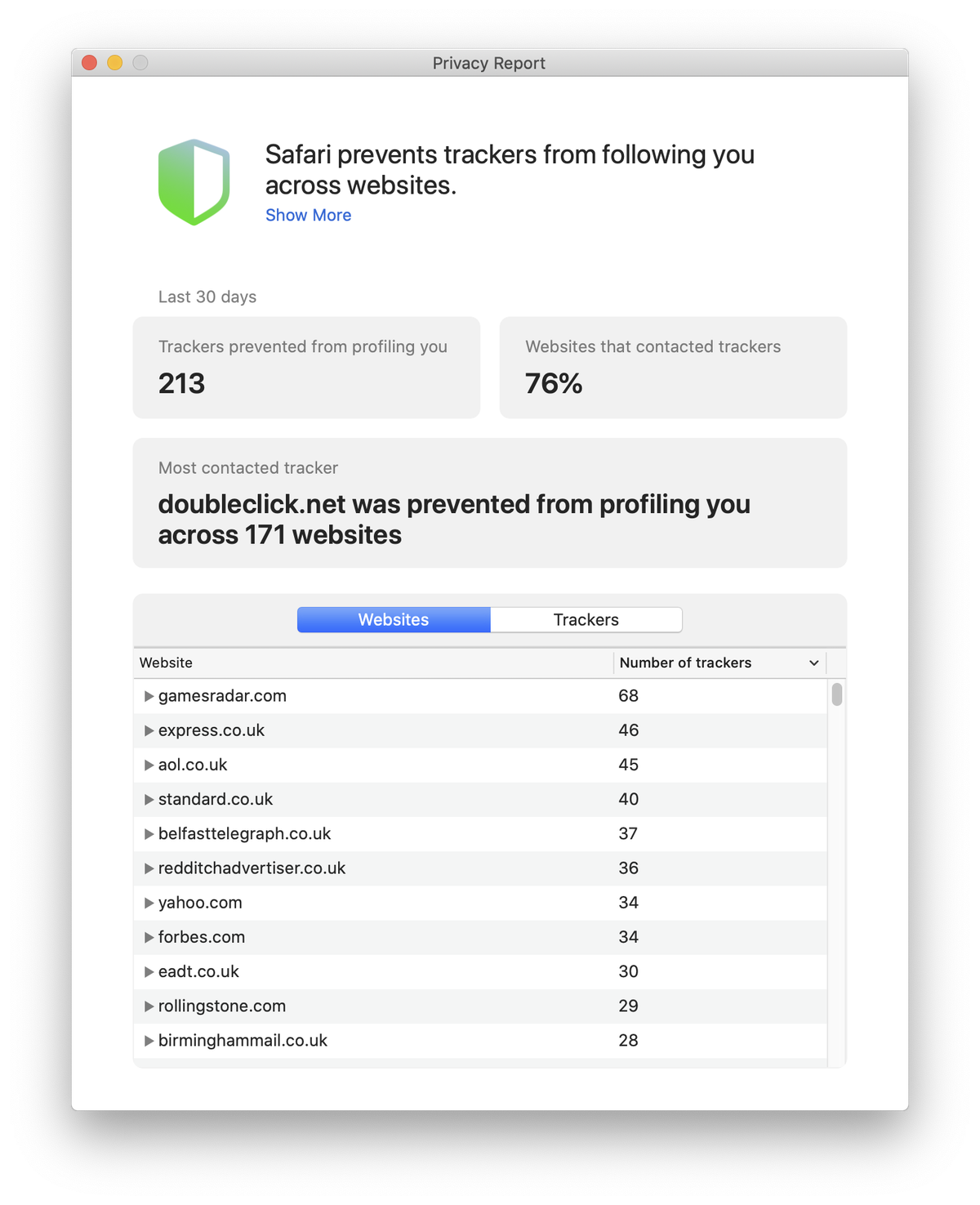 On iOS, load a website in Safari, tap AA, then tap Privacy Report. You'll see a smaller version of similar information.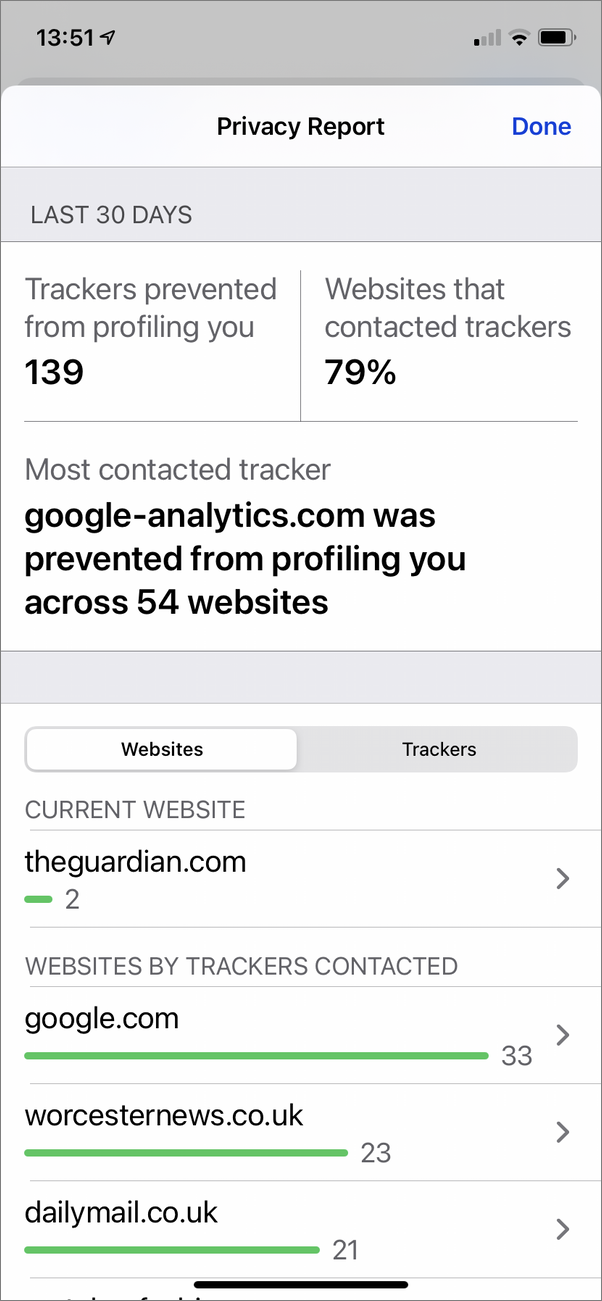 This data is not aggregated across your device, such as how Screen Time is. Each device has its own privacy report according to which websites you have visited on that device.
These numbers may look high, but I have been visiting a lot of websites I don't usually read, especially on my Mac, in order to check for trackers. I also use an ad blocker on my devices, and when that is on, many of these trackers are blocked entirely, so they don't show up in Apple's Privacy Report. After a few days, when the most trackers I found was around twenty or so, I turned off the ad blocker, which is when I saw these higher numbers.
Many of the websites with lots of trackers are local newspapers in the UK, where I live, which seem to be quite aggressive. Other winners include a gaming site, a couple of national UK newspapers, and long-standing internet properties AOL and Yahoo.
It's also important to be aware that ads can be more than just teasers for products you might want to buy. Many of them also collect information, so, even if you don't click on them, your data is amassed.
As you can see about, the tracker that was blocked the most was Google's doubleclick.net, and when I click the Trackers tab, I can see more detail about the culprits.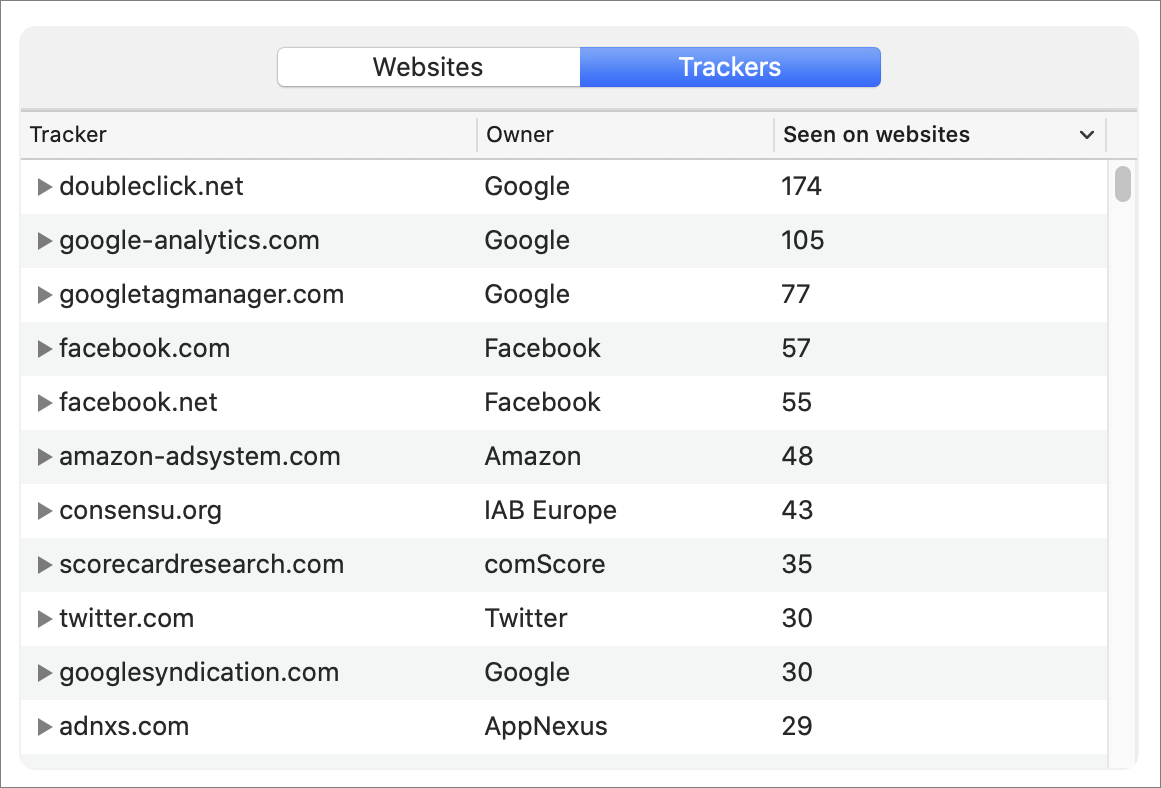 At the top of the leaderboard is, of course, the big internet advertising firms: Google, followed by Facebook, Amazon, Twitter, and others. Some of these trackers exist to serve ads and others track your activity to sell your profile to advertisers.
It's worth noting that one of the top trackers is google-analytics.com, which is used by many websites in order to have reliable visitor data; it is popular because it provides lots of data, and because it's free. While most websites don't use much of the data gleaned by this tracker, Google does, adding it to the mountain of data they use to target you with ads.
How Privacy Report helps you
The main way the privacy report helps you is by showing you that Apple is protecting you. This may seem trivial, but the internet advertising industry is worried about the way they can no longer track your activity. Checking the Privacy Report from time to time will show you which websites try the hardest to monetize your activity. It's not surprising that some newspapers are among the most aggressive sites, because they try to use a variety of advertising sources to generate income.
Apple was also planning to implement a requirement that apps have to ask permission to collect and store certain data about you. Apps aren't affected by ITP, and their activity doesn't show up in the Privacy Report. Companies like Facebook are very worried about this, and the UK newspaper The Daily Mail has threatened to remove its app from the App Store, but but has delayed this for several months because they realized that developers and advertisers didn't have enough notice.
Aside from quietly blocking tracking, and presenting you with information, Privacy Report doesn't give you any actionable data, other than calling out the most egregious websites. This, alone, makes it worth using.
How can I learn more?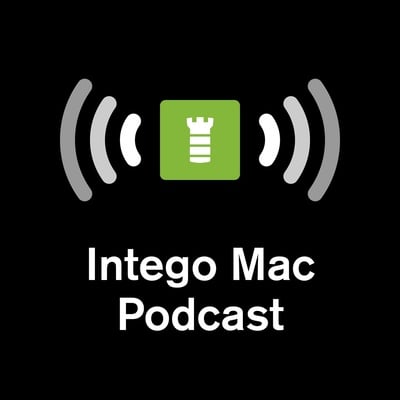 Each week on the Intego Mac Podcast, Intego's Mac security experts discuss the latest Apple news, security and privacy stories, and offer practical advice on getting the most out of your Apple devices. Be sure to follow the podcast to make sure you don't miss any episodes.
We discussed Safari's privacy report on episode 155 of the Intego Mac Podcast.
You can also subscribe to our e-mail newsletter and keep an eye here on Mac Security Blog for the latest Apple security and privacy news. And don't forget to follow Intego on your favorite social media channels: Facebook, Instagram, Twitter, and YouTube.
About Kirk McElhearn
Kirk McElhearn writes about Apple products and more on his blog Kirkville. He is co-host of the Intego Mac Podcast, as well as several other podcasts, and is a regular contributor to The Mac Security Blog, TidBITS, and several other websites and publications. Kirk has written more than two dozen books, including Take Control books about Apple's media apps, Scrivener, and LaunchBar. Follow him on Twitter at @mcelhearn. View all posts by Kirk McElhearn →