Philips Introduces "hue," Their New iPhone-Controlled LED Lightbulbs
Posted on October 31st, 2012 by Lysa Myers
Living with the frequently grey and dreary skies of the Pacific NW, I'm highly conscious of light. Ever since I got my first full-spectrum lightbulb over 15 years ago, I have become more than a little fastidious about adequate lighting. After moving into a new apartment, I realized my place was totally stripped of all bulbs, like the aftermath of a monster that was looking for a "light" snack. Terrible jokes aside, it was when I made a visit to the Lightbulb Lady at a shop in Portland that my preference became a full-blown fixation. She told me all about temperatures and colors of light and how these simulate different times of the day and year, and I went home that day with a couple lamps to test the effects.
Suffice it to say, I was convinced. Now I have "fall evening" hued lamps in fixtures where I want to relax and wind down, and "spring morning" hued lamps in fixtures where I want to feel energized. It's rather an expensive habit, but thankfully these bulbs don't need to be purchased often. And slowly but surely, energy-saving bulbs are coming in a wider variety of hues, so it's beginning to even out.
So yes, I'm a fan of lightbulbs. And for better or worse, Philips has just blown my light-fixated mind. Their new LED kit called "hue" is being touted as your "personal wireless lighting system." It allow you to use your iDevice to control the LED lamps with an open-source programming platform.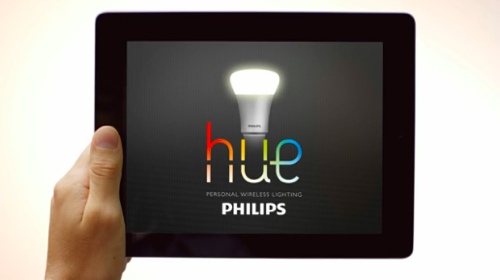 Philips hue on the iPad
You can adjust the color of light, from warm- to cool-white all the way to bright crayon colors. And, naturally, you can set timed events such as a gradual wake-up light in the morning or automatically turning off when you're away on vacation. You can also set proximity events such as turning on or off as your iDevice gets closer or further away – no more coming home to a dark house or worrying that you left your lights on when you head out for the day. Kits start at $199 for 3 bulbs and a wireless bridge, and additional bulbs are $59 for a 4-pack.
This brings up all sorts of interesting possibilities. You could program it to wake you to bright, cool light in the morning and return to dimmer, warm lighting as you get home from work. Or, say you're bringing home a special someone and want to keep the mood going without the jarring effects of having to turn on bright lights–set the proximity sensor to prepare the candlelit scene. If you combine it with the Lockitron app and the  Nest thermostat to remotely unlock your door and have the heat turned up byt he time you get home, the possibilities become almost sci-fi-worthy. .
With all these programmable devices, you've gotta wonder how much more damage a kid like Kevin McCallister (from Home Alone) would have been able to do. Forget dancing mannequins, how about a full-on robot rave while doxxing the burglars?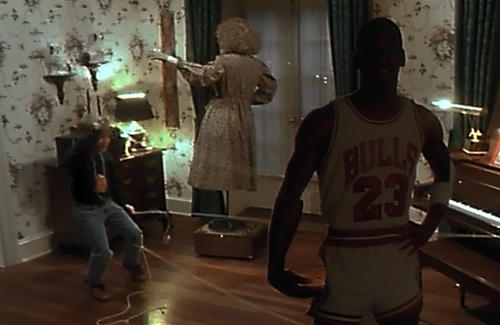 Think of the new possibilities for this scene!
App-controlled lighting, remote access thermostats, locking and unlocking your door with your phone–is technology just getting better and better, or are we starting to veer into "ridiculous" territory?