New Features in Mail and Messages in macOS Ventura, iOS 16, and iPadOS 16
Posted on by Kirk McElhearn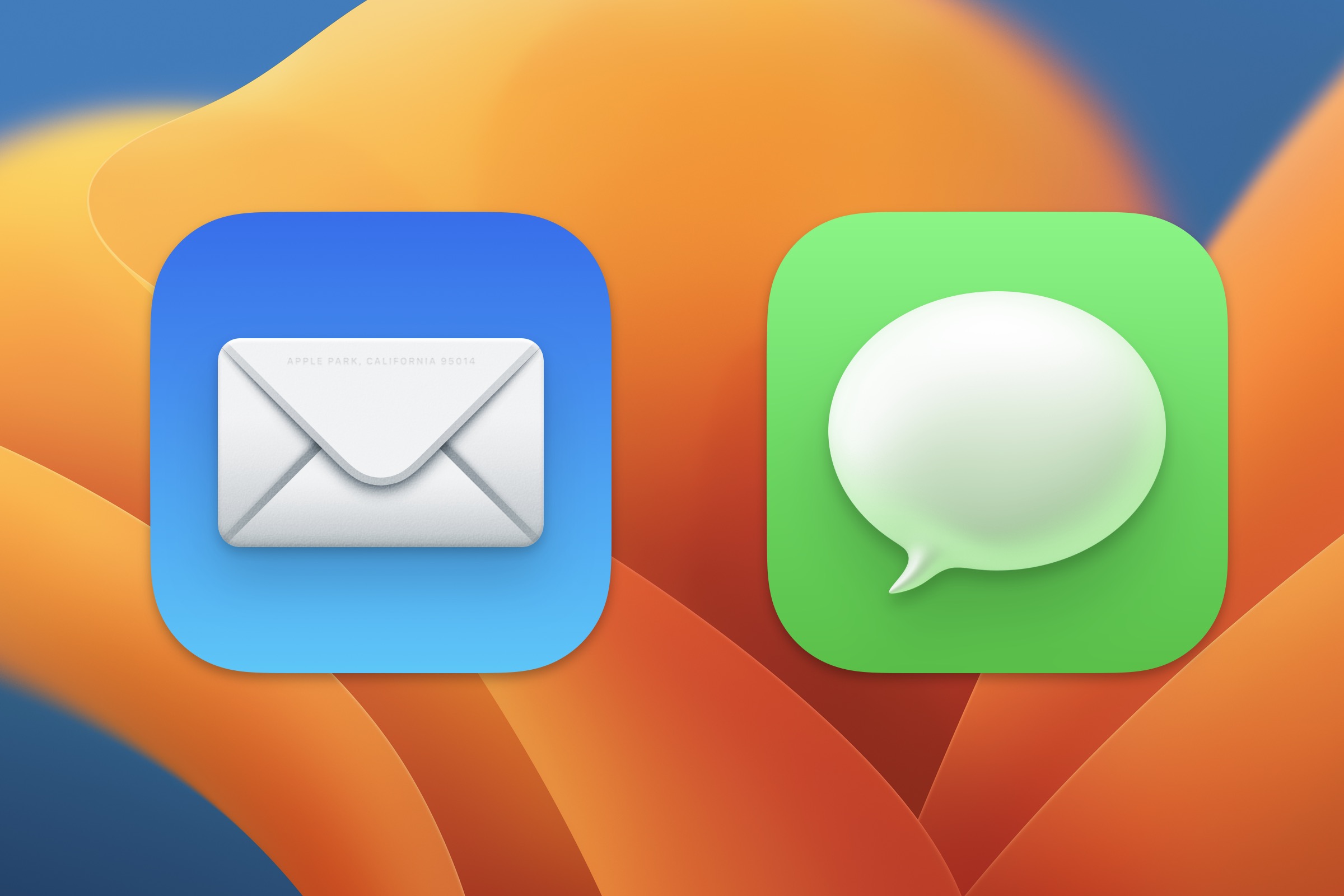 Among the many new features in macOS Ventura, iOS 16, and iPadOS 16 are long-awaited improvements to its communication apps, Mail and Messages. Mail allows you to schedule when you want to send emails, remind yourself to check up on emails, and undo messages that you've sent. There is also a built-in follow-up feature, that moves sent emails to the top of your inbox to remind you to "circle back" to their recipients.
With Messages, you can edit messages that you've sent, you can undo sent messages, and you can recover recently deleted messages.
Here's how these new features work.
Mail
Some of the biggest enhancements to Mail in many years are available with macOS Ventura, iOS 16, and iPadOS 16. These include the ability to unsend an email that you sent, schedule emails to be sent at specific times, set reminders for emails, and get reminders to follow up on sent emails.
Unsend emails
For the first, this is really just a gimmick; when you send an email, Mail waits ten seconds before actually sending it. On the Mac, you can click Undo Send at the bottom of the sidebar to prevent that message from being sent; on iOS or iPadOS, tap Undo Send at the bottom of the screen. But you only have ten seconds. This is only really useful if you accidentally – really accidentally – click or tap Send on a message. It's not for those late-night messages you've sent to an ex that you want to take back.

Schedule emails
The scheduling feature is more practical. This is great if you want to send information to someone after an event such as a presentation, or even if you want to send yourself a reminder to do something at a specific time.
When you've composed a message on a Mac, click the Arrow next to the Send icon to choose to send the message later. When you do this, you'll see a Send Later mailbox in Mail's sidebar, where you can view scheduled emails and change or delete them.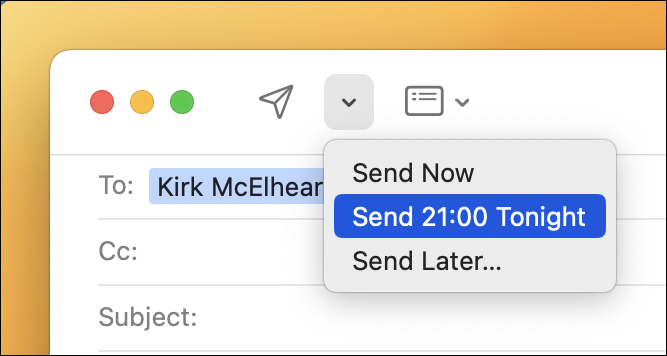 To schedule an email on iOS or iPadOS, tap and hold the up-arrow button, which you tap to send a message, and you see the same options.
Set reminders for emails
The reminder feature lets you flag an incoming email to remind you to get back to it in one hour, tonight, tomorrow, or you can choose a specific date and time to remind you later. Right-click on an email to make your choice.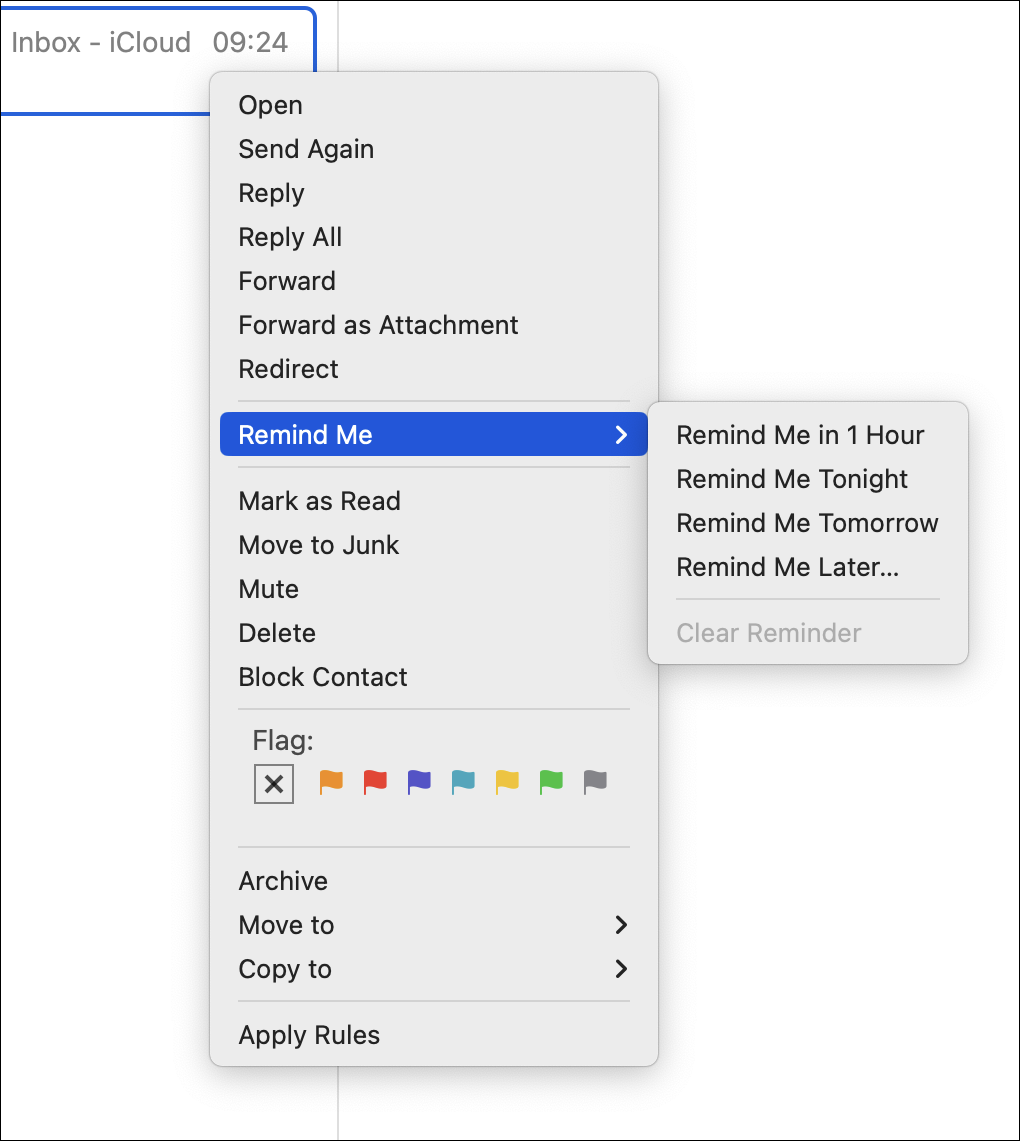 After you've set a reminder for an email, you can turn off the reminder by right clicking the email again and choosing Clear Reminder.
On iOS or iPadOS, you access this feature by tapping the Reply button at the bottom of the screen, then tapping Remind Me.
Follow up on emails
As for the follow-up feature, this is out of your control. Mail will decide, after a few days, that you haven't gotten a reply to an email you sent, and will place it in your inbox; the box for mail you've received, not sent. It does this seemingly at random, apparently using machine learning, and you have no control over which emails get chosen or why. For now, until there are user-accessible settings – something like the Remind Me menu above, that I can choose for certain emails I've sent – this feature is pretty useless. You can turn it off on the Mac in Mail > Preferences > General, by unchecking Enable message follow up suggestions. In iOS and iPadOS, go to Settings > Mail, then scroll down to the Messages section and toggle Follow Up Suggestions.

Messages
Messages gets a few much-needed features. You can finally edit messages; you can mark messages as unread; and you can undo sent messages. Within limits.
Edit messages
You can edit messages for up to 15 minutes after you send them. To do this, right-click on (Mac) or tap and hold (iOS and iPadOS) a message and choose Edit. Make your edits, then click or tap the blue check. Both you and your recipient will see the word Edited under the message; click that word to see the edit history. Click Hide edits to hide the edit history.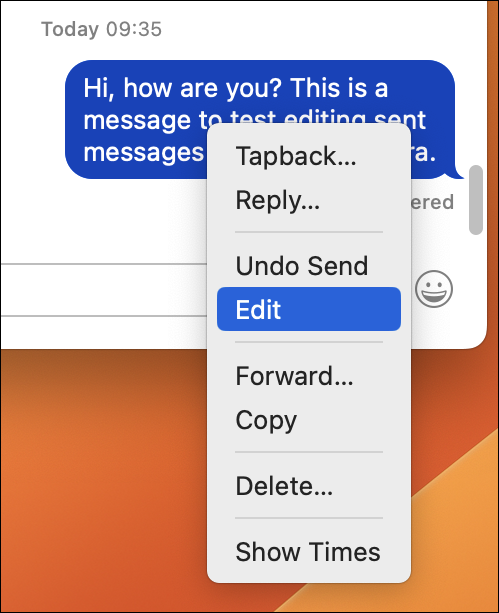 Undo sent messages
You can undo a sent message, but you must do so within 2 minutes. This is a lot more practical than the 10 seconds you get in Mail. It's not uncommon to send messages to the wrong person. You're in multiple conversations, and you forget to switch windows, and you send the wrong info to a friend or colleague. Right click or tap and hold a message and choose Undo Send; you'll see a poof animation, and Messages will display You unsent a message at the bottom of the window. You can make up to five edits to a message.
Recover recently deleted messages
You can now recover recently deleted messages, for up to 30 days. To do this, choose View > Recently Deleted to see all deleted conversations, select a conversation, then click Recover.
In the latest version of Messages, you have a new way to view your messages. You can view all messages, those from known senders, those from unknown senders, unread messages, and recently deleted messages. Click the View menu to see these options.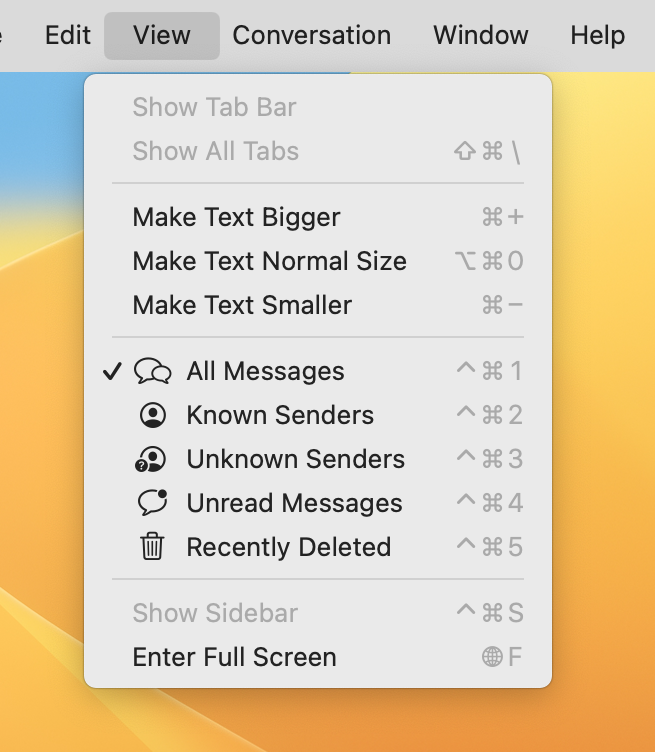 On iOS tap Filters to see these options; on iPadOS, tap the sidebar button at the top left of the screen to see these filters.
These new features an Mail and Messages give you more control over how you communicate, and are welcome. Try them out so you know what you can do and how, when you want to, especially because of the time limits on some of the features.
About Kirk McElhearn
Kirk McElhearn writes about Apple products and more on his blog Kirkville. He is co-host of the Intego Mac Podcast, as well as several other podcasts, and is a regular contributor to The Mac Security Blog, TidBITS, and several other websites and publications. Kirk has written more than two dozen books, including Take Control books about Apple's media apps, Scrivener, and LaunchBar. Follow him on Twitter at @mcelhearn. View all posts by Kirk McElhearn →