Launch! All-New X9 Mac Antivirus and Security Bundles
Posted on by Derek Erwin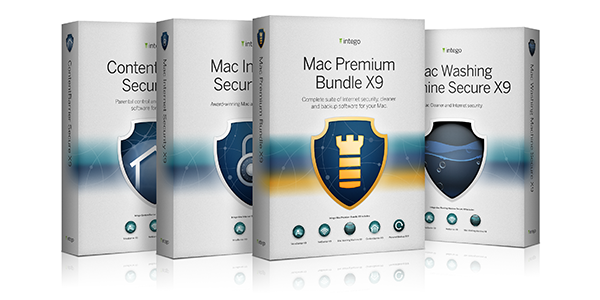 Today is the big day! Today is the launch. Intego is excited to announce the release of our all-new X9 series of products, including the new and improved VirusBarrier X9. Our most advanced Mac antivirus, firewall protection, backup, and Mac cleaning utility software is now available and on sale! We are so excited about this, and we want to spend some time explaining what's new Intego's X9 series.
We revved up our Mac antivirus engine for quicker scans and faster performance, improved anti-phishing settings to protect your privacy, cleaned up the interface for a sleeker look, and added an all-new Personal Backup to protect your essential files.
For nearly 20 years we've made it our mission to protect Apple products – all of our software is Apple-native and designed from the ground up for Mac OS X specifically.
What's New in X9?
All-new Personal Backup 10.9 protects your essential files – included in Mac Premium Bundle X9
A streamlined interface across all products creates a beautiful, easy to use experience
Quicker scans and faster performance keep your Mac running smoothly
Improved anti-phishing settings to protect your privacy
Intego's all-new X9 series of products are available in the following bundles:
Mac Internet Security X9 comes bundled with VirusBarrier X9 and NetBarrier X9, and includes Mac antivirus, anti-vandal, anti-phishing and anti-spyware protection, and a two-way firewall to bring you the best in Internet security.
Mac Washing Machine Secure X9 includes a powerful Mac cleaner in addition to VirusBarrier X9 and NetBarrier X9, and seeks out and removes duplicates and other unneeded files, frees up hard disk space to speed up the operating system, organizes the Dock and Desktop, and lets you create Smart Folders for quick access to frequently used files.
ContentBarrier Secure X9 includes parental controls for Mac in addition to Intego's Mac antivirus and firewall solutions, and allows parents to create appropriate online boundaries for any child from toddler to teen, schedule Internet access time, and includes anti-predator chat monitoring technology for all standard chat protocols.
Mac Premium Bundle X9 is the ultimate combination of protection, security and peace of mind, and contains Intego's complete suite of Internet security, parental controls, cleaning, and backup software for Macs.
As the most trusted name in Mac security, we're proud to launch our all-new X9 series to provide even stronger security, more efficient antivirus scans, and greater privacy protection against dangers of the Internet. Steve Kelly, President of Intego, said:
"Apple Mac users have been misled by the myth that they cannot contract malware or that they are not at risk. The reality is that all machines are vulnerable as cyber-criminals use a variety of methods to target Mac computers, sensitive personal information and a user's hard earned money. We have spent over 18 years protecting our customers and we believe X9 continues this legacy."
All of Intego's X9 products are extremely customizable and have been designed for complete novices and security experts alike. This design approach lets users select exactly how much technical details you want without ever reducing the level of security you have.
Current customers can upgrade to X9 for free! You can head over to our software renewal page to upgrade your product to our all-new X9 series.
New to Intego? Mac Premium Bundle X9 and its counterparts are available in English, French, German, Spanish and Japanese. If you're a new customer, you can take our X9 products out for a test drive with a 30 day free trial — check out our products page for more information.