iOS 8.4 Update Fixes Text Message Bug Causing iPhones to Restart
Posted on July 1st, 2015 by Derek Erwin

The bug had been around since iOS 6, but its impact was minor; very few people knew it even existed. The iPhone text message bug was promulgated by a simple post on Reddit, and subsequently spread like wildfire across the Interwebs — and probably sent to your own iPhone, causing it to restart. A vulnerability allowed anyone to restart iPhones by sending a text message with a specific series of Unicode characters. Apple has finally rolled out a security update with the release of iOS 8.4, fixing the bug, as well as a wide range of other issues affecting iOS devices.
iOS 8.4 is available for: iPhone 4s and later, iPod touch (5th generation) and later, and iPad 2 and later.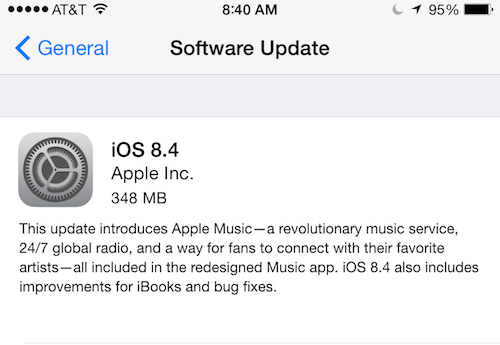 Apple's software update describes all the new improvements and features added, including fixes for the bug causing iPhones to restart:
Other improvements and bug fixes

Fixes an issue where receiving a specific series of Unicode characters causes device to reboot
Fixes an issue that prevented GPS accessories from providing location data
Fixes an issue where deleted Apple Watch apps could re-install
According to Apple's security notice, iOS 8.4 addresses the following vulnerabilities:
If you're worried about the security of your iOS mobile devices, we encourage you to update to Apple's iOS 8.4. If you own an iPhone 4 and cannot update to the latest iOS version (iOS 7 is the last update iPhone 4 users can receive), now is a great time to upgrade to a newer iPhone and boost your mobile security.
iPhone, iPod and iPad users can get the latest update directly on the iOS devices (Settings > General > Software Update), or it can be downloaded and installed in iTunes when the iOS device is connected to a computer with an Internet connection.