How to Efficiently Set Up Wi-Fi in Your Home
Posted on April 16th, 2020 by Kirk McElhearn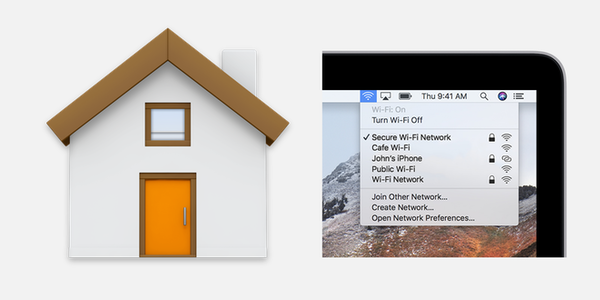 It wasn't long after the internet became common in homes that wi-fi became popular. It took off in 1999, when the Wi-Fi Alliance (initially the Wireless Ethernet Compatibility Alliance) was set up as a non-profit organization to oversee and promote wi-fi technology and standards. In the same year, Apple released its first AirPort base station.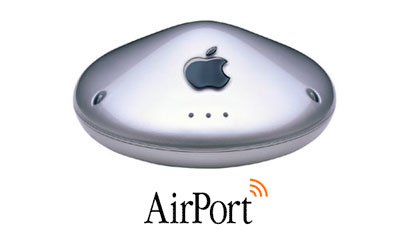 Wi-fi has come a long way. Instead of just sharing a poky internet connection to one or two computers, it now provides connectivity to myriad devices: Macs, iPhones, iPads, Apple TVs, Kindles, PlayStations, TV sets, and even smart home devices. With this need for bandwidth and flexibility, wi-fi has become essential. With faster internet access, your wi-fi needs to keep up so all your devices can benefit. But setting up wi-fi in your home isn't always easy. Here are some tips to ensure that you get good coverage everywhere in your home.
Location
If you don't get a good wi-fi signal everywhere in your home, you need to look at the location of your router. For many people, their internet arrives in a corner room, and often on an outside wall. If your wi-fi emits from a location that is not in the center of your home, it will be more difficult to provide reliable speeds throughout your house.
Most people use the wi-fi that is available from the router or cable box that their ISP has provided. While these devices have improved in recent years, many people don't think of upgrading theirs. If yours isn't recent, you won't have the highest speeds. While having a router that's faster than your internet connection won't make your downloads any faster, it will ensure that, as bandwidth degrades in rooms further from the router, it will still support your needs.
Wi-Fi versions
Until recently, wi-fi versions were confusing. The first such standard was 802.11b, followed by 802.11g, then 802.11n, 802.11ac, and the most recent is 802.11ax. Fortunately, the Wi-Fi Alliance has changed the naming, and you'll be hearing the term Wi-Fi 6 for the latest version going forward.
Apple's iPhone 11 series has Wi-Fi 6, though Macs have yet to adopt this new technology. For the past few years, Macs have been provided with 802.11ac (now retrospectively called Wi-Fi 5), and even the most recent 16" MacBook Pro and Mac Pro still have this wi-if version. You can see what type of wi-fi your Mac is using by pressing the Option key, then clicking on the wi-fi menu extra, which also gives you more information about your wi-fi network: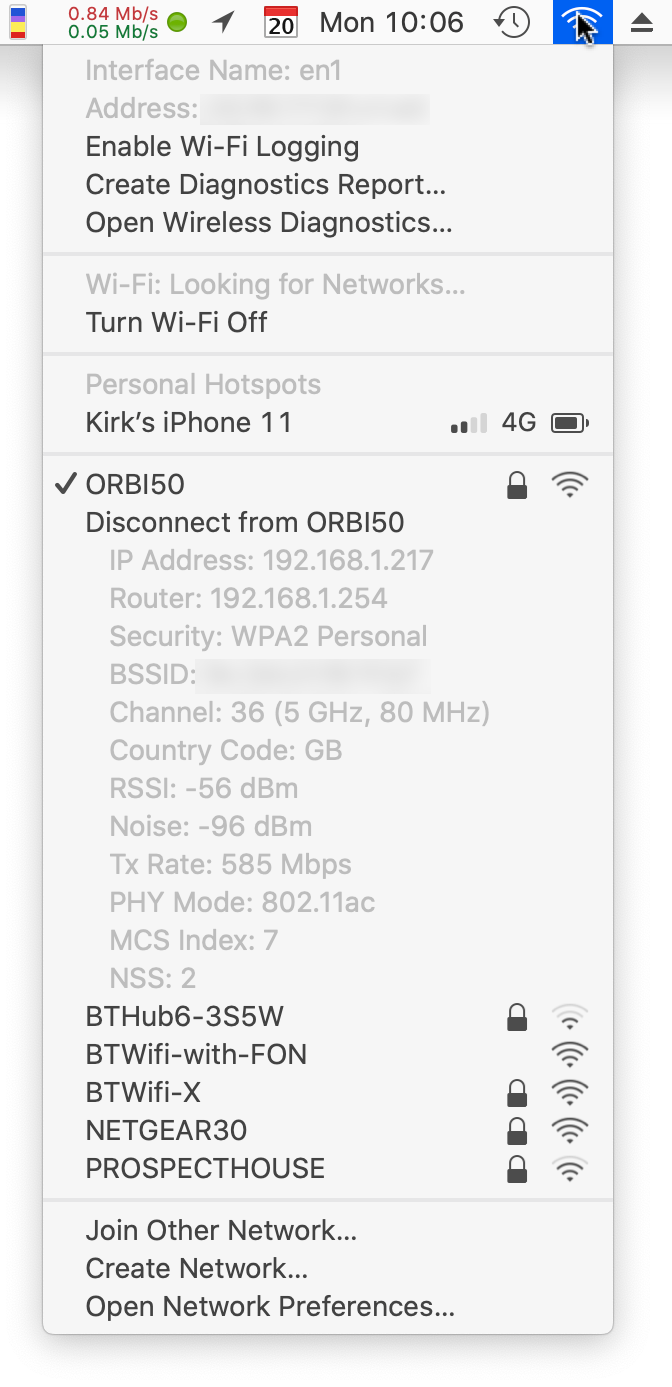 If this menu extra isn't visible, go to System Preferences > Network, then check Show Wi-Fi status in menu bar.
Getting faster wi-fi
If you don't have at least 802.11ac, then it's a good idea to upgrade your router. This version of wi-fi, introduced in 2014, increased speeds nearly tenfold over the previous version. It includes two frequency bands, 2.4 GHz and 5 GHz band, providing fast data transfers and the ability to support legacy devices that use older wi-fi versions.
If your ISP won't provide you with a new router, you can purchase a separate wi-fi access point, a device that provides wi-fi when connected, via ethernet, to your router. The advantage of having a separate device for wi-fi is that you may be able to move it to a more central location in your home. If you can run an ethernet cable to a different room, then your wi-fi could be more even throughout your home. (Tip: you can get flat ethernet cables that you can easily run under rugs.)
If you live in a small home, then a single device is probably all you need, unless you have a lot of interference from other devices. If you live in a larger home, then you might want to consider a wi-fi extender or a mesh wi-fi system. Wi-fi extenders will give you wi-fi at more of a distance from your router or access point, but each extender halves the bandwidth that it can forward. They also require that each extender has a different network name, or SSID, meaning that your devices will constantly be reconnecting to different networks as you move around your home.
Mesh wi-fi systems consist of multiple devices that communicate over a number of bands, and with a single SSID. Some of them have a dedicated backhaul channel, a separate radio that only communicates between the system's devices, that funnels data from one device to another, so you don't lose any of your network's bandwidth. I live in a large, old farmhouse, with thick walls, and I've been using a Netgear Orbi mesh wi-fi system for about three years. It provides excellent wi-fi all throughout the house, even to the most distant rooms, and outdoors.
While I only need two units for my mesh wi-fi system, you can generally add up to three satellites to a system, covering up to 10,000 square feet, depending on the system, and some even have outdoor satellites that you can use to ensure that you get great wi-fi in the garden or by the pool.
There are now a number of mesh wi-fi systems, from vendors such as Google, Linksys, Eero, and others. You can get a simple, high-speed wi-fi access point for less than $100; mesh wi-fi systems are available now starting at under $200.
Plotting wi-fi
It's important to know how good your wi-fi is throughout your home before upgrading. You may find that it is fast enough where you need it most – such as in a TV room, where people may be streaming 4K videos – and acceptable where you don't need a lot of bandwidth. One way to do this is to use the free Wi-Fi SweetSpots app on an iOS device. Tap start, then walk around your home. As you move around, you'll see your throughput change. This will tell you where you may want to have more bandwidth, and you can also use it as you try your router or access point in different locations to see if it improves.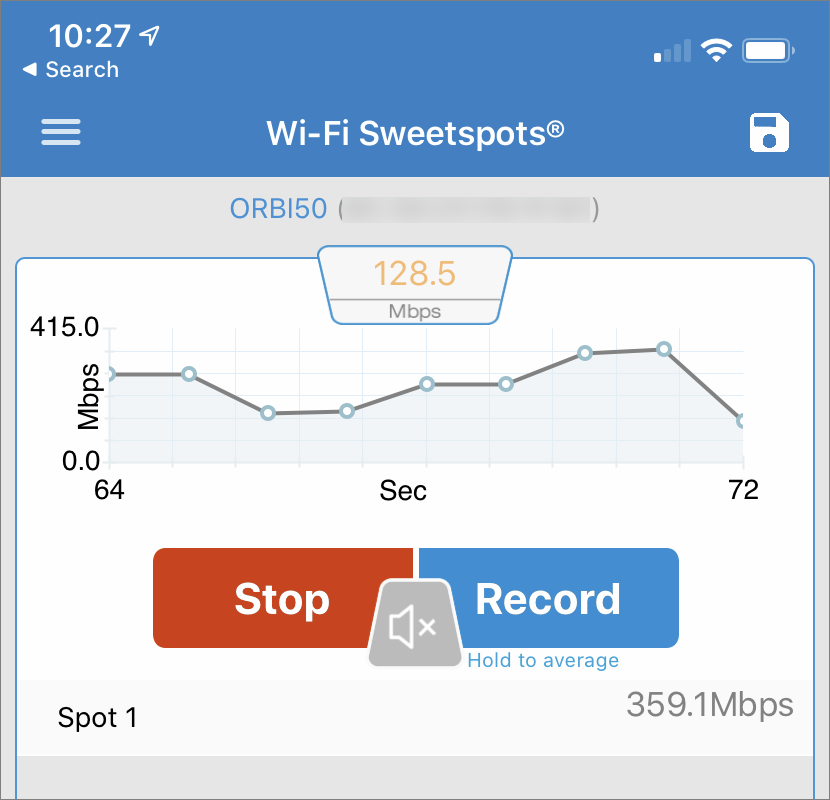 No matter what the reason for slow wi-fi – an old router or access point, or a difficult home environment – new wi-fi devices can give you bandwidth in every part of your home. If you find yourself struggling at times, it's worth analyzing your home and upgrading your wi-fi devices so you get fast internet everywhere.
About Kirk McElhearn
Kirk McElhearn writes about Apple products and more on his blog Kirkville. He is co-host of the Intego Mac Podcast, as well as several other podcasts, and is a regular contributor to The Mac Security Blog, TidBITS, and several other websites and publications. Kirk has written more than two dozen books, including Take Control books about Apple's media apps, Scrivener, and LaunchBar. Follow him on Twitter at @mcelhearn. View all posts by Kirk McElhearn →