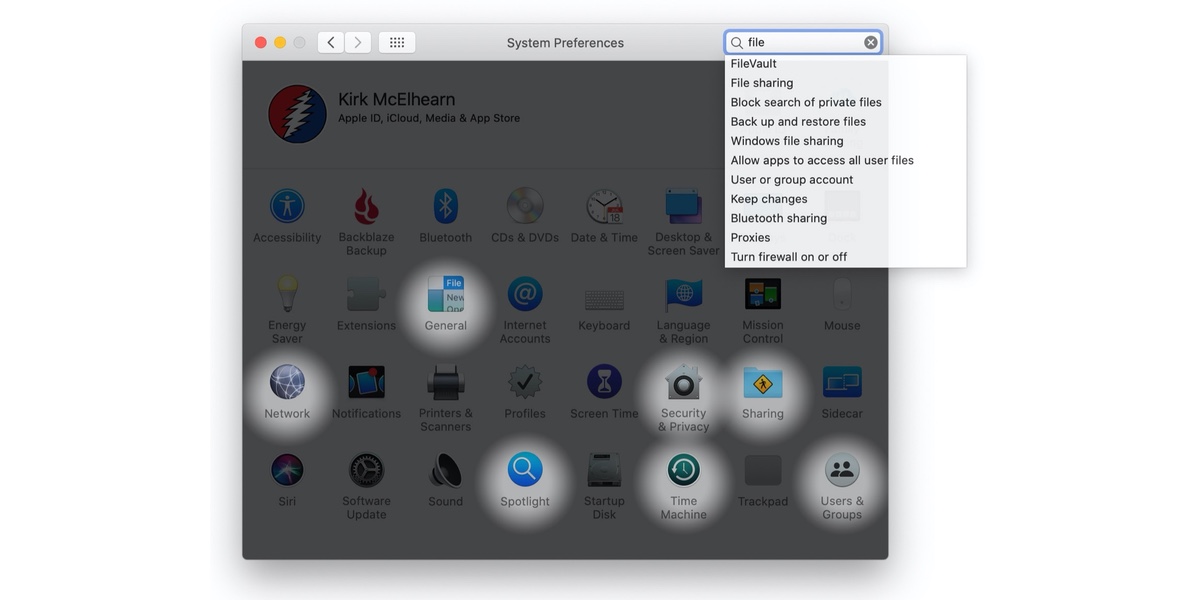 There are lots of settings, preferences, and options on the Mac, and many of these settings are organized in one app: System Preferences. You can access this app from the Apple menu, and it offers a plethora of options for customizing your Mac's environment, and many of its features.
In this article, I'm going to show you how to use the System Preferences app, how to customize its display, and how to change essential settings for your Mac.
If you're looking for information about the newer System Settings app, which was introduced with macOS Ventura, see this article.
The System Preferences App
If you choose the Apple menu then System Preferences, the app opens, displaying a couple dozen different icons. Each icon leads you to a different group of settings and options.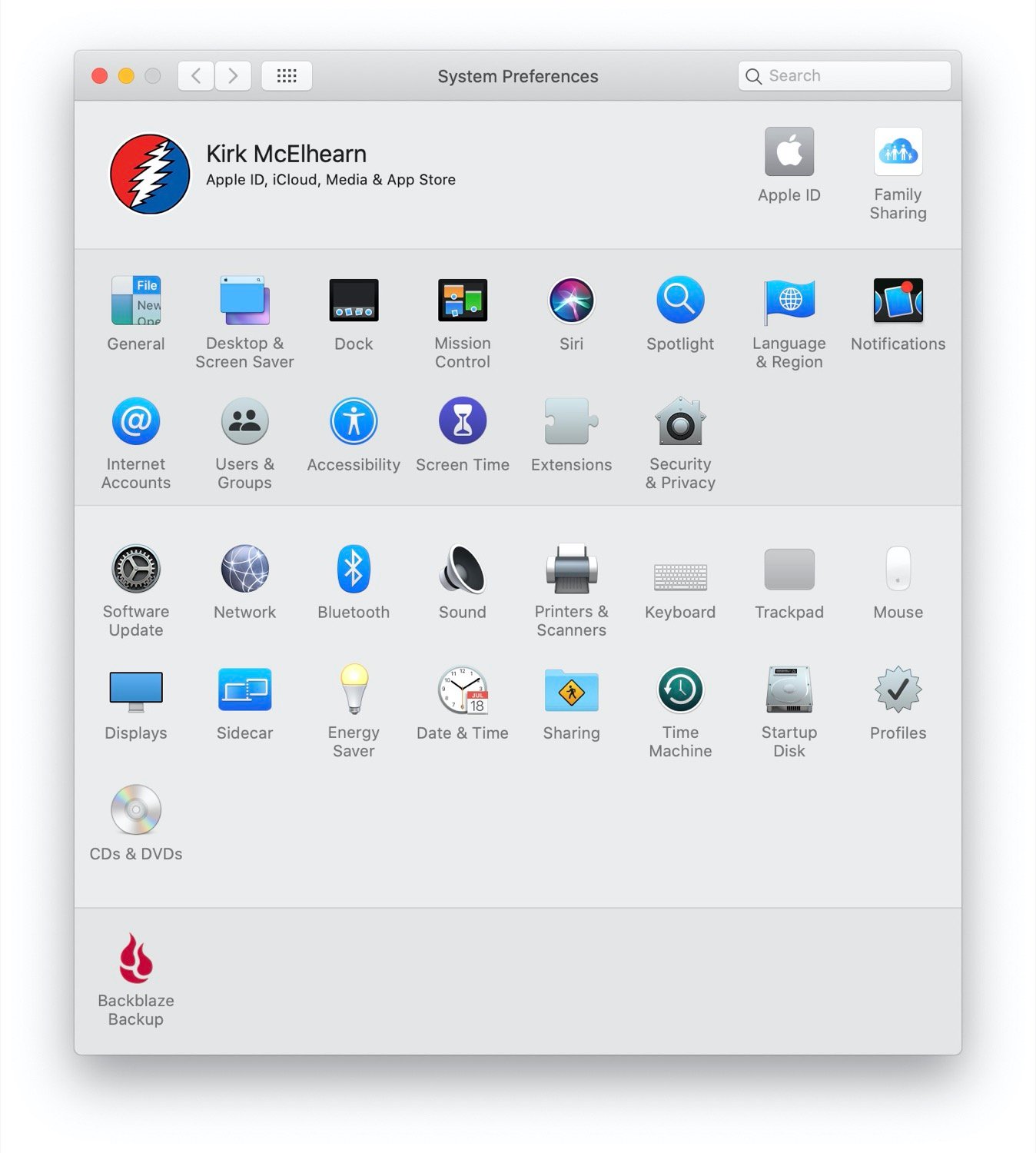 This app is organized in three or four sections. At the top is your name, and two icons at the right lead to settings for your Apple ID and Family Sharing. Below that are two sections of icons: the first section covers personal settings, and the second has settings for how your Mac interacts with hardware. Finally, if you have any third party apps that have installed preference panes, they display in a fourth section; as you can see above, I use Backblaze for backups, and it installs a preference pane to configure its features.
But this organization can be confusing; there is an easier way to sort these icons. If you choose View > Organize Alphabetically, they display in alphabetical order, regardless of whether they are built-in or third-party preferences. Not only is the app more compact, but it's easier to find the different icons this way.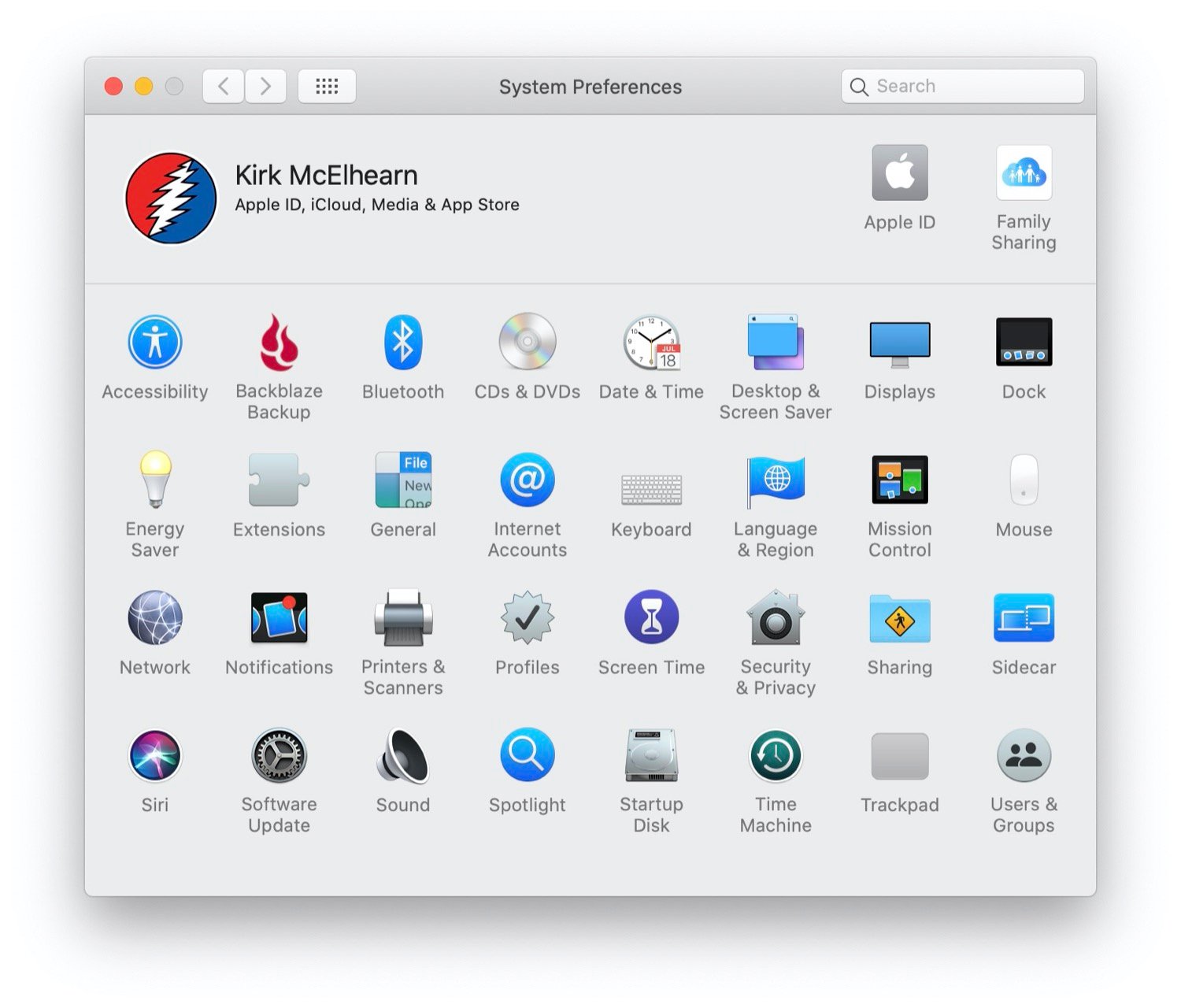 When you click the View menu, you can see that you can also access each of the preference panes from that menu. And, clicking the grid button in the toolbar also displays an alphabetical menu. So you may not need to change the display of the icons in the app, if you prefer navigating via these menus.
You may find that you return to System Preferences often, or you may never use it after you first set up your Mac. If you do often use this app, there's a trick to make it a lot simpler. There may be preference panes that you never use, so wouldn't it be great if you could hide them? Choose View > Customize, and all the icons display with checkmarks. Uncheck those that you don't need. For example, if you don't have an optical drive, uncheck CDs & DVDs; if you don't use Siri, uncheck it; and if you only have one drive connected to your Mac, you could uncheck Startup Disk.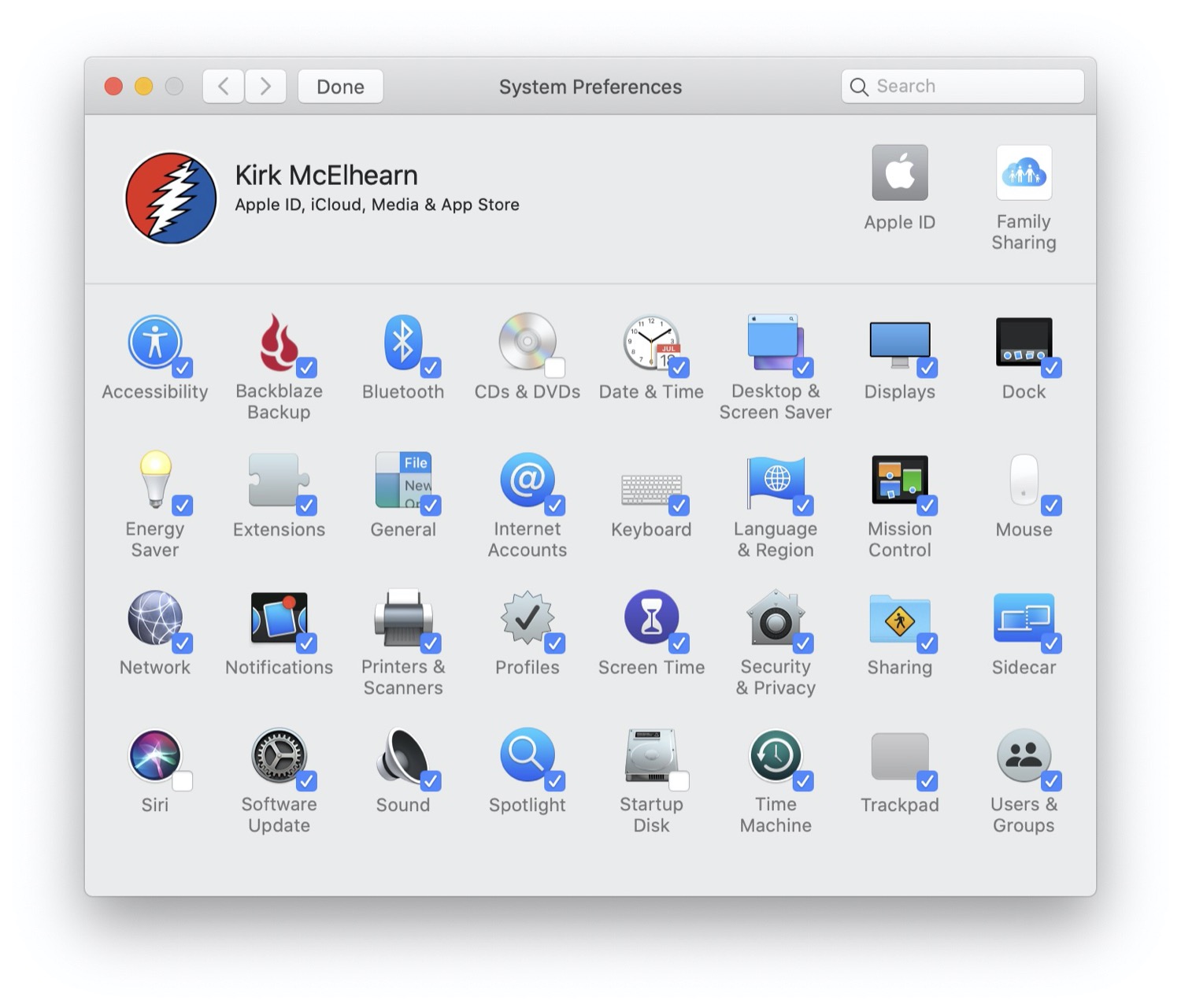 Should you need to access these preference panes in the future, choose View > Customize again, and check them.
Finding Settings
Some of the preference panes are simple: Software Update, for example, has one checkbox, and an Advanced button where you adjust some settings. Otherwise, it does nothing, unless you have system updates available, in which case it displays a button to start updating your Mac. But a pane like Security & Privacy has dozens of options, and they can be hard to find. Fortunately, the System Preferences app lets you use a search field to find what you want.
If you're looking for a setting to allow apps to access files on your Mac, you may know that the setting is in the Security & Privacy pane, but not in which section. So type "file" in the search box, and the app shows you a number of options. It highlights the icons where the search term appears, and you can choose from one of the suggestions below the search box to go exactly where you want.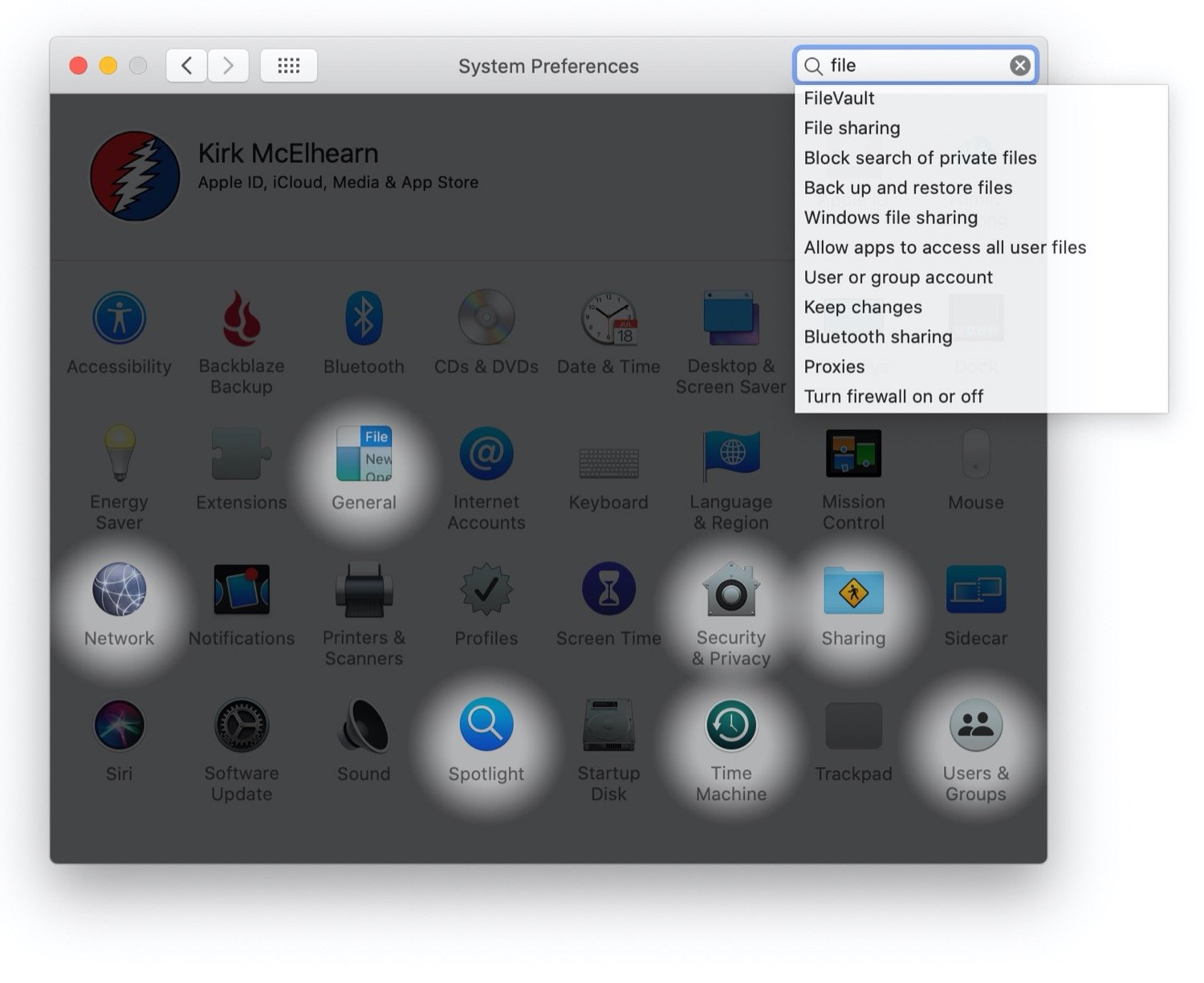 Apple ID Settings
If you click Apple ID at the top of the window, you can access all the settings related to your Apple ID and iCloud account.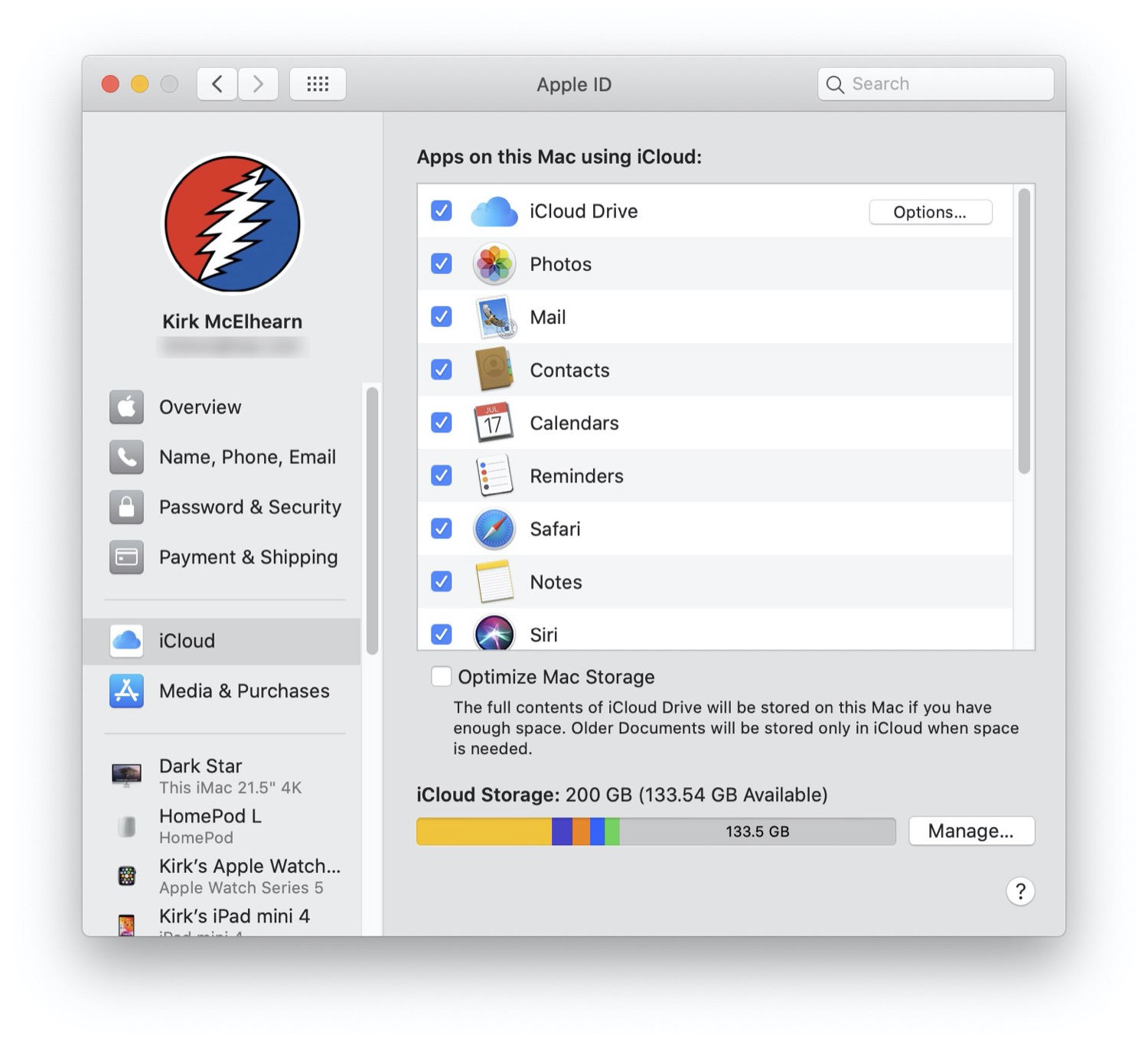 The preference pane opens with iCloud selected in the sidebar, where you can turn on or off different iCloud services, or set options for some of them. You can manage your storage, and you can change your storage plan from the bottom of the window.
At the top of the sidebar, you can access and change settings for your name, address, phone number, and payment sources. And further down in the sidebar, you can view all the devices that are signed into your iCloud account. Click one to find information such as a serial number, and whether Apple Pay and Find My is enabled for each device. And you can click Remove from Account if you find a device that you no longer own.
Settings Available to Administrators
A number of preference panes show padlocks on the bottom left corner of the System Preferences app window. This means that only an administrator can make changes. These include settings like changing the startup disk, sharing options, network settings, and security and privacy preferences. To make changes to these settings, you need to enter an administrator's password, or, if a non-administrator account is active, you need to authenticate with the user name and password of an administrator.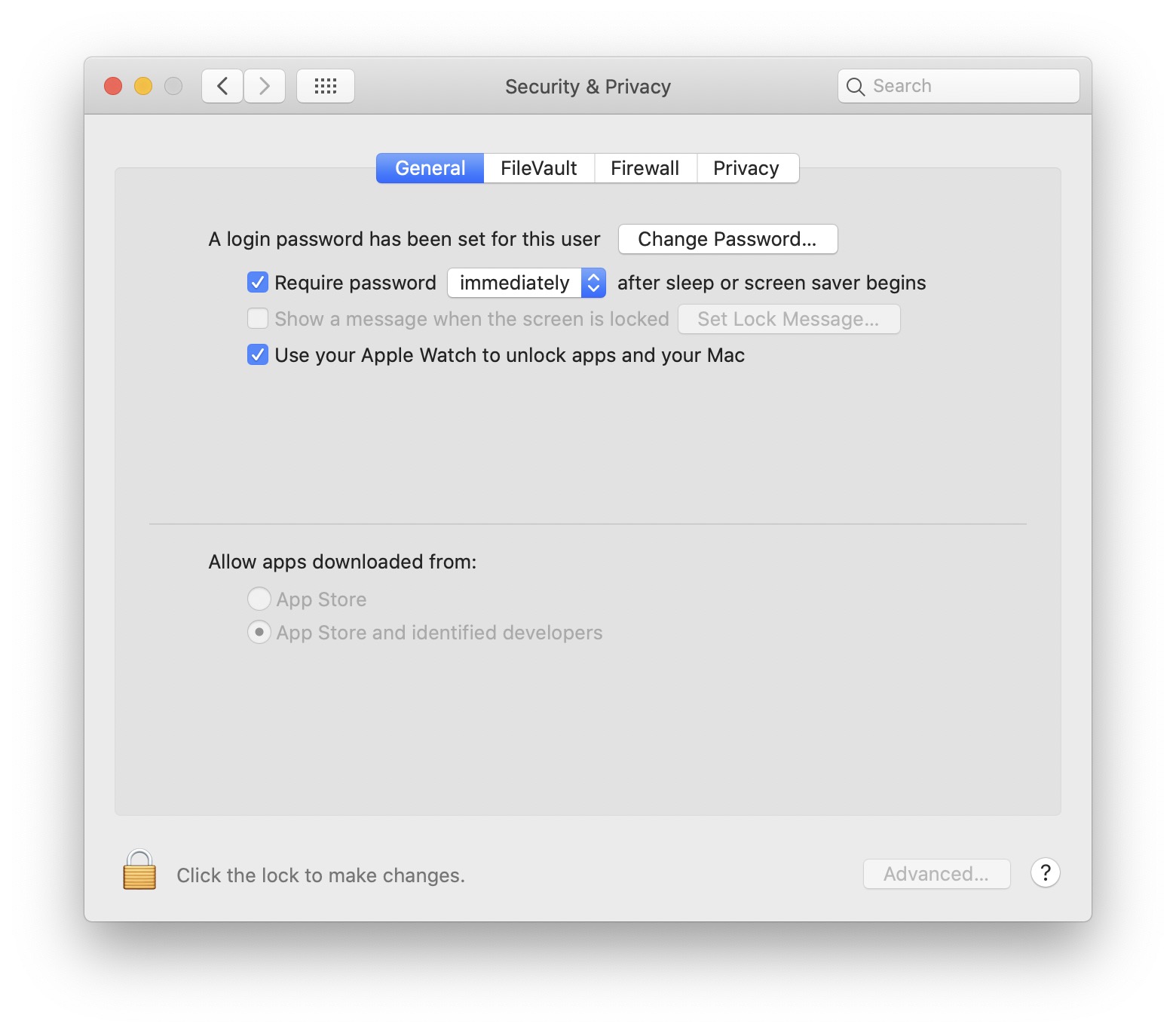 Some preference panes have padlocks, but still allow some settings to be changed by non-administrators. For example, you can see above, in the Security & Privacy pane, that settings regarding requiring a password when the computer is asleep or using an Apple Watch to unlock the Mac don't require administrator authorization. However, a more important setting about allowing apps downloaded from different locations is protected, and is dimmed.
Understanding the Various Preference Panes
You probably won't often need to make changes to the settings in System Preferences. It's a place to go when you set up a new Mac: for example, go to the General pane to choose appearance settings, go to Internet Accounts when you add new accounts, enable file sharing and media sharing in the Sharing pane, and create user accounts in Users & Groups. You'll want to adjust some settings for your mouse or trackpad, maybe tweak the sound settings, and turn on Time Machine.
But you may be visiting some preference panes more often, especially because of macOS Catalina's security settings. The Security & Privacy pane is where you go to allow apps to access files and folders, among other things; some apps will display dialogs instructing you to do this.
It's a good idea to browse through the various preference panes, to have an idea of what customization options you have on your Mac. Check out some of our other articles that discuss a number of security features you can set, how to leverage options for the Dock, some useful settings in the Accessibility pane, and read some detailed information about understanding user accounts.
About Kirk McElhearn
Kirk McElhearn writes about Apple products and more on his blog Kirkville. He is co-host of the Intego Mac Podcast, as well as several other podcasts, and is a regular contributor to The Mac Security Blog, TidBITS, and several other websites and publications. Kirk has written more than two dozen books, including Take Control books about Apple's media apps, Scrivener, and LaunchBar. Follow him on Twitter at @mcelhearn. View all posts by Kirk McElhearn →