Apple's Safari Web Browser is 20 Years Old
Posted on January 10th, 2023 by Kirk McElhearn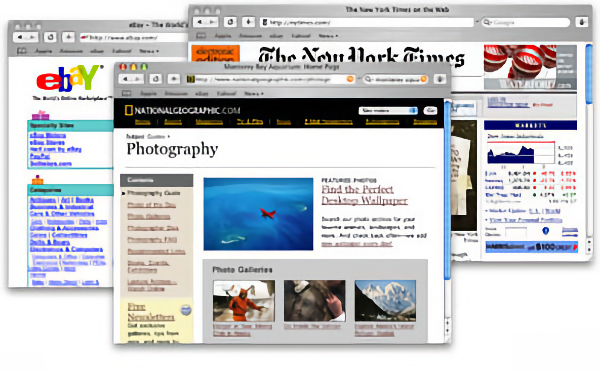 Apple introduced the Safari web browser 20 years ago, on January 7, 2003. At the time, Steve Jobs called Safari, "a turbo browser for Mac OS X." Apple created Safari for speed, calling it the fastest browser for the Mac. Jobs compared it to Internet Explorer, Netscape, and Chimera (later renamed Camino), showing that Safari was faster. The second reason that Apple created Safari was to innovate; Apple wanted to make the best browser ever. (See Apple's first web page presenting Safari.)
The browser wars have changed a lot in 20 years. All three of the competitors mentioned above have faded away, and new browsers have become standard. Google's Chrome is by far the most popular browser, with Safari a distant second. Following these two are Microsoft Edge and Firefox, both with single-digit market share.
The first iteration of Safari offered Google searches from the toolbar, something that was new at the time. The SnapBack feature, that took you back to searches after going down a rabbit hole, was forgotten over time. It offered pop-up blocking, because these nuisances already existed 20 years ago, and it had easy to use bookmarks.
Safari's multi-platform migration
Later, Safari spread to other operating systems. In 2007, with the arrival of the iPhone (and, months later, the iPod touch), Safari was included with "iPhone OS" (now known as iOS). In 2008, Apple released a Windows version of Safari; it was later silently discontinued in mid-2012. The first iPad, released in 2010, was based on iPhone OS, and of course included the Safari browser like its smaller cousins.
Today, Apple still includes its Safari browser with the latest versions of macOS, iOS, and iPadOS.
Safari was, and still is, based on WebKit, a page rendering framework that was developed from the open source KHTML browser engine. WebKit has gone on to be an integral element in Apple's operating systems. Not only does Safari use it to display web pages, but other apps, such as Mail use WebKit to display content, Apple's App Stores use WebKit, and apps like News, Notes, and Music depend on it. WebKit is used on all of Apple's platforms, regardless of whether or not they include Safari: macOS, iOS, iPadOS, watchOS, and tvOS.
The web browser is the platform
During Safari's 20 years, the web browser became the platform by which most people access content (at least when they're not using dedicated apps). As such, new features in Safari have been important to help people view content of all kinds, from text to video. These include enhancements to page display, such as Reader view, tabs to help users work with multiple pages at the same time, as well as security features, such as Intelligent Tracking Prevention.
At the same time, Safari needs to have robust security, since it is the vector by which much malware gets into computing devices. Vulnerabilities in WebKit are among the most serious on Apple operating systems, because they can allow malicious code to be run, infecting devices. Apple regularly issues security updates for WebKit to protect against these threats.
There is a fine balance between the simplicity of a web browser – Steve Jobs called the first iteration of Safari "a very minimal UI" – and advanced features. Safari has had its share of feature creep over the years, but has mostly managed to keep these features from getting in the way. Things like private browsing, reader mode, bookmarks, tabs, and tab groups all help make browsing more efficient, and Safari doesn't feel bloated. It does often use too much memory, however, but this has been a complaint about many web browsers over the years (especially Chrome).
Web browser competition
Applications come and go, and Safari's main competitors 20 years ago, Internet Explorer and Netscape, are no longer with us. Chrome is the predominant browser around the world, and Apple is happy that Safari is second in market share, though this is mainly because of its use on mobile devices. With the popularity of the iPhone, and the fact that Safari is the default browser, hundreds of millions of people use it daily.
Apple focuses on the security and privacy aspects of Safari, with features to allow users to manage cookies, features that prevent websites from tracking users, and hardening the way extensions work in the browser. Going forward, Safari will continue to be Apple's bulwark against internet security threats.
The web browser may not be the sexiest of apps, but it is the workhorse we use every time we want to get information. As Safari moves into its third decade, as the main way Apple users connect to the world, we will continue to benefit from its security and privacy, and its ability to get out of the way when we use the web.
How can I learn more?
A few years ago, we wrote a pair of articles comparing the privacy of Safari and other top browsers for Mac and iOS. Check out those articles to see our conclusions.
Safari, Chrome, Firefox: Which is the most private browser for Mac?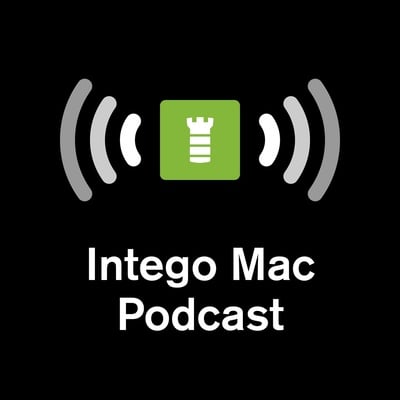 Each week on the Intego Mac Podcast, Intego's Mac security experts discuss the latest Apple news, including security and privacy stories, and offer practical advice on getting the most out of your Apple devices. Be sure to follow the podcast to make sure you don't miss any episodes.
You can also subscribe to our e-mail newsletter and keep an eye here on The Mac Security Blog for the latest Apple security and privacy news. And don't forget to follow Intego on your favorite social media channels: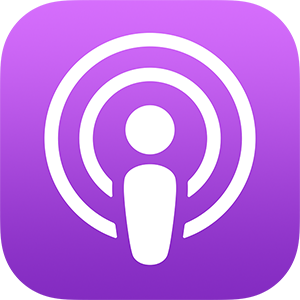 About Kirk McElhearn
Kirk McElhearn writes about Apple products and more on his blog Kirkville. He is co-host of the Intego Mac Podcast, as well as several other podcasts, and is a regular contributor to The Mac Security Blog, TidBITS, and several other websites and publications. Kirk has written more than two dozen books, including Take Control books about Apple's media apps, Scrivener, and LaunchBar. Follow him on Twitter at @mcelhearn. View all posts by Kirk McElhearn →