How Tough are AirTags? We Froze, Washed and Dried, Ran Over, and Put Them in the Hot Sun
Posted on by Kirk McElhearn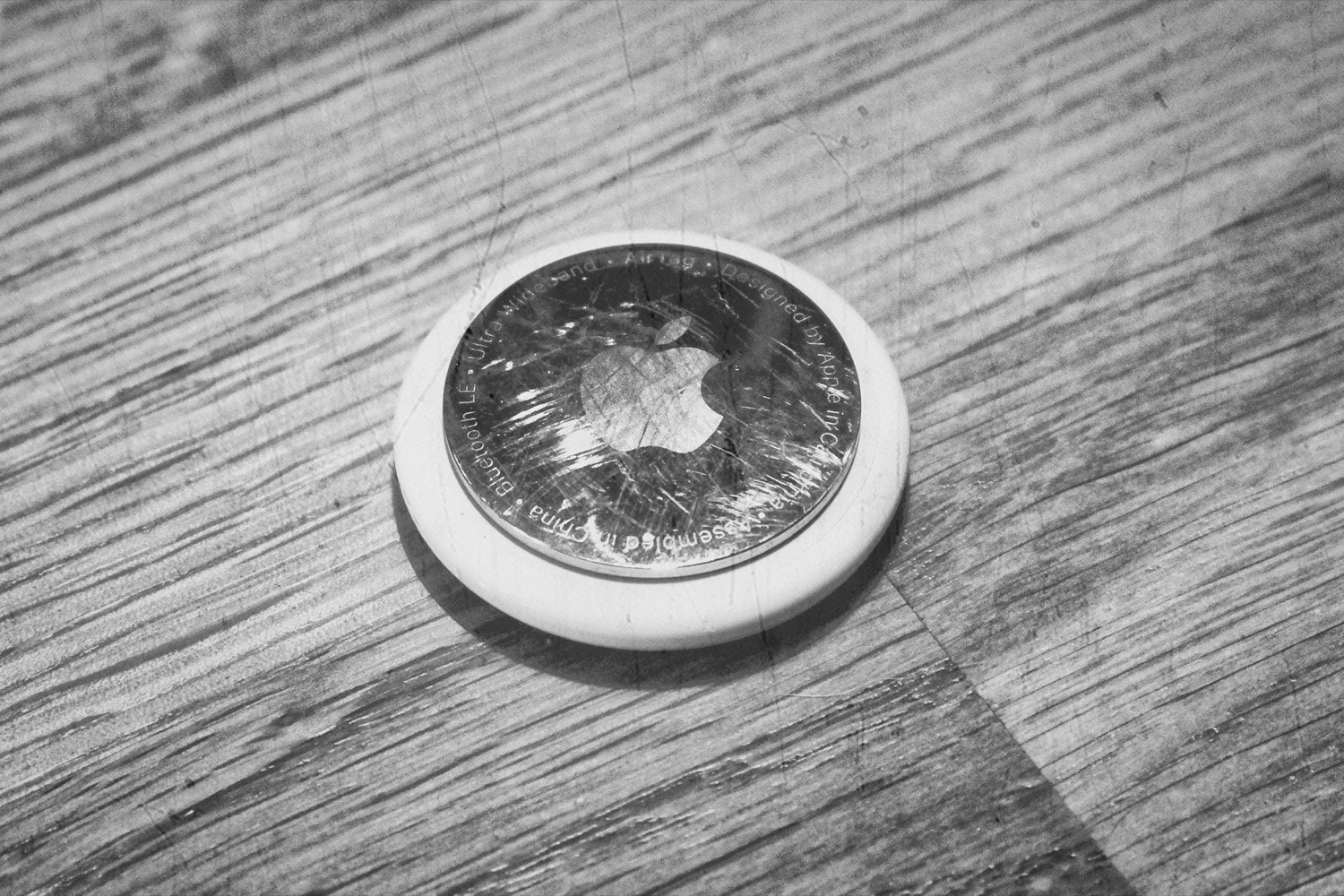 You take good care of your iPhone or iPad, but AirTags aren't meant to be coddled. If you have one with a keyring, it'll be in your pocket or purse, getting scratched and bounced around. If you put one in your gym bag, it'll sit around in the trunk of your car in extreme temperatures in summer or winter. And if you forget one in a pocket, it might go through the washing machine and dryer.
I put a few AirTags through the most grueling stress tests I could find. Here's what happened.
Related: 23 Things You Can Track with Apple's New AirTags.
Wear and tear
It's obviously too soon to know what will happen to an AirTag over time. The body of the device is made of sturdy plastic and stainless steel. And it's sealed so it's splash, water, and dust resistant (rated IP67 – maximum depth of 1 meter up to 30 minutes – under IEC standard 60529). But if you have one on a key ring, and put it in your pocket or purse, it'll get scratched. This won't affect how it works; if anything, a well-worn AirTag is a well-loved AirTag.
I find it surprising that companies are selling "AirTag screen protectors" on Amazon, because, well, there's no screen. The selling point is to protect the stainless steel side from scratches, but what's the point? This device costs $29, or $25 if you buy a four-pack; you really shouldn't worry about getting a few scratches on it.
Related: I Mailed an AirTag and Tracked Its Progress; Here's What Happened.
AirTags and the elements
The AirTag is clearly designed to be used in a variety of conditions, more so than an iPhone or iPad. Apple tells you that these latter devices should not be used in extreme temperatures:
Use iOS devices where the ambient temperature is between 0º and 35º C (32º to 95º F).
They will still work in colder or warmer temperatures, but:
Low- or high-temperature conditions might cause the device to change its behavior to regulate its temperature. Using an iOS device in very cold conditions outside of its operating range might temporarily shorten battery life and could cause the device to turn off.
AirTags don't come with any such warnings, and they are clearly designed to be used, at least occasionally, in more extreme temperatures. The trunk of your car will be well below freezing in winter, and in summer, it can hit some extreme highs. If you have an AirTag in your luggage when you fly, it'll be outdoors at times, and it could be very cold if it sits on the tarmac in Greenland, or very hot if it's waiting to be loaded in a plane in the Middle East. (The temperature in the baggage hold of a passenger plane is generally above 7º C, or about 44º F, so there are no worries in transit.)
Also, if you drop your keys outdoors, and the AirTag can't support the temperature in summer or winter, then what's the point of using an AirTag to try to find them?
Extreme temperatures will affect the battery in the AirTag, but will likely have no effect on the rest of the device. Most CR2032 batteries, which power AirTags, have an operating temperature range of -30º C (-22º F) to 60º C (140º F), which is well beyond the range in which humans can live. My AirTags have Panasonic batteries, which are rated for those temperatures, but some batteries of this type have an extended temperature range, for use outdoors, from -40º C to 85º C. If you want to use an AirTag in these temperatures, you can buy batteries with that extended temperature range.
While you might find some places to explore that are below the range of AirTag batteries, the maximum might not be that hard to reach. If you leave something with an AirTag in the sun in your car, the temperature could easily approach that limit.
Stress testing AirTags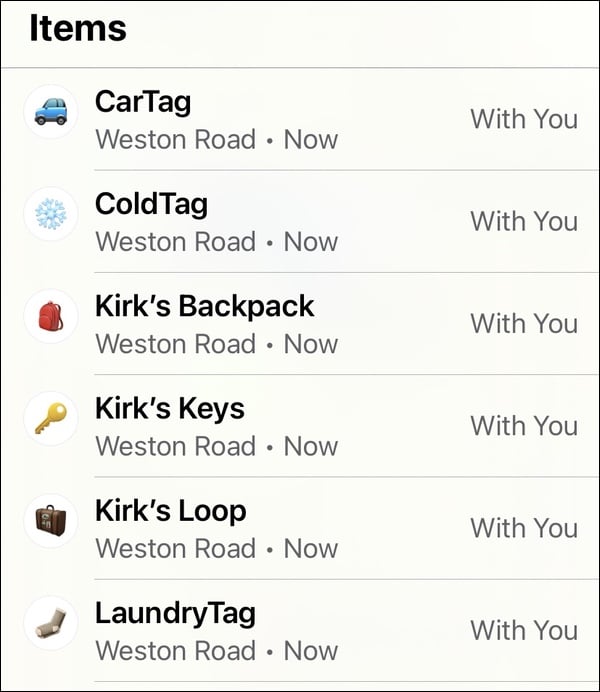 I tried several stress tests with some of my AirTags. I put one in my freezer, at -22º C (-7.6º F), and it didn't blink. I put another in my car, under the windshield, together with a thermometer. It's not very hot this time of year, and the temperature only got to 44º C (111.2º F). With a range of -30º – 60º C, there's not much to worry about if you use AirTags in normal weather, but in hot summer, keep anything with AirTags out of the sun in your car.
It's possible that you may forget your keys in a pocket, and put them in the wash. I put one of my AirTags in the wash, going through a normal wash cycle at 40º C, and then in the dryer. When washing, the AirTag will be in water for more than the rater 30 minutes, so there's a risk of seepage, but mine was fine. I'd worry about repeated exposure to water in a washing machine over time, so try not to forget your keys.
The other way an AirTag could be damaged in a washing machine is when you spin dry your load. I ran mine at 1400 rpm, and this didn't damage the device. I think it's possible that it could open when spinning, but that might be an edge case.
My dryer doesn't display its actual temperature, since it is variable depending on the humidity of the load, but documentation says that the maximum temperature is 70º C. So there's a risk of your dryer exceeding the temperature of the AirTag's battery, but most dryers max out at around 60º C, or 135º F.
Finally, I wanted to find out how durable the plastic case of the AirTag was. I park my car in a graveled parking area, the perfect place to test its robustness. I drove back and forth over the AirTag, and even stepped on it and ground it, somewhat ignominiously, into the gravel, then on a sidewalk. The AirTag got well scuffed, and the only problem was that, with repeated treading, the device eventually opened, rendering it unusable to track anything, since the battery wasn't seated correctly.
AirTags can stand up to a lot, and they are well designed for most of the extreme conditions they'll encounter. Don't worry too much about how you treat them, and, by all means, don't buy AirTag screen protectors.
How can I learn more?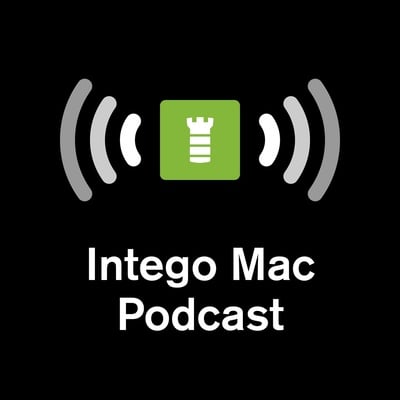 Each week on the Intego Mac Podcast, Intego's Mac security experts discuss the latest Apple news, security and privacy stories, and offer practical advice on getting the most out of your Apple devices. Be sure to follow the podcast to make sure you don't miss any episodes.
We discussed how tough AirTags are and more in episode 188 of the Intego Mac Podcast.
You can also subscribe to our e-mail newsletter and keep an eye here on Mac Security Blog for the latest Apple security and privacy news. And don't forget to follow Intego on your favorite social media channels: Facebook, Instagram, Twitter, and YouTube.
About Kirk McElhearn
Kirk McElhearn writes about Apple products and more on his blog Kirkville. He is co-host of the Intego Mac Podcast, as well as several other podcasts, and is a regular contributor to The Mac Security Blog, TidBITS, and several other websites and publications. Kirk has written more than two dozen books, including Take Control books about Apple's media apps, Scrivener, and LaunchBar. Follow him on Twitter at @mcelhearn. View all posts by Kirk McElhearn →