How to Uncover and Delete Hidden Files Cluttering Your Mac and Save Space
Posted on by Kirk McElhearn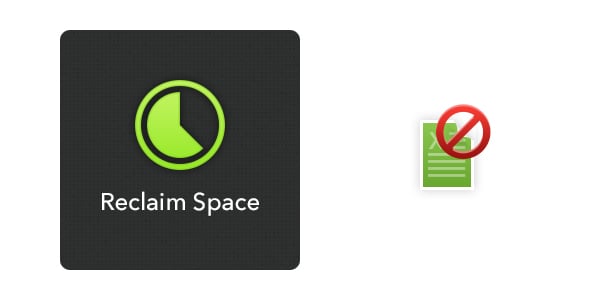 In a recent article, we looked at how you can get rid of duplicate files on your Mac. This is the first step toward cleaning out your Mac and freeing up space on your drive. Still, there are more insidious files cluttering your Mac; these can be hidden in folders you may not see, or, sometimes, in plain sight. This is especially important if you have a Mac with an SSD and limited storage. In this article, I'm going to show you how to uncover and delete some unneeded files that may be taking up a lot of space on your Mac.
Remove Unused Apps
The first place to look to sweep out unneeded cruft on your Mac is in your Applications folder. When you bought your Mac, it came with a number of applications installed, and you may have downloaded and installed many others. But do you use them all? For example, Apple offered you apps like Pages, Numbers, Keynote, and GarageBand; did you download them, and do you use them? If not, getting rid of them can save a lot of space.
To see your applications, open your Applications folder and view your apps as a list (choose View > as List, or click the List View button in the Finder toolbar). To add a column showing the date you last used an application, right-click on the column headers and choose Date Last Opened. Click that column header to sort by that date; it will be in descending order, showing the most recently used apps first. Click that header again to change the sort order, showing the apps you haven't used in the longest time first.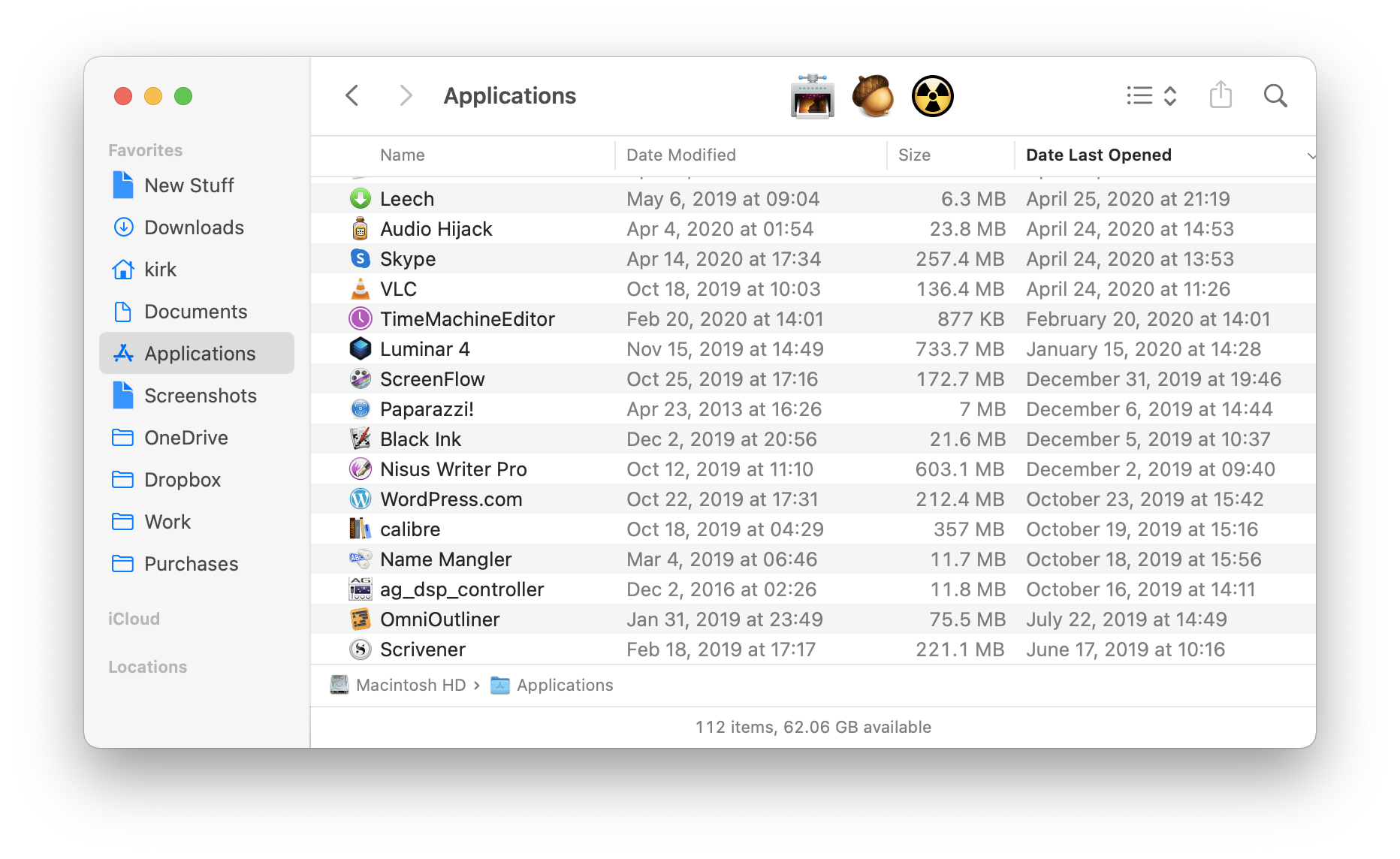 If you see apps that you recognize, and know you don't use any more, delete them. Don't delete anything if you're not sure; there may be apps that you might need at some point. Nevertheless, you probably have apps that you tried once and never used. If you're not sure about any apps, don't delete them; but if you can easily re-download apps, then don't worry too much.
Note that if you do a clean installation when a new major version of macOS is released, these dates will be no older than the date of that update.
Next, sort your apps by size. To do this, click the Size column header. You may have some very large apps that you don't use, and some of these may be Apple apps. For example, if you've downloaded iMovie and GarageBand, but don't use the apps, they take up, respectively, 2.77 GB and 1.37 GB. Deleting them saves more than 4 GB, which is a substantial chunk of space on an SSD. You can always redownload any apps you've bought or downloaded from the Mac App Store; for other apps, ones that you may have bought directly from developers, it's best to hold on to them if you're not sure.
Delete Caches
Intego's Mac Washing Machine, available on its own, or in a bundle as Mac Washing Machine Secure X9, which includes Internet security software, or as part of Mac Premium Bundle X9, has many useful features to help you reclaim space, weed out duplicate files, and more.
One of the most useful features of Mac Washing Machine finds and deletes caches; these are folders that contain temporary files that certain apps write to help speed up performance. For example, your Web browser caches files it has viewed, so it may not need to re-download them when you visit a web page again. However, these caches can add up, and since you don't return to most web pages, you can save a lot of space by deleting some of them. In the screenshot below, you can see that Mac Washing Machine can save more than 2 GB on my Mac, just by deleting unneeded caches.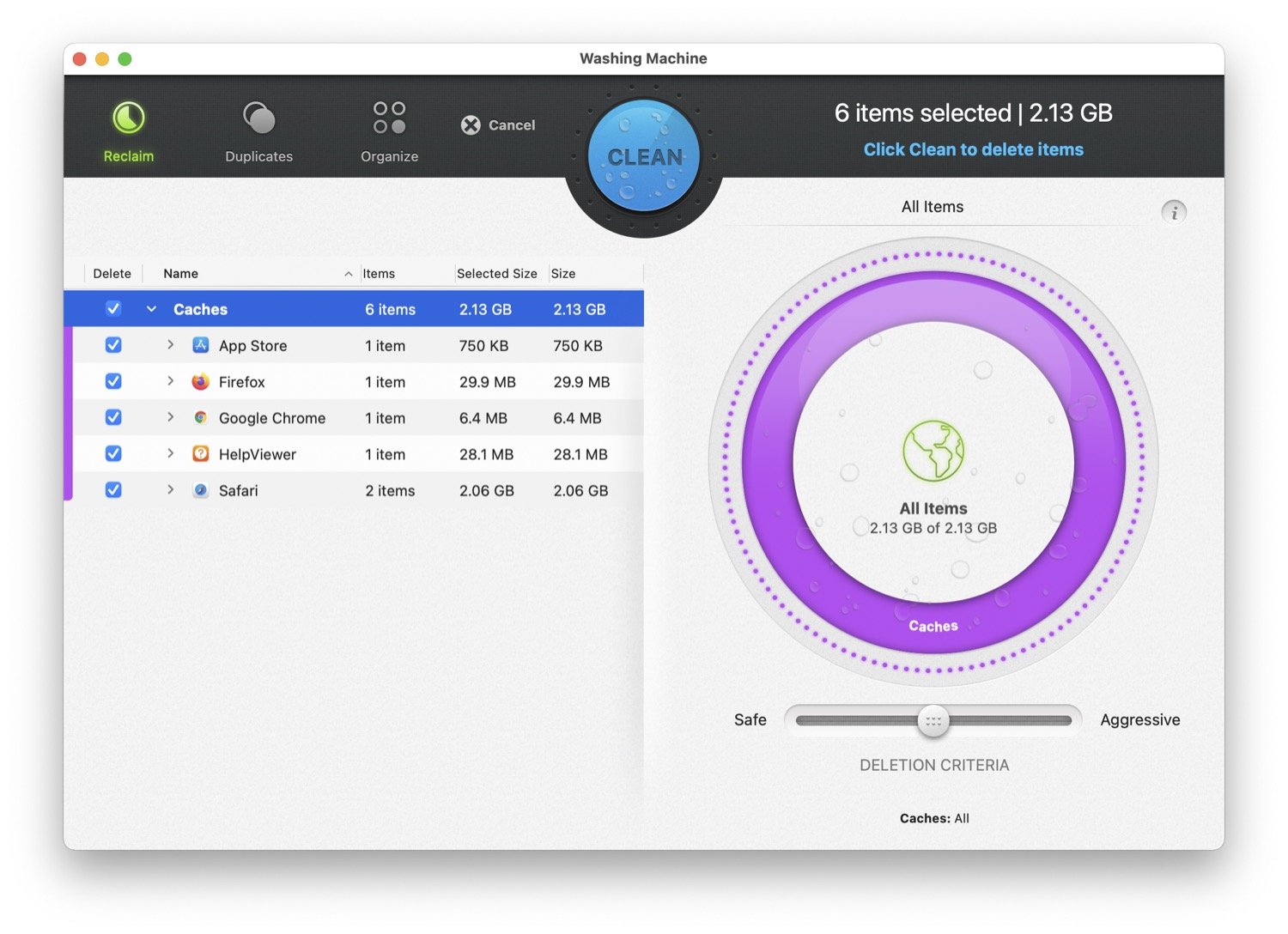 Next, if you go to the Library folder in your home folder (that's the folder with the house icon and your user name), you'll see lots of surprises. To view this folder—it might be hidden on your Mac—choose the Go menu in the Finder, press the Option key, then choose Library.
This Library folder contains a lot of files you generally don't need to see, but some of them take up a lot of space and can be deleted. View this folder in List View, and then click the Size header to view the largest folder first—it will probably be the Application Support folder. The Application Support folder holds files that some apps need to run.
While there are a number of files you could delete here, it's best to be careful. I'll mention just a few folders you can safely delete. For example, there is the Caches folder.
As I explained above, the Caches folder contains temporary files. You can delete this folder, but you should restart your Mac immediately after you do so, since some apps may think certain cache files are still present.
The Containers folder contains many important files, but also some you may not need. Please don't delete things at random here; for example, the com.apple.BKAgentService folder contains the contents of your iBooks library. But there's one you should check; it's in com.apple.mail, and its full path is as follows:
~/Library/Containers/com.apple.mail/Data/Library/Mail Downloads
This folder contains attachments that you have viewed in email messages, but that Mail neglects to delete. (There's a setting in Mail's General preferences about removing unedited downloads, but it often doesn't work.) If you get a lot of emails with attachments, viewing those attachments places copies in this folder. For some people, there can be several gigabytes of files. Open this folder, sort by date, and delete any folders that are very old (each attachment is in a folder with an unrecognizable name).
iOS Device Backups
You may have spotted a MobileSync folder in the Application Support folder. This folder contains iOS device backups made on your Mac. With the replacement of iTunes by four apps in macOS Catalina and later, iOS device backups are now handled by the Finder. (If you only back up your iOS devices to iCloud, then this folder won't be very big.) You may have multiple backups of your iOS devices, which take up a lot of space.
To manage these backups, connect an iOS device to your Mac, then, in the Backups section of the General screen, click Manage Backups. There you'll see a list of backups. If you see more than one for any device — some might be very old — click the older backups and click Delete Backup. Also, if you see backups for devices you no longer own, delete them as well. This could save several GB. You can see how large each backup is by right-clicking a backup and choosing Show in Finder.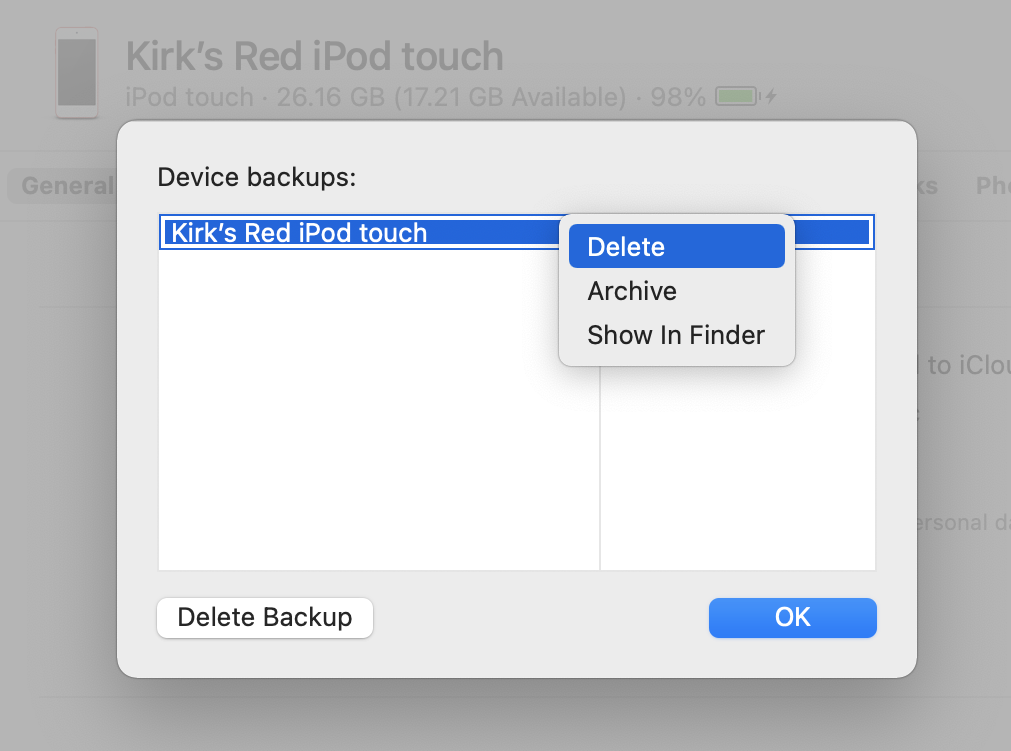 Restart Your Mac
Finally, you may notice, if you've had your Mac running for a long time—days or weeks—it loses some space. This is because macOS writes virtual memory files to disk. Sometimes, if you are using memory-intensive apps and don't have a lot of RAM, these files can be quite large. Just restart your Mac to reclaim space. In general, you can just put your Mac to sleep when you're not using it, and not restart it for weeks, but if you're running low on space, you might want to restart it more often.
Check each of the above, and you can save a lot of space. If you don't have much storage on your Mac, you'll reclaim plenty of gigabytes.
How can I learn more?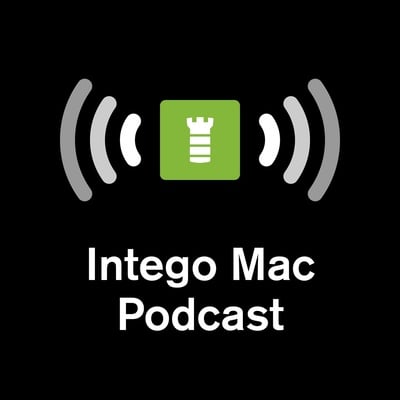 Each week on the Intego Mac Podcast, Intego's Mac security experts discuss the latest Apple news, security and privacy stories, and offer practical advice on getting the most out of your Apple devices. Be sure to follow the podcast to make sure you don't miss any episodes.
You can also subscribe to our e-mail newsletter and keep an eye here on Mac Security Blog for the latest Apple security and privacy news. And don't forget to follow Intego on your favorite social media channels: Facebook, Instagram, Twitter, and YouTube.
About Kirk McElhearn
Kirk McElhearn writes about Apple products and more on his blog Kirkville. He is co-host of the Intego Mac Podcast, as well as several other podcasts, and is a regular contributor to The Mac Security Blog, TidBITS, and several other websites and publications. Kirk has written more than two dozen books, including Take Control books about Apple's media apps, Scrivener, and LaunchBar. Follow him on Twitter at @mcelhearn. View all posts by Kirk McElhearn →