How to Securely Use Public School Computers
Posted on by Kirk McElhearn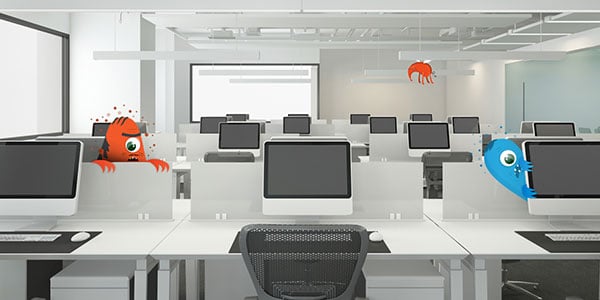 For students and teachers, it's that time again. Time to head back to school and get back into that routine of classes, homework, and, perhaps some relaxation. School can be stressful, and it's best to make sure that you don't get bothered by little problems so you have time to focus on your studies.
As part of your schoolwork, you may use computers in your school's or college's library or computer lab. This means you won't be the only one using any specific computer; anyone can sit down in front of it, log in, and start working on it. And if you're not careful, the person who uses the computer just after you may be able to access some of your sensitive personal data. Here are some tips to securely use a computer at school.
Safe Browsing
Much of your work on a public school computer will be carried out in a web browser. If you're just doing some research for a term paper, then you don't need to worry too much. But if you start using a web browser to check your email, shop online, or check banking information, you should be very careful. The web browser can store sensitive information, such as your login, password, and more.
For starters, you should try not to do these tasks; they all require personal information such as logins and passwords, or credit card numbers. If you don't own your own computer, or you don't have access to it, you may need to do some of these tasks, but if so, you need to take precautions.
The first thing to do is use Privacy Mode or Private Browsing. All modern web browsers offer this feature, which allows you to create a secure browsing session. With Safari on OS X, choose File > New Private Window. Any browsing you do in this window is secure. Safari doesn't keep a history of the webpages you visit, it doesn't keep a history of your searches; instead, it prevents some websites from tracking your search behavior, and doesn't record information you fill in to online forms.
Safari Private Browsing

Safari lets you know that Private Browsing is enabled by displaying a banner at the top of the window, and by displaying a dark gray background in the address field. This background remains dark gray as long as you are in Private Browsing mode. This mode only applies to the specific window, though; while you can create new tabs in that window, which are still protected by Private Browsing, if you make a new window the normal way — by pressing Command-N — this new window won't be protected.
Firefox and Chrome Private Browsing
Other web browsers offer a similar feature. In Firefox, choose File > New Private Window, and in Google Chrome, choose File > New Incognito Window. Each of these browsers displays an explanation of what their privacy mode protects.
Nevertheless, you should avoid entering data such as credit card numbers, because it's possible that the computer hosts malware that can harvest your data.
Two Factors Are Better Than One

In spite of these recommendations, you may still need to log in to certain accounts. The best way to protect these accounts is to add another layer of security with the use two-factor authentication (2FA). This requires that you not only enter a user name and password, but also a code that is sent to your phone. Read this article about how two-factor authentication works and how to set it up.
You can use 2FA with Google, Apple's iCloud, Microsoft Office 365, Dropbox, PayPal, Facebook, Twitter, and much more.
Saving Files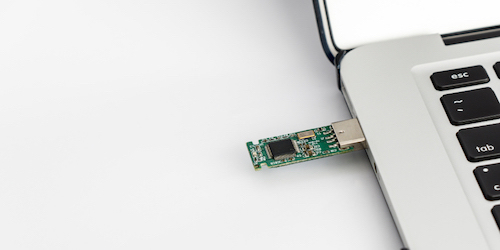 Much of your work on a public computer may be school-related. You may be writing a paper, taking notes, or doing research for a project. If you create any documents with personal information, you should make sure you don't save them to the public computer. Even if you delete the files when you're finished, it's possible for them to be recovered. The computer will still store some temporary files that you cannot easily access, so it's still best to not save any important personal information when working on a public computer.
You should always carry a USB stick with you and save any files you create to that device. It will be easy to use them later on another computer.
If you do need to write a document on a public computer, consider using a cloud service such as Google Docs. This way, your documents are saved on the server, and you don't have to worry about saving copies of them. You can access them at any time from a computer, tablet, or smartphone. And you don't have to worry about losing your USB stick, or finding that it's corrupted with all your work lost for good.
Safe Computing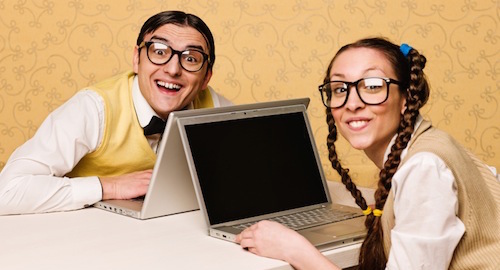 Sometimes, people get access to your personal information the old-fashioned way: They look over your shoulder while you're typing your password. Just as you need to make sure no one is watching when you type a PIN into an ATM, you need to be careful about anyone lurking near the computer you're working on. That person sitting next to you with the wandering eyes may not be checking you out, but rather trying to spot which keys you press when you type a password.
Also, don't ever leave the computer unattended. You may need to go to the bathroom, or get a coffee, but while you're doing that someone can sit down at the computer and potentially access some of your personal data. If you must leave the computer even for a few minutes, log out.
And when you're finished using a public school computer, you should log out, and even restart the computer if possible, so the computer deletes any temporary files that the next user could forage.
---
This story comes to you as part of our Think Security series helping students and parents prepare for back to school. Each week through September 18 we'll provide educational guides with Mac tips and tricks.
About Kirk McElhearn
Kirk McElhearn writes about Apple products and more on his blog Kirkville. He is co-host of the Intego Mac Podcast, as well as several other podcasts, and is a regular contributor to The Mac Security Blog, TidBITS, and several other websites and publications. Kirk has written more than two dozen books, including Take Control books about Apple's media apps, Scrivener, and LaunchBar. Follow him on Twitter at @mcelhearn. View all posts by Kirk McElhearn →