How to Use Your iPhone as a Webcam with Continuity Camera in macOS Ventura
Posted on by Kirk McElhearn
Continuity Camera has been a feature of macOS for a couple of years, allowing you to import images directly from your iPhone's camera to apps like Mail, Messages, Pages, Numbers and Notes. In macOS Ventura, Continuity Camera gets a new skill, the ability to use your iPhone as a webcam with your Mac. Here's how it works.
Why you might want to use your iPhone as a webcam
Let's face it; lots of Macs have poor webcams. It's only recently, since people were stuck at home with covid lockdowns, that Apple started upgrading cameras in Macs to 1080p. Since iPhone cameras have better resolution, and feature image processing smarts that Macs don't have, you get a much better view during video calls with an iPhone.
In addition, using your iPhone with Continuity Camera allows you to use effects such as Center Stage, where the image follows you as you move; Portrait Mode, which blurs your background; Studio Light, which brightens your face and dims the background; and Desk View, a top-down view of what's on your desk.
How to use Continuity Camera
Launch Face Time in macOS Ventura, and you'll see a dialog showing the new features.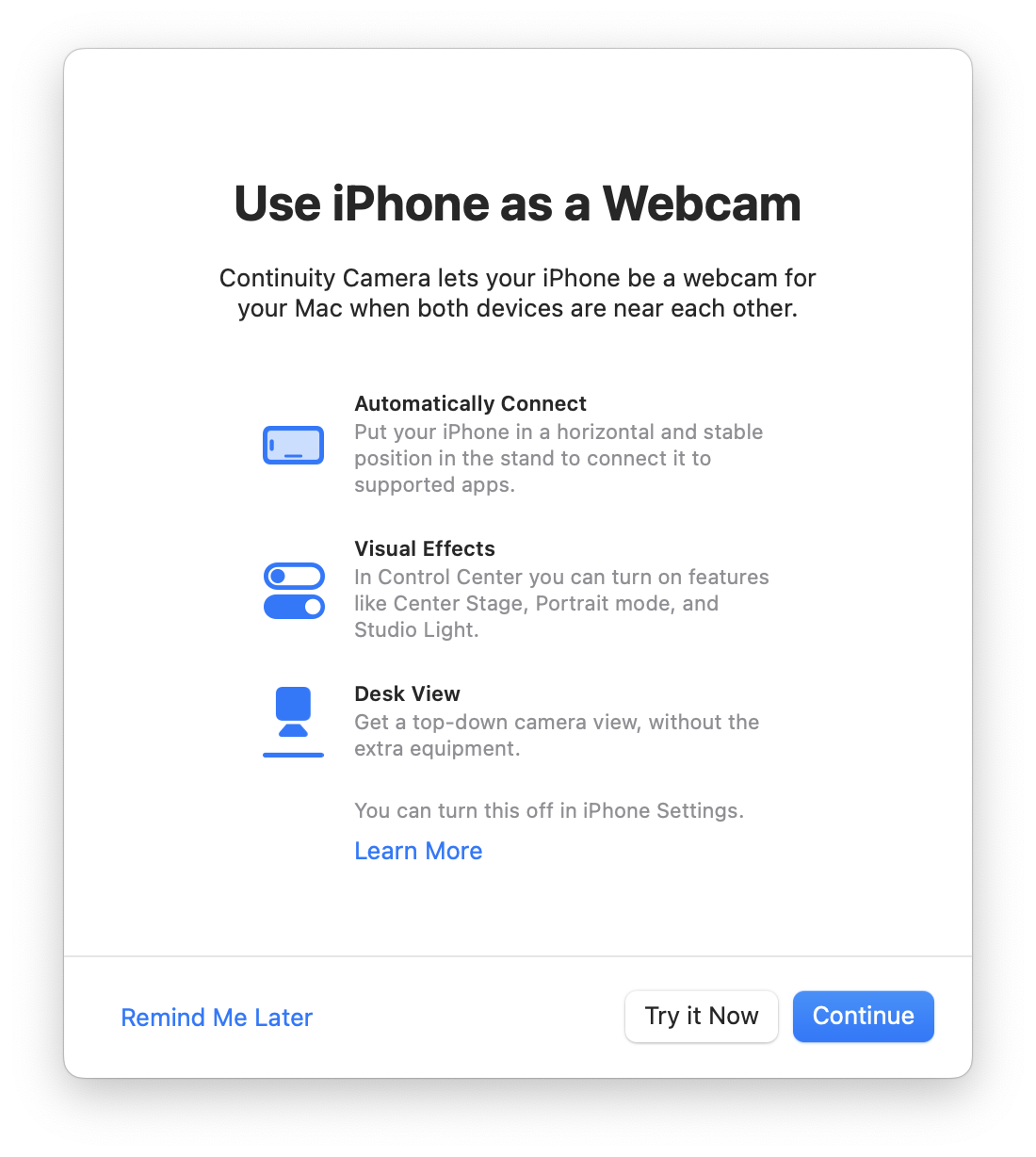 Click Try it Now to tell Face Time to connect to your iPhone, or click the Video menu and choose the phone. You can also choose which microphone to use from this menu: your Mac, your iPhone, or another microphone, if you have one connected.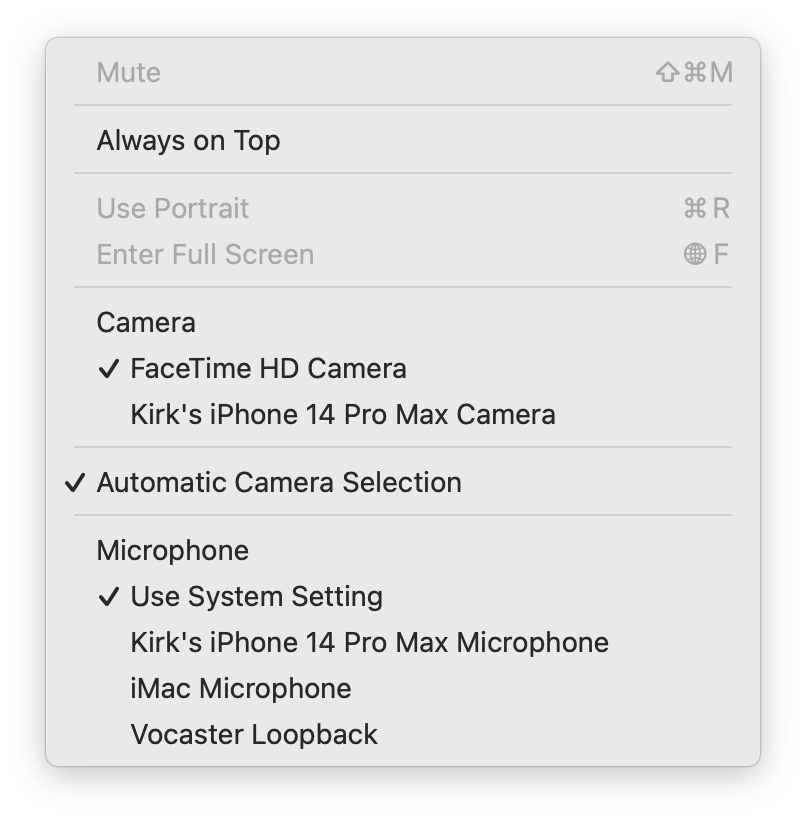 When you do this, the iPhone will show you that it's connected; you can pause the video or disconnect it by tapping one of the buttons on the screen.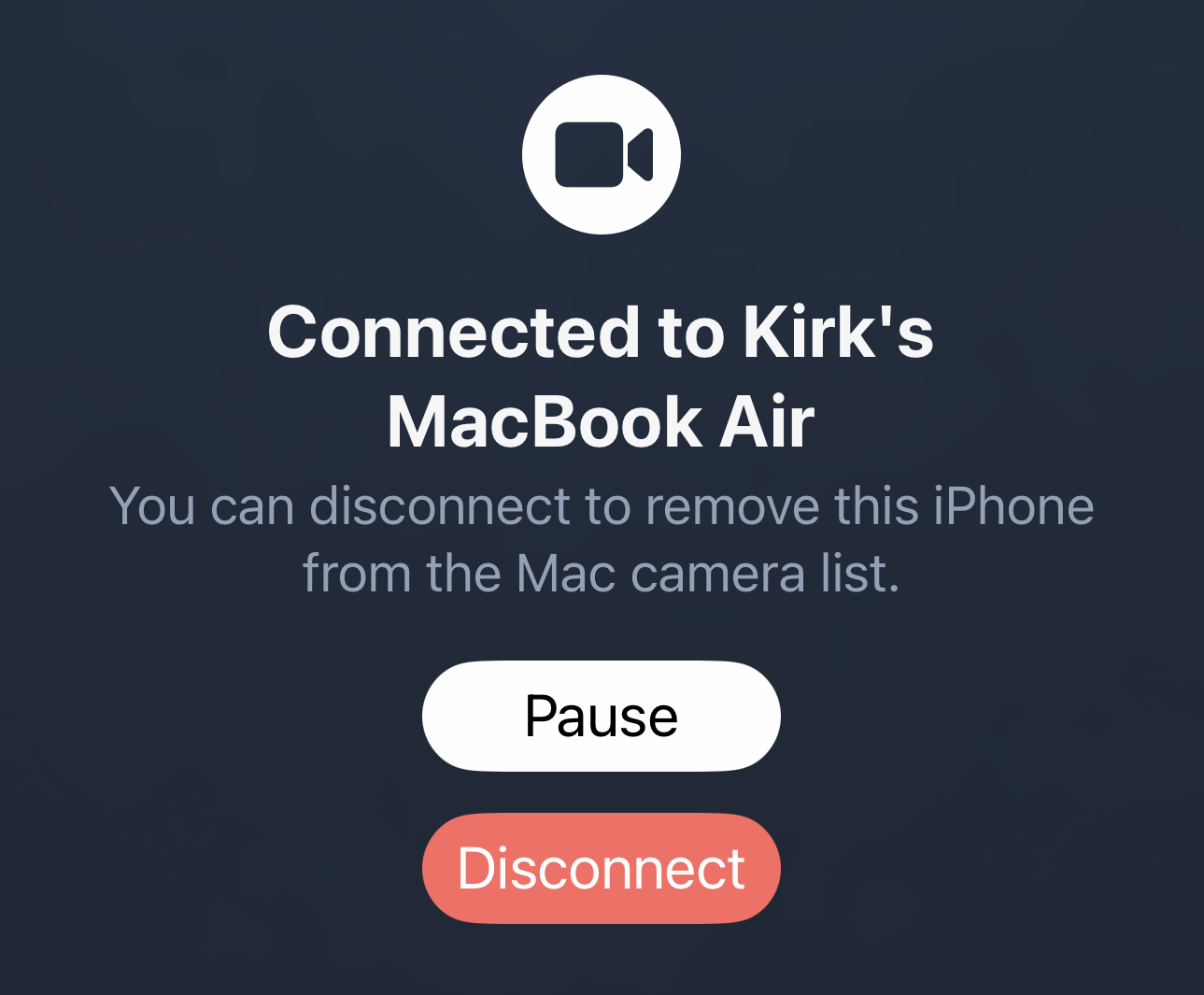 You can use your phone like this in your hand, and this is actually a good way to give someone a tour of your home, for example. But the most practical way to use Continuity Camera is with a device like the Belkin iPhone Mount with MagSafe for Mac Notebooks. This allows you to dock your iPhone on top of your MacBook Air or MacBook Pro. You can position the iPhone in portrait or landscape mode, and the image automatically rotates.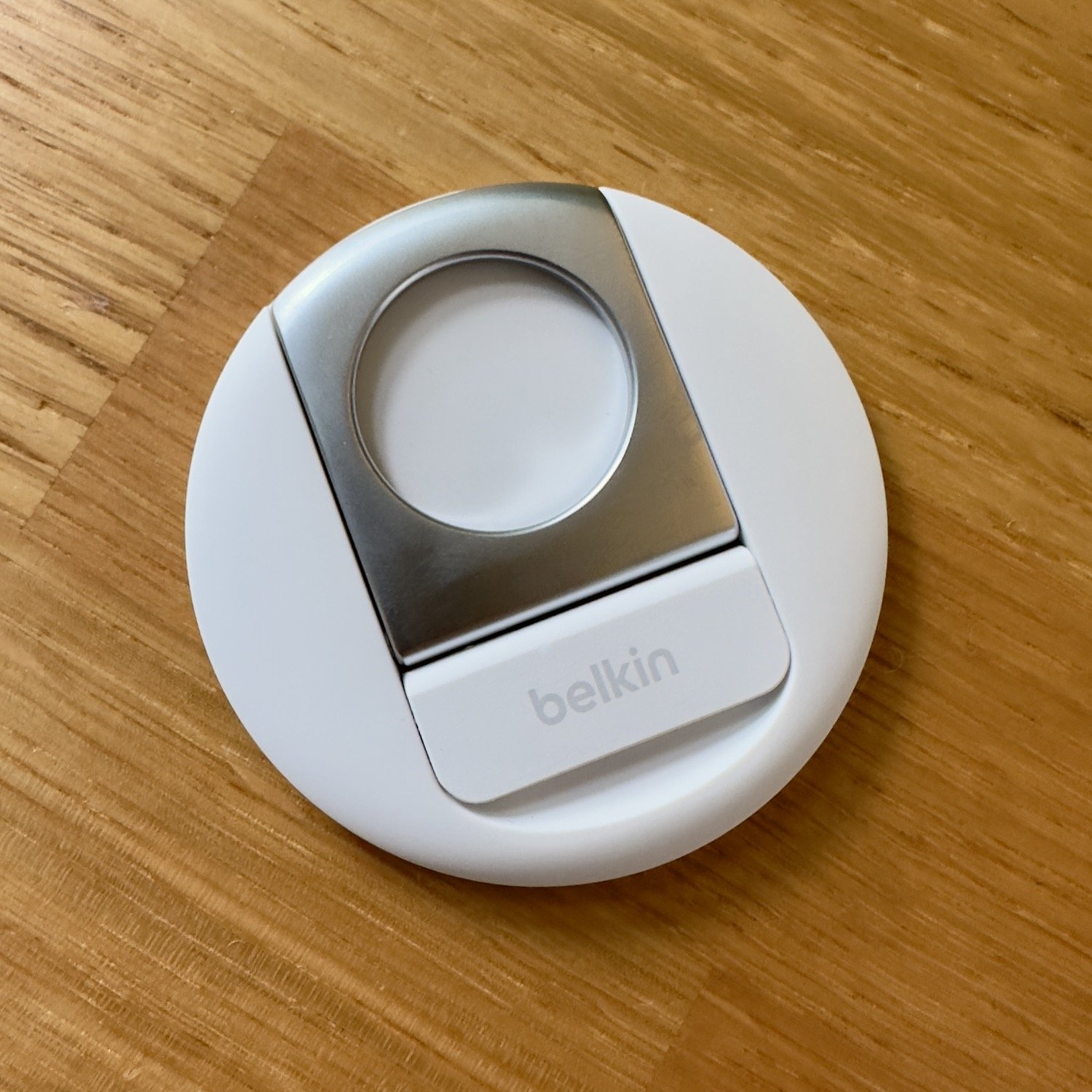 It's worth noting that this mount does not work with the latest iMac, but it might work with older iMacs with tapered edges. And some iPhone models may be too heavy to use with an Apple laptop unless the screen is perpendicular to its keyboard. My iPhone 14 Pro Max is too heavy, but an iPhone 13 Pro – non-max – is light enough to use with the display on an angle.
Note that you cannot use your iPhone when it is being used as a webcam. If you get a phone call, it will cut off the camera until you answer the call, then it will switch it back on.
Use Continuity Camera features
If you click the Control Center icon at the right of your Mac's menu bar, you can access four video effects: Center Stage, Portrait, Studio Light, and Desk View.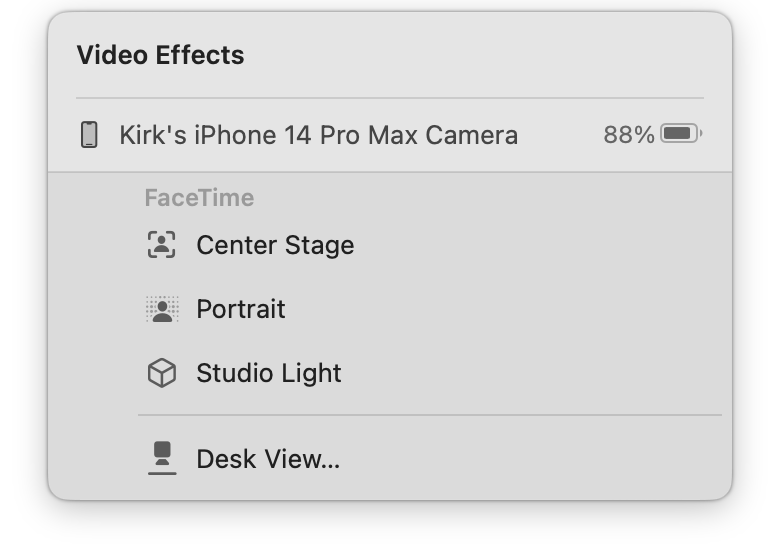 If you're using a heavy iPhone, and your laptop needs to be at a right angle, you should enable Center Stage, which allows the camera to put your face in the center of the image, and which also follows you as you move.
Try out Portrait and Studio Light, to see if you like the way they make you look. They are both useful when you want to blur your background, and you can combine the two.
As for Desk View, it uses a clever way of distorting the image to show what's on your desk. When you first launch Desk View, you see an interface showing how much of your desk can be seen, which you can resize to cover what you want. When you then click Start Desk View, it switches the Face Time view to that section of your desk.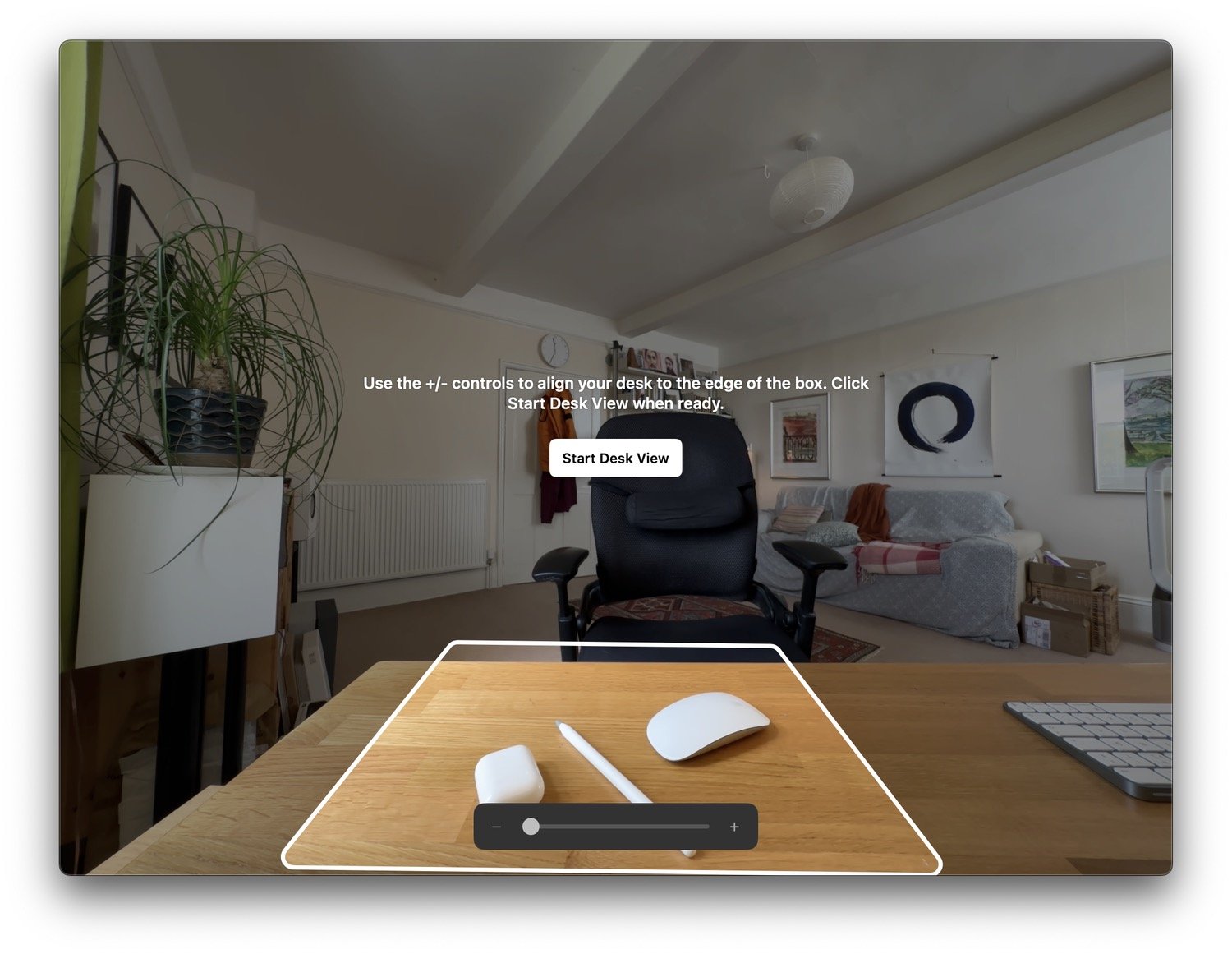 To be honest, Desk View is a bit of a gimmick, and I'm not sure what sort of use cases need a feature like this. You can just hold something up to the camera, or take your iPhone off the top of your laptop and point it down on your desk, to show what's there.
I've tested Continuity Camera with Face Time, Zoom, and Skype, and it works in all of these apps. Since it's based on a system framework, it should work with other video conferencing apps too, though they may need to be updated for macOS Ventura to allow this.
The best thing about the new Continuity Camera features is the ability to improve on your Mac's webcam. If you have a recent Mac with a 1080p webcam, probably you probably won't need this feature, though the video effects, notably Center Stage, can be useful.
About Kirk McElhearn
Kirk McElhearn writes about Apple products and more on his blog Kirkville. He is co-host of the Intego Mac Podcast, as well as several other podcasts, and is a regular contributor to The Mac Security Blog, TidBITS, and several other websites and publications. Kirk has written more than two dozen books, including Take Control books about Apple's media apps, Scrivener, and LaunchBar. Follow him on Twitter at @mcelhearn. View all posts by Kirk McElhearn →