How to Reduce iAnxiety When Your Children Use iOS Devices
Posted on by Derek Erwin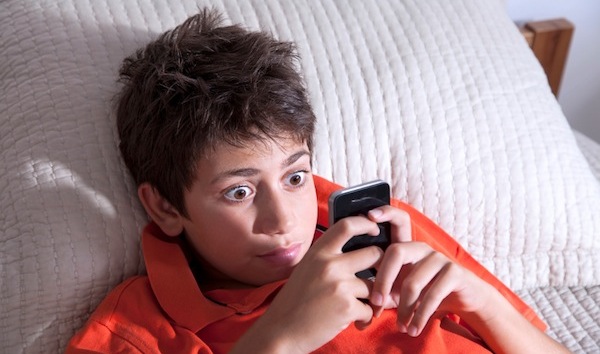 Children are so resilient in the face of new technology. They love to learn how to navigate Web sites, install apps and play games, and use touch screens like iPads and iPhones at a younger and younger age. They are curious and they can even be a little mischievous!
You talk to your kids about appropriate Internet use, and you make sure to glance at their text messages and explain that having an iOS device comes with greater responsibility. You are attentive and care for your kids. You trust, but verify.
Your child has reached the age when, for the first time, you provide them with their very own smartphone — but you have no mechanism with which to turn it off. Your child and the online world are now inextricably linked, and the result for you is iAnxiety.
Your child has an iPhone, and you have no way of checking up on it. Naturally, you become anxious about whether your child is using the technology responsibly.
At this point you agreed with your child that the iPhone comes with responsibilities, and while you trust they will use it appropriately, you have no way to verify. So long as their iPhone is on, their ability to use it however they see fit rests uncomfortably in the back of your mind. iAnxiety all day, every day.
Welcome to parenting in the digital era.
Remember when your child was young enough to only use an iPhone or iPad by playing within the app you opened for them? You handed the iPad to them and had a good hour of self-time, without worrying they would meander to inappropriate corners of the online world. Then they got older; they're more roguish than ever.
The solution is to get back control of the iOS mobile devices your child uses in your household. With Family Protector, you can do just that and retain your child's ability to reach out to the online world, but with restrictions, as you desire. Like you used to do when you gave your then-toddler an iPad.
Intego built Family Protector to help busy parents set appropriate limits on device and app use, prevent accidental app and in-app purchases, monitor Web activities, and easily control access to content based on the age of your children. Family Protector is our parental control solution that provides you with an easy way to set up and manage your family's iOS mobile devices.
After registering an account, you can quickly install Family Protector across all the iOS devices in your household and use the on-screen guide to create customized settings based on a variety of factors, such as the age of your children, the number of devices and the desired level of protection. You can sign-up for a free trial here.
Remember, parents: there are tools available to help you ease your iAnxiety. Having a good iOS parental control app, like Family Protector, can help you keep your children's online activities age-appropriate while retaining the enjoyable experience with new technology kids are looking for. Technology continues to change, and as your children begin using it, remain aware and stay engaged. You'll have no problem keeping up.
And, like a day at the spa, you'll reduce your iAnxiety.
---
Try Family Protector and reduce your iAnxiety with our easy-to-use iOS parental controls. Get started today with a 14-day free trial!