Please refer to the updated version of this article instead:
Passwords are like undergarments: it's good to keep them hidden, and you should change them often. Likewise, if someone sees your password it may leave you feeling exposed and uncomfortable. As we mentioned in our 4 Tips for Creating Secure Passwords post, it's important to create complex, unique passwords so they're more difficult to crack. Unfortunately, the more complicated your passwords, the easier they are to forget. How do you securely keep track of all your different passwords? With a password manager, of course!
There's a lot more to love about password managers than not having to remember so many passwords. The password managers in this list all have a variety of benefits that will make your computing life easier and more secure:
Encrypting passwords and data using Advanced Encryption Standard (AES)
Automatically and securely logging into websites as you're surfing
Browser auto-fill for your personal info, so you can make quick work of shopping or registration
Helping you generate customizable, secure passwords so they're not easily cracked
Backing up and restoring your passwords so you aren't up a creek if something happens to your machine
Choosing a password manager is often a daunting task in and of itself–there is such an overwhelming array of features to choose from! We did some of the dirty work for you and researched a few of the numerous password managers out there. This post highlights eight password managers that are available for OS X and iOS, among other platforms.
DataVault for Mac OS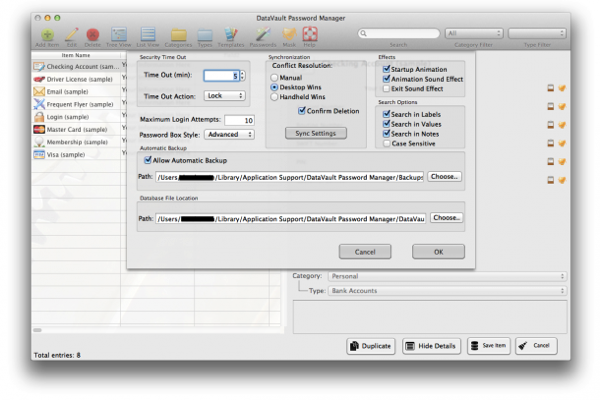 Cost: $9.99 each for DataVault for iOS and DataVault for OS X
OSes: iOS, OS X, Windows, Android and Blackberry
DataVault, as the name tells you, focuses on managing and securing your data. Along with the usual password management features, DataVault supports iCloud backup, plus Wi-Fi, WebDAV, and Dropbox synchronization. It also lets you resolve conflict resolutions manually, or you can choose whether the "Desktop Wins" or the "Handheld Wins" automatically. DataVault allows you all sorts of ways to arrange data stored within the app, like by grouping by items, category and types. You can also use some provided templates, or create your own, and you can expand the list of "actionable fields" so that you can initiate phone calls, emails or web site logins.
If you're a visual person, you can assign different icons to different accounts so you can tell at a glance which you're choosing. You can import your data to DataVault from several different password manager applications or from a CSV file, and you can export it to a password-protected file. When you quit DataVault, it automatically clears your clipboard so it can't be used to poach your data.
RoboForm for Mac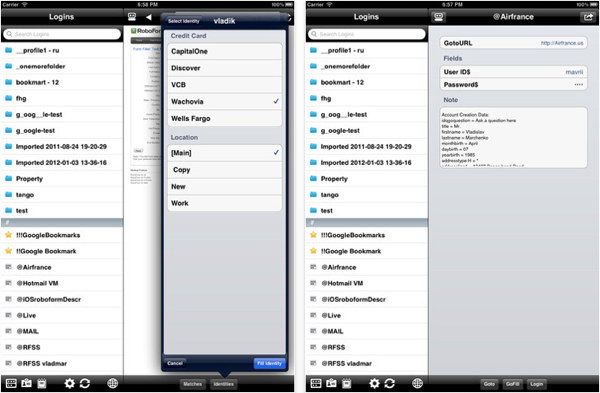 Cost: $29.95 for OS X, Free for iOS
OSes: iOS, OSX, Windows, Linux, Android, Blackberry,Windows Mobile, Palm, Symbian
RoboForm has a version for all kinds of different operating systems, and supports a wide variety of different browsers. It focuses on speeding up your Internet browsing experience by helping you automatically login to your favorite sites once you've set up all the needed information. Not only can you do this one site at a time, as you're surfing you can batch-login to multiple sites at once.
RoboForm has a number of different ways of grouping sites for you: by most recently visited, most popular logins, or with a bookmark list. You can associate different icons with your various accounts, like DataVault. You can create secure notes, secure and sync your booksmarks, and create searches for different search engines. If offers multiple user profiles, and you can share login credentials with others. RoboForm also offers keylogger protection with an onscreen keyboard.
Wallet for Mac
Cost: $19.99 for OS X, $9.99 for iOS
OSes: iOS, OS X
Wallet, like DataVault, seems to focus on securing and managing your data. It gives you several options to arrange your data for easy access: you can create custom groupings, and there is a global search option to help you find your data again. Wallet lets you sync your data using Dropbox, WebDAV or Wi-Fi. It will automatically lock your machine after a customizable period of time, and you can clear your clipboard to stop data from being gathered from it. You can create secure notes to securely store information. Wallet supports both Chrome and Safari integration.
SplashID Safe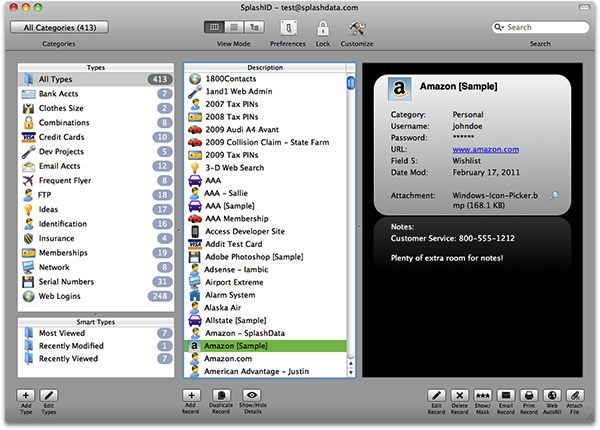 Cost: $19.95 for SplashID Safe for Mac (available on the Mac App Store), $9.99 for SplashID Safe for the iPhone and SplashID Safe for iPad (both available at the iTunes App Store)
OSes: iOS, OS X, Windows, Android, Windows Phone, Windows Mobile, Blackberry, WebOS, PalmOS, Symbian
SplashID Safe also focuses on securing and managing data. And again with the prodigious list of supported OSes! (But no Linux? Huh?) You can create groups of record types and categories for storing your personal and confidential information. SplashID also offers protection from phishing attacks by incorporating clickable URLs for access to your web logins. You can assign icons to your various accounts, so you can quickly see which is which.
One neat feature that seems to be unique to SplashID Safe is that it includes reminders to periodically change your passwords, and it lets you know when the expiration date is approaching for stored credit cards. Another cool feature is that the desktop product allows you to create alternative logins: rather than using an alphanumeric password, it enables you to trace a pattern using your mouse or a finger on your touchscreen.
1Password for Mac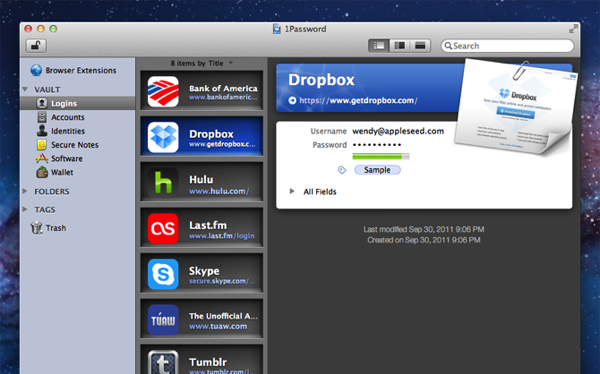 Cost: $49.99 for the desktop version (Mac App Store), $14.99 for the iOS version (iTunes)
OSes: iOS, OS X, Windows, Android
1Password encrypts your information and stores it either locally or by way of Dropbox. It gives you a bevy of different features for securing and managing data. Like many of the other password managers here, you can set icons for different login IDs, wallet items and accounts. You can also clear your clipboard and create secure notes (1Password also includes spellcheck in this option, which could be nice!). You can create tags for different data, and there's a powerful global search option to help you find what you need.
1Password also has a cool feature that will intelligently copy data to the clipboard for credit card numbers so that it will not include spaces or dashes. There are browser extensions that offer support for Chrome, Firefox, Safari. You can also attach files in 1Password, which can be helpful if you need to securely store certain files.
mSecure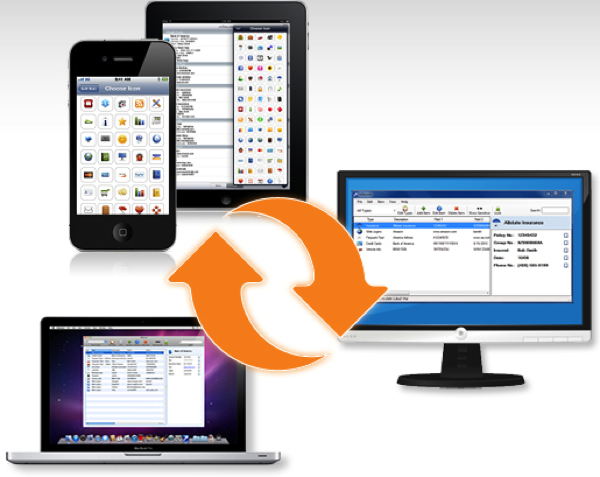 Cost: $9.99 for mSecure for iPhone, iPod touch and iPad (App Store); $19.99 for the Mac OS X version (Mac App Store)
OSes: iOS, OS X, Windows, Android
mSecure too focuses on securing and managing your data. Like many of the other apps, you can create different groupings for your data, use default templates or create your own, and use custom icons for your different accounts. You can also import data from other products or from a CSV file. And you can securely share your login credentials with other people.
mSecure also has a global search that helps you find your data quickly. You can sync multiple devices over Wi-Fi or Dropbox, and backup via email. You can import data either from competitors' products or from a CSV file. mSecure provides a customizable auto-lock feature, and it also has an optional self-destruct feature in case your mSecure password is guessed incorrectly.
eWallet for Mac OS X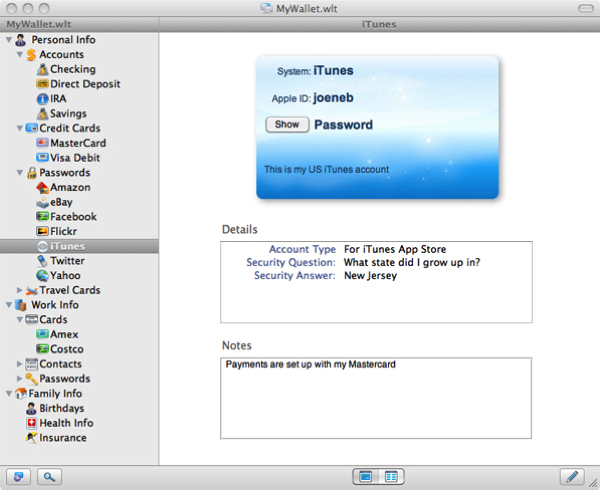 Cost: $9.99 for eWallet for iOS; $19.99 for the Mac OS X version (Mac App Store)
OSes: iOS, OS X, Android, Windows Mobile, Windows, Blackberry
eWallet is a very basic password manager for those who just need to store data simply. You can sync data with iOS devices, other computers on the same network, and eternal hard disks. You have the option of customizing your accounts with different icons and credit card backgrounds. Like the other apps, you can create categories to group your data, and you can set certain accounts as favorites. You can include secret question information for each account, which could be handy if you (or a handsy toddler) accidentally mangle edit and then forget your password.
While we decided to write about only the password managers above, here's a list of some other good options:
In the end, while some of the decision may come down to differences in feature-sets, your ultimate choice between password managers may come down to your own personal preference for navigation and organization of your data. There is quite a variety of different options in this arena, and one may suit your own style better than another. The best way to get a feel for this would be to take apps for a spin and see how easy they are to work with, and decide according which feels most powerful and useful for you.
Do you use any of the password managers mentioned in this post? If so, what's your opinion of them? If not, do you have any other password managers you highly recommend?
*Note: A previous version of this article suggested LastPass as a reputable option. However, the company suffered a catastrophic breach in August 2022 that put users' password vaults and personal information at risk. We can no longer recommend LastPass.