The iPad Mini is Here in All Its Tiny Glory
Posted on November 2nd, 2012 by Rebecca Kelley
10 days after Apple announced the unveiling of new hardware including the iPad mini, the slimmed-down product is available for purchase. The new iPad 4 is also available today, already usurping the iPad 3 that was released seven short months ago. Even though we're at borderline iPad Overload, people are still rushing out in droves to secure their new iPad, whether it's the Original Recipe or the Fun Size version. In fact, Apple's flagship Fifth Avenue store in New York sold out of the iPad mini in just 30 minutes, and this was after Hurricane Sandy wreaked havoc across the east coast.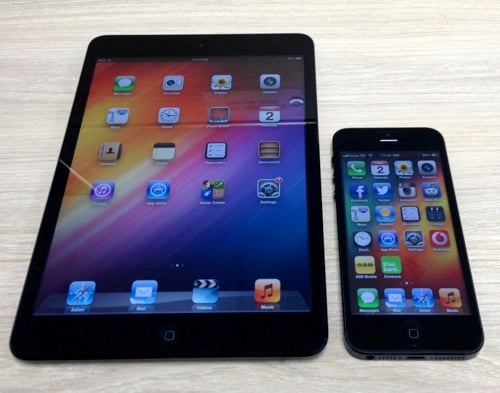 The new iPad mini next to an iPhone 5 (photo taken by reddit user danbakes)
Apple reportedly expects to sell 1-1.5 million iPad minis this weekend. The mini is smaller, cheaper (well, relatively speaking for Apple products, anyway), and has a good battery life, but it's the only new iOS device without a Retina Display. I've read that business professionals, especially those in the medical field, are quite excited about the iPad mini and its portability (though they'll need to be cautious when bringing their device to work). It's definitely quite the lil' powerhouse for a starting price of $329.
The iPad 4 starts at $499 and is faster, has a fabulous Retina Display, and great graphics. On the other hand, some critics are dubbing it more of an "iPad 3.5" with a few "swapped parts," and there's little impetuous to upgrade to a 4 if you bought the 3 less than a year ago. However, if you've got a 1 or a 2 or you are iPadless and are thinking of finally becoming a member of the iPad Family, a 4 is certainly a nice toy to have.
Time to sound off! Are you buying either an iPad mini, the new iPad 4, or dare I say both products? Is the skinny-fied mini appealing to you or do you prefer the heft of the classic model?