Happy Anniversary! Intego Celebrates 20 Years in Business
Posted on October 23rd, 2017 by Kirk McElhearn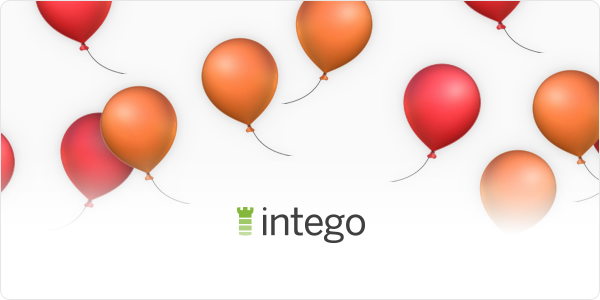 It's always a bit of a surprise when a big anniversary creeps up on you. You go on, day to day, doing your work, when all of a sudden you realize that it's been a round number of years. Anniversaries give you a chance to take stock of things, to reflect back on both the good and challenging experiences.
This month, Intego is celebrating its 20th anniversary. Twenty years of innovation in Mac security software. Twenty years of protecting Mac users from the dangers of the Internet. Let's take a stroll down memory lane and explore how Intego has grown and changed over two decades.
The Early Years
Back in 1997, when Macs were a lot simpler, network and file sharing were becoming commonplace and the Internet was just starting to take off, viruses and malware became a serious problem for Mac users. Most people don't realize, but viruses started affecting the Mac before they became endemic on Windows computers. There wasn't a lot of malware back in the late 1990s, but it was obvious that businesses and individuals needed to protect themselves from threats on floppy disks and those coming across the new vector of network file transfers, both over local networks and the Internet.
In October of that year, Intego, based in Paris, France, released its first product: Rival, an antivirus for Mac OS 8.
The success of Rival led Intego to continue its mission of protecting Mac users. In July 1999, Intego released NetBarrier, the first personal security software suite for Mac OS. NetBarrier combined a firewall and anti vandal to prevent network attacks, and packet filtering features to block sensitive data, such as passwords, credit card numbers, and more. NetBarrier was revolutionary for Macs; at this time, firewall software for Mac didn't exist for consumers.
The following year, Intego refined its antivirus software and released the first version of VirusBarrier at the New York Macworld Expo in July 2000. This application provided protection for files downloaded from the Internet, CD-ROMs, floppy disks, and other types of removable media (remember Zip and Jaz disks?). With automatic updating of virus definitions via the Internet – something we take for granted now – VirusBarrier always provided up-to-date protection for the latest threats.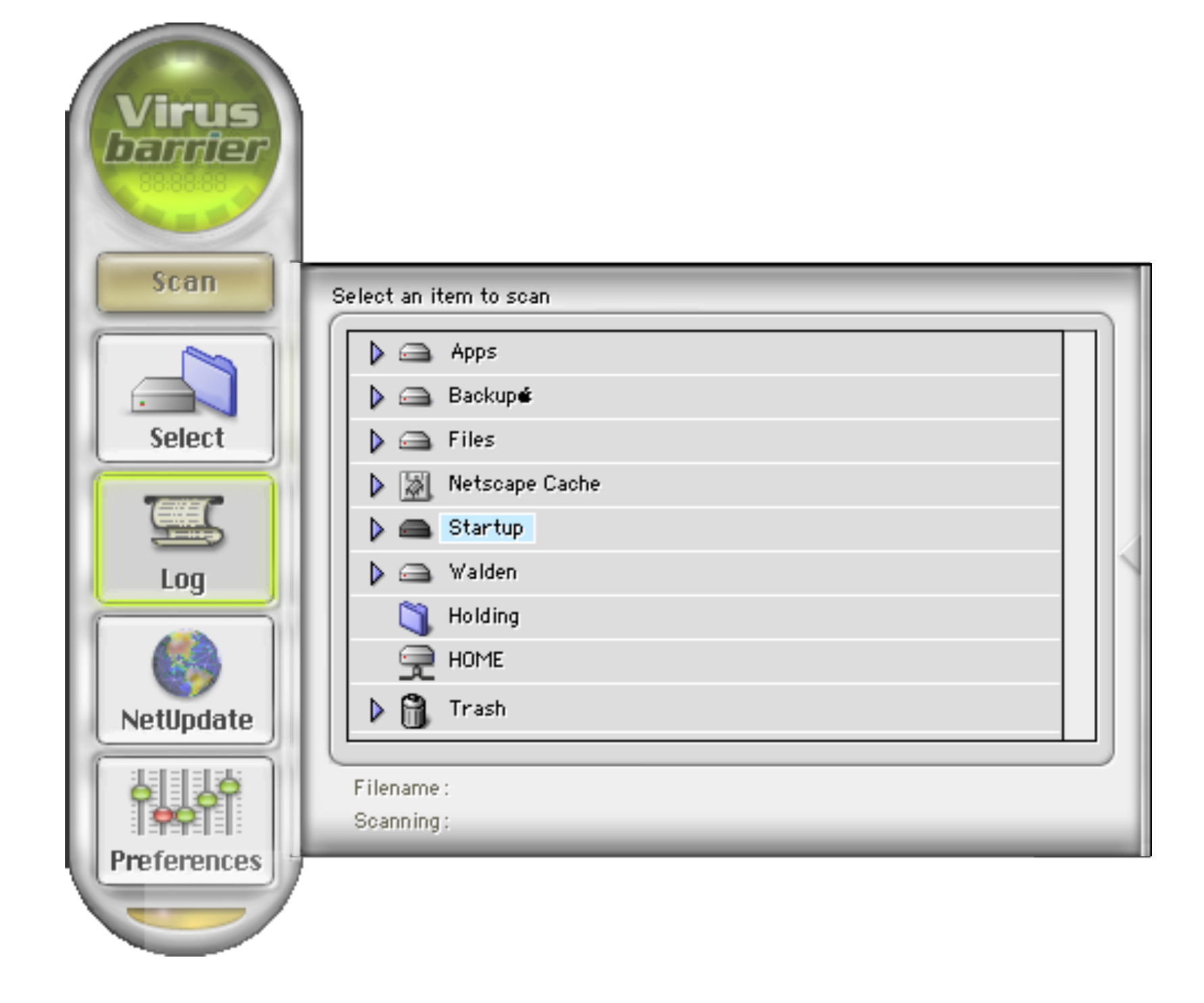 The San Francisco Macworld Expo in January 2000 saw the release of version 2 of NetBarrier, which added features like the Aqua interface recently developed by Apple, spam filtering, ad banner blocking – yes, even back then, ad banners had already become a problem – and much more. This was a period of transition for Apple, and this version of NetBarrier was compatible with Mac OS 9, but an OS X version was released a few months later.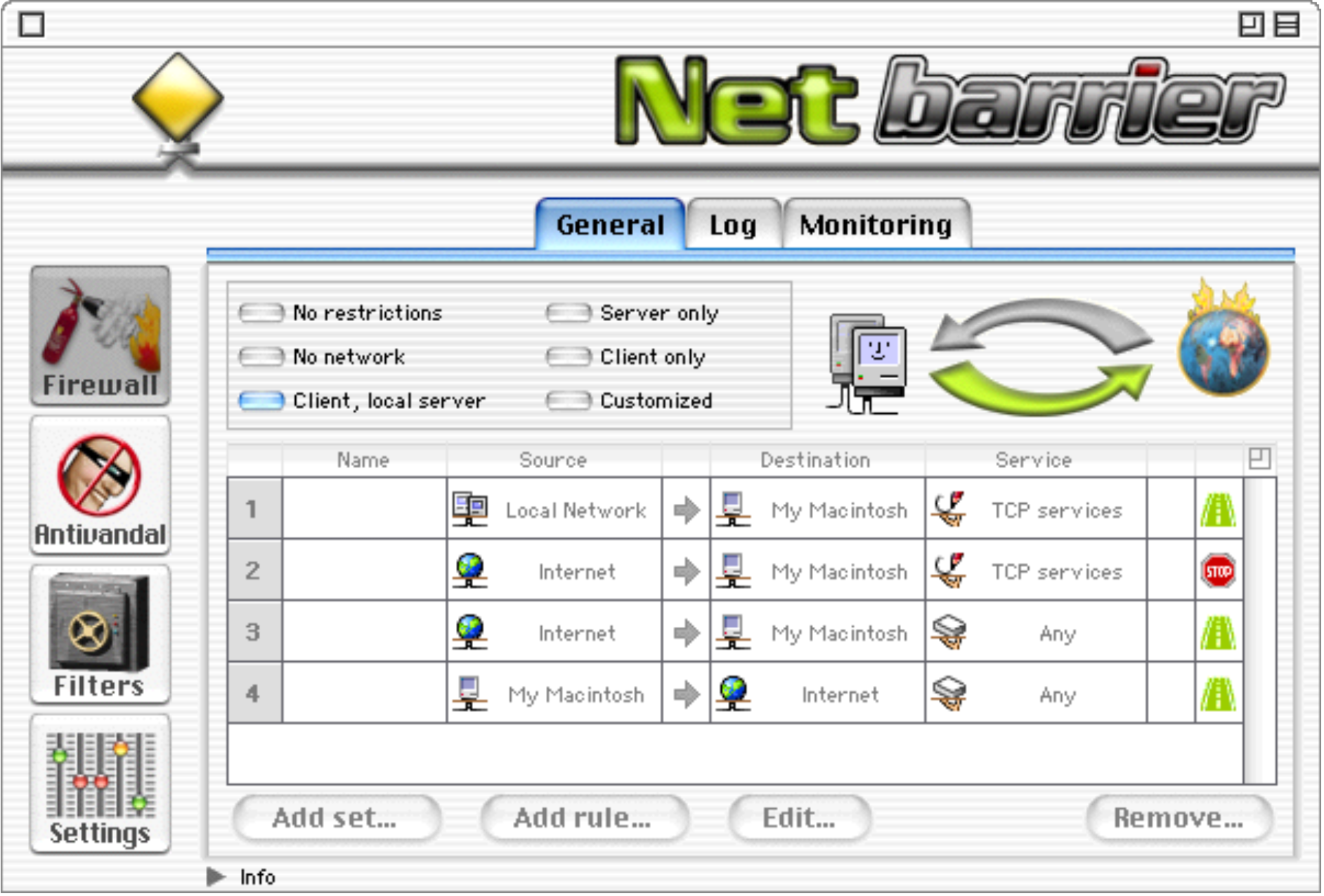 As the Mac was experiencing a renewal – the iMac that Steve Jobs developed, and that Apple released in 1998, had become a popular home computer – it was clear that children needed to be protected from the dangers of the Internet. Adult content was available at the click of a mouse, so in January 2001, Intego released ContentBarrier for Mac OS 8 and 9, which blocked online offensive material. The company also began offering a full-featured suite of security and privacy tools for Mac: Internet Security Barrier. This package contained the three cornerstone products that Intego would build on in the coming years: NetBarrier, VirusBarrier, and ContentBarrier.
For a fun blast from the past, you can download legacy versions Intego's Mac OS 9-compatible software (no longer supported, of course) and run them in a virtual machine, or on a classic Mac if you still own one.
The Dawn of Mac OS X
Mac OS X had been available as a public beta during 2000; shortly after its official release in March 2001, Intego updated its software for the new operating system. Mac OS X introduced user accounts, which allowed Intego's apps to provide even more security than previously on Mac OS 9. Mac OS X users around the world immediately saw the need for this software, making Intego's offering the most popular security software for the platform.
Intego renamed its software later in 2001, calling its products NetBarrier X, VirusBarrier X, and so on. This naming convention has been maintained with the current products at version X9, showing the amount of progress the company has made over the years.
In 2001, Intego acquired an app that would become another cornerstone of its product line: Intego Personal Backup. This powerful backup and sync app was the easiest to use backup solution at the time, and has continued to provide backup and sync features to Mac users to date. Here's what the first version for Mac OS 9 looked like: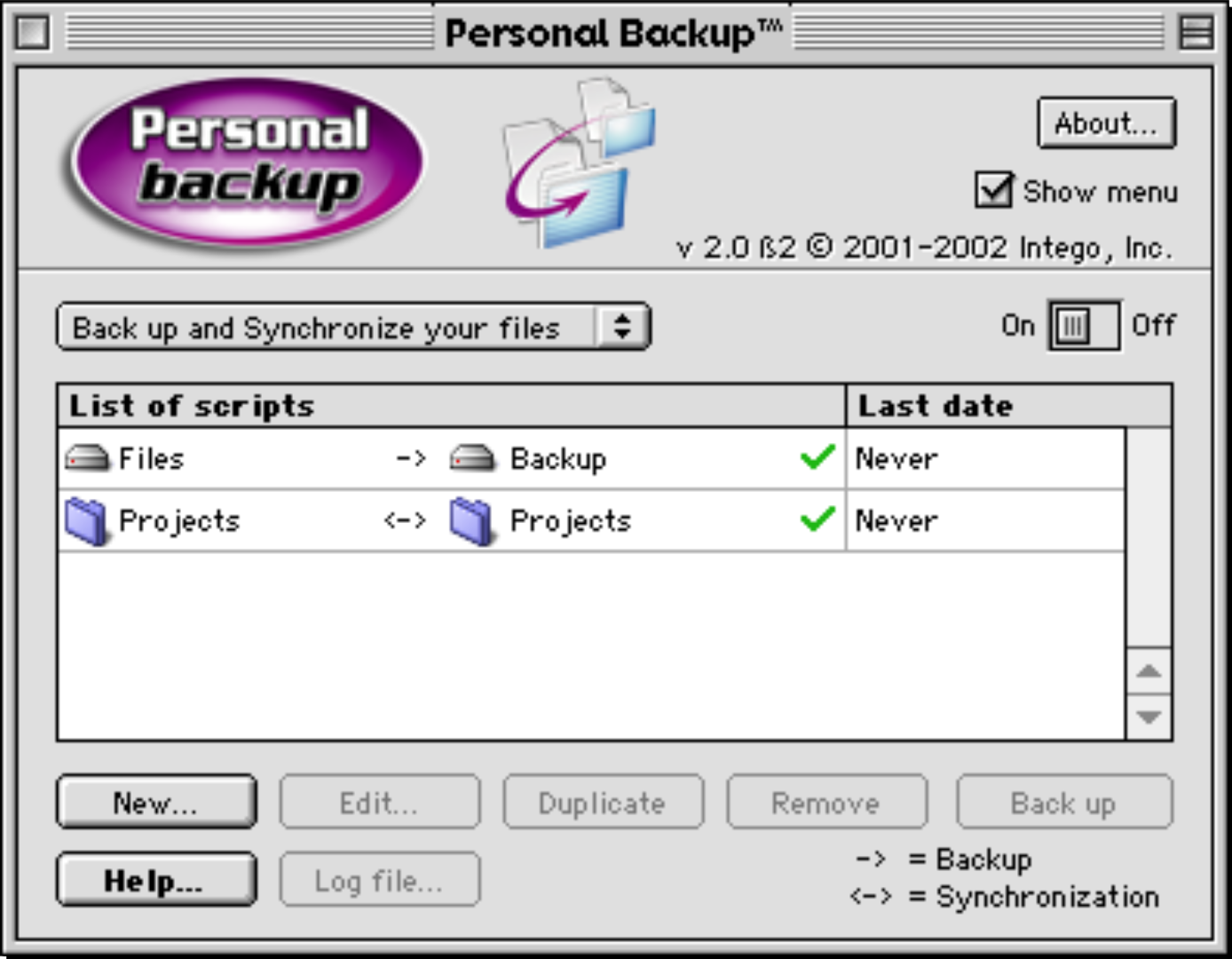 As Mac OS X increased its adoption rate, Intego continued to refine its software to address the growing number of security and malware threats to the Mac. More and more people were now connected, both to the Internet and to Wi-Fi networks. People started traveling with laptops, hooking into Wi-Fi at hotels, airports, and coffee shops, and Intego hardened its NetBarrier app to ensure that users were protected on all types of networks, at home, at work, and in public spaces.
Apple released a steady schedule of updates to Mac OS X in the mid-2000s, and Intego was first out of the gate each time there was an update, ensuring that users and their data were always protected from the many dangers of the Internet. The company ensured compatibility for each subsequent version of Mac OS X by providing day-and-date updates, so Intego users were always secure. In 2006, when Apple made the controversial transition to Intel processors, Intego's software was ready and available in "Universal" versions – for both PowerPC and Intel processors – when Apple released the newest Macs with these processors.
Intego's software was widely recognized as best in class; it regularly received excellent reviews and awards from Mac publications around the world. For example, Macworld called Intego VirusBarrier X5 "the gold standard" of antivirus programs.
2010 saw the release of Intego Washing Machine, a popular app that cleans up files created by web browsers and other programs that access the Internet. Expanded over the years to cover more apps that store files and caches, remove duplicates, and more, this app, now called Mac Washing Machine, speeds up Macs by deleting unnecessary files, reclaiming disk space, and more. As Apple made the transition to lower-capacity SSDs on its computers, Mac Washing Machine became an essential tool to ensure that users didn't clog up their drives. Intego also released a version of Mac Washing Machine on the Mac App Store.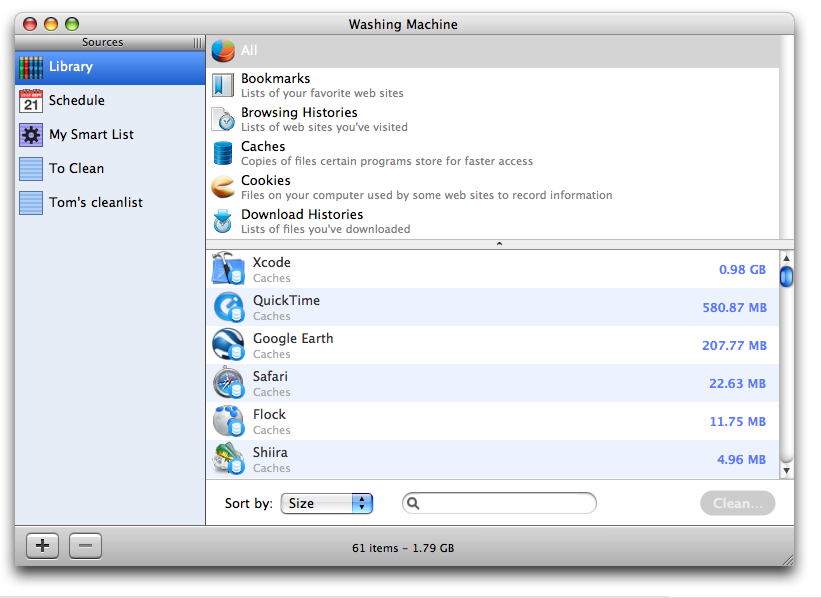 In 2011, Intego released VirusBarrier Express and VirusBarrier Plus, Mac App Store apps that could scan a user's home folder (the only files accessible to apps sold via Apple's store). Apple doesn't allow apps sold on the Mac App Store to access system files, but Intego understood that users still needed protection. The paid VirusBarrier Plus and the more limited, free VirusBarrier Express saw more than 500,000 downloads combined in the first month on the Mac App Store.
Intego continued releasing Mac App Store apps. Duplicate Zapper, based on the duplicate file removal functionality used by Mac Washing Machine, was released in 2014 and continues to offer a quick, easy-to-use tool for finding and deleting duplicate files.
Some Products that Didn't Last
Remember the Palm Pilot? It was a popular personal digital assistant (PDA) back in the pre-iPhone days. In 2001, Intego released VirusBarrier for Palm OS. VirusBarrier solved the growing problem of viruses on Palm OS devices by scanning the PDA and detecting virus infected files and deleting them. The Palm PDA was a useful device, but once the more robust and versatile iPhone was released, Palm and other devices running its operating system (such as the Treo) were no longer compelling.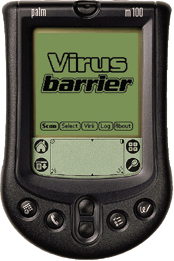 Intego also acquired two encryption products in 2001: DiskGuard and FileGuard; these were purchased at the same time as Personal Backup, mentioned above. The former locked disks to all those who didn't have a password. As described when released, "Intego DiskGuard protects all SCSI and IDE hard disks, Zip and Jaz cartridges, and floppy disks from unauthorized access, both on individual computers and across a network." FileGuard provided "complete user access management for file, folder, disk and application protection on individual computers and over a network." But later changes in Mac OS X offered similar features and these products were eventually phased out.
In 2004, Intego released ChatBarrier, designed to protect users of Apple's iChat software (now Messages). iChat didn't offer end-to-end encryption as Messages does now, and this app was essential to business users exchanging instant messages who needed the security of powerful encryption to share text, graphics, and files. It worked over local networks – with Bonjour chats – and over AIM (AOL Instant Messaging), and was very popular until Apple provided this feature in Messages.
Another product that saw the light in 2004 was the Intego Wi-Fi Locator. This hardware product – a small key-fob sized device – could locate Wi-Fi networks in hotels, airports, restaurants, and more. It could find networks up to 300 feet away, and showed their signal string with four LEDs. Who didn't practice "war driving" at times, trying to find Wi-Fi networks that they could use to get and send email, browse the Internet, and more? Or simply find the best location in an airport to stay connected to a flaky network?
2004 also saw the release of Personal Antispam, a powerful spam filter for Mac OS X and the first intelligent spam filter for Mac. For many years – until Apple introduced junk mail filtering in its Mail app – this was the go-to solution to keep inboxes free of spam.
While the iPhone has been popular since launch, there has always been a group of users who want to go further and "jailbreak" the device. This is a way of circumventing Apple's iOS operating system and allowing the installation of third-party apps that are not available via the App Store. Since there is an undeniable security risk in doing this, Intego, in 2008, enabled VirusBarrier X5 to scan files on jailbroken iPhones. This meant that users could be extra safe when using jailbroken devices, since third-party non-approved software has been known to carry malware.
In 2011, Intego launched VirusBarrier iOS, an app sold on Apple's App Store that scanned e-mail attachments, other files they have access to on an iOS device, or files on remote locations such as MobileMe, Dropbox, web servers or WebDav disks. This app wasn't designed to scan iOS devices themselves – something that Apple prevents – but to ensure that users don't bring infected files into a home or business network.
Intego for Business
Intego has always designed its software for use by novices and professionals alike. As such, the company has always catered to the enterprise market, providing solutions that meet the needs of large installed bases of Macs. In 2005, Intego released Remote Management Console, an app that IT administrators could use to manage Intego software on any number of Macs. This app could control app settings and updates on a local network, or across the Internet, so an administrator could manage Macs in their own building, in a nearby campus, and at their company's foreign offices, all from a single Mac.
2006 saw the release of VirusBarrier Server and VirusBarrier Mail Gateway, tools designed to allow network administrators to fully protect their Mac networks from viruses, protect all files on a server, and provide full protection from viruses that transit through Mac OS X Server's built-in e-mail server. These apps ensured that in businesses using both Macs and Windows computers the Macs wouldn't pass on malware that affected only PCs.
In 2014, Intego completely redesigned its network console and launched Flextivity, the first integrated cloud-based security and activity monitoring solution designed for Mac-based small and medium sized businesses. Updating the features of Remote Management Console, this around-the-world management was now available from a web browser, anywhere, on any device.
Innovative Interfaces
Intego has long been known for its innovative interfaces. While it followed Apple's lead for overall interface design – using the Aqua interface, then brushed metal, and so on – it also created some striking app designs.
The most memorable is certainly the "Orb," which is part of VirusBarrier. Initially presented at the top of a bar, as you can see earlier in this article, the Orb changed location and size, and was eventually retired.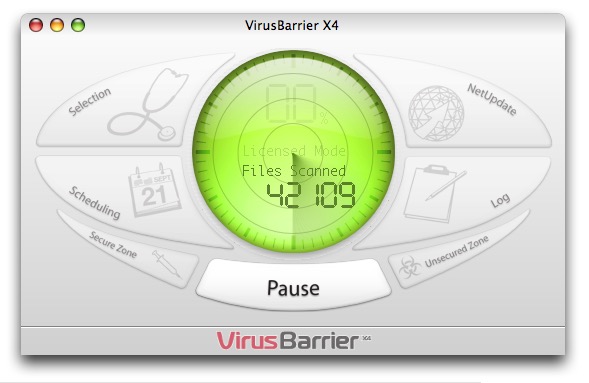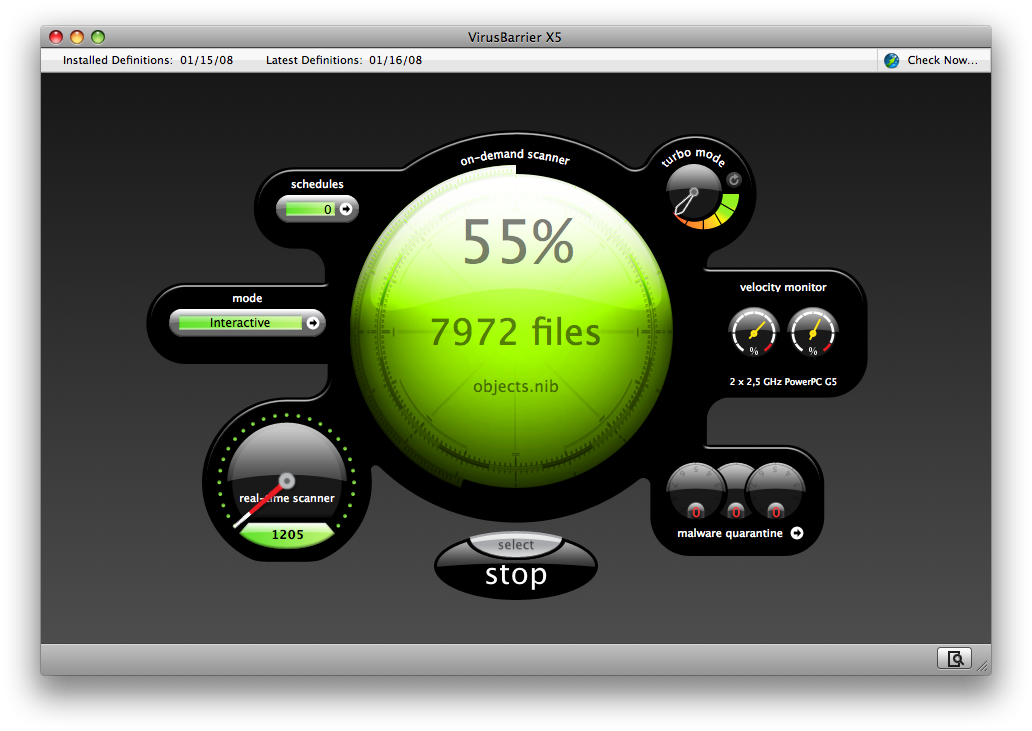 Other Intego apps have also had very graphical, yet functional interfaces. Here are early versions of ContentBarrier and NetBarrier: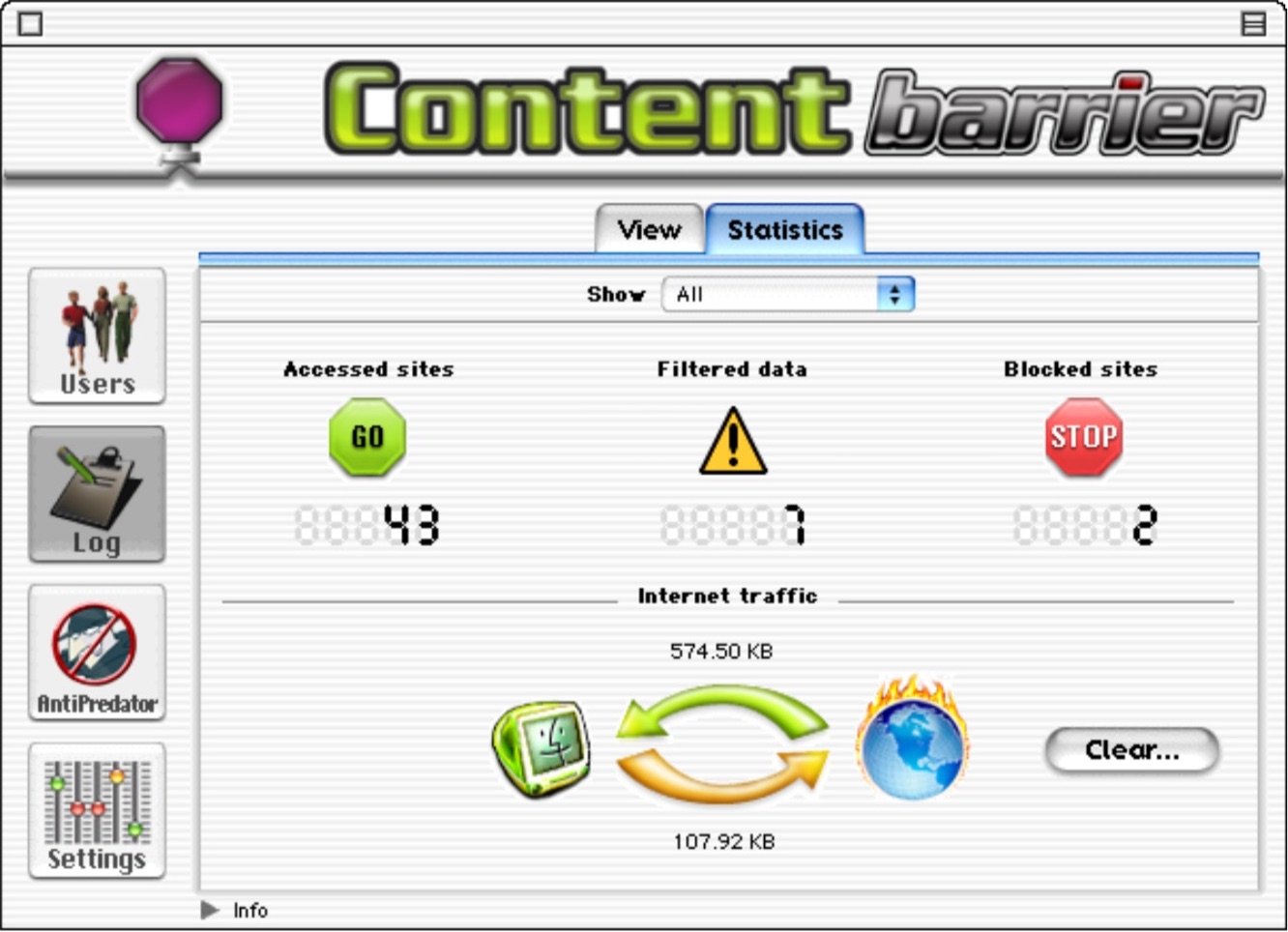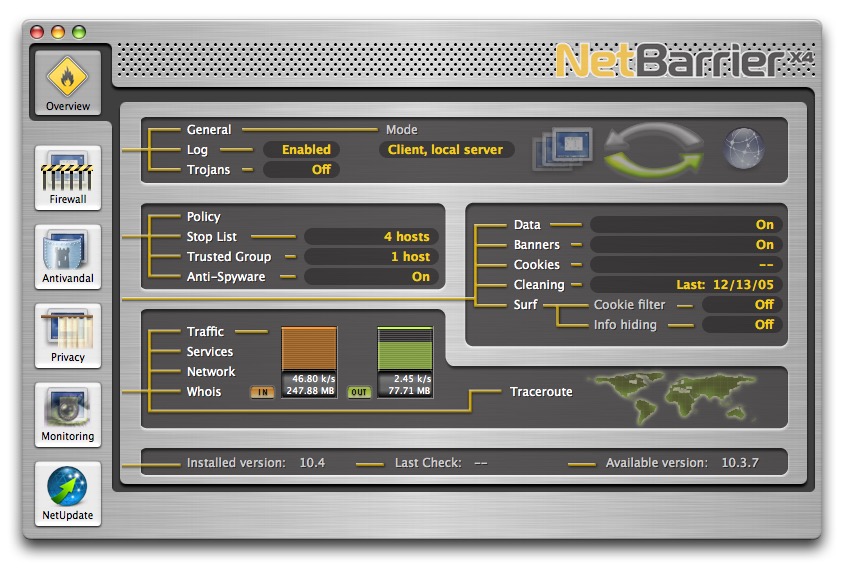 Current Intego interfaces are more sober and focused, and correspond to the style of the times.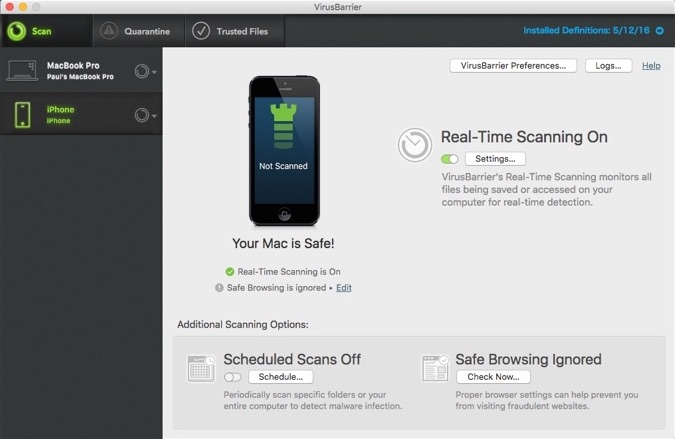 Trade Shows
Intego has always appreciated getting to know its users, and participated in almost every major Mac trade show for many years. Intego was present at the Macworld Expos in San Francisco, New York, Boston, and Paris, and at similar events in London, Amsterdam, and other cities. With its recognizable green tower, the Intego booth was always popular at these events.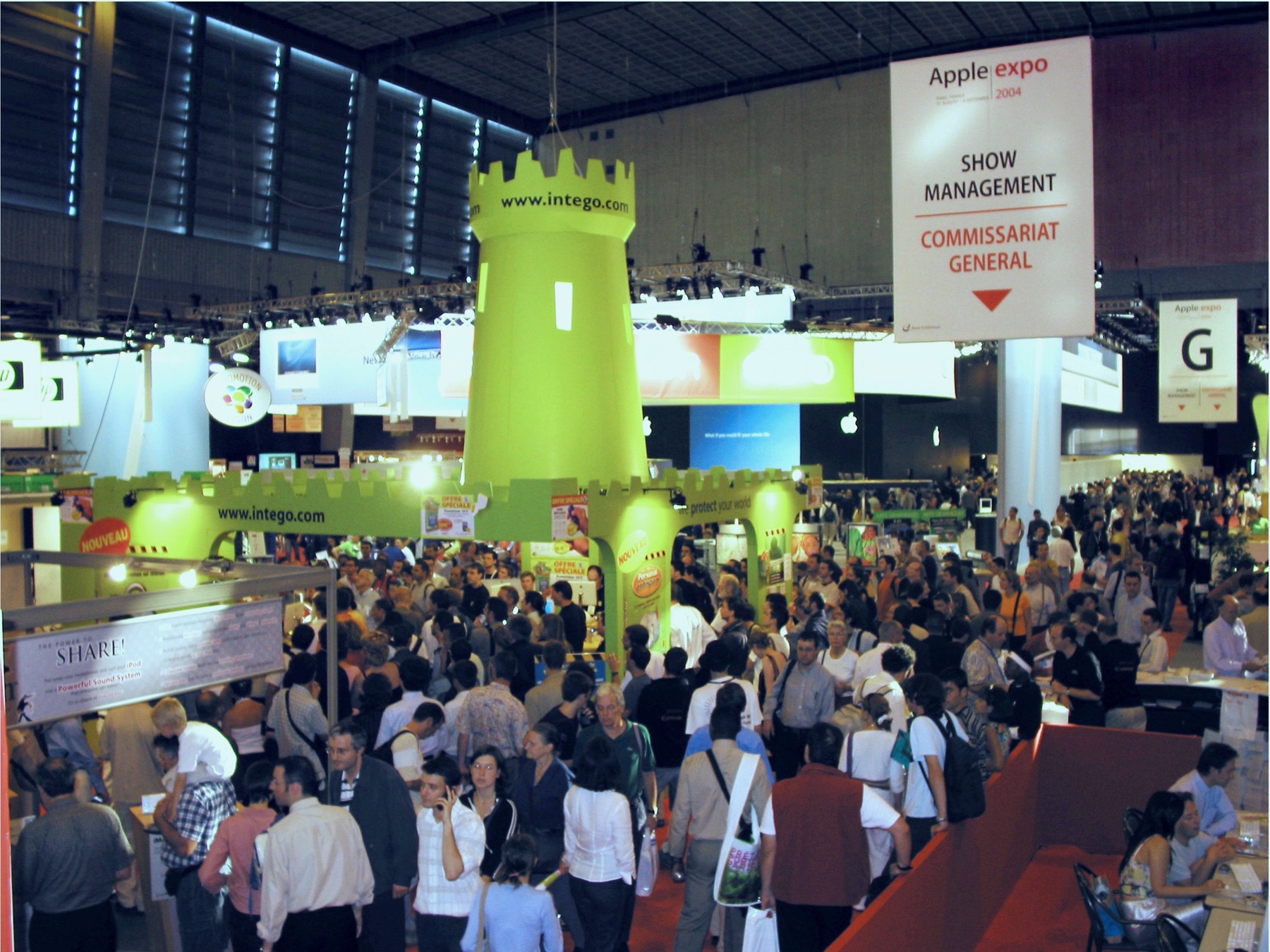 Intego also used to have an inflatable tower that was easier to transport. It was just as popular, until that time that it deflated and leaned over on a neighboring booth…
In 2007, Intego launched The Mac Security Blog, which quickly became the go-to location for information and news about Mac and iOS security, as well as more general news about using your Macs and iOS devices more productively. The Mac Security Blog has also been the location where Intego publishes information about new malware and security threats affecting the Mac and iOS. Traffic has grown regularly over the years, and the Mac Security Blog welcomes more than 3 million annual visitors.
And just this month, Intego launched the Intego Mac Podcast, a weekly audio series in which Mac experts discuss the latest Apple news, with a splash of security advice. Today's episode includes an interview with a long-time Intego developer about the company's early years.
Intego Today
Intego worked out of Paris for many years, and expanded globally adding an Austin, Texas office and a Japanese office. In 2011, Intego added an office in Seattle, Washington, maintaining its Paris office for both development and sales, and the Texas and Japan offices for support.
Intego is recognized as the leader in Mac security and the only company that has focused solely on protecting the platform since its inception 20 years ago. In the early days, the Mac was a niche market, one that, for a time, was precarious. But the return of Steve Jobs to the company, and especially the release of the iMac (1998) and the iPod (2001) helped drive Apple to become the industry leader that it is today.
Intego has followed that growth, remaining faithful to the Mac – and later to iOS – understanding that the Mac was the future of computing. Twenty years later, that vision, first elaborated in 1997, remains Intego's exclusive mission today.
How can I learn more?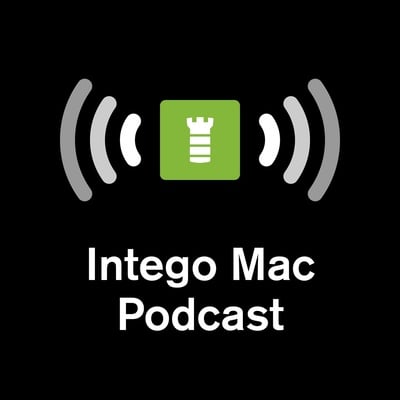 Each week on the Intego Mac Podcast, Intego's Mac security experts discuss the latest Apple news, security and privacy stories, and offer practical advice on getting the most out of your Apple devices. Be sure to follow the podcast to make sure you don't miss any episodes.
You can also subscribe to our e-mail newsletter and keep an eye here on The Mac Security Blog for the latest Apple security and privacy news. And don't forget to follow Intego on your favorite social media channels: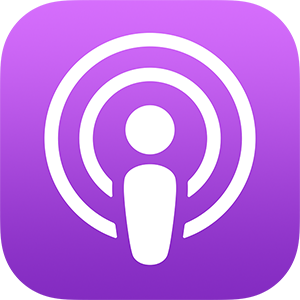 About Kirk McElhearn
Kirk McElhearn writes about Apple products and more on his blog Kirkville. He is co-host of the Intego Mac Podcast, as well as several other podcasts, and is a regular contributor to The Mac Security Blog, TidBITS, and several other websites and publications. Kirk has written more than two dozen books, including Take Control books about Apple's media apps, Scrivener, and LaunchBar. Follow him on Twitter at @mcelhearn. View all posts by Kirk McElhearn →