Apple updates the iPad Pro, Mac mini, and MacBook Air
Posted on by Kirk McElhearn
In Apple's second new product event of this fall held in Brooklyn, New York, Apple this week announced new Macs and iPads. Refreshing two Mac models that haven't seen updates in many years, Apple is showing that they still believe in some of these products that had been left behind for some time. Tim Cook said that there are now 100 million active Mac users, with notably very strong growth in China, so any worries that the company would continue to neglect the Mac can be forgotten. The new iPad Pro brings new technologies and smaller form factors.
The new MacBook Air
The MacBook Air is one of Apple's most interesting computers. Introduced in 2008 with Steve Jobs famously sliding it out from a manila envelope, it was a radical shift in the way laptops were made. Small, light, very thin, and fanless, the MacBook Air had only seen minor upgrades in recent years. It was the only Mac without a retina display, which maybe disqualified it for those used to the higher resolution of modern screens. In addition, the 12″ MacBook introduced in 2015 created some overlap in the product line-up, leading many to wonder if the MacBook Air's days were numbered.
But Apple has doubled down on the MacBook Air offering a laptop that is, in many ways, more compelling than the company's other notebooks. With a retina display, but also with Touch ID – yet without the Touch Bar (that has not found favor with Mac users), the MacBook Air is the ideal laptop for those who don't need the "Pro" features available on the more expensive models. It's still slim and light with that soft, sexy aerodynamic look, and has a new backlit keyboard and a force touch trackpad. It sports two Thunderbolt 3 USB-C connectors, improved audio and weighs just 2.75 lb or 1.25 kg. Some will lament the absence of an 11-inch model, but Apple has shaved off the bezels around the display to make this 13-inch model much more compact than previously.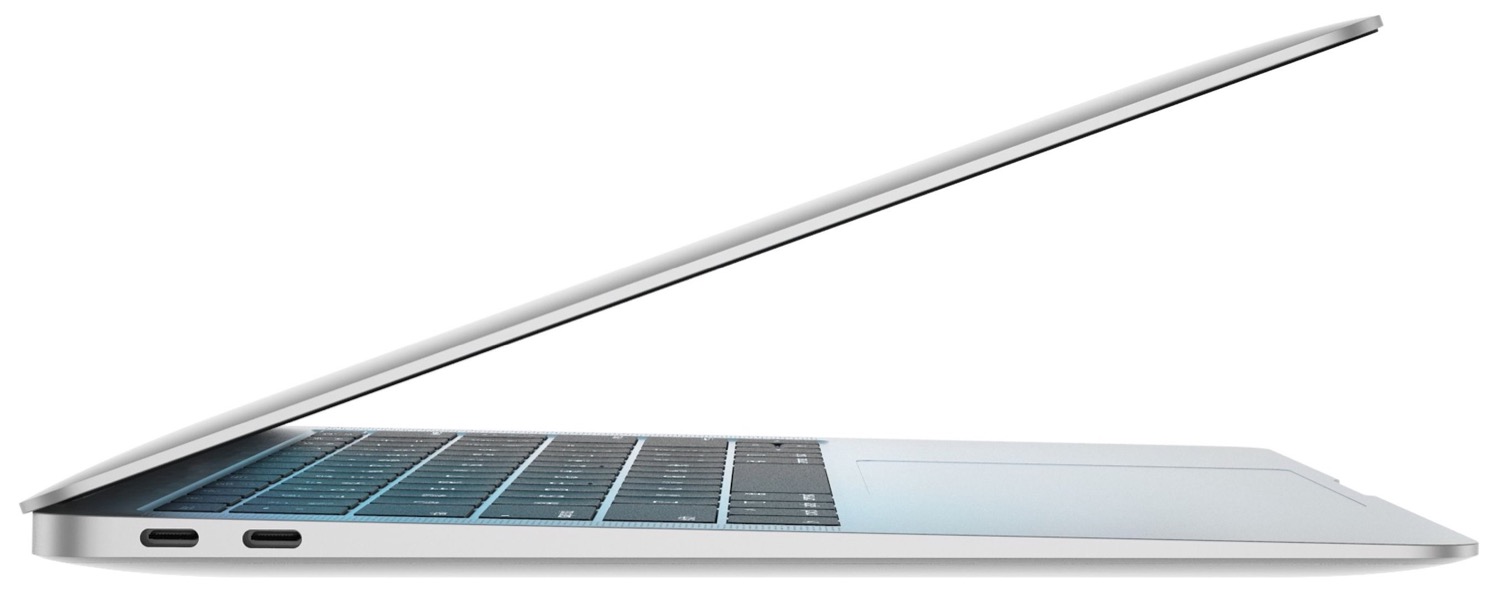 Apple is promoting this as being made from 100% recycled aluminum using a new alloy that they have created, in part recovering aluminum lost in the production of iPads.
If you don't need the power of a MacBook Pro, the MacBook Air is certainly the computer for you. It starts at $1,199, but adding a faster processor, more RAM, and a larger SSD – up to 1.5 TB – can bring it up to $2,599. Even at the entry level, this is a fine Mac.
The Mac mini is not forgotten
It has been four years since Apple last updated the Mac mini, a computer that many had given up for lost. But Apple his finally breathed new life into this diminutive computer that is used by some on the desktop, by others in data centers, and that many use as a home server or media server.
In space gray, like the iMac Pro, the new Mac mini features 4- and 6-core processors, Thunderbolt 3 USB-C, can hold up to 64 GB RAM, and can be ordered with up to a 2 TB SSD and 10 Gb Ethernet. The Mac mini is also made from recycled aluminum.
I have a soft spot for the Mac mini which was my desktop Mac for many years – through two different models – and I still run a seven-year old model as my home media server.

Starting at $799 and configurable up to the stratospheric price of over $4,000, the Mac mini can serve as an adequate desktop computer for those who don't want the all-in-one iMac (or the moribund Mac Pro, still sold at three-year old prices). RAM can be added by the user, saving money on Apple's inflationary prices of build-to-order memory, but Apple says this should be done by an Apple store or certified repair service.
This is arguably not the most exciting Mac, but it fits into Apple's product line to fill a number of specific needs. If you've been waiting for years to see a new Mac mini, you'll be delighted by this version. If only Apple would release their own display to go with this Mac…
The iPad Pro gets smaller
The main product presented today was the iPad Pro, which has gotten smaller through the reduction of the bezels around the display. With a slightly new form factor – the flat sides make it look like the iPhone SE – the 11″ and 12.9″ models are smaller and lighter than the previous versions. Apple calls this an "all-screen design," but that is a bit of exaggeration. While they are similar to the latest iPhones – notably the iPhone XR – they don't have edge-to-edge displays.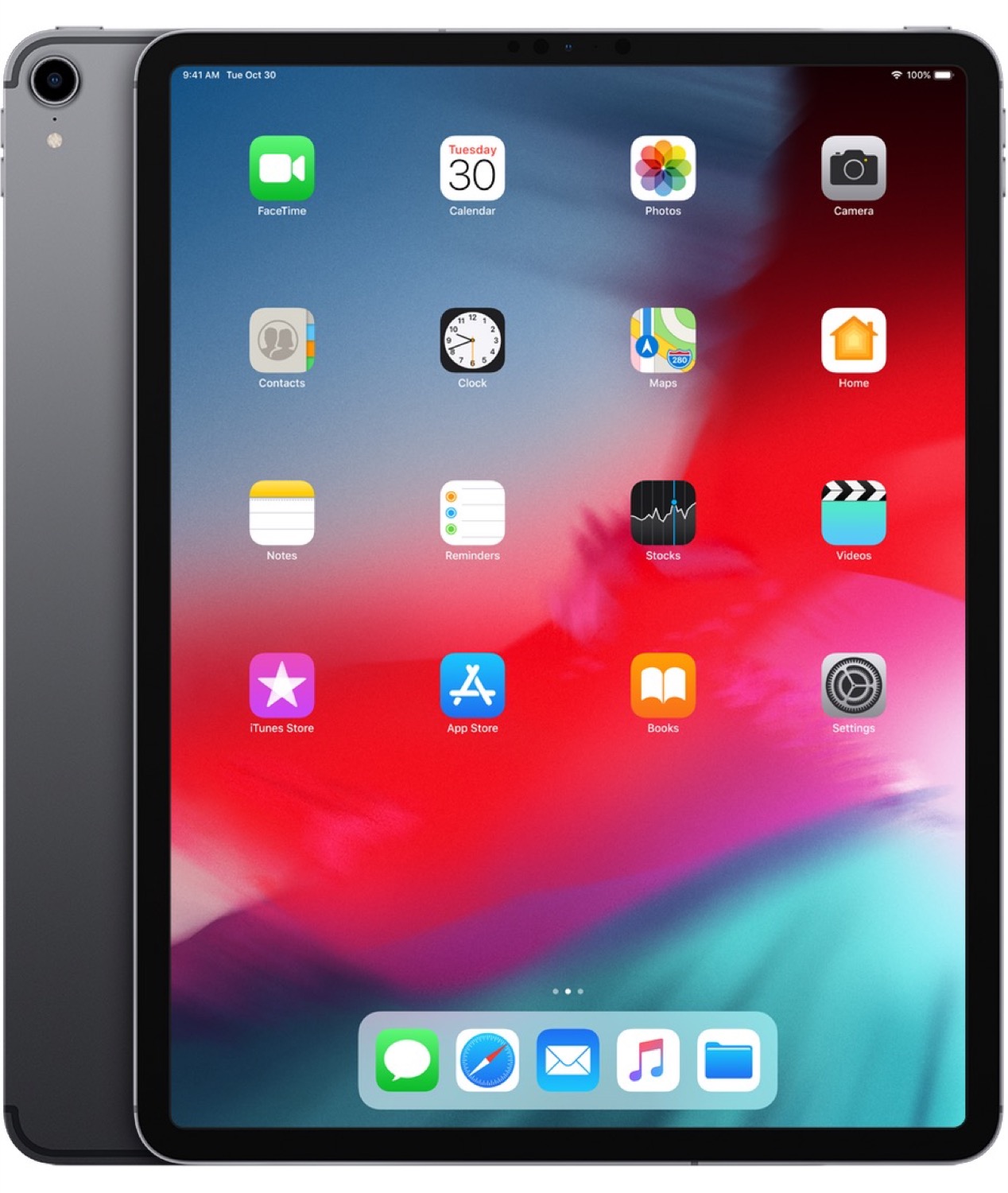 The new iPad Pro does feature Face ID and, unlike the iPhone, you can unlock it with the device in any direction. (You must hold the iPhone in portrait mode to unlock it). Much in the iPad Pro is new, from the "liquid retina" display – as on the iPhone XR – to faster graphics, the iPad Pro adopts many of the technologies that Apple added to the latest iPhones. There's a new Smart Keyboard Folio which is a combination case and keyboard, and a new Apple Pencil as well, which sticks magnetically to the side of the iPad and charges when it's there. No more sticking the pencil into the lightning port; in fact, the new iPad Pro now has USB-C for charging and syncing.
Starting at $799 for the 11-inch model, or $999 for the 12.9-inch, the new iPad Pro is expensive. With storage up to 1 TB, a cellular iPad Pro 12.9″ will cost you a whopping $1,899. For most people the base 64 GB version will be sufficient. The Apple Pencil costs $129 and is not compatible with older iPads (nor is the older Apple Pencil compatible with these new models.)
All in all, it was an exciting day for Apple users who are disappointed by all the attention the company gives to the iPhone, and has brought two of its more interesting Macs up to date with the latest technologies. There are some new compelling choices for Mac and iPad users.
About Kirk McElhearn
Kirk McElhearn writes about Apple products and more on his blog Kirkville. He is co-host of the Intego Mac Podcast, as well as several other podcasts, and is a regular contributor to The Mac Security Blog, TidBITS, and several other websites and publications. Kirk has written more than two dozen books, including Take Control books about Apple's media apps, Scrivener, and LaunchBar. Follow him on Twitter at @mcelhearn. View all posts by Kirk McElhearn →