Apple iTunes 11 Software Update Improves…Everything! (Right?)
Posted on November 30th, 2012 by Derek Erwin
Apple has released a software update for iTunes to version 11 that comes with both new and enhanced features worth falling head over heels for. The new iTunes includes "a dramatically simplified player, a completely redesigned Store, and iCloud features you'll love," says the company. Apple's 197.8 MB update to iTunes 11 includes very noticeable design changes; however, information on the security content of this update has yet to be released.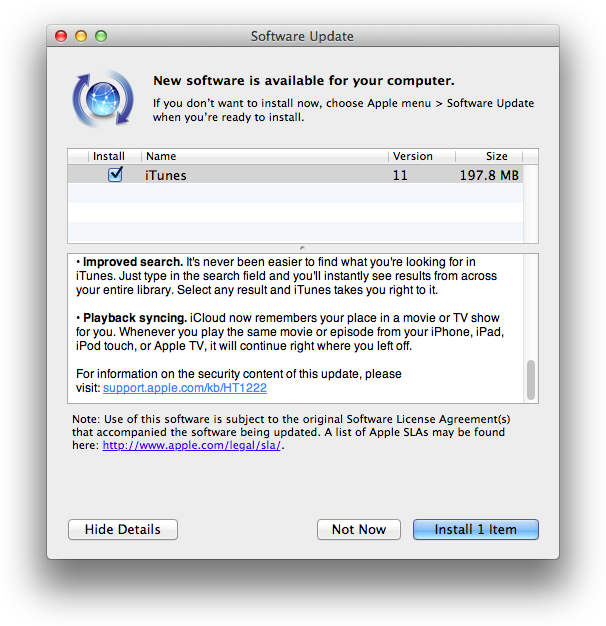 TechCrunch offers a really good overview of the major feature changes to iTunes. They have a lot to say about it, noting that iTunes 11 is "one of the biggest overhauls of the media management service yet." Apple's introduction to the new iTunes cites the following changes were made:
Completely Redesigned. iTunes makes it more fun to explore and enjoy your music, movies, and TV shows. You'll love the beautiful edge-to-edge design, custom designs for each album, movie, or TV show in your library, and getting personal recommendations any time you click In the Store.
A New Store. The iTunes Store has been completely redesigned and now features a clean look that makes it simpler than ever to see what's hot and discover new favorites.
Play purchases from iCloud. Your music, movie, and TV show purchases in iCloud now appear inside your library. Just sign-in with your Apple ID to see them. Double-click to play them directly from iCloud or download a copy you can sync to a device or play while offline.
Up Next. It's now simple to see which songs are playing next, all from a single place. Just click the Up Next icon in the center display and they'll instantly appear. You can even reorder, add, or skip songs whenever you like.
New MiniPlayer. You can now do a whole lot more with a lot less space. In addition to showing what's playing, MiniPlayer now includes album art, adds Up Next, and makes it easy to search for something new to play—all from a smaller and more elegant design.
Improved search. It's never been easier to find what you're looking for in iTunes. Just type in the search field and you'll instantly see results from across your entire library. Select any result and iTunes takes you right to it.
Playback syncing. iCloud now remembers your place in a movie or TV show for you. Whenever you play the same movie or episode from your iPhone, iPad, iPod touch, or Apple TV, it will continue right where you left off.
From the sound of Apple's horn, everything about the software was improved. Right? Well, with any big Apple update there always follows a big response from Apple fans and even naysayers. So I thought it would be fun to share some perspective on how others, at least initially, feel about the new iTunes. Twitter users never fail to chime in with amusing thoughts, unusual opinions, and sometimes even helpful feedback:
First impression of iTunes 11: far less radical changes than I thought (and was hoping for). Mostly a new theme on top of the old app.

— Florian Albrecht (@flo_muc) November 29, 2012
Now Apple just needs to get rid of the horrific music app UI on iOS. Looks even worse after using iTunes 11.

— Mark Gurman (@markgurman) November 29, 2012
At least iTunes 11 shows that we're taking the software in the right direction, which is more than we can say about where our Maps take you.

— Not Tim Cook (@fauxTimCook) November 29, 2012
Weird. My iTunes 11 doesn't have a View → Show Sidebar menu item. Mine says View → I Hate Change.

— John Gruber (@gruber) November 29, 2012
I almost exclusively use Spotify now but iTunes 11 is nice, love editable "up next" n 'themed' album views. Makes me wanna use it.

— Casper Myers (@surlaroute) November 29, 2012
in iTunes 11 you can manually back up or a full sync

— Charles Schloss (@Chasapple) November 29, 2012
iTunes 11 is making me reorganize my music library. Thanks Apple for contributing to my OCD.

— Jordan Couture (@jordan_couture) November 29, 2012
The new iTunes 11 is amaaaazing. Finally it's possible to stream a song and browse through the iTunes Store!!

— Zedd (@Zedd) November 30, 2012
Liking iTunes 11, it's super smooth. Not sure how to get iCloud Podcast stuff working though.

— jcafarley (@jcafarley) November 29, 2012
For iTunes 11 users in the same boat as Twitter user @jcafarley, here's a quick tip: if you want your purchases from the iTunes store to be downloaded automatically to your other computers or devices—not just the one you use to make purchases—you'll need to adjust some settings on your Mac and iOS devices. You must turn on iTunes in the Cloud for it to work properly. This feature can be turned on from iTunes Preferences > click Store, and select the items you want automatically downloaded. On your iPad, iPhone or iPod touch, tap Settings > tap iTunes & App Stores, and then turn on the items you want. Now all of your purchases will automatically be downloaded to all of your devices and computers!
The new iTunes is available at the Mac App Store, or when you're ready to download and install it you can choose Apple menu > Software Update. You can also head over to Apple and download iTunes 11 for Mac and PC.