Apple + How To + Software & Apps
Safari 11: How to Customize the Way Websites Are Displayed
Posted on January 19th, 2018 by Craig Grannell
Apple's Safari web browser has always included options to alter how websites are displayed. The problem is they used to affect every site you visited.
With Safari 11, this changed. Websites can now be customized on an individual basis. This is great when certain sites you regularly visit have type that's too small for you to comfortably read, or social media networks you otherwise enjoy drive you mad with auto-playing content.
Adjust individual website settings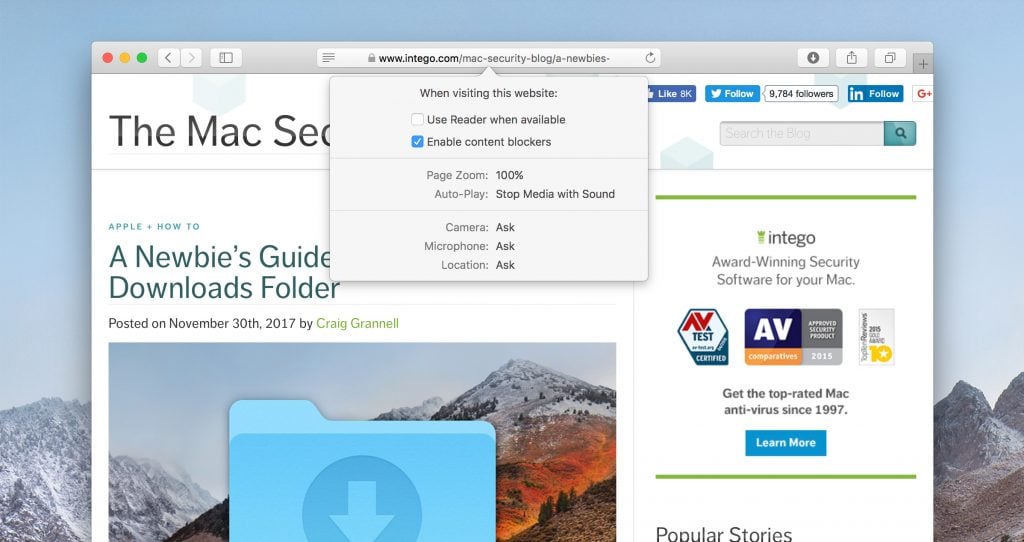 Open a website in Safari, and go to Safari > Settings for This Website. A sheet will open beneath the site's address in the toolbar, giving you access to the options outlined below for amending how it is displayed.
Use Reader when available determines whether Safari's Reader feature is triggered on supported pages, such as the individual article pages of a news site. Reader strips all layout, adverts and cruft from a web page, leaving only the content and images.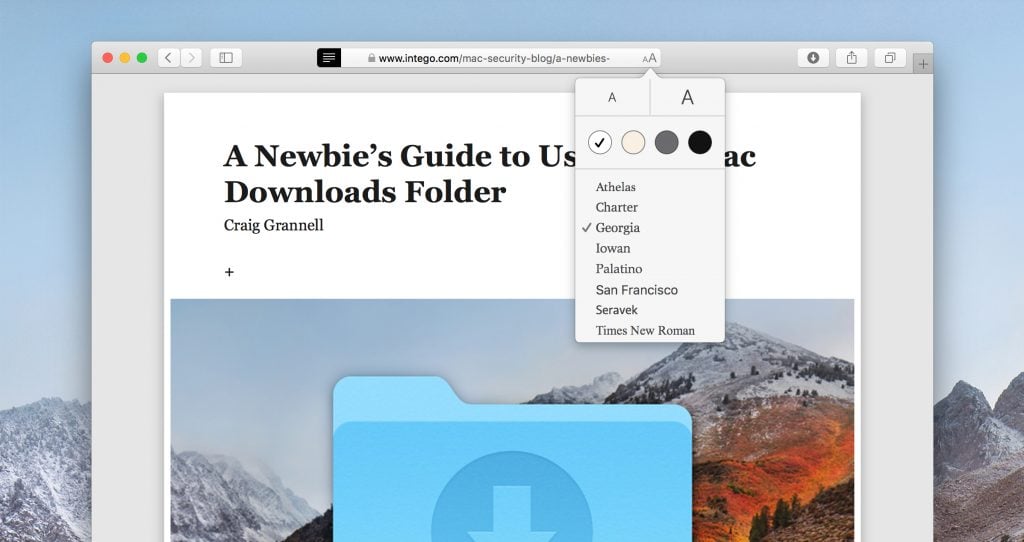 Use the AA button to adjust Reader's appearance (text size; page background color; typeface), although be aware these settings are universal, and not defined on a per-site basis.
Enable content blockers toggles whether ad-blocking extensions are active for the site in question. Note, however, this option only affects extensions that use Apple's content-blocking API, such as 1Blocker.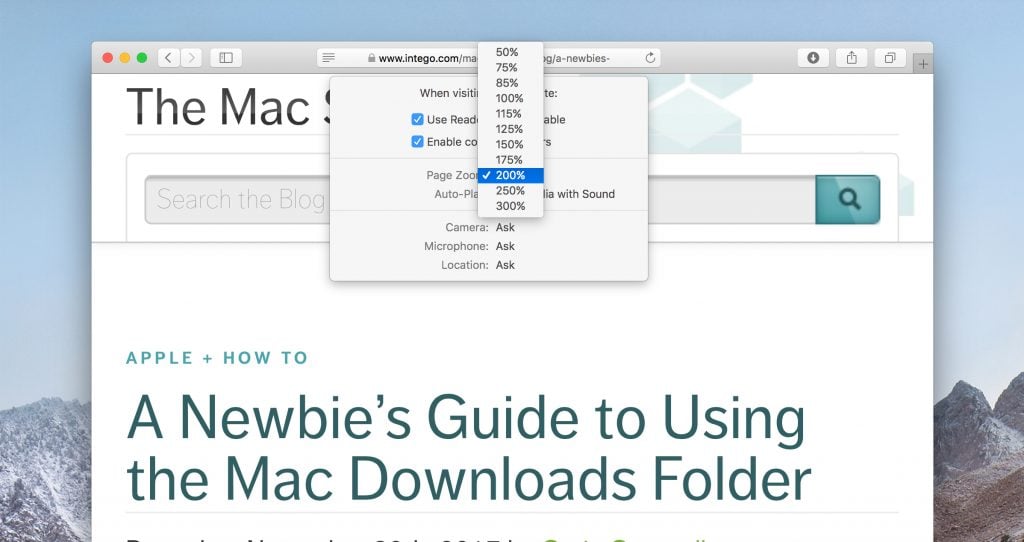 Page Zoom is one of the most useful options. It's initially set to 100%, and altering that value adjusts the size of the site's text and images; it may also affect its layout. Various options are available, from 50% through to 300%. You can more quickly adjust the zoom level with the keyboard shortcuts Command++ and Command+-; Command+0 resets the site's zoom level to 'actual size'.
Auto-Play starts out set to Stop Media with Sound. Some sites sneakily get around this by initially muting auto-play videos, which is still a distraction. In such cases, you can use the setting Never Auto-Play; but if you like auto-playing media – or find a rare site where it's used in a non-awful manner – go for Allow All Auto-Play.
The last three options (which only appear on some sites) enable you to set whether a site should Allow, Ask for, or Deny access to your camera, microphone, and location.
For example, DarkSky.net will ask for permission whenever you click its location button. But if you set Location to Allow, permission will be assumed, meaning the site will skip past that dialog box and get you right to your local weather.
Manage existing website settings
Any settings you define for a site can be reversed by going back to Safari > Settings for This Website and editing them. However, for an overview of everything you've set to date, go to Safari > Preferences and click the Websites tab.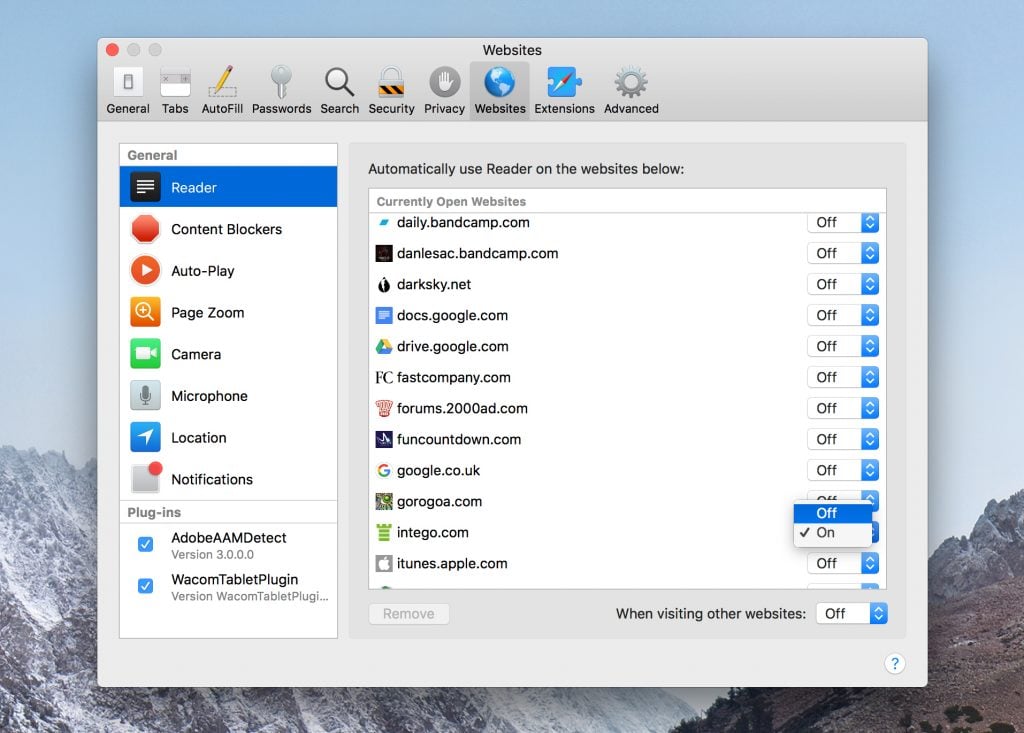 Select one of the categories from the General pane. Configured sites will be listed in the main pane, split between Currently Open Websites and Configured Websites. To change a value, simply choose something else from the relevant menu.
For example, to turn off Reader for a specific site, click Reader in the sidebar, and then change On to Off next to the site's name. Alternatively, you can delete an entry entirely by clicking its name and pressing the Delete key or clicking Remove.
Also note the When visiting other websites menu, found below the pane that houses individual site configurations. This serves as the default value for the current feature. So you could, for example, block auto-play on every site, apart from a few choice ones.
To do this, select Auto-Play from the General pane, and set When visiting other websites to Never Auto-Play. For any site you want auto-play to work on, set the appropriate value in the Settings for This Website sheet, or its menu in the Currently Open Websites list mentioned above.
---
New to Mac? Learn more macOS tips at Intego's New Mac User Center!
Want to get the most out of your new MacBook, iMac or other Apple computer? Whether this is your first laptop or you've just switched from Windows, there are a few things you should know about your new Mac, like basic keyboard shortcuts or how to use the various features macOS has to offer. Learn more about what your Mac computer can do for you at the Intego New Mac User Center:
Get started now!
About Craig Grannell
Craig Grannell is a technology writer, mostly specialising in Macs, iOS, apps, and games. He's been immersed in all things Apple for over 20 years, and enamoured with computers since getting his hands on a VIC-20 as a kid. He also has a Korg Gadget addiction. Send help. Or alternatively, visit his website, craiggrannell.com, and follow him on Twitter at @craiggrannell. View all posts by Craig Grannell →