First Reactions to What's New in iOS 6: A Rundown of the 'Good,' the 'Not Bad,' and the 'Ugly'
Posted on September 20th, 2012 by Lysa Myers
Apple iOS 6 debuted on Wednesday, and the first thing you may notice when upgrading is that it's not a huge change from what came before. Upon updating my first iDevice, it looked largely unchanged aside from a new icon for Passbook appearing on the home screen, and after playing around with it for a while, I found that most of the changes are indeed minor improvements.
I mentioned earlier this week that Apple iOS 6 has a few notable new security and privacy features. They also address a large number of vulnerabilities in iOS 6 which so far have gotten very little attention. I guess the vulnerability patches are somewhat less sexy than a new "Do Not Disturb" feature unless you're a serious security nerd. (Okay, maybe even then.) But rest assured, we will address the vulnerability aspect in a future post.
First, the Bad News
Not to be a naysayer, but if there is something that will keep you from wanting to install iOS 6, we might as well put that right up front. I have not read a single review of the new Maps app that was anything better than lukewarm. Most reviews are somewhere on the scale between minorly annoyed to frothingly grumpy. Where you may fall on that scale will probably depend on how you actually use the app, if you use it a lot, whether you use it for walking or public transport directions, or what city you live in.
If you live in a select handful of larger US cities and travel only by car, you'll probably be okay. You may even find the 3D flyovers entertaining for a few weeks. However, if you use Maps for public transit information, you may tend towards the livid end of the scale. Need Maps for walking directions? You may be seriously annoyed. (I've yet to memorize the incantations necessary to get the walking directions option to manifest consistently.) If you counted on Street View, you're gonna be sorely disappointed. The directions that people are seeing in most cities worldwide are somewhere between weird and inaccurate right now. Local businesses that put their informational stock in Google Places over Yelp are quite grumpy as well. In short, if you use Maps more than occasionally, you're probably gonna hate it.
The basic problem is that Google Maps has much, much more data than Apple Maps at this point. That may change in time, and it's likely we'll see a bit of a Maps-app war here. Ironically, if Google Maps comes up with its own iOS app to completely replace what was lost with this switch, Google could end up really improving the uptake of iOS 6.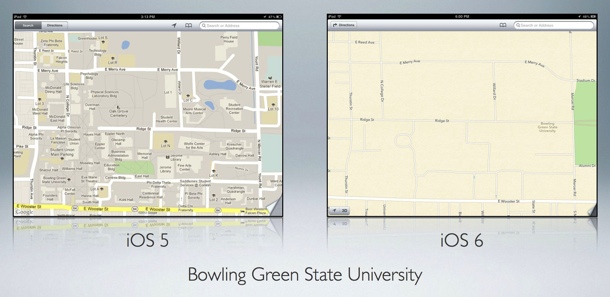 Google Maps data (left) compared to Apple Maps on the iO6 (right) -- image via reddit
On the plus side, the turn-by-turn directions are a big improvement over the old Maps app. It will notify you of upcoming directions even on the lock screen, which is a very handy feature.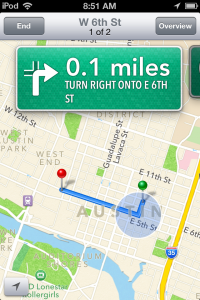 The Better News
Now that we have dispensed with the bummer business of bad news, we can cover the things that are really good about the new iOS. A few things are genuinely new to this iOS version, while others are definite improvements to existing applications.
Do Not Disturb seems to be everyone's favorite new feature--it's a way to easily and automatically silence your phone during times that you don't want to be bothered, with user-defined emergency exceptions. In a way, this is a catch-up with a fairly old Blackberry Do Not Disturb feature. It's a good thing Apple added this, as more business users are now switching to iPhones.
On both iOS 6 and Blackberry OS, the emergency exceptions let you decide if certain people should always get through. How Apple's Do Not Disturb improves on Blackberry's version is that you can also decide whether anyone calling multiple times should be allowed through (though the iOS version lacks the ability to forward to another phone number).
This feature still has room for improvement, as noted by Ars Technica:
"In a perfect world, Apple would allow us to combine these two parameters in order to create a whitelisted group who still has to call twice within three minutes to override the Do Not Disturb setting.

Do Not Disturb creates a few odd effects. For example, one reader pointed out to me that music being played through the Music app will still pause itself when you get a call, despite you telling iOS that you don't want to be bothered. This seems odd, considering that the entire point of Do Not Disturb is to, well, not disturb you."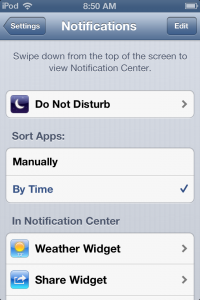 Privacy Management, as we discussed before, is good. You are notified when you run apps that try to access things that are now more granularly controlled, and you can choose whether to accept or decline. If you mess up or change your mind down the line, you can go into the Privacy Settings area and choose per app to rescind permission.
Call Features get a couple of cool new changes. One feature many are calling an exciting update to the way we use the phone aspect of smartphones has been around since the Treo 700w was released in 2006: the "Reply with Message" option that allows you to send a message (via iMessage or Text) to someone calling you if you decline to answer. It's a very handy function, something that makes it easier to do something that a lot of us have been doing manually. The other feature reminds you to call the person back, either creating a reminder to call back in an hour or when you leave your current location.
Mail gets several new features that make it far more useful and more functional. You can choose different signatures per account, which is something Blackberry, Android and Windows Mobile users have had for ages. You can insert photos and video while composing an email, rather than having to create an email by sharing media. You can also create a VIP list that allows you to filter your most important messages. A Pull to Refresh option will pull for new mail.
Safari has gotten a whole lot faster, thanks to an update to their JavaScript engine. It also now allows you to access the browser tabs and offline reading list from your other Apple devices if you have enabled syncing in iCloud. One well-overdue feature that has also been added is the ability to upload media to the browser. And the tab limit has been expanded on the iPad from 9 to 24. Whew, no more magically disappearing tabs!
Find My iPhone adds Lost Mode, which allows it to beep but not send a message. This is handy for when you drop it between the couch cushions rather than having left it at the library. Camera adds a panorama feature, which seems to be fairly smart about stitching images together. The Share function gets a screen of icons instead of the old text-based menu to accommodate some new options like sharing on Facebook. And speaking of Facebook, it's now integrated with the operating system, and you can sync information about things like events, your friends' contact info, photos and birthdays. You can now also sync both Reminders and Notes with iCloud.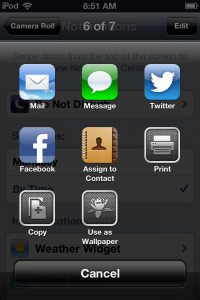 And the Rest
There are some features that people seem very much on the fence about–it remains to be seen if they will make that much difference at all.
The dedicated YouTube app has gotten the boot, which is most likely to be a non-issue as you can use the new mobile YouTube app on the iPhone/iPod Touch and the mobile website on the iPad. Many reviewers seem to prefer these other options, anyway.
Passbook is a place to store tickets, gift cards, itineraries, and deals. The feature could be really cool, or it could just be a flashy but short-lived toy. It remains to be seen which vendors will adopt this and how well it will work. Passbook is certainly a cool idea, though it's a very tempting target for cybercriminals.
FaceTime over 3G has gotten fairly lukewarm reception, perhaps because many users will not be able to use it. Several Net Neutrality groups have asked the FCC to weigh in on AT&T's decision to block this feature for subscribers that have not purchased a shared data plan. Even then, Skype has been offering this ability for years, and it's not limited to iPhone users.
Siri has more capability and seems to be better able to understand you in most reviewers' experiences. However, her history has been very much a roller coaster, so it remains to be seen how she will perform over time. There is no longer a bottlenecked cause by getting information only from Wolfram Alpha, as she now gets info from several new sources such as Yelp, Rotten Tomatoes, SB Nations and Open Tables too.
Siri's repertoire as a digital assistant has expanded considerably as well: She can check movie times or tell you whether a movie's well rated. She can launch apps and post to Facebook or Twitter. She can tell you whether a restaurant is well rated and make restaurant reservations. She can report back on live or past sports scores, player and team stats for football, baseball, basketball, soccer, and hockey. And yet, people still seem pretty unconvinced–her hearing has improved, but probably not enough to really be a digital assistant. If nothing else, you could utilize Siri and the "Raise to Speak" option to pretend you have a friend to talk to on the phone. Maybe now she'll be a friend who's not half-deaf and dumb as a bag of rocks.
What is your favorite feature in iOS 6? Have you found it to be an improvement, or do you find the changes hard to adapt to?