Intego + Recommended + Software & Apps
AppleTell Reviews Mac Internet Security X8
Posted on August 15th, 2014 by Derek Erwin
AppleTell, a site that covers all things related to Apple and is part of the TechnologyTell network, has published a fantastic review of Mac Internet Security X8, Intego's Mac antivirus and security suite. Written by Bill Stiteler, the review provides a very thorough analysis of our Mac software, and we're incredibly proud to announce that the site has awarded Mac Internet Security X8 with a prestigious AppleTell rating of 5 "Apples."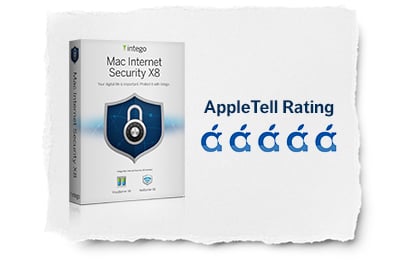 In the review, AppleTell's Bill Stiteler focused on the three main elements to Mac Internet Security X8: NetUpdate, NetBarrier, and VirusBarrier.
On NetUpdate, he mentioned its importance helping protect Macs against malware and software vulnerabilities (especially if you have to deal with Windows docs), and how it can help you keep on top of them. He was quick to say, "You can set NetUpdate to download in the background, making it a fire-and-forget solution to protecting your Mac."

He continued with a very in-depth look at NetBarrier, the second element—"and most apparently useful bit"—of Mac Internet Security X8. Bill loved this feature, praising its quick and easy set up and ability to customize specifically for your needs. He said, "The brilliant part of NetBarrier is that it lets you set up different profiles based on the network you're interacting with. [By default], what's blocked are external computers trying to access your computer."
Bill went on to illustrate the various scenarios in which NetBarrier secures your Mac. He was happy to share how NetBarrier's protection ensures "the jerk in the coffee shop can't try to hack your Macbook." Moreover, on NetBarrier's application activity monitoring for anti-spyware measures, he wrote:
The beauty of NetBarrier is that it asks you once every time an app tries to use the Internet and asks if you want to allow it for that profile, or all profiles. It's a handy way to check to see how your computer is interacting, and the profile is so restrictive that it even asks if it's own software is okay.

Introducing the third element of Mac Internet Security X8, Bill explained, "The final piece of software is VirusBarrier, which protects your Mac from the malware." With Real Time protection and schedule scanning options, he was happy to say that Mac Internet Security X8 is "mindless software that you can install, do an initial scan, and then let run in the background to protect you." 
Bill concluded the AppleTell review with the following summary: 
For those who want or need Internet security on their Mac, Internet Security X8 is a simple package that gives you carefree protection that's also adaptable to a mobile lifestyle. After set up, you can forget about it, and when you have to interact with the software, it makes what you're dealing with easy to understand.
You can head over to AppleTell to read the full Mac Internet Security X8 review.
---
Protect your Mac against malware, strangers, and suspicious applications with Intego's award-winning Mac Internet Security X8.